Today it's all about dehydrating apples and having healthy snacks in your home. If you have a FoodSaver you can preserve them for a year in mason jars or FoodSaver bags. Apples are being picked right now and delivered where I live. If you missed my All About Fresh Apples, you really need to look at how to store apples.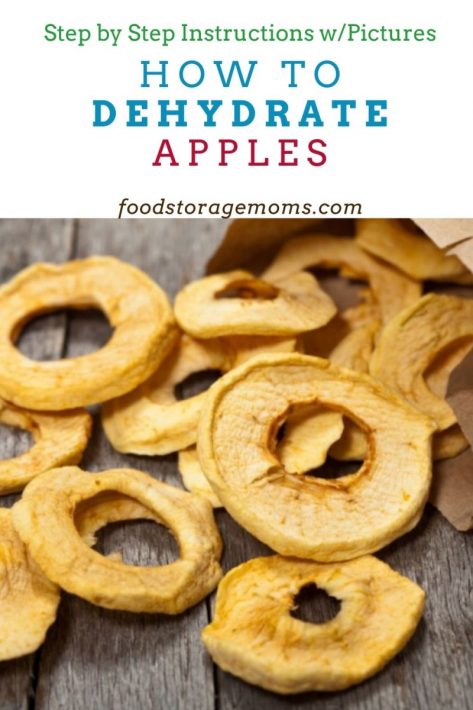 How Long Does it Take to Dehydrate Apples?
You may be wondering how long it takes to dehydrate apples. You are looking at around 6-8 hours in the dehydrator. If you plan on using the oven to dehydrate apples, it won't take nearly as long. However, you will have to keep a closer eye on them to make sure they don't get too crisp!
Are Dehydrated Apples Good for You?
You may be wondering if dehydrated apples are good for you. Since the dehydrated apples have zero fat, they are healthy on that end. However, they also have tons of vitamins and minerals that your body needs. Just because they are dehydrated it doesn't mean they're missing any important nutrition.
You will also get lots of antioxidants and fiber with your apples that are dehydrated. And don't worry, there is still plenty of fiber there. So, if you are looking for something nutritious and delicious, then these apples are for you!
Tools For Dehydrating Apples
Sharp knife
Medium size bowl
Lemon juice
Cutting board
The Best Apples To Dehydrate
Winesap
Jonathan
Granny Smith
Pippin
Rome Beauty
McIntosh Red
Baldwin
How to Dehydrate Apples
Dehydrating apples is probably one of the easiest things to do, once you understand how. I'm going to walk you through a step by step process for dehydrating apples. You truly never know when you may need these apples.
They work great for a snack, but they are also great for storing in your pantry. I've always enjoyed dehydrated apples as a snack, but they are truly great as a food source for any day and any time of the year.
Step One
You can use just about any variety of apples to dehydrate. Just sort through the apples, remove the stems, wash, and pat them dry. I use an apple peeler to peel, slice and core mine. I think my Johnny Apple peeler has been used for about 20 years.
If you decide to use a knife, cut the slices 1/4 to 3/8 inches thick. The apple peeler is nice because all the slices are the same width.
I love that kitchen tool this time of year. I cut them ever so carefully to keep the rings intact. I love how they look and they taste fabulous!
If you want to keep your slices fairly white, use one cup lemon juice to one cup water to dip them in. You don't have to use the lemon juice/water treatment, but it does make them look a lot prettier. After dipping the slices spread them out on the dehydrator sheets.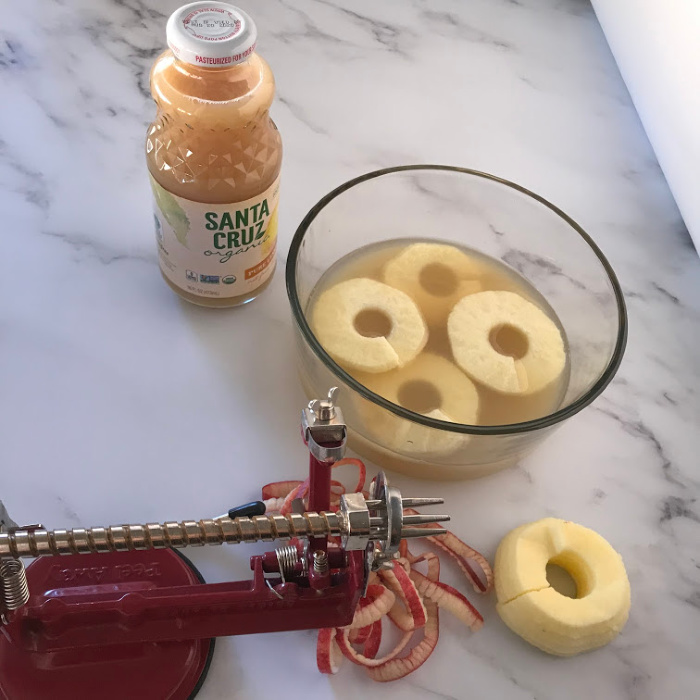 I have an Excalibur Dehydrator with 9 trays and it has a timer. For me, the timer is a must-have because I always have several projects going on at once. That's how I roll. My book states to set the temperature at 135 degrees.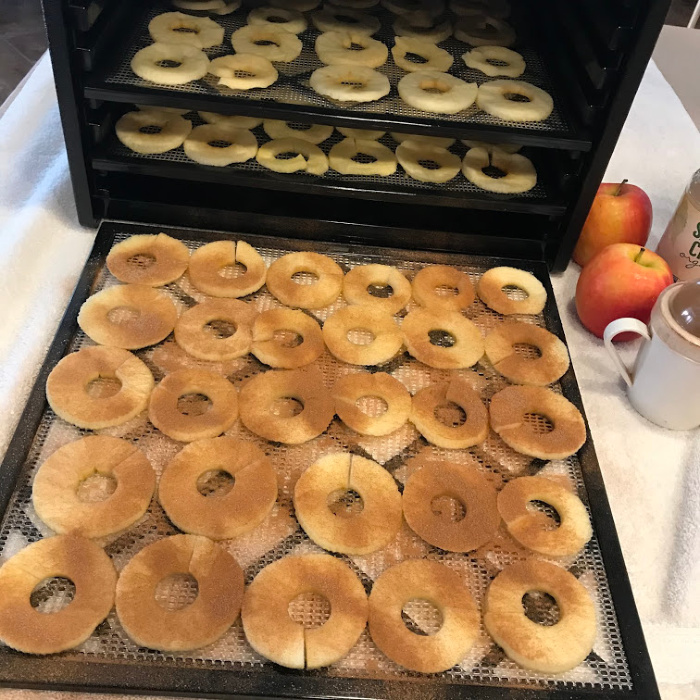 You can dehydrate them plain or with cinnamon and sugar as shown above. Be ready, you will be hooked on eating these, I promise!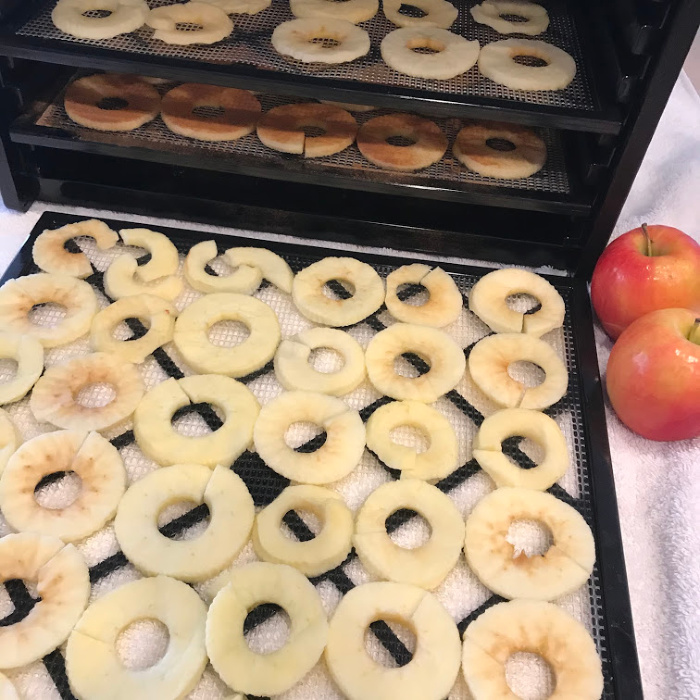 I set my timer on 4 hours and they took an additional 2 hours to dehydrate them to a pliable state. Pliable means they are not crispy and they are not moist. The time always depends on the humidity of the room you are dehydrating them in and the temperature setting.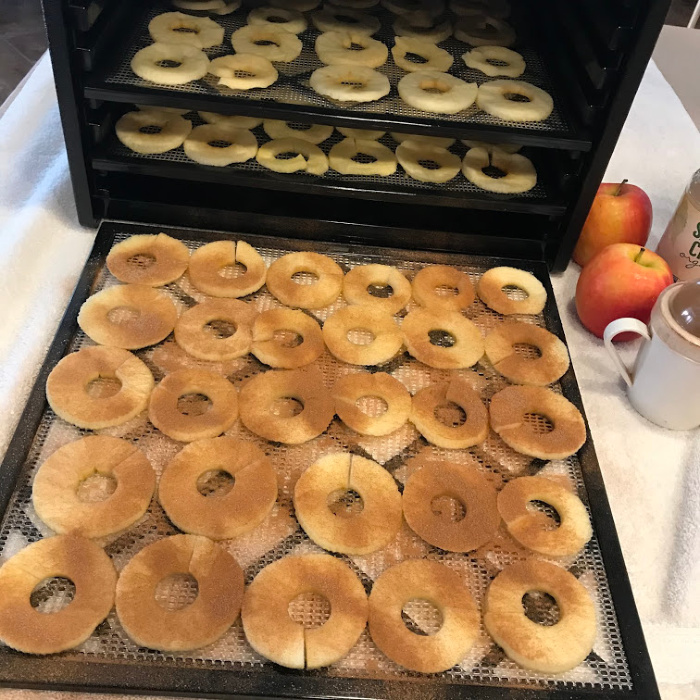 How Do You Store Dehydrated Apples?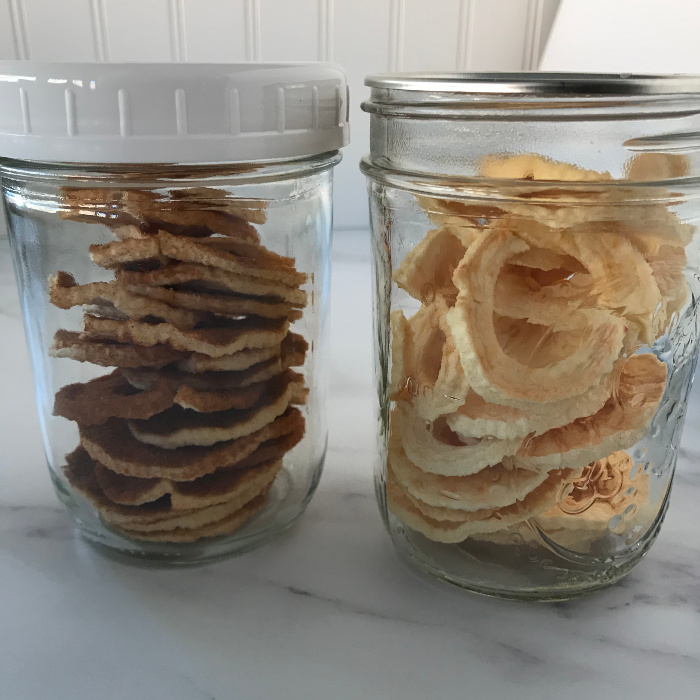 Once you have dehydrated the apples and you need to store them. It's simple. You can store these for one year in sealed mason jars or in FoodSaver bags. Something to note about dehydrated apples is that they don't take up much space.
You will want to pack the fruit in there tightly. I feel as though this is an excellent way to use up apples that would otherwise go to waste.
How To Condition Your Fruit or Vegetables
If you live where it is HUMID: "To condition the fruit, take the dried fruit that has cooled and pack it loosely in plastic or glass jars. Seal the containers and let them stand for 7 to 10 days. The excess moisture in some pieces will be absorbed by the drier pieces. Shake the jars daily to separate the pieces and check the moisture condensation." https://nchfp.uga.edu/how/dry/pack_store.html
I live in the DRY DESERT: I set my fruit and vegetables on my countertop for 5-7 days. Ten days is even better to make sure everything is dry before using your FoodSaver unit.
Do Dehydrated Apples Go Bad?
After you have dehydrated apples they will last 6-12 months, as long as they are stored correctly at normal room temperature. You need to make sure the apples are stored properly in order for them to last this long.
How Do I Know When Dehydrated Fruit Is Done?
Well, when dehydrated fruit is done, you will know. How? Well, a simple taste test! The fruit will feel dry when you touch it. When you taste it, it will have the right amount of crispiness and it will taste just right!
Here are the other Dehydrating Posts I have done:
Dehydrating Apples at Home by Tiffany
Final Word
Let me know if you try dehydrating apples, I love to hear from you. Let me know if you snack on them or use them in recipes. Life is so good when we have a few jars of these in the pantry. May God bless this world, Linda