10 Foods to Stretch Your Food Budget
Are you currently in a pinch and in need of finding ways to save you and your family a little extra money each month? A handful of your monthly expenses are already locked in at a certain rate, so that's not an option. Something's got to give! Check out these 10 foods to stretch your food budget. In case you missed this post, How To Make Homemade Crackers
Foods That Stretch Your Food Budget
Your food budget is one area that you can slash, and surprisingly, you don't have to worry about sacrificing your taste buds or appetite to do it. Your kids also don't have to see your kitchen pantry dwindle down to nothing.
Whew! Especially if you know what foods you can do it with, you'll have a host of menu options that just need a little strategizing on your part. These are 10 foods that will stretch your food budget and make life a little easier for you and your family.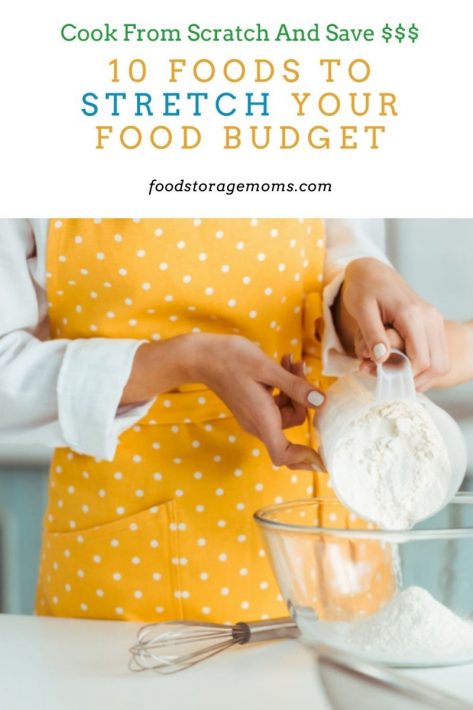 Kitchen Equipment Items
1. Rice
I'm sure you knew that rice would end up on this list, so I'll go ahead and get this one out of the way. To start off, rice is cheap to buy. Super cheap! It can be bought in bulk so you can save even more money while stretching out meals for your family for a long time. But besides that, rice is versatile in the fact that it can go with almost anything.
It goes great with any meat, or thrown in a hearty casserole, and is an essential ingredient for a delicious sizzling stir fry. Rice that is properly sealed can even be stored in your pantry for several years without ever going bad.
2. Beans
Ah, beans, the magical fruit. You gotta have em'. Beans are another filling item that's packed full of protein and fiber. Just like rice, you can find beans in bulk packaging, where you'll spend only a few pennies per pound while stretching many meals. Not only are they necessary for chili, but can help create delicious soups, and go amazing with Mexican food.
3. Lentils
Lentils, like beans, also come from the legume family. They are easy to cook, and also can be used as a filling item for every meal that you can come up with. Lentils are also packed with nutritional value, while at the same time, can save your family a bunch of money.
4. Pasta
Pasta is another filling food that you need to think about. It comes in so many different shapes and sizes and can be used in a countless number of different dishes. It's certainly a filling food that will cost you a ridiculously little amount of money. With the right seasonings and sauces poured on top, it will be like your family is eating a meal that's coming straight from Olive Garden. From choices like spaghetti, lasagna, homemade ravioli, chicken parmesan, Penne Ala Vodka, and so many other Italian cuisines, you'll feel like a professional cook.
5. Oatmeal
Buying the plain version of oatmeal is one great way of finding a cheaper breakfast in the morning. All you need to mix with it is water or milk, and then add a bit of fruit or sugar to enhance the flavor. Oatmeal is only expensive when buying it in smaller prepackaged boxes where the manufacturer has already done all the work by adding the sweetening ingredients.
6. Rotisserie Chicken
Around dinner time, many local grocery stores like to grab your attention with the smell of rotisserie chicken in their deli, or as soon as you walk in their front doors. Rotisserie chicken is a fantastic deal, and you're sure to have leftovers that you can repurpose into a chicken salad, chicken noodle soup, or use for chicken quesadillas the next day.
7. Eggs
Even when eggs drastically fluctuate in their pricing, they are still one of the cheapest ways to stretch your money further. They are packed full of protein and can be used to make omelets, quiches, or added alongside your favorite breakfast meats. You'll need them for your baking purposes, or simply to enjoy as they were originally intended. You decide on whether you'd prefer them scrambled or sunny-side up.
8. Freeze "Meaty" Deals
Meat is one of the most expensive items that you will find at the grocery store. It certainly becomes harder to buy when you are on a tight budget. But if your family is a lot like mine and needs a meat item on their plate at least one meal a day, this becomes tricky. What you can do is wait for meat to go on sale, buy it in bulk and then freeze whatever you don't plan on using right away. It's smart to do this when you are buying whole chickens, hams, and roasts.
Costco sells their rotisserie chickens at cost or below just to get us in the store. That's okay with me because I LOVE them and the price, they are bigger and cheaper than any other one in my town. In case you missed this post, 5 Meals From One Rotisserie Chicken
9. & 10. Inexpensive Fruits and Vegetables
Not every cheap food item has to come from the center aisles of your local grocery store. You also need to think about buying nutritional "superfoods" to keep your family healthy and strong. One of the best ways of doing that is by buying the right (cheap) fruits and vegetables.
A bunch of bananas is one of those super-cheap fruits that work as a powerhouse, and a great snack item to turn to. As far as vegetables are concerned, carrots, potatoes, kale, broccoli, brussels sprouts, and collards are all cheap produce items that can add to your nutrition.
Frozen fruits and vegetables are also nutritionally comparable to fresh produce, yet also bring you the comfort that they last a whole lot longer. Just be sure not to pick up a package that has added sugar and sauces that take away from the nutrition.
Final Word
When quality, freshness, and nutritional value are still important for your family, these 10 foods are where it's at. Not only will your meals continue to taste good, but you'll be able to stretch your dollars without having to make the tragic mistake of your family eating things like ramen noodles every other evening.
What are other food items that you've come across that have not only helped you stretch your money but have tasted good too? What are some foods to stretch your budget that you use? Please keep stocking up the food you and your family will eat, we must. God bless this world, Linda
Copyright Images: Polka Dot Apron Deposit photos_256800224_s-2019