Orange Peels: 15 Ways to Use Them
After eating an orange, what do you usually do with the peels? Most people will toss them in the trash without giving it a second thought, but did you know that you can put those orange peels to good use? Instead of throwing them out, consider reusing them in different ways to get the most out of them. Check out this list of the 15 ways to use orange peels!
In case you missed this post, Dehydrating Lemons And Make Lemon Powder
Orange Peels: 15 Ways to Use Them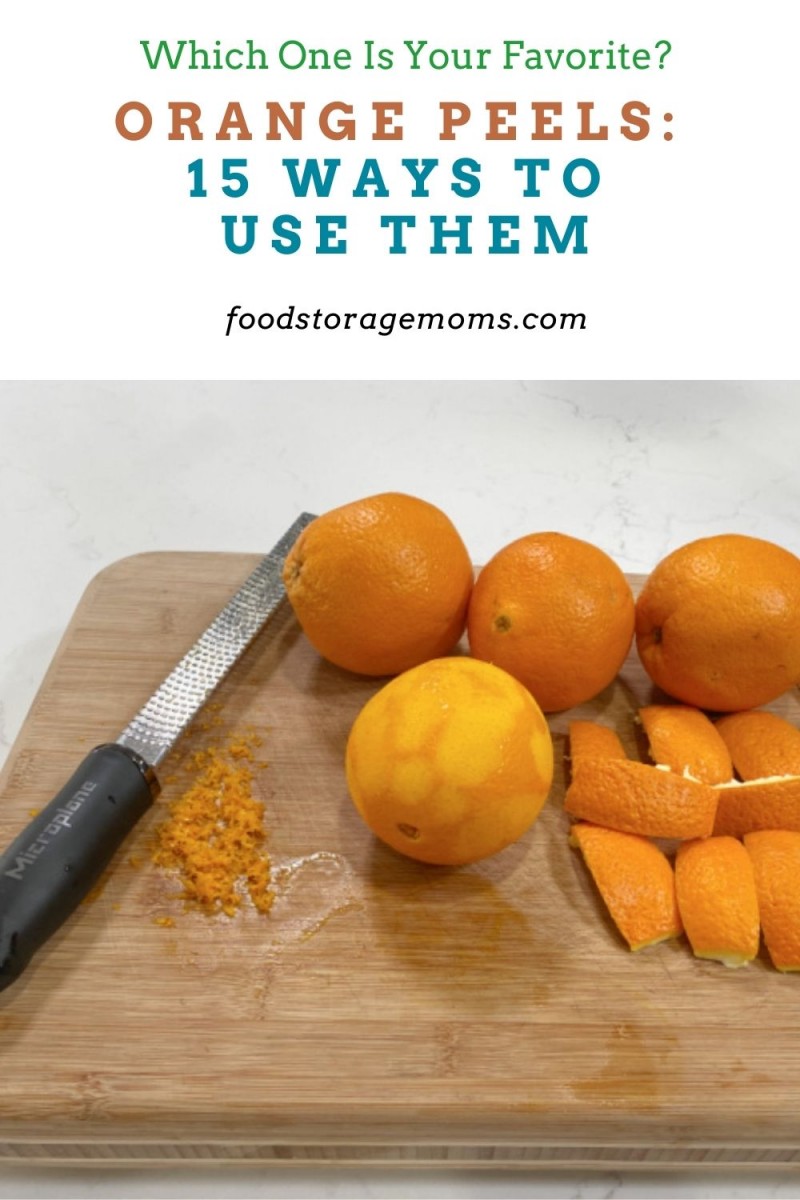 1. Grate the Peels to Create Orange Zest
If you prepare different recipes that call for orange zest, you can make it from scratch using your orange peels. The best way to prepare orange zest is to use a cheese grater against the peels, collect all the orange peel shavings, and dehydrate them. Place the dehydrated bits in a jar after "conditioning" them as outlined below.
You may remember, whenever I dehydrate food I let the food product sit out for 5-7 days minimum after removing them from the dehydrator to ensure everything is totally dry, this is called conditioning. Once you have the orange zest, you can add it to cookies, meats, and other delicious foods. This is the Microplane Zester I have: Microplane Zester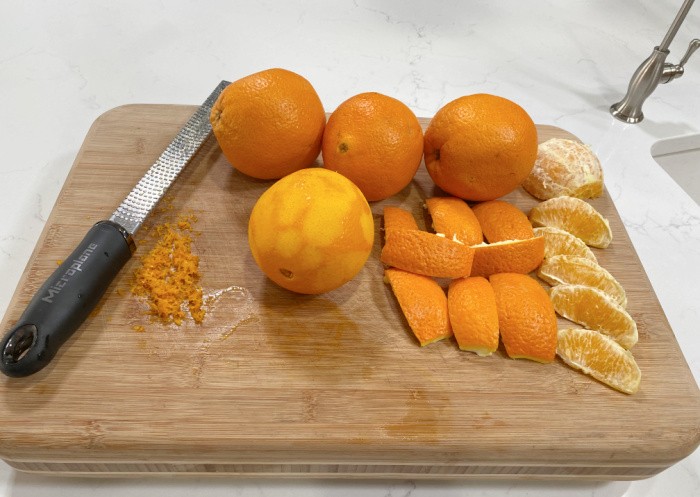 2. Dehydrate the Peels
Do you have a food dehydrator at home? If so, dehydrate the peels! Once you're done, you can eat them as a flavorful citrus snack. Some people like to sprinkle a bit of sugar on top of them for added flavor, but you don't have to if you don't want to.
3. Add the Orange Peels to Homemade Marinades
Prepare flavorful marinades with a citrus touch when adding the orange peels to the mixture. If you'd like your marinade for chicken, pork, and other meats to have that perfect combination of sweet and savory ingredients, these orange peels are worth using.
4. Put Them in Your Hot Tea or Coffee
Bring a natural citrus taste to your hot cup of tea or coffee by adding the orange peels into your mug. It's a great alternative to sugar, especially if you're looking for ways to avoid putting too much cream and sugar in these warm beverages. In addition, the orange peels will enhance the taste of tea and coffee, making them even more enjoyable.
5. Dip Them in Chocolate
Consider melting your favorite variety of chocolate, like almond bark, and dipping your orange peels into the chocolate. You'll need to place the orange peels in the fridge for at least an hour beforehand to get them cold enough so that the chocolate sticks perfectly to them. Once you've added the chocolate to your orange peels, you can take a bite and really enjoy them! The chocolate citrus combo tastes magnificent.
6. Prepare a Chemical-Free Cleaning Solution
Would you like to clean your home without using harsh products containing harmful ingredients? If so, prepare a chemical-free cleaning solution by combining vinegar and hydrogen peroxide in a spray bottle with chopped pieces of the orange peel. The cleaning solution will disinfect, get rid of dirt and stains, and leave a fantastic orange scent around the home.
7. Add the Peels to Your Garbage Disposal
If your garbage disposal has an odor, add a few orange peels and a handful of ice cubes and let it run. They will get rid of the foul odor and leave your garbage disposal cleaner and smelling fresh again.
8. Scrub Pots and Pans with the Peels
When you have some grime on the bottom of your pots and pans, and you're struggling to remove it with a regular sponge, use the orange peels. Scrubbing the surface of these pots and pans is an excellent way to get rid of stains without causing damage to your cookware.
9. Rub the Peels on Your Face
Would you like to have healthy skin that glows? If so, you can use orange peels as part of your skin regime. The anti-bacterial properties in the orange peels make them great at fighting off harmful bacteria that typically cause acne. Be sure to rub the peels on your skin after washing your face with a mild, gentle cleanser.
10. Give Them to Your Chickens
Do you have chickens living on your land? If so, you can keep them entertained by giving them a few orange peels to play with each day. Not only does it keep them occupied, but it's not dangerous for them to have orange peels in their coupe. If you have playful chickens looking forward to roaming around and playing with different objects, orange peels are an excellent choice for them.
11. Rub the Peels on Your Teeth
Orange peels contain vitamin C and other natural compounds that are good for the teeth. If you'd like your teeth to look whiter, you can rub the peels on your teeth in the morning and again at night. The peels help to remove surface stains, leaving your teeth looking healthier and brighter than before.
12. Use Them in the Garden as a Natural Repellent
If you're dealing with ants and other unwanted pests in your garden, use the orange peels as a natural repellent to keep them off your plants. Ants don't like the orange peels and will stay away. It's the perfect way to eliminate some pests without using products that could harm the plants.
13. Add to Your Compost
When creating compost with kitchen scraps, orange peels are a great addition. The vitamins and nutrients in these peels are great for soil prep and plants growth.
14. Boil the Peels and Make Air Freshener
Place the orange peels in a pot of water and boil them for several minutes on the stovetop. Pour the concoction into a spray bottle and then use it as an air freshener to naturally get rid of odors in the home. It's safer to use than most air freshening products on the market, and it does its job of making the area smell great.
15. Scrub Your Nails with the Peels
If you have stains on your nails, or feel like they lack the shine you prefer, scrub your nails with orange peels. The peels can leave your nails looking healthy, bright, and freshly manicured, even if you haven't been to the salon.
Orange Benefits
One medium-sized orange has the following features and benefits:
60 Calories
No sodium or fat
3 grams of fiber
1 gram of protein
70 milligrams of vitamin C
12 grams of sugar
6% of our recommended calcium
237 grams of potassium
15.4 grams of carbohydrates
14 grams of Vitamin C
Types Of Oranges
Navel (the most popular ones I buy)
Blood Oranges (Costco sells a Blood Orange drink around Christmas, it's so good)
Valencia
Cara Cara
Jaffa
Mandarin
Seville
They all give you more than 100% of the recommended daily amount of Vitamin C. That's more than any other citrus fruit!
Final Word
With so many ways to use orange peels, make sure you're saving the peels instead of throwing them in the garbage. Whether you want to use them in the garden, on your face, or even to make a natural cleaning solution, you have plenty of fantastic options. May God Bless this world, Linda.