Quick And Easy To Make Swedish Apple Pie Recipe

This is a quick and easy way to make a Swedish apple pie recipe you will love to make! When I was a little girl I had a great-grandmother from Norway I loved very much. She was 100% Norwegian. I used to love to sit on her lap and hear her speak with her Norwegian accent. I can still see her making my favorite lefse and apple pie. Those two items were my favorite treats that she would make for the grandkids. I can still visualize the pie cooling on the rack waiting for it to be cut into slices to eat. I never liked it with a slice of cheese, my favorite was to add ice cream on the side.
I am not a pie maker, PERIOD, but this makes you look like you are a pie maker. Just giving you the heads-up. Here is my friend, Joan's Swedish Apple Pie recipe (modified a bit by me). I promise, you if I can make this pie anyone can. It doesn't have to be rolled out, cut or fluted. Nope, you just stir the ingredients and use your hands to form the dough on top of the apples. Talk about EASY, and oh so yummy!
Swedish Apple Pie Recipe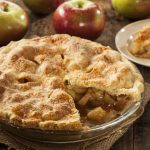 Swedish Apple Pie Recipe
Ingredients
Swedish Apple Pie Filling:

8-10

peeled

cored, sliced apples

Press the apples down in a greased pie pan.

Sprinkle apples with 1 tablespoon sugar and 1 tablespoon cinnamon

Swedish Apple Pie Crust:

Mix all the ingredients together. Spread mixture over the apples.

It will be thick

1-1/2

sticks butter

3/4 cups

1-1/2

cups

sugar

Pinch

of salt

1-1/2

cups

white bread flour or 1-1/2 cups freshly ground whole wheat flour

1

egg

3/4

cup

pecans

optional

I sprinkle a cinnamon-sugar mixture over the crust.
Instructions
Bake @ 350 degrees for 45-50 minutes. Serve with a little whip cream (yep, I always have Gossner's shelf stable whip cream in the pantry...and one or two in the refrigerator ready to whip). You could also serve with a scoop of vanilla ice cream... Gotta love it!

This can be prepared in a 9-inch by 13-inch pan, just adjust the ingredient amounts.
I still remember watching old movies with a fresh pie cooling on the windowsill, yep memories of apple pie. Please tell me your favorite kind(s) of a pie.
My favorite things:
Johnny Apple Peeler TM by VICTORIO VKP1010, Suction Base
Good Cook 9 Inch Ceramic Pie Plate, Red
Cheese Slicer for Thin Slices by Bjorklund, Stainless Steel with Wood Handle
OXO SteeL Pie Server
OXO Good Grips Stainless Steel Bladed Dough Blender and Cutter
Water Storage Containers – WaterBrick – 8 Pack Blue