20 Award-Winning Instant® Pot Chili Recipes
When cooler weather rolls around, you'll want to have delicious and comforting meals ready to prepare and serve quickly. This collection of 20 Instant® Pot chili recipes will help you feed your hungry family, and possibly have leftovers for another meal! You'll find meat-based chili recipes including beef, chicken, turkey, and even venison on this list.
If you're vegan, there are delicious options here too, including a recipe that uses jackfruit. From mild to spicy, from tangy to savory, there are new and exciting flavor combinations that you'll want to try . Put your pressure cooker to use with these 20 hearty chili recipes!
Kitchen Tools You May Need
20 Instant Pot® Chili Recipes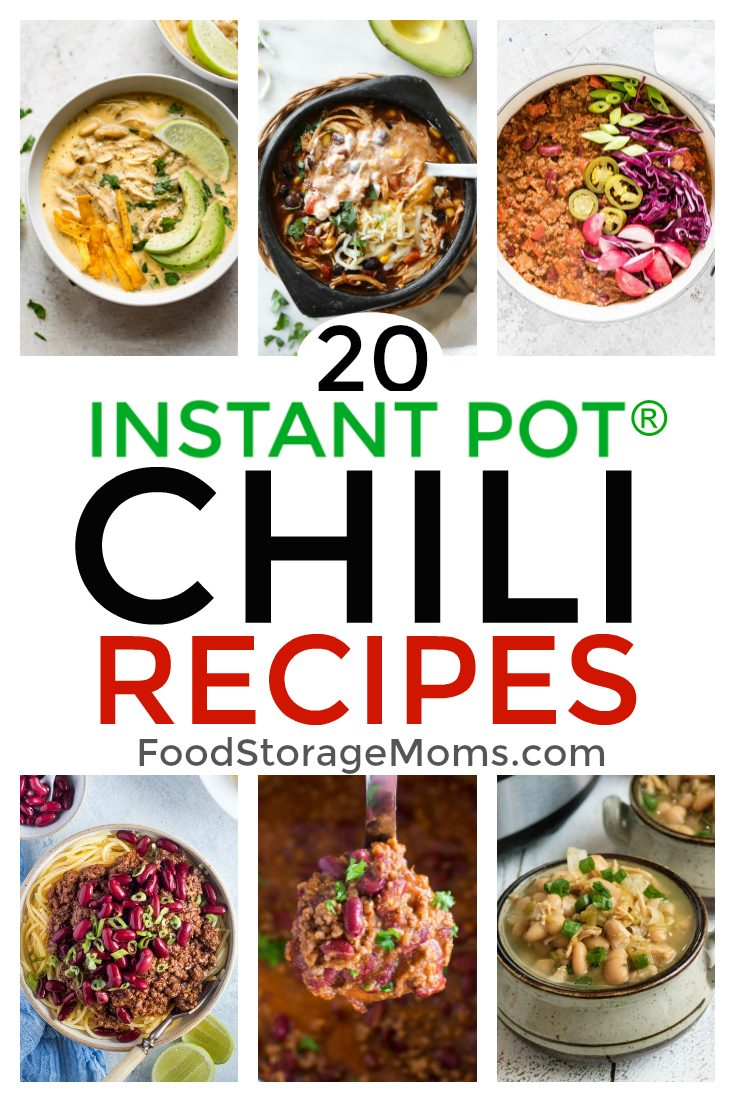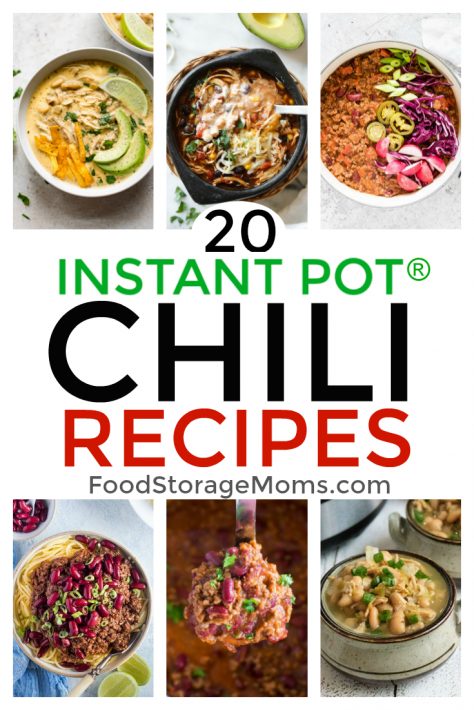 1. White Chicken Chili
Instant Pot White Chicken Chili by Salt And Lavender
This chicken chili has luscious cream cheese in it to add that creamy thickness that holds in the flavors while you savory the melt-in-your-mouth tender chicken.
2. Pressure Cooker Cincinnati Chili
Pressure Cooker Cincinnati Chili by Noshtastic
Every chili lover should try this classic Cincinnati chili recipe which is made even easier with a pressure cooker. Take note of the 5 ways to serve it and let your family choose how they would like to experience it!
3. Vegan Red Lentil
Instant Pot Vegan Red Lentil Chili by Vegan Richa
This vegan chili is flavored with chipotle and ancho chilies, while the lentils add texture and help thicken the chili. Who needs meat when you have this scrumptious chili to try?
4. Beef Chili
Instant Pot Beef Chili Recipe by Sweet And Savory Meals
Here is a recipe for comfort food at its best! Check out her video of how to make this classic beef chili recipe in your instant pot.
5. Green Chili Stew
Instant Pot Pork Green Chili Stew by The Forked Spoon
Try this tangy chili with pork and green chilies. You can brown the meat right in your pressure cooker, so all the work is done in the same pot for easy cooking and clean up!
6. Sausage and Lentil Chili
Pressure Cooker Sausage And Lentil Chili by Kitschen Cat
Protein and fiber-filled, lentils are the star of the show in this hearty chili recipe. Add some sausage for a flavor kick, and you've got a go-to chili recipe that the whole family will love!
7. Butternut Squash & Turkey
Butternut Squash and Turkey Chili by Eating Bird Food
This recipe deviates from the traditional chili recipes in that it has a base of coconut milk and tomato broth. It also features turkey, lentils and butternut squash for a unique flavor combo. Give it a try!
8. Low Carb-No Beans
Low Carb No Beans Instant Pot Chili by Wholesome Yum
If you're on the Keto diet you can still enjoy chili without the beans! You won't even miss them with this awesome spiced chili recipe that will have you going back for seconds! Make enough for leftovers so you can enjoy it again.
9. Chili with Dry Beans
Instant Pot Chili With Dry Beans by Feasting At Home
Did you know that you can replace your soaking time for beans with a pressure cooker? It takes as little as 7 minutes! Check out this homemade chili recipe that's sure to become a family favorite!
10. Mexican Chili with Black Beans
Instant Pot Mexican Chili With Black Beans by Little Spice Jar
This smoky-flavored Mexican chili uses black beans and dried guajillo peppers to give it a unique and authentic taste.
11. White Turkey Chili
Instant Pot White Turkey Chili by Merry About Town
No tomatoes are in sight in this recipe of cannellini beans, green chilies, and turkey in a base of chicken stock. Perfect for a warm and filling meal!
12. Turkey Chili
Instant Pot Turkey Chili by Lexi's Clean Kitchen
Give your taste buds a new experience and move from beef to ground turkey with this comforting chili recipe, perfect for a cozy meal.
13. Vegan Chili
Instant Pot Vegan Chili by Detoxinista
Red lentils help thicken this healthy vegan chili that you'll want to keep in your go-to rotation for quick weeknight meals.
14. Vegetarian with Sweet Potatoes
Instant Pot Vegetarian Chili With Sweet Potatoes by Well Plated
Sweet potato, quinoa, and southwest spices give this vegetarian chili the special kick it needs to take it over the top in the taste department. Serve it with all your favorite toppings and enjoy!
15. Chicken Taco Chili
Instant Pot Chicken Taco Chili by Skinny Taste
All the yummy flavors of a chicken taco are incorporated in this super easy chili recipe that you can enjoy in under 30 minutes!
16. Chili Mac & Cheese
Instant Pot Chili Mac and Cheese by The Girl On Bloor
Turn your homemade chili into a pasta dish with this delicious chili mac and cheese recipe that the whole family will love!
17. Millet and Pinto Bean
Instant Pot Millet and Pinto Bean Chili by Moon And Spoon And Yum
Millet and pinto beans shine in this tangy and spicy chili recipe that you must try. It's vegan-friendly and totally delicious!
18. Venison Chili
Instant Pot Hearty Venison Chili by Recipes From A Pantry
Venison chili, which is lower in fat than traditional beef chili, is a delightful change from the usual meat inclusions found in chili. Here, you'll use ground venison which will produce a hearty and filling chili that may become a new favorite!
19. Creamy Chicken Verde
Instant Pot Creamy Verde Chicken Chili by This Mama Loves
White beans, salsa verde, and chicken combined with veggies and spices make this a mouth-watering chili that you'll definitely want to make again and again.
20. Vegan Black Bean
Instant Pot Vegan Black Bean Chili by Kitchen Treaty
For a simple yet gloriously delicious vegan chili, try this flavorful healthy black bean recipe. Top with a little sour cream, cheese, and cilantro and dig in!
Final Word
I really hope you try some of these Instant Pot Chili Recipes very soon! You can make these in a slow cooker as well. It's all about learning to cook from scratch, and these recipes will help all of us be prepared for the unexpected. May God bless this world, Linda