20 Dutch Oven Soups And Stews
When cooler weather rolls around, there's nothing cozier than a hearty bowl of soup or stew that's been simmering all day in a Dutch oven. The thick walls and tight-fitting lids of Dutch ovens do wonderful and magical things to meats and veggies and make everything taste comforting and, of course, delicious. From browning to braising, from frying to stewing, Dutch ovens can do it all. My favorite 6-quart Dutch Oven
Here, I've collected 20 soups and stews to make in your Dutch oven this fall and winter. From meats like chicken, beef, and lamb to seafood as well as vegan recipes, you'll find mouth-watering ideas for using your Dutch oven for the most savory and comforting one-pot foods of all: soups and stews.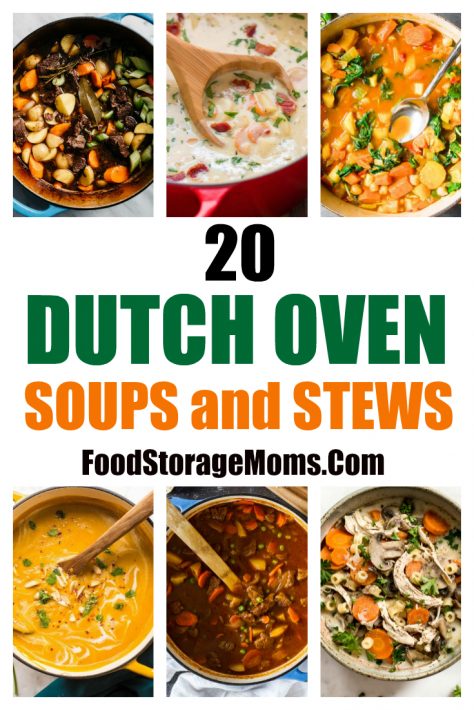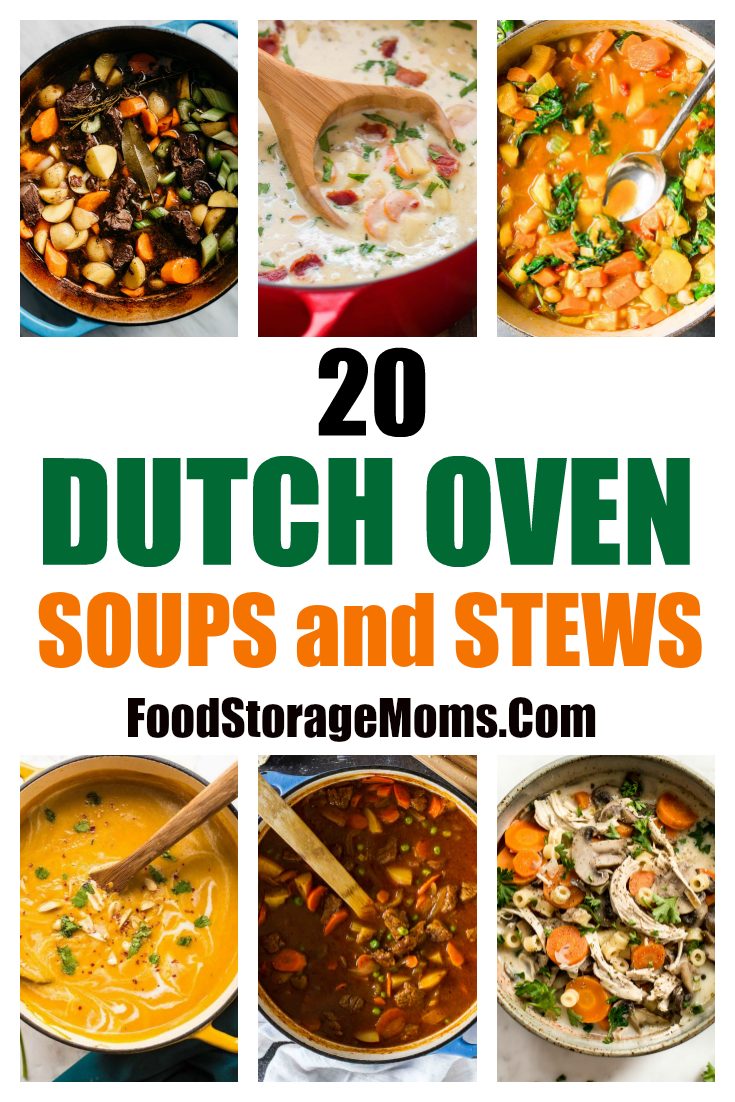 20 Dutch Oven Soups and Stews
1. Smoked Salmon Chowder
Smoked Salmon Chowder by House of Nash Eats
You'll adore this smoked salmon chowder that is naturally thickened from potatoes; no need to add flour! A little cream cheese adds richness along with the other delicious veggies that are included in this chowder.
2. Chicken Mushroom Soup
Chicken Mushroom Soup by Salt And Lavender
Take your leftover chicken and transform it with this savory mushroom and vegetable soup. Add a little pasta for some dimension and you're good to go.
3. Peanut Carrot Sweet Potato Soup
Peanut Carrot Sweet Potato Soup by A Saucy Kitchen
This soup is outrageously delicious! It combines the sweet vegetables of carrot and sweet potato along with spices, garlic, and wait for the peanut butter. The result? A silky and delicious soup.
4. Clam Chowder Recipe
Clam Chowder Recipe by Natasha's Kitchen
Loaded with clams, potatoes, carrots, celery, and crunchy bacon, this homemade New England-style clam chowder is sure to be a family favorite. Pull out your Dutch oven because this one is deceptively easy to make!
5. Zuppa Toscana
Zuppa Toscana by Savory Tooth
This Italian Tuscan soup gives a twist on the classic version with kale, potatoes, sausage, and other veggies. It's loaded with comforting goodness!
6. Creamy Taco Soup
Creamy Taco Soup by Saving Dessert
You will definitely want to take the time to make this awesome and Mexican-inspired healthy soup. It's protein-packed and full of flavor. Your family will gobble this one up!
7. Dutch Oven Split Pea Soup
Dutch Oven Split Pea Soup by A Hedge Hog In The Kitchen
You'll love this thick and dense homemade split pea soup filled with veggie goodness. Peas and carrots and smoked ham make this heavenly soup a keeper!
8. Jambalaya Soup
Jambalaya Soup by Wine And Glue
Rich in flavor, this Cajun-seasoned jambalaya soup is a total meal in a pot! It's jam-packed full of veggies and spices and uses Cajun turkey for protein. Save the leftovers and enjoy it again the next day!
9. Vegan Creamy Cauliflower Wild Rice Soup
Vegan Creamy Cauliflower Wild Rice Soup by Blissful Basil
You have to try this savory and creamy cauliflower soup. This vegan version uses vegetable broth and the wild rice adds dimension. This is a great make-ahead soup that keeps well in the fridge or freezer.
10. Creamy Turkey Soup With Spinach
Creamy Turkey Soup With Spinach by The Kitchen Is My Playground
If you're looking for a way to use that leftover Thanksgiving turkey, make this soup! Full of healthy greens, this is a hearty and flavorful meal in a bowl.
11. Broccoli Cheese Soup
Broccoli Cheese Soup by Homemade Hooplah
You will love this simple broccoli and cheese soup that boasts a little smokey flavor for something different. If smokey is not your thing, you can leave out this ingredient. Makes enough for leftovers – perfect for a soup and sandwich lunch!
12. One-Pot Chicken Stew
One-Pot Chicken Stew by Little Broken
Give your basic chicken soup recipe a rest and opt instead for this hearty chicken stew that everyone loves – even the kids! Your house will smell amazing and it's the perfect stew to make on chilly fall and winter days.
13. Dutch Oven Pork Tenderloin And Sweet Potato Stew
Dutch Oven Pork Tenderloin And Sweet Potato Stew by Zesty Olive
This one-pot meal can be ready in under 30 minutes! Tender pork and sweet potatoes make a delightful combination in this flavorful stew.
14. Classic Homemade Beef Stew
Classic Homemade Beef Stew by Taste And Tell Blog
Cook this classic beef stew low and slow for an awesome flavor. The prep work is simple and quick; it's the waiting that's the hard part. Put it on early and be rewarded when it's time to dish it up!
15. Irish Lamb Stew
Irish Lamb Stew by Jo Cooks
This stew is the perfect winter meal for family dinner nights. It simmers in the oven rather than on the stovetop to develop its flavor. This stew is freezer-friendly, too!
16. Moroccan Spiced Sweet Potato and Chickpea Stew
Moroccan Spiced Sweet Potato and Chickpea Stew by Simply Recipes
Try something new with this tasty recipe. Cumin, coriander, ginger, and cinnamon give this stew its exotic flavor. The protein comes from the chickpeas making this a wonderful vegan stew.
17. Seafood Stew
Seafood Stew by Feasting At Home
This stew is everything that's good about seafood: mussels, prawns, salmon or your favorite white fish seasoned with spices, veggies, and chorizo. Delicious!
18. Red Wine Beef Stew
Red Wine Beef Stew by Our Salty Kitchen
There's just something about a beef stew that's simmered in red wine that adds that extra flavor profile into the mix. This recipe will render melt-in-your-mouth shreds of beef surrounded by richly flavored vegetables. I'm hungry already!
19. One-Pot Moroccan Chicken Stew
One-Pot Moroccan Chicken Stew by A Saucy Kitchen
Shredded chicken, chopped dates, coriander, and cinnamon give this healthy stew a Moroccan flair. Serve it over rice and enjoy.
20. Hearty Venison Stew
Hearty Venison Stew by An Off-Grid Life
Block off several hours to make this scrumptious venison stew which will be well worth it, both in taste and rave reviews. Makes enough for leftovers to enjoy throughout the week!
Final Word
I hope you try some of these Dutch oven soups and stews. Do you love soup as much as I do? Make some dinner rolls or French bread to go with it! It's all about being prepared for the unexpected. May God bless this world, Linda