Modern Homesteading Skills Are They A Thing Of The Past
I'm starting to wonder if modern homesteading skills are a thing of the past. I get emails asking me to teach their neighbors how to cook and bake. By now you probably know I live in Southern Utah, and I'm not sure if you are aware of a predominant religion in the state of Utah. I'm not sure they have the most members, but if someone says Utah, people typically think of the Mormons (The Church of Jesus Christ of Latter-Day Saints), The Tabernacle Choir, and possibly Polygamy.
Not everyone asks, but once when I got my hair cut in California my hair stylist asked me if I was a member of The Tabernacle Choir because I was from Utah. Of course, I got the giggles and said no I was not in the choir. Please keep in mind I do not talk about religion or politics on my website, but today I felt the need to address certain things.
Someone sent me an email today and asked if I would be willing to teach some modern homesteading skills to families in her neighborhood. She was anxious to teach them to be self-reliant and learn to cook from scratch. She mentioned she was a preparedness leader in her local Mormon church congregation.
We talked about the new Mormon Church program to help people learn skills to take care of themselves and not depend on others to feed them, clothe them, and cover housing needs, etc.
Should We Not Store Wheat?
I had recently read on Facebook that the Mormon church had suggested families no longer need to store wheat. They suggest storing food for emergencies, but now realize most people do not know how to use a wheat grinder, or may not have access to grind wheat in order to make freshly ground whole wheat bread. Yes, I can hear some of you say, well, we have gluten issues and can't eat regular bread. That is so sad, I feel bad for those who cannot eat any bread.
I quote: "The Church has announced plans to supply families and community agencies with "finished goods" such as pasta, pancake mix, and flour—rather than raw wheat, which can be difficult to process at home."
The reason I want to address this topic of self-reliance, cooking, baking, or whatever, is because I have people asking me all the time to help their neighborhoods learn to cook at home. I'm not talking about just baking bread, all although I would struggle with my tight budget if I didn't make bread. I've made bread for over 50 years, so it's a way of life for me.
Do People No Longer Want To Can/Preserve Food?
Today, my friend Kathleen mentioned that people no longer want to preserve their own food by canning or dehydrating it. They want to buy it at the grocery store already processed and ready to open with a can opener.
Do People No Longer Want To Bake Bread?
My friend, Melissa Richardson who wrote the book on The Art Of Baking With Natural Yeast said, they would walk right past her in Costco (she was selling her book at a Costco Roadshow), and they wanted bread already made in a bag.
Modern Homesteading Skills
I need your help today, why is it that we are seeing fewer people cooking from scratch? Or are we, am I wrong? Can you help me understand this new generation of people? These are the skills I grew up with, what about you?
Sewing
I grew up taking sewing classes and sewed almost all of my clothes. I also made clothes for my kids when they were young and were excited to wear something new to school, church, and playtime. Now it seems it's cheaper to buy them at the thrift store, Target, or get items at reduced prices on clearance at several stores. I can't imagine not having a needle and thread to mend an item or use my sewing machine to alter clothes.
Cooking from Scratch
Sometimes I think we take for granted that we can make a white sauce. yes, a simple white sauce. A reader sent me an email today with her lemon sauce recipe. I can't wait to share it with you. You drizzle it over bread pudding or cakes. It sounds fabulous. I vaguely remember my mom making a lemon sauce. Let me share my white sauce while I'm thinking about it. If we cook from scratch we will not only save money but we know what is in our food. Someone told me it's cheaper to pick up food at a hamburger drive-through, WHAT? Yes, that's what someone told me. If that's the case, something is REALLY wrong with our society. Please tell me what you think, I love to hear from you.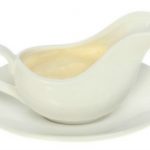 White Sauce by Food Storage Moms
Ingredients
1

cup

butter

1

cup

flour

1/2

gallon

of milk

Salt and Pepper to taste

Sugar optional
Instructions
Melt the butter, add the flour and quickly start whisking it. This makes a roux. Once it's smooth and thoroughly mixed, add the milk and keep on whisking, until smooth. This is good for making mac and cheese, Cream Chipped Beef and even gravy.
Canning/Preserving Food
When Mark and I raised our family we had a huge garden and produced much of the food we needed for the year. Or at least fruits and vegetables. As a family, we lined the jars up, washed the fruit, and vegetables, and would can all summer. It is so awesome to see all those jars lined up on wooden shelves. Plus, it taught my girls to work. Good times were had when we opened a jar of salsa, spaghetti sauce, apple pie filling, green beans, peaches, pears, and whatever we could get from the farmers. There's nothing as good as canned peaches with toast for breakfast!
A couple of years ago Mark and I actually took an advanced canning class, so we are now Master Canner, Preserver members. We took all the classes from the USU Extension Service that follows the USDA guidelines. It was awesome, and we learned a few new things. I highly recommend anyone interested should check out their state extension service.
These are my favorite canning and preserving tools:
Baking Bread
I'm going to share two bread recipes that make two loaves. If you have fresh ingredients you can make bread, I promise.
No-Fail White Bread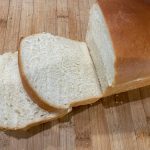 White Bread: 2 Loaves
Servings
:
2
one pound loaves
Ingredients
1

cup

warm milk

2

tsp. 

SAF instant yeast

2

tsp.

dough enhancer (optional)

1

egg

1/8

cup

oil-I use olive oil

3/4

tsp.

sea salt

1/4

cup

sugar

1/4

cup

warm water

3 to 3-1/2

cups

white bread flour
Instructions
I start with a Bosch bread mixer, although you could make this in a bowl. I put the yeast, warm water, salt, oil, and sugar in the bowl.

I then add the eggs and lightly mix them in the Bosch so the egg does not "cook".

Then I add the warm milk and flour slowly. I continue to add flour until the bread dough pulls away from the sides of the Bosch bowl.

Then knead the dough for about 7-8 minutes. I place the dough in a greased bowl and cover with plastic wrap.

Let the dough rise until it's double the original size. Then punch down the dough and make it into loaves and place these in greased pans (this recipe makes two-1-pound loaves).

I let it rise once again (using the same plastic wrap) until doubled in size.

Remove the plastic wrap and bake them at (350°F) = (176°C) degrees for 27-30 minutes. I lightly butter the tops of each loaf after baking and remove them from the pans.
Recipe Notes
HOW TO MAKE SCONES aka Fry Bread
I start with a very large skillet and heat the oil one to two inches deep until I can spritz a few drops of water into the oil ever so carefully, then I know it's hot enough.
  2. You will start with one ball of dough about the size of a tennis ball, maybe a little smaller, but bigger than a golf ball.
  3. Then mash the dough with the palm of your hand on a greased countertop and use a rolling pin to roll the dough from the center out. You keep rolling from the center out until they are very thin.
   4. Then place them in the hot oil really carefully because the oil will splatter. Here's the deal, yes, it's a big mess, but I'm talking about memories right now.
   5. Adults and kids always love hot scones. You fry them until they are golden brown, and turn them over to cook the other side until that side is golden brown too.
No-Fail Whole Wheat Bread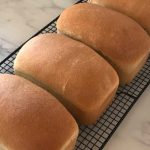 Whole Wheat Bread For Two
Servings
:
2
one-pound loaves
Ingredients
1 1/2

cups

warm water

2

tablespoons

olive oil

1/4

cup

or so of honey

1/2

tablespoon

salt

1/2

tablespoon

SAF instant yeast

1/2

tablespoon

dough enhancer

1/2

tablespoon

wheat gluten

1/2

tablespoon

lemon juice

3-1/2 to 4

cups

whole wheat flour
Instructions
Start adding the ingredients in the order shown above with one exception into your mixing bowl…start with 2 cups of flour and slowly add more flour until the dough pulls away from the sides of the bowl. I use a Bosch Mixer.

I grew up making bread without a mixer. It can be done by hand. I grew up letting my bread rise twice so I still do that. Old habits are hard to break!

I mix it for 10 minutes in my Bosch. Cover with greased plastic wrap until it doubles in size.

Punch down and form dough into two one-pound loaves. I let the dough rise one more time with greased plastic wrap.

Remove the plastic wrap Bake the bread at (350°F) = (76°C) degrees for 27-30 minutes. If your pans are larger you will bake your bread longer. You will love making whole-wheat bread, I promise!!
Planting a Garden
There is nothing better than freshly picked tomatoes and other vegetables from our gardens. We must learn to grow a garden, plant the seeds or plants, harvest what we reap, and preserve it. I'm going to be showing how to plant different vegetables every month. I recently did potatoes, if you missed it. Growing Potatoes by Linda
Herbal/Natural Remedies
I love love, love growing herbs and then drying them. I love natural remedies too! We need to learn about essential oils, herbs for our health, and foraging for plants that are edible. Essential Oils
I wrote an article on my favorite essential oils that may help you with some insight as to how I use them. Essential Oils by Linda

Final Word
Let's put our heads together and see how we can help our neighbors (those that may need help) learn some modern homesteading skills like cooking from scratch, making bread, and so much more. May God bless this world to learn to be self-reliant, we will ALL need to be very soon. I promise. Blessings, Linda