What to Do For Food in a Survival Situation
When you find yourself in a do-or-die situation, it's essential to know what to do for food for your survival. Not only do you want to gather enough food for you to eat throughout the coming days, weeks, and possibly even months, but you also want to make sure that your loved ones living with you are also covered.
When you know how to get food, your chances of survival dramatically increase. It becomes a bit easier for you to get through devastating situations and come out alive. Let's talk about what to do for food in a survival situation.
What to Do For Food in a Survival Situation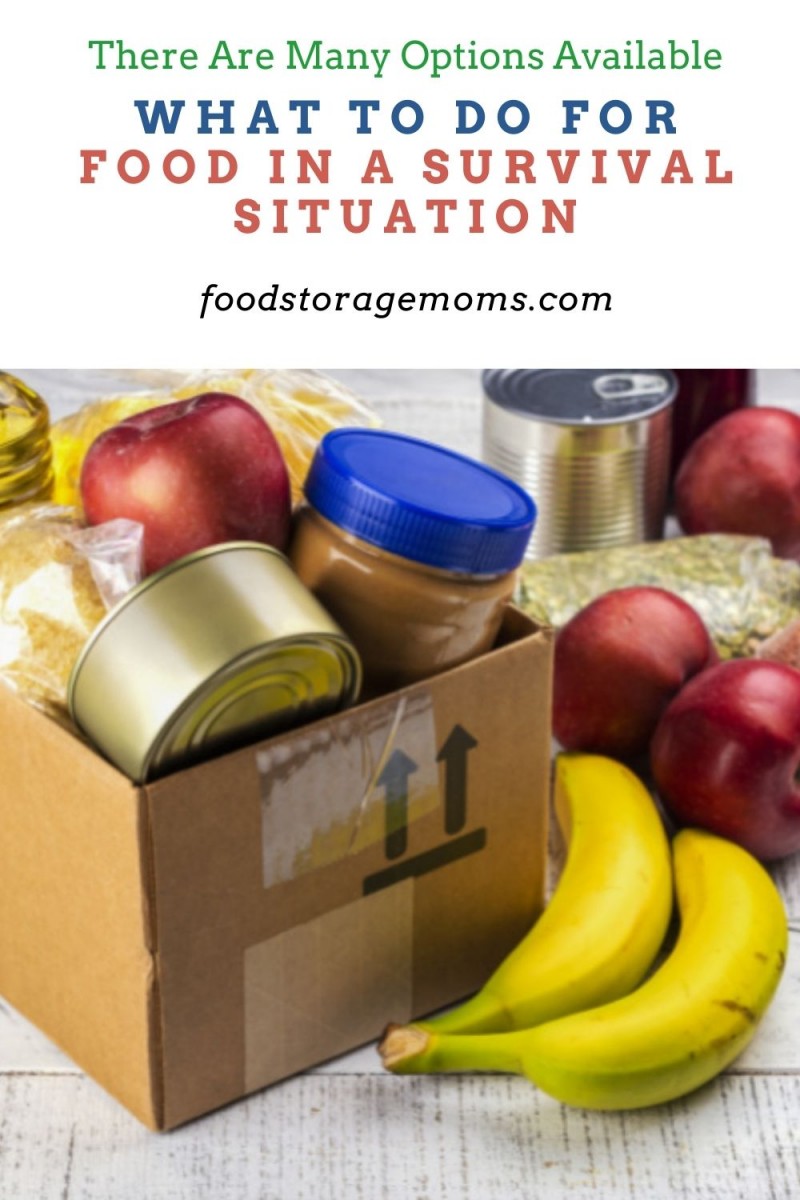 1. Contact Family and Friends
Mark and I have always been taught to use family as your first source of support when you are struggling to feed your family. There are so many reasons families can find themselves faced with the challenge of providing enough food for themselves. The events of 2020 and 2021 as a result of the virus have shown all of us what is possible. Businesses have suspended operations, people have been furloughed or laid off, families have lost the key breadwinner for a period of time or permanently. Even in normal conditions, people get sick, have accidents, lose their physical abilities to work, companies have layoffs, and more.
If you find you haven't stored enough food to properly support your family, the first source you should reach out to is your extended family. Sure, they may not have the resources needed, but you need to at least ask. You may be surprised who is willing and able to step up with at least some help, either financially or with foodstuffs.
The reason we call certain people in our circle "friends" is because we not only enjoy their association and company, but they are a source who can hopefully "have your back" by providing some financial help or the food itself. It's not easy to ask, I get it, but true friends will understand your circumstances and try to do what they can to step up and help. Remember, you would do the same for them if the situation was reversed.
2. Reach Out to Governmental Agencies
We are all familiar with family, neighbors, fellow church members, and others who have had to rely on food stamps, EBT cards, and other programs to help them properly feed their families. Most of us haven't had to deal with a situation like that, but we shouldn't shy away from taking advantage of those programs if needed. If the current circumstances are primarily due to the loss of work, check into unemployment compensation as a source of funds to buy food. It may prompt you to have to swallow your pride, but remember, you've been paying your fair share of taxes over the years and now it is your turn to benefit from various government programs.
3. Visit Local Churches and Food Pantries
The next thing you can do is stop by local churches and food pantries to see what it takes to qualify for their support. Even if they determine you don't qualify, they may be able to recommend other non-profits or support organizations that could help. Don't be afraid to ask at every turn what people you contact may suggest.
Many churches collect canned foods and other non-perishable items that they give out to the homeless and families in need throughout the year. There's a possibility that they'll still have a stockpile of those items for you to grab and carry home.
4. Pick Crops From Family and Community Gardens
Take some time to look into any Community Gardens being operated in your area. They will probably require you to put in a certain amount of time at the garden before they allow you to take home any of the products being grown. If you have other family members who can also donate time and muscle, the time required may be reduced.
Although your tummy may not be able to wait for the produce when the survival situation presents itself, consider getting involved with these groups now so when something does come up you are already in the trenches working to support your family and others in need.
Also, consider approaching neighbors you may know about who have family gardens to see if they would be willing to share some of their fruits and veggies. If you explain your situation to them, they are more than likely willing to provide some help. Offer to help pull weeds, cultivate the soil, or whatever in exchange for produce.
Although these crops won't last long unless you have a way to preserve them, you can still put them to good use by eating them and giving them to loved ones to eat to stay full until your next meal. It's beneficial to have access to fruits and vegetables when you don't know when you'll have your next full meal.
5. Know Which Foods Are Safe to Eat in the Wild
Many of us don't live close to rural areas where native plants are growing in the wild. Before you have to deal with a true survival situation, it may be a good idea to take your family on an exploratory venture in the mountains or other open areas reasonably close to home. Take some time to make sure you know what is and isn't safe to eat out in the wild. During desperate times, you'll need to search for different things that you can consume, such as berries growing on bushes and trees, flowers that aren't toxic to consume, forage, and even some insects.
While it probably doesn't sound ideal, there may come a time when you'll need to consume grasshoppers and crickets to survive. Collect what you can and begin storing them in any containers you might have available. It doesn't matter if you're using a plastic container or a glass one, as long as you have what you need to survive.
If you're near a body of water, consider taking up the hobby of fishing. You'll learn what fish are available, what the license and daily limits are, and your can really have some fun together with your family in tow. You never know when what you learn now will come in handy in a survival situation. Some people actually can the fish they catch so it's available for future consumption. Give it a try!
6. Ration What You Can Find to Make It Last Longer
Once you've collected certain foods, you need to ration what you can to make it last longer. It's tempting to eat a lot when you haven't had a good meal in a long time. However, if you overeat one day, you might not have enough to go around for the next several days or weeks.
Ration everything you have between yourself and your loved ones to ensure that everyone is getting something to hold them over for the day. Not only will you need to ration with your food, but you'll also need to do it with water.
If you haven't found a spot to collect clean water to drink, you need to do what you can to make what you have last as long as possible. For that reason, it's such a good idea to have a water filter straw that you can use to drink from many bodies of water that you can find. Life Straw
Which Items to Store for Survival
So, which items are best to bring home when you're in the food pantry or church storehouse? You may not be given a choice, but I'd try to find these essential items if at all available:
Peanut Butter. It's a great source of protein, contains plenty of calories, and can keep you full. It also lasts longer than many other items!
Canned Meats. Look for canned meats, such as chicken, ham, and sausages. The protein you're getting from these meats can leave you feeling more energized and full.
Protein Bars. They're easy to carry around with you, don't go rancid quickly, and can keep you more full for more extended periods.
Canned Vegetables. Try to get the vitamins and nutrients from different canned vegetables, such as canned green beans, beets, peas, and carrots.
In case you missed this post, Canned Foods I Highly Recommend You Store
Final Word
When you need food for survival due to an emergency, these are some of the things you can do. While the thought of eating items found outside doesn't always sound appetizing, it can save your life during some of the most challenging times. How would you handle a survival situation if one comes your way? May God Bless this world, Linda.
Copyright Images: Food Donation Box AdobeStock_302131975 by happy_lark