Other than adding flavor to your meals, you may be under the assumption that salt's only effect on your body is raising your blood pressure and causing serious heart problems later on down the road. While you are partially correct, especially if you tend to consume it quite often, salt can be used for more than just enhancing flavor. That's right. As it turns out, salt has many uses around the house and ones that you can directly benefit from. Continue reading to find out more about 12 unusual uses for salt that actually work. In case you missed this post, What to Store in Your Pantry for an Emergency
My favorite Salt Products
12 Unusual Uses for Salt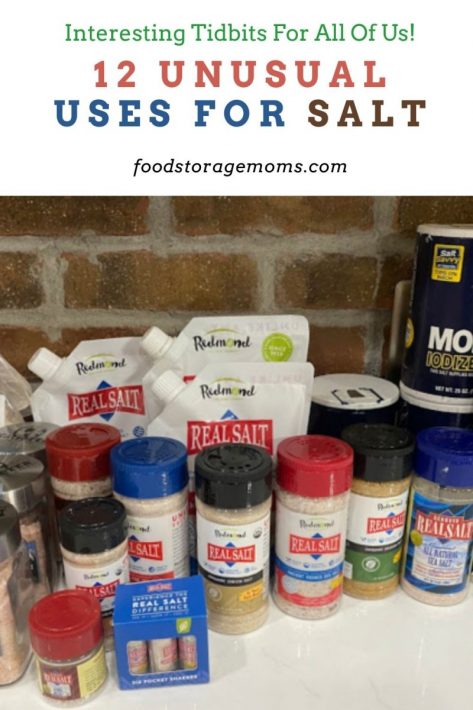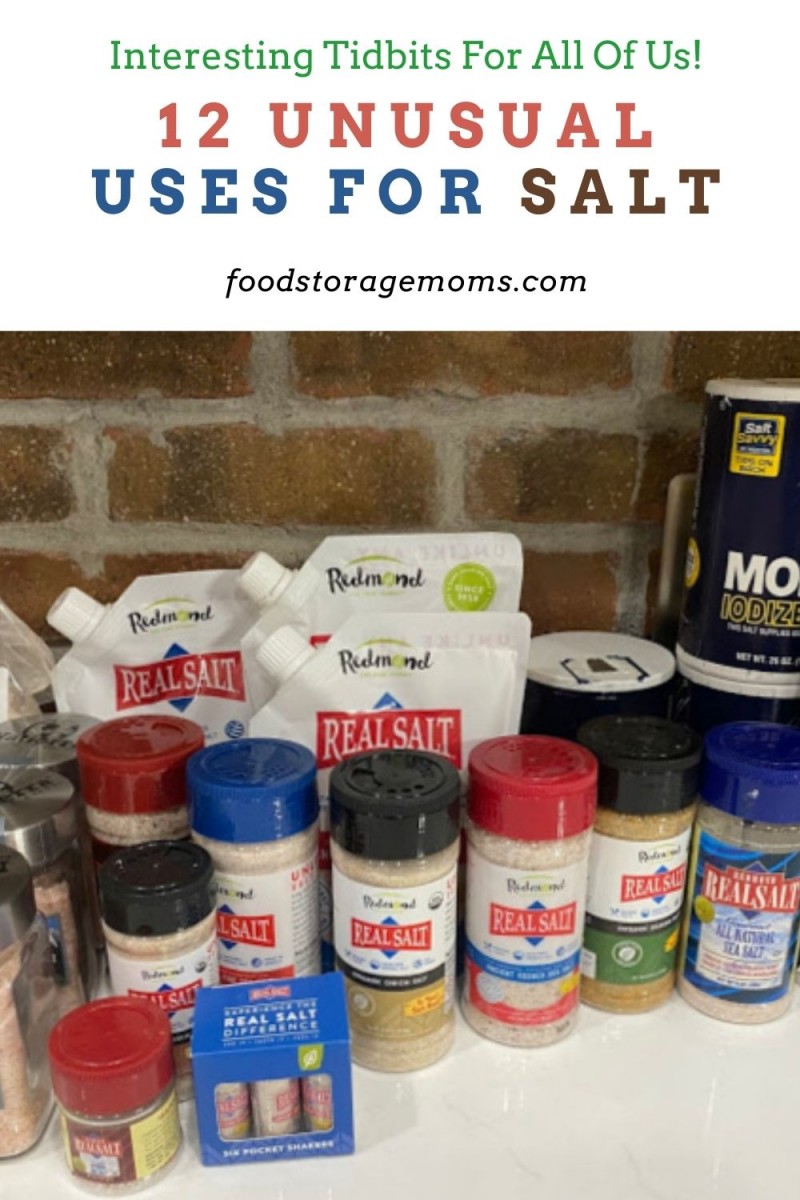 1. Keep Milk from Spoiling
Did you know that adding just a pinch of salt to your gallon of milk can help to extend the shelflife of it? You can now say goodbye to spoiled milk. Just be sure that you shake the container gently when you go to add the salt.
2. Test an Egg's Freshness
Don't be left wondering if your eggs are still good or not. Take a cup of water and add 2 teaspoons of salt to it, and then stir. If you have a very good fresh egg it should sink. A bad egg will float to the top and you'll know to throw it out. How cool is that?   
3. Improves Bitter-tasting Coffee
Not too many things in life are worse than a pot of over-brewed coffee that has turned bitter. It's disgusting! With just a tiny pinch of salt, you will not only enhance the flavor, but also lessen the bitterness of your coffee.
4. Relieves Sore Throats and Canker Sores
Gargling salt water to help relieve sore throats and canker sores is not something new, but it's a trick that certainly works. Some people have even said that it helps with toothaches. You will need at least a ¼ of a cup of warm water that's mixed with 2 teaspoons of salt. Swish it around in your mouth for at least 20 seconds while gargling. It may taste awful and burn a bit, but you should get fast results.
5. Soothe Pain from a Bee Sting
The next time that you, or someone you know, is stung by a bee or another type of insect, you can use salt to relieve the pain and reduce the surrounding inflammation. Be sure to remove the stinger first, and then wet the affected area with a mixture of both salt and water. Allow it to dry, and it should help lessen the discomfort.
6. Sanitize Your Sponges
Your sponges have more bacteria and germs than you may even realize. In order to kill most of these undesirables, get your sponges all sudsy and then rinse them out. Next, place them in cold, heavily salted water and allow them to soak for a couple of hours. This way you won't be spreading germs, but they'll actually be cleaning like they were originally meant to do.
7. Deodorize Your Shoes
Have you recently noticed a foul odor coming from your son's basketball sneakers? Instead of throwing them out or buying a new pair, sprinkle a bit of salt in them and then wipe them down. It should deodorize the smell. Don't try this hack with your leather or synthetic shoes. Your shoes may start to discolor, deteriorate, and dry out.
8. Makes Your Linens White Again
After a while, you may notice that your white linens aren't looking all that white anymore. Surprisingly, you don't necessarily have to use bleach to restore their original color. You can boil your linen or cottons in a big pot while adding a few tablespoons of salt and then a couple of tablespoons of baking soda to the mix. You'll be left with white and crisp linens that don't appear as dingy anymore.
9. Keep Your Clothes from Freezing Out on the Line
Attempting to dry your laundry out on the clothesline in colder weather can prove to be difficult. To keep your clothes from freezing, add a little salt to the rinse water in your washer. You can also add salt directly onto your clothesline to keep your laundry from freezing to the line.
10. Kills Poison Ivy
Getting caught in poison ivy is awful, especially when it starts to spread to other areas of your body. I've also never met a single person that is particularly fond of this obnoxious vine, so I don't think I'll offend anyone by teaching you how to kill it. To do so, take a gallon of soapy water and add three pounds of salt to it and you'll have a mixture that lasts you all summer long. Apply it to the stem and leaves of the poison ivy and it should kill it.
11. Reduces Puffy Eyes
When you are trying to hide your swollen or puffy eyes because you were recently crying, or didn't get enough sleep the night before, salt can be of some assistance. Take a little bit of hot water that has a pinch of salt added to it and apply it beneath your eyes using a cotton swab. This will help bring out the moisture and tighten the skin around your eyes.
12. Provides a Glow to Your Skin
Instead of having to keep buying skin cream every now and then, why not use ingredients that you already have tucked away in your kitchen pantry? By taking a mixture of salt and olive oil and then massaging it into your skin by using circular motions, you'll be rewarded with fresher and younger-looking skin. The salt helps to remove the dead skin cells while the olive oil works as a moisturizer. Now, this is one of those unusual uses for salt you wouldn't have thought about before.
Final Word
As it turns out, life would be pretty bland without salt in our lives. The mineral has many unusual (and fantastic) uses that can benefit you personally, and other areas around your home. What are some unusual uses for salt that you'd add to this list? May God Bless this world, Linda.