Prepping in the North vs the South
A natural disaster can happen anywhere and at any time. As you may already know, prepping for these emergencies will look slightly different for everyone, especially depending on where you live. For example, it wouldn't make much sense for you to make preparations and gather supplies to stay warm during a winter storm when you live in places like Florida or the deserts of Arizona. There's also little need to prepare for a hurricane when you live somewhere in the midwest. I want to chat about prepping in the North vs the South.
That's not to say that a freakish winter or tropical storm couldn't shut down major highways and businesses in these areas, but it's rather unlikely. So you will need to prepare and have the correct supplies on hand for the right scenarios that may come about in your region. Here's more on prepping for disasters, whether you live in the north or the south.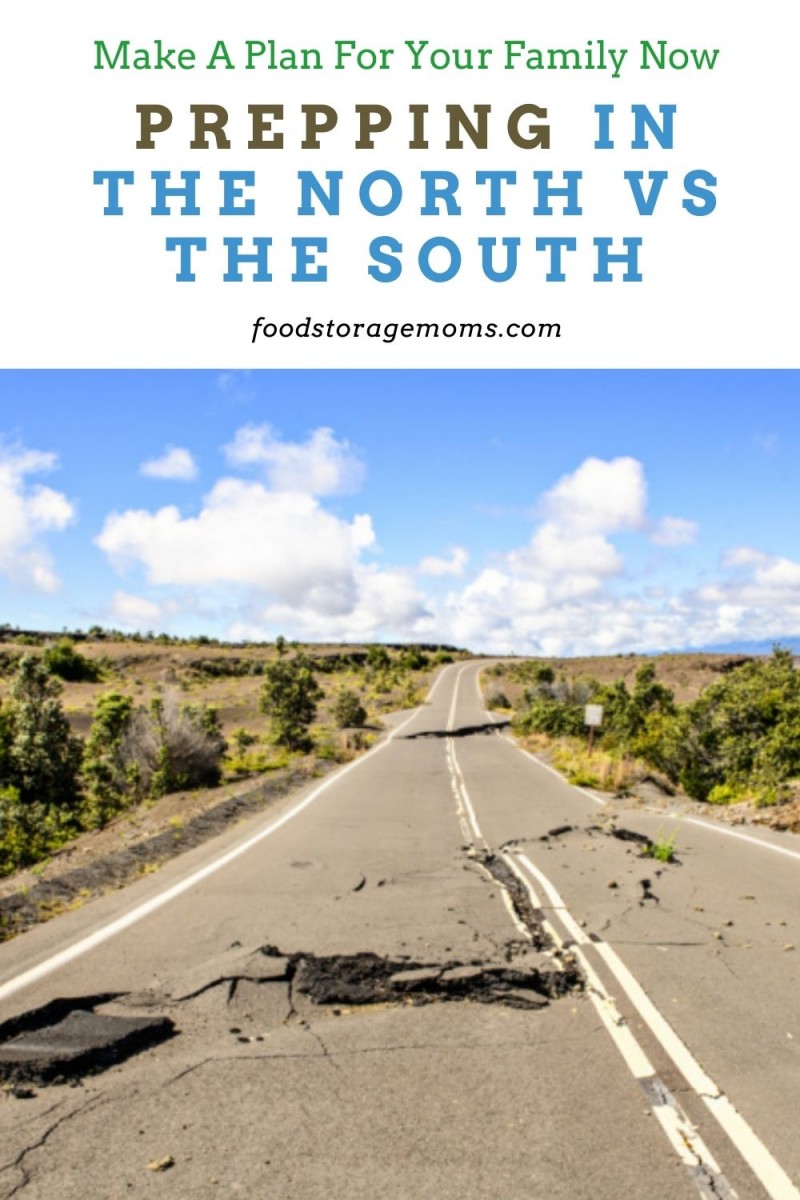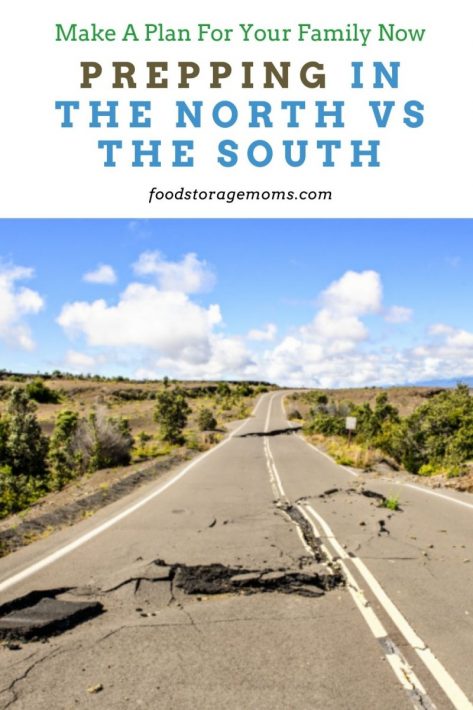 Prepping in the North vs the South
There are certain natural disasters that can take place all over the country, and then there are those that happen more heavily in the north, while some more often in the south. But like I just said, that doesn't mean that the south will never experience something like an ice storm. Take the state of Texas for example, with what they experienced just a few months ago. Here's a closer look at some of the emergencies that are more likely in both the north and in the south.
Emergencies that are More Likely in the North
Winter Storms
Tornadoes
Wildfires (North and South Dakota)
Earthquakes
Emergencies that are More Likely in the South
Hurricanes
Flooding
Extreme Heat
Landslides (Virginia, West Virginia, Kentucky)
Tornadoes
Earthquakes
Wildfires
Prepping Similarities
Regardless of where you live and the emergencies that are more likely to happen in your area, there are some basic supplies that you will need to have. The first two are food and water. A minimum 3 day supply of both food and water for each member of your family is a great place to start, but a 2 week supply would be something you should strive for. Keep in mind that the average person uses about 4-gallons of water per day for drinking and sanitary purposes so you will need to plan accordingly. Here are a few other supplies that you will need: 
First aid kit
Medicine
Baby food and supplies
Pet food and supplies
Extra cash
Can opener
Flashlights with extra batteries
Hand Sanitizer
Wet wipes
Cell phone chargers
Weather Radio
Multipurpose tool
Camping stove or secondary cooking option (in case the power goes out)
These are other supplies that you should also consider
Prepping Differences
You may have noticed that many of the disasters that were mentioned above are likely to happen in both the north and the south, but there are a few differences. Once you are aware of what they are, it will be easier for you to have an idea about what emergency supplies you need to be stocking up on for your area.
Prepping in the North
Tornadoes and earthquakes are some of the most common disasters that take place in both the north and the southern states, yet the north tends to experience much harsher and colder conditions during the winter then what the south does. So because of this, let's take a look at what supplies and practices you will need in order to stay warm during a winter storm that could cause your power to go out.
Warm clothing (layering)
Sleeping bags
Extra blankets/mylar blankets
Generator
Kerosine or propane space heater
Plenty of fuel
Rooms on the upper floor and in your basement will be the warmest rooms of the house
Shut off any bedrooms that aren't being used
Seal off any windows with plastic wrap
Prepping in the South
The south brings a number of other disasters to the table that are not quite as common in the north. One of them being extremely hot temperatures at certain times of the year that can turn deadly. Hurricanes and flooding are also much more prevalent in the south, but that doesn't mean that a tropical storm doesn't make its way up along the coast from time to time. These are some of the supplies and practices that you will need in order to survive the heat and strong storms of the south.
The Heat (Before and during a heatwave)
Invest in several battery-powered fans
Purchase heat blocking curtains for your windows
Create a solar-powered air conditioner
Close off warm bedrooms that aren't being used
Open windows at night and shut them first thing in the morning
Cook your meals outdoors (patio grill or camping stove)
Hurricanes
Hurricanes can certainly be unforgiving and deadly, even more so if you're not prepared for one. Even before the storm arrives you need to have an evacuation plan already in place. Are there any family or friends that are able to take you and your family in who live just out of reach of the hurricane? Besides taking the main highway to make your escape, you will also need to come up with a secondary route to reach your destination in case your first option is blocked.
You also need to prepare your home in a number of different ways. These are things that you should consider doing to prepare your home before a hurricane comes around.
Cut down any loose or low-hanging branches in your yard
Go with tempered glass for your windows and glass sliding doors
Install storm shutters that can protect your windows
Anchor down your trailer or boat
Take inventory of your possessions
Make sure your insurance has enough coverage
Secure and protect important documents and valuables
Building materials for preparing your home, repairing your home after the storm
Final Word
While it's important to be ready for every type of disaster that is under the sun, these are some of the most important prepping supplies that you will need based on where you are living in the United States. How is prepping in the North VS the South different for you? May God Bless this world, Linda.
Copyright Images: Earthquake AdobeStock_256717340 by Pololia