How to Survive in a Homeless Shelter
If you were to ever find yourself homeless, you may be wondering how to survive in a homeless shelter. Those who are homeless feel fortunate to be in a shelter away from the elements. There is no judgment from me when someone finds themselves in a predicament like this one.
Since I'm all about prepping, I want to teach you how to prep for a scenario you hope you never have to face.
Mark and I were driving in downtown St. George, Utah, and noticed what appeared to be a homeless man. It was about 8:00 A.M. and he was sleeping on a bench with a table at an ice cream restaurant.
He had a small backpack on his back and it was quite obvious he was not a student at the university in town or a hiker with his supplies. I drove by wondering what his life story may be. Karilyn, a reader mentioned everyone who goes to a homeless shelter must have an ID (Identification) on them. It makes sense. Great tip!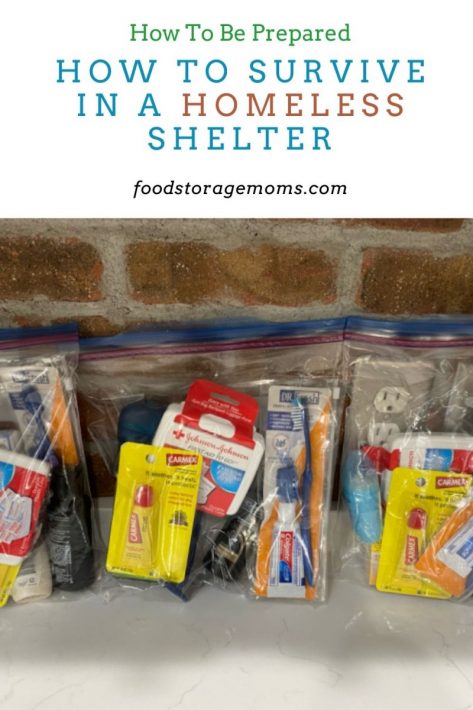 Surviving a Homeless Shelter
Keep in mind that there are at least four types of homelessness. It's really hard to fathom what it's like to be homeless, and I'm not going to pretend to. However, if you ever find yourself in a bind and need more info, I wanted to have the research ready for those who need it. Here is a list of the types of homelessness:
Hidden homelessness: a lot of times, someone you know can be homeless and you have no idea.
Transitional homelessness: when you are in-between places of living. Someone might be looking for a new place to live, while they start a new job.
Chronic homelessness: this is when a homeless person may experience being without a home for more than a year.
Episodic homelessness: Not everyone is homeless consecutively. This type of homelessness is when a person is homeless more than three times in one year.
#1. Stay Focused on Yourself
When you are in a new place like a homeless shelter, it may be interesting to watch and focus on others. One of the best things you can do, when in a homeless shelter, is to stay focused on yourself.
While you may have good intentions, not everyone in a homeless shelter does. As nice as it will be to try and make friends, this isn't necessarily the place to do it.
#2. Don't Bring Your Nice Stuff With You
Try your hardest to leave all of your nice belongings with someone else. Anything you have that could be worth money has the potential to be stolen. I'm not being mean when I say this.
If you have something a stranger wants, they will take it if they can. It's best to come to the homeless shelter with nothing valuable. If you don't have a choice but to bring it with you, make sure you hide it or ask the shelter management if they have a safe place to store things.
#3. Get In Touch with Family, If You Can
If you can get in touch with your friends and family, do it. Someone must know where you are at all times. If for some reason the homeless shelter does not have a way for you to communicate, then head to your local library for access to a computer.
Your library may be within walking distance. Figure out how to get there and get in touch with anyone you think may care.
#4. Check For Local Resources
When you are in a homeless shelter, you most likely will have access to resources. As soon as you're able, check for local resources and see what kind of help you can get.
Any kind of help you can get at this point is important. Try to be patient though because there are a lot of people who need help too. The Salvation Army is one of the largest places that tries to help the homeless. Homeless Shelter Resources
#5. Don't Stay Too Long
I have talked to several people who have lived in homeless shelters. The best advice that they have is to not stay too long. If you can get out of the homeless shelter ASAP then do so. As soon as you can get out, do it. Work as hard as you can to move into a rented room, or possibly with family or friends and away from the homeless shelter.
Go from a rented room to an apartment, and so on. You can do this! Some people seem to think that the longer you stay in a homeless shelter, the harder it is to get out. I don't know if this is true or not, but this seems like really good advice.
How Long Can You Live in a Homeless Shelter?
While you may want to learn how to survive in a homeless shelter, you may be wondering how long you can live in one. This truly depends on the shelter and your situation.
Some shelters will allow you to stay 3-5 days and other shelters will allow you to stay up to 30 days. Sometimes your case can be extended depending on your situation.
What Items Do Homeless People Need Most?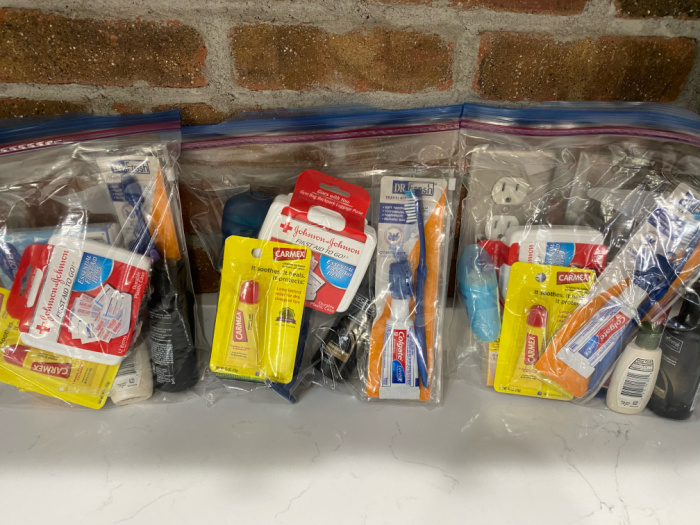 As you pass a homeless person on the street, you may be wondering what they need most. Mark and I put several dozen of these together for the homeless in Southern Utah via a civic club.
Most people who are homeless must carry their belongings from place to place, which is why small items are important. Some of the most common items a homeless person needs most include:
Socks
Underwear
Shoes
Bottled water
Travel-sized shampoo and conditioner
Toothbrush and toothpaste
A cloth washcloth
A cloth hand towel
Liquid soap
Hand Sanitizer
Deodorant
Razor
Lip Saver
Tiny First Aid Kit
Lotion
Bar of Soap
If you don't want to donate directly to the homeless person, call your local shelter. They are probably going to take any donation you can give them.
I remember seeing something on FaceBook stating "we don't have any homeless people in Southern Utah." The poor guy was a bit naive, yes indeed we have homeless people in every city, and it's getting worse.
Where Can You Sleep If You Are Homeless?
What if you can't get into a homeless shelter, where can you sleep? There are several places you can sleep in. These places are based on my research. However, please check local laws because I would hate for anyone to get into trouble.
Streets – not very safe or comfortable
Parks – you may find a soft lawn or pine needle "mattress," but parks are often frequented by others looking to take advantage of you.
Car: I know first hand in Utah this is against the law. My sister's friend was homeless and she was arrested for sleeping in her car-she called me for bail money.
Motels, for those who can afford it.
Final Word
The aforementioned tips are my opinion only. You are free to do your research on the matter. If there ever comes a time when you need to know how to survive in a homeless shelter, I hope these tips come in handy. If there is anything you'd like to add to this list, please let me know. May God Bless this world, Linda.
Copyright Images: Homeless Man Deposit photos_29876821_s-2019