Should You Tell Others You're Prepping? Pros & Cons
Today it's all about should you tell others you're prepping? Ever since the pandemic, more and more people have begun prepping in case of future disasters and other types of emergencies like never before. That's because many of us have come to realize the frailty of our lives and just how quickly everything could come to a screeching halt or drastic change.
Do your family members and closest friends know that you are a prepper? You may have been on the fence about talking with them about this for a while now and not knowing what you should do.
The picture above shows some of my fuel storage in 5-gallon buckets. I color code all of my buckets. I buy all of my 5-Gallon buckets and Gamma Lids from Pleasant Hill Grain. In case you missed this post: My Favorite Emergency Fuels To Store For Survival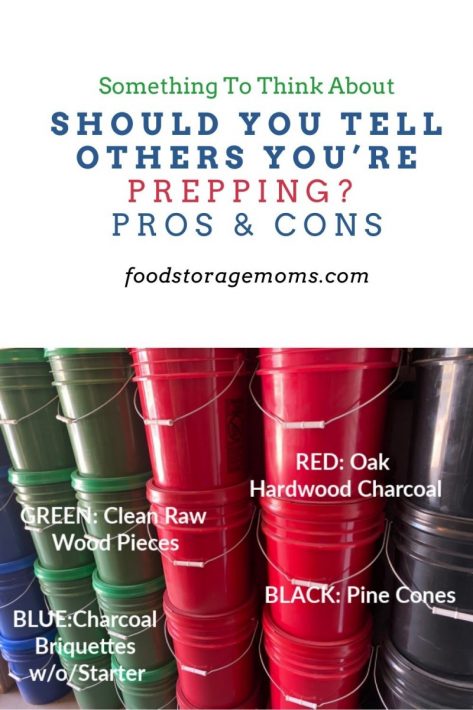 Should You Tell Others You're Prepping?
Many preppers would urge you not to tell anyone about the food and supplies you've gathered, or where your bug-out location is, and for good reason. Prepping is about providing for your family and keeping them protected following a disaster, not necessarily about providing a lifeline for everyone else.
However, there are a few reasons why you should tell others about what you are planning. These are the pros and cons of telling others that you are a prepper.
Pros of Telling Others You're Prepping
Strength In Numbers
As much as we don't like to think about it, there are some pretty bad people out there who may be close by. Following a disaster, they'll be willing to do whatever it takes to stay alive for another day, including taking advantage of you and your family. 
If they see that your family is vulnerable because there are only a few of you and that you also have an abundance of food and supplies, they won't hesitate to try and take what they want. But if you have other people bunkering down with you, they'll be much more leary about taking a chance with you and your group.  
More Brain Power
There may come a point that you don't have the answer to a particular problem that your family is facing. This could prove fatal if you're in a situation where you have to act quickly. With more people in your group, it provides you with more ideas and resources that can be used to collaborate and you may be able to come up with an appropriate solution to your problem. 
They may even know several skills that could prove useful to you at some point. Yet strong-willed people with differences of opinions can also be seen as something negative as well.
Provides You with More Options
Think about what would happen to you and your family if your bug out location, along with all of your food and supplies were ransacked or plundered. Where would you turn and what would you have to do to survive? 
By talking about prepping with others in your group, it provides you with more places that you could turn if you were forced into a situation where you had to leave your home or bug-out location.
Should You Tell Others You Are Prepping
Cons of Tellings Others You're Prepping
There's Always the Skeptic
If you do decide to share with others about your intentions, do so cautiously, and be prepared for several different reactions. This is especially true amongst family members who have differences in opinion and are not afraid to show it. 
Some will think that your prepping is a great idea and show real interest in the matter, but there will also be people that will look at you as if you've completely fallen off your rocker.
Some will come out and blatantly tell you this and you may even find yourself in an argument over the subject, while for others you may notice that you see them less often afterward. You must be aware of what you are getting yourself into by disclosing this type of information with others.
I've had to take the position that I really wish they understood my desire to be prepared and to help others do the same. But also, I can't worry if they decide it's not for them and they disagree with what I'm doing  
Not Everyone Is As They Appear to Be
While there certainly is strength in numbers and can greatly improve your family's chances of survival, there could come a time when the decision to share your approach and let others know what you're doing could backfire on you. What happens if you accidentally tell the wrong sort of people? 
There could be grave consequences in doing so. Even if you've spent a decent amount of time with that individual, it's quite possible that you still don't know who they are. 
That can put you and your family in great danger, especially following a devastating event that pushes that person over the edge because of their desperate situation.
Unfortunately, a dangerous individual is not always someone easy to spot in a crowd. 
There may not be any red flags or obvious indicators that point to that person being mentally ill or someone who has a violent criminal history. 
That's because there are some pretty good actors out there who appear to be just like you or me. 
You don't want that type of person to come knocking at your door if they've been in trouble in the past with aggravated assault, robbery, caught up in recent drug activity, or any sexual crimes against a woman or a minor. 
They could potentially steal from you or harm one of your family members.  
As drastic as it may sound, getting a background check on them done before you discussing anything with them about prepping, could save your family from so much heartache.
You Could Lose Your Privacy
If there ever came a time that SHTF, there's the possibility that everyone that you discussed your prepping with would turn to you for shelter and supplies. You may be cooped up in a very tiny living space with other people and extremely limited resources. Your family's privacy would be compromised, at best.  
Final Word
It's your business whether you decide to tell others about the prepping and precautions that your family has already taken. But if you do decide to share with others about your prepping, it's best to keep it between immediate family members, close friends, and trusted neighbors.
Also, be careful to keep the things that should remain private, and I mean private. Don't feel obligated to share this information with coworkers, strangers, all the way down to your 2nd and 3rd cousins. The fewer people who know, the safer your family will be, and the less likely that your possessions will be stolen right from underneath your nose. May God Bless this world, Linda