My Favorite Emergency Fuel To Store For Survival
My favorite emergency fuel to store for survival is one of my favorite topics to talk about, just so you know. I have a small yard, so I am not able to store as much as someone with a large piece of property. If I had a large parcel of land I would have a large truckload of my favorite charcoal/coal delivered. (I do not own a truck).
Emergency Fuel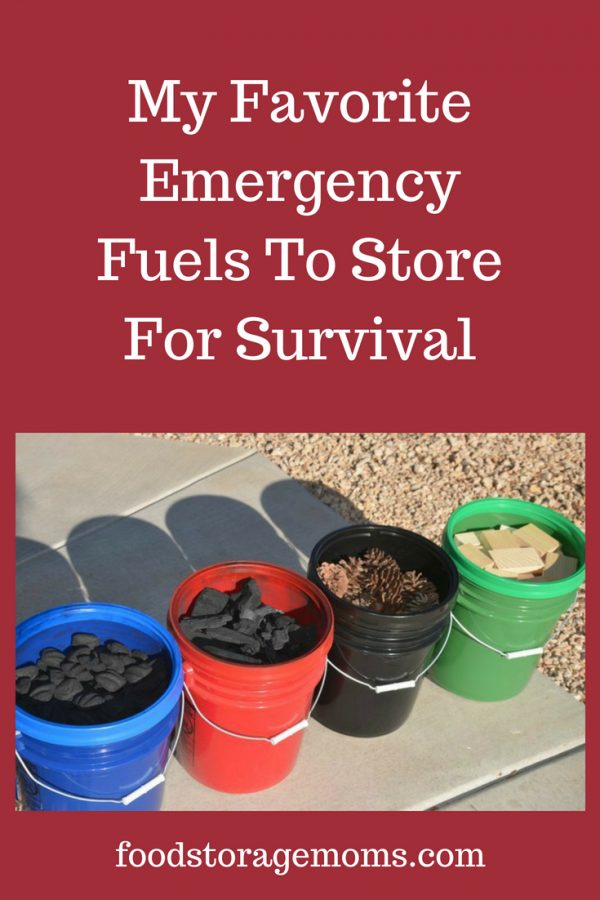 I purchased several red five-gallon buckets with red Gamma lids to store my Ozark Oak hardwood charcoal. The reason I chose to purchase this brand is that I read about the chemicals in the barbecue charcoal briquettes you buy at the grocery stores or large box stores. I am not a scientist, but I will give you some tips that I have researched.
I started buying Ozark Oak hardwood lump charcoal several years ago. They have now closed their doors and are no longer in business. Dang! For years, I have had to order it online, but now I am seeing other brands of lump charcoal at major hardware stores. I have not done the research on those companies because I have so much Ozark I am set for my lifetime.
If you store your fuel properly it will last indefinitely, with the exception of butane. I store only about 12 canisters of that product. Propane must be stored upright and stored several feet away from your home. I store all my propane outside, not in the garage. Remember it is combustible. As long as the propane containers do not rust, they will store indefinitely if you keep them upright.
I store my charcoal briquettes in blue colored Gamma lid 5-gallon buckets. Anyone that knows me is aware of my organizational skills, or whatever you want to call it. I have my washed and baked pinecones (to get rid of bugs and sap) in black 5-gallon containers with black Gamma lids. The freshly cut wood pieces are in 5-gallon green containers with green Gamma lids.
There is no question on how much fuel I have because I have the colored containers lined up in my garage. Please note, I do not buy charcoal briquettes with the lighter fluid. The regular charcoal briquettes without the fluid will last indefinitely if stored in air-tight containers. Some people I realize just store the bags all stacked up, but I prefer air-tight containers. Gamma Lids and Colored 5-gallon buckets Here are some of my favorite emergency fuels.
Emergency Fuels
Propane:
Stores indefinitely if the containers are stored upright and do not rust.  I can use propane with my Volcano Stove (make sure you have the right size adapter for the large tanks or canisters of propane. Different Volcano stoves are sold with different size adaptors. Worthington 303955 20-Pound Steel Propane Cylinder With Type 1 With Overflow Prevention Device Valve
If you have a Costco near you, sometimes they sell the tanks at a good price. Buy one every month and stock up on propane. Be careful of your local laws because some locations only let you store so many containers of propane.
Butane:
Does not store indefinitely. It's a great inexpensive way to boil water or cook a few meals after a disaster, or for camping. You will love it! I bought one for all four of my daughters for emergencies. Camp Chef Butane 1 Burner Stove with Camping Case
and 12 Butane Fuel GasOne Canisters for Portable Camping Stoves
Hardwood Charcoal:
Low ash, burns hotter, burns faster and less evenly because you are burning blackened wood, usually oak, pecan, etc. The pieces are not formed by a machine to be the exact size. They are pieces of cut wood all different sizes and shapes. They look like pieces of blackened wood because they are wood. Eco Charcoal 20-Pound All Natural Premium Hardwood Lump Charcoal Bag
  I can use these in my Volcano Stove or firepit in the backyard.
Charcoal Briquettes:
These burn longer and more evenly because they are all pieces of uniformly made pieces of briquettes. Some manufacturers use chemicals, fillers, and add sawdust to make perfectly formed briquettes. Be sure and check the brand you are buying. Some briquettes are made with little or no chemicals. Some have several fillers and chemicals in them. These produce more ash than the hardwood charcoal.
There are many disputes as to whether the ash leftover is safe or not safe to add to your garden. I do not add it to my garden. Kingsford Charcoal Briquettes, 7.7 Pound (Pack of 2)
   I can use these in my Volcano Stove or firepit in the backyard.
Blocks of wood:
They store indefinitely as well. I can use these in my Volcano Stove or firepit in the backyard.
Pine Cones:
My friend, Lisa mentioned to me to bake the pine cones on some aluminum foil. If there is a lot of sap you will have no clean up after baking them. It worked. I baked the pine cones at 200 degrees for 2 hours. The first batch I was a bit nervous because I have never baked pine cones. No problems with baking them. I made sure that I had zero pine cones hanging over the edge of the cookie sheet because I did not want any drips of sap in my oven. My favorite cooking stove with pine cones is the Kelly Kettle!! Kelly Kettle Ultimate Stainless Steel Large Base Camp Kit
I have enough emergency cooking fuel stored to cook one meal a day for several years. I have propane, wood, pine cones, lump charcoal, charcoal briquettes (without the starter fluid), and butane as well. Update, now I store small pieces of pine wood (not painted or varnished) that I buy for $1.50 a bag that I fill as full as I can. Plus, I do not need a hot meal every day.
I can use different fuels for my Volcano II stove and in the firepit that I have in my backyard. I can also use charcoal or lump coal to cook with my Dutch ovens in my Dutch oven stand. Please remember, these are all outside cooking fuels only. I have used a butane stove at stores where I teach classes and in my home. I crack the door or a window for a little ventilation when using my butane stove in my home.
The instructions in my butane stove suggest using the stove outside only. Just giving you the heads-up here. I used one for about six weeks in my home while I waited for a gas line to be installed for my new gas stove. This is why storing different emergency fuels is critical.
I read on the Emergency Essentials website: we need approximately fifteen-20 pound bags of charcoal in order to cook one hot meal a day for one year. It's all about emergency fuels ready to use when we need them. Thanks for being prepared for the unexpected. You never know when a disaster or unforeseen emergency may hit your community. May God bless you for your efforts in storing emergency fuels.