How To Build A Power Outage Kit
Today I'd like to discuss with you how to build a power outage kit for you and your family to use in case you lose power in your home. Some of you may be new, and some are so experienced you already have a power outage kit. I get it. But let's teach those around us to be ready for whatever comes our way.
We sometimes have to hear this stuff over and over and one day it makes us think about what we do have this very minute. Or what we do not have, maybe it's what we need to replenish our stash.
I can't believe how many news reports I've listened to over the past few weeks regarding the challenges families are facing due to the increased number of storms affecting the country, particularly along the east coast and southern states.
The city of New Orleans has been devastated by the series of storm-related emergencies they've experienced. In case you missed this post, Basic Items To Gather For Any Emergency
There hasn't been one report I've listened to or read about that doesn't mention that the affected area has seen countless thousands of homes lose power. The tough thing about these reports is that the homes affected don't have any reliable information about the timing for their power to be restored.
I've been trying for years now to help people of all ages, locations, financial means, and education to be sure and prepare for emergencies of all kinds.
Based on the consistent experience of families losing power, whether it's from a hurricane, tornado, wildfire, earthquake, or other disasters, I felt it was critical to helping my readers prepare for an impending power outage by teaching them how to build a power outage kit.
"Prepare Your Family For Survival" by Linda Loosli
How To Build A Power Outage Kit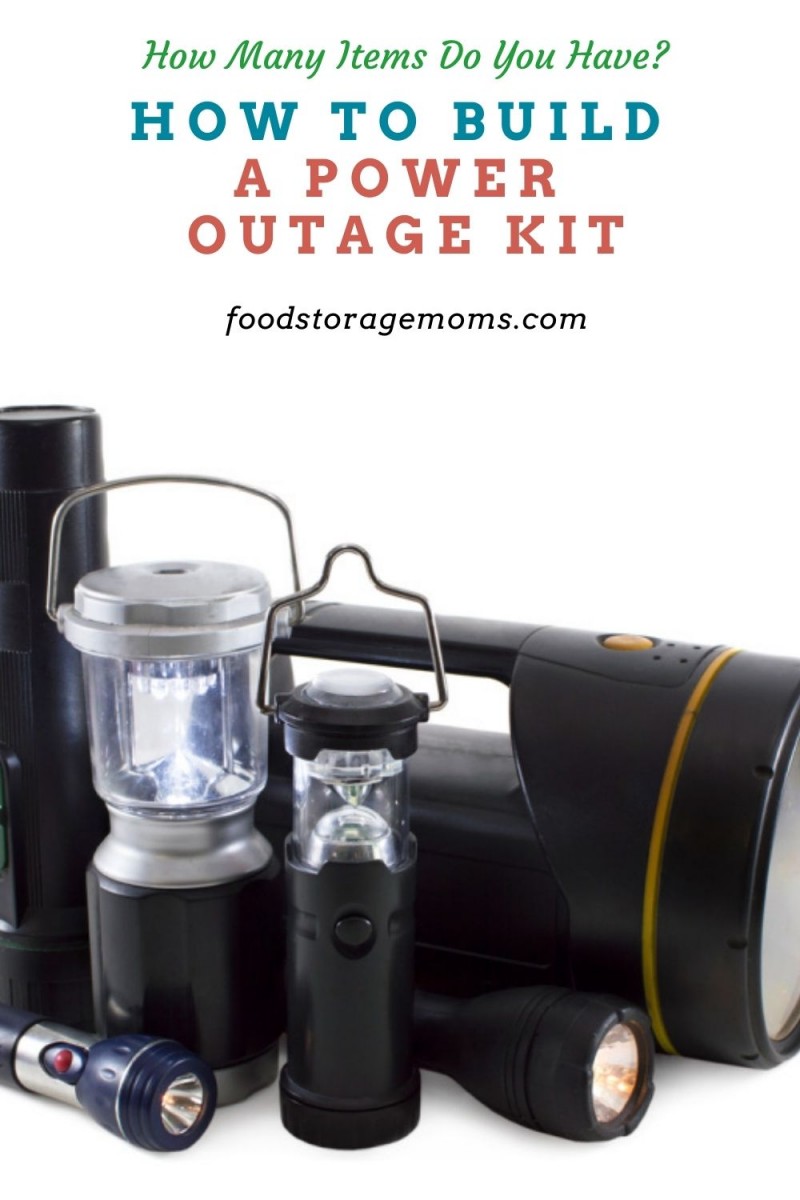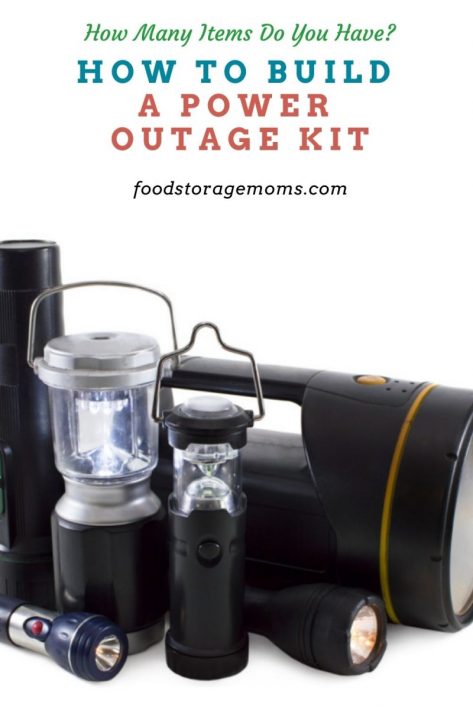 What Should I Include in My Power Outage Kit?
Although emergencies and the related issues you deal with may be different based on what caused the power to be lost at your home, and possibly the general area where you live, one key question to ask is whether you should stay in place or evacuate.
That decision may be out of your control if the local disaster agencies deem it best to evacuate. My focus today is to help you be prepared if you are allowed to stay in your home.
I've listed below a number of items I feel are needed in your kit and consider them critical for proper preparation. The "kit" itself may end up fairly large in size, depending on the size of your family and the items you've decided to include.
Storage space could be an issue and part of your decision-making efforts. From your own experience, you may feel the need to add to or delete certain items, but I'd be surprised if you don't recognize the value of each and every item:
Light Sources
it may just be me, but it sure seems like emergencies and the related loss of power tend to happen at night more often than not. That means, unless you've got different sources to provide light, you'll be at a real disadvantage if you don't have flashlights and batteries that are in good working condition. I would highly recommend you check out flashlights that work on solar power.
You don't have to keep checking on the condition of your batteries, and on most days, there is enough sunlight to keep them charged. I have some on my windowsills all the time to make sure the sun is doing its job to keep them charged up.
Some people swear by candles. My concern with candles has always been fire safety. No matter how careful you are, and particularly around children, they can tip over, get bumped, or forget when you go to bed, thus putting your family at risk for a house fire.
If you're trying to light up a larger area, lanterns can prove to be a great source of light. Again, there could be a fire risk, so I suggest you look into some solar-powered lanterns. Yes, they cost more than flashlights, but they put out a whole lot more light. These are awesome, ENERGIZER Compact Rechargeable Emergency LED Flashlight
Matches or Lighter
I'll discuss options for cooking later, but if you decide on candles or a lantern, you'll need some way to light them. They will also come in handy if you need to light a fire outside your home to stay warm or cook some meals.
Household Tools
A small toolbox is always an important addition to your preparedness stash. Be sure it includes common things like scissors, a pocketknife, pliers, both Phillips and flat-headed screwdrivers, etc.
First Aid Kit
Heaven forbid you or a family member are injured during the emergency situation, but very frequently that is part of the challenges to be faced and prepared for. It's always good to have a first aid kit close by all the time, but during a power outage, it could prove critical as you try to make a safer environment for those you love.
Radio: a radio can be your friend as you try to stay informed during a power outage. Here is another item that may require batteries that work. I actually bought a crank radio where I can also get weather-related channels. I want to stay on top of what's going on outside!
Coats, Blankets, and Towels
You could lose power during a possible heatwave, particularly if your local electrical utility uses rolling power outages as a way to control the electrical power provided within their service areas.
The challenge more likely is that you'll need ways to stay warm, and possibly dry. Be sure to stock up on jackets or coats, some extra blankets, and towels to keep you warm and be able to dry off when you get wet.
Medications
You need to be sure and include some doses of your daily medications. One challenge to keep in mind is if the medication needs to be refrigerated. If so, you need a high-quality small cooler.
You'd also need some ice. Another solution would be to have a backup emergency battery system that runs on solar power and a small fridge.
I don't have a generator at my home. I worry about having to store the fuel to run it. But I do have some backup battery systems that can power some of my kitchen appliances. I've also tested it to make sure it will run a CPAP unit since my son-in-law uses one every night.
Cooking Devices
whether you lose power or not during an emergency, you and your family still need to eat. Hopefully, you'll have some food in storage that can be put to use so your family doesn't go hungry.
It's always nice to have some food that you can eat hot, particularly if your home is feeling cold. You can usually rely on the old BBQ as a way to heat most foods, even though they aren't really designed to heat a pan.
A few years ago Mark and I decided to switch to a gas stove in place of the electric glass-top unit we had as part of our house purchase. It took some time to get a friend to help us run a gas line over to the kitchen area, so during that time we used a butane countertop cooking unit.  Butane Stove 
I was amazed at how efficient it proved to be, even though it was pretty small. I think we used it for a couple of months and found it to be a true lifesaver.
You all know that I have a SunOven and love it. Yes, you do need sunlight to make it work. But if you have a lengthy power outage, there should be some days that the SunOven would work due to a sunny day. I've cooked bread, soup, casseroles, and more.
You can also try to cook outside over a fire. I wouldn't suggest using your regular cookware for this approach since it isn't designed for that. That's another reason I buy and use cast iron cookware, as well as cast-iron Dutch ovens. They are very versatile and I use them all the time. 6-Quart Dutch Oven
Food and Water
Putting these items in a "kit" could be difficult just due to the capacity of your kit container. Just keep in mind, we all need food and to stay hydrated. As those who consider ourselves to be well prepared, we need enough food and water to be accessible to survive.
Special Needs
There may be someone in your household with special needs, whether medically, mentally, physically, or with dietary issues. Your kit should contain items that help to address their daily needs as best as possible.
Pets can be a unique challenge during emergencies, particularly in the dark. Be aware that they can get scared just like your kids, they still need to eat and drink, and they may need a blanket or towel to stay warm and dry.
Are there any General Safety Guidelines I Should be Aware of?
I often refer to government sources to make sure I've covered the necessary bases when discussing emergency issues. I've listed below a number of things FEMA tells us are important considerations during a power outage:
Keep freezers and refrigerators closed.
Only use generators outdoors and away from windows.
Don't use a gas stove to heat your home.
Disconnect appliances and electronics to avoid damage from electrical surges.
Use alternate plans for refrigerating medicines or power-dependent medical devices.
If safe, go to an alternate location for heat or cooling.
Be sure to check in on your neighbors.
Take an inventory NOW of the items you need that rely on electricity.
Sign up for local alerts and warning systems. Monitor weather reports.
Install carbon monoxide detectors with battery backup.
Determine if landlines and/or cell phones will continue to work without electricity.
Use a thermometer in your refrigerator and freezer to check temperatures.
Keep your gas tank full.
Discard medications that needed to be kept cool if they have been at room temperature for more than one day.
Additional Consideration for Your Children
I suggest you take a few minutes and visit the website of the American Red Cross (www.redcross.org). This great organization jumps in whenever there is an emergency or disaster situation.
They are concerned with the protection and safety of all family members and pay particular attention to how children are prepared to deal with an emergency.
They have a wonderful tool that you can use before or during an emergency to help educate your kids about what to expect in different situations and how best to react.
The tool is a brochure you can download called "Prepare with Pedro: Disaster Preparedness Activity Book." It includes over 20 pages of illustrations, stories, and text that outline different types of emergencies, how to prepare for them, and how to best deal with them as an individual and family.
It walks the young people in a step-by-step fashion on how to recognize what is happening, how to rely on what they've been taught, and how to follow through to use the skills, tools, and know-how that can help them be safe and survive. Check it out!
How To Build A Power Outage Kit
Final Word
I hope all my readers realize my goal is to help them be their best selves when it comes to preparation. I feel the post today should be a real help as they learn how to build a power outage kit. We all need reminders and checklists to be on top of our game.
Please take the time to prepare your "kit" starting today, you'll be glad you did, I promise. If I've forgotten items you think should have been included, please let me know. May God Bless this world, Linda