Top 5 Emergency Preparedness Tips for the Elderly
It doesn't matter whether you're young or old, natural disasters put everyone at risk. But it makes sense that senior citizens are far more likely to die or be seriously injured from them than young people are. Whether it's due to problems such as limited mobility or isolation, the elderly have a much more difficult time evacuating during a disaster such as a hurricane or a wildfire. Here are the top 5 emergency preparedness tips for the elderly. In case you missed this post, The Best Ways To Help The Elderly
Top Emergency Preparedness Tips for the Elderly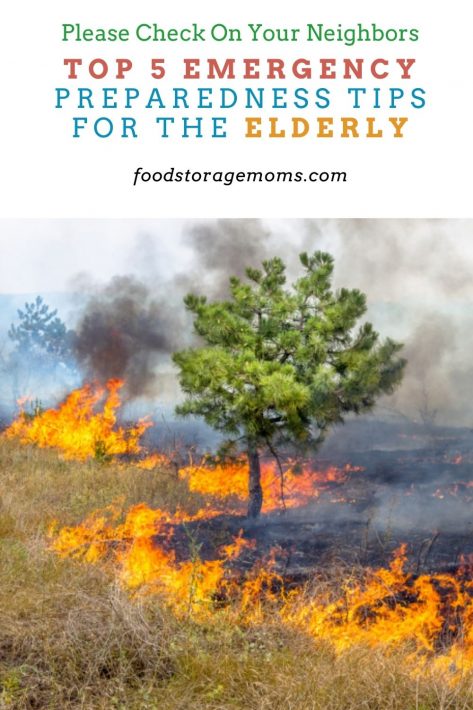 Did you know that over half of the deaths from Hurricane Katrina were adults that were over the age of 75? Or do you remember the Chicago heat wave in 1995? Two-thirds of the 700 lives that were lost were men and women over the age of 65. When a wildfire takes place, senior citizens over 85 years of age are 4 times more likely to die from it than any other age group. Studies have alarmingly shown us that less than 1/4 of all senior citizens living in the United States are prepared for a natural disaster.
These numbers are not only astonishing and sad, but they really show us that we need to do a better job preparing and helping take care of the elderly should a natural disaster ever occur. It's also important for those who take care of the elderly to know how to respond in those situations. These are the top 5 emergency preparedness tips for the elderly. 
#1. Have a Network of Friends and Family
Having a network of friends and family who are looking out for you is one way of avoiding being left alone in your home during an emergency. If you're needing help, don't hesitate to pick up the phone and call one of them, that's what they hope you'll do.
That way someone can come to pick you up and see that you get to safety. Whether you plan on staying in your home or evacuating to a certain location, make sure that you let them know of your plans.
If you don't have any friends or family who live close to you, get yourself set up with a medical alert system that can respond to your situation. It's also helpful to have all your contact information printed out and kept in a safe place. If you have a smartphone be sure to have the names listed in your contacts so they can be easily accessed. 
#2. Plan Ahead
Should you ever have to deal with a hurricane or an out-of-control wildfire, don't wait until the last minute to decide your escape and the best route that you should take? It may already be too late. Plan well in advance for your evacuation, especially if you've been given enough warning.
Also, be sure to keep up with the emergency broadcasts so that you know what's going on around you. Should you have to leave your home, you'll need to know where you're going to stay, whether it's a shelter, hotel, or with family or friends who live outside of the affected area.    
#3. Gather the Basics
No matter what age you are, it's a good idea to gather up an emergency kit that's capable of holding you over for a minimum of 3 days. Some preppers store an extra emergency kit in the trunk of their vehicle in case they have to evacuate in a hurry.
That way you don't have to worry about making several trips to your car. Here are a few of the basics and other essentials that you should consider putting in one or more designated areas: 
Food (non-perishable food items)
Water (four gallons of water a day, per person) 
Prescription medication (see if your doctor will provide you with 90 days worth) 
Spare oxygen tanks 
Portable ventilator (for those who need it) 
Batteries for hearing aids 
First-aid kit
Hand-crank weather radio
Toiletries and personal care items
Extra blankets and sleeping bags
Extra clothing and raingear 
Legal and important documents (keep it  in a waterproof container) 
#4. Find the Safest Place In Your Home
You need to know ahead of time what the safest place in your home is. If a disaster comes your way you'll know where to go for shelter. When you're dealing with a tornado, the best place to go is USUALLY your basement or in the bathroom.
Get as far away from windows and exterior doors as you can. Hiding underneath staircases or in the closet are other options. 
For those of you who live in a mobile home, be aware that no room in your house is a safe place during a tornado. You need to head to the nearest permanent structure and have a prearranged method of how you'll get there. 
When you're dealing with a hurricane and have decided to bunker down in your home, head to the innermost room on the first floor of your house and avoid windows and exterior doorways.
#5. Avoid the Heat
It's not uncommon for extreme heat to follow behind a hurricane or a tornado that has ripped through an area. Hot temperatures can actually be deadlier than the natural disaster itself.
To make matters even worse, chances are pretty high that your power will not be working afterward. This type of scenario has claimed far too many lives, especially among our senior citizens. 
If this were to ever become your situation and the temperature in your home reaches a dangerously high range, you need to consider going somewhere else that has air conditioning.
In the meantime, whether it's your local community center, a restaurant, a hotel, or stay with a loved one. Don't become a statistic as you try and hang in there until the power comes back on.
For Everyone Else…
Maybe you're not an elderly person who's needing to be looked after. Please take a minute and consider your personal situation. Do you live next to or down the street from an elderly person who is living on their own?
Or maybe your parents or grandparents live further away from you? Don't wait until there's a disaster at their location to see whether they'll be okay. 
Get with them now and find out what their arrangements are if a natural disaster were to strike. Offer them any preparation suggestions that you may have and let them know that your's is a number that they can call if they need any help.   
Final Word
There's no denying that the elderly are more vulnerable during a natural disaster, but that doesn't mean that they can't weather the storm. With a little extra preparation and planning, along with help from friends and family, senior citizens shouldn't have to face the dangers and obstacles on their own. What are some top emergency preparedness tips for the elderly that you'd like to share? May God Bless this world, Linda
Copyright Images: Forest Fires Deposit photos_48123941_s-2019