30 Survival Foods to Stockpile for Any Disaster
For many disasters or SHTF scenarios, we suggest that you stockpile the things for that specific disaster. However, sometimes we just don't know what could happen. Because you never know, we have compiled a list of 30 survival foods that you can stockpile no matter what happens. 
Things to Keep in Mind
As you stockpile, there are a few things you should keep in mind. Consider the following things when you are putting together your survival foods: 
Make sure you have at least a 3-day supply of non-perishable food. I would recommend much longer (at least a month). 3-days is a good starting point. 
Get foods that you know your family will eat. 
Don't forget to accommodate special dietary needs, such as formula or baby food. 
Try to avoid foods that will make you thirsty or dehydrate you, especially if you have a limited supply of water. 
Check out my post: "How to Store your Food Storage" to ensure you properly store your survival foods.
Don't forget to stockpile water as well! 
Related: How to Store Water for Drinking and Cooking
30 Survival Foods to Stockpile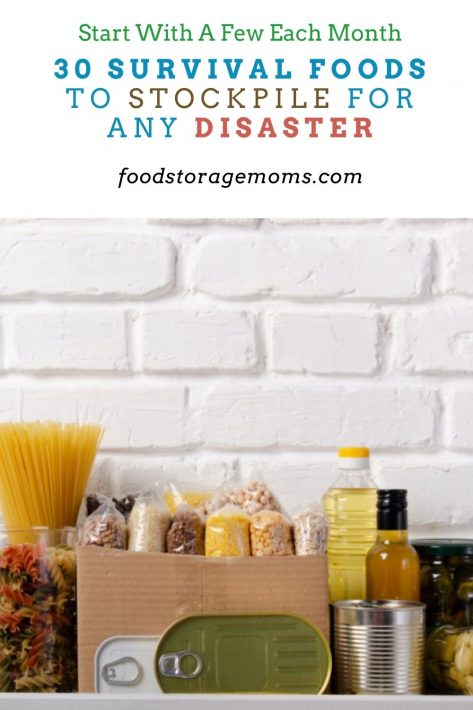 Survival food is food that you need to survive any emergency or disaster. Here are the foods suggested by ready.gov: 
Wheat Berries: Get these in #10 cans since they store well while retaining nutrition. Your wheat berries can be turned into flour, cooked whole as a hot cereal, or be added to soups and stews. 
Salt: Salt doesn't just season things. Preserving food was what we used to use salt for. It is still a great way to preserve your food. We also need it in our diet.
Ready to eat canned food: These are essential, especially if something happens where you can't cook your food. Get canned meats, fruits, and vegetables. 
Protein bars: If your meat goes bad because you have no power, this is a great way to get the protein that you need. 
Dry cereal or granola: This lasts quite a while and would be good to eat whether you can cook or not. 
Peanut butter: This is a great protein food. It lasts for 3-4 months. You can eat it even without bread. 
Dried fruit: Fruit is good for your body and dried fruit lasts much longer than fresh fruit. These provide potassium and other nutrients as well. 
Canned juices: Fruit has natural sugars and fruit juices can keep your sugar levels up if you don't have enough food. Additionally, they are good for restoring electrolytes.
Non-perishable milk: Canned milk or powdered milk are great sources of vitamin D. You won't have to worry if the power goes out. 
Food for babies and infants: If you have a baby or infant, make sure to stock up on formula, baby food, and snacks for the child. 
More Survival Foods to Stockpile
Here are some additional foods we recommend you stockpile:
Canned soups and chili: These can be eaten straight out of the can and offer a variety of nutrients. 
Dry pasta: Carbs help keep you full and give you energy. Stock them since they are easy to fix and offer many meal options. 
Sports drinks: Gatorade and Powerade can help replenish electrolytes if water is scarce. Consider getting them with less sugar. 
Honey: Honey is a natural preservative, immune booster, antibacterial, and antifungal. Basically, it will help keep you healthy. 
Baking soda: It's cheap, a great leavening agent, and can be combined with vinegar and used in place of eggs to make bread and cakes. Plus it's good for cleaning and deodorizing. 
Dry yeast: This is essential for making many types of bread. Learn to make your own yeast starters as well. 
Popcorn: Plain popcorn kernels are easy to store and last for a long time. They make great snacks once popped, and can even be popped over a fire. 
Instant Potatoes: These last practically forever and require very little energy to cook. Just some boiling water and you have something filling in your belly. 
Crackers: Crackers are a great carb source. They make soups more filling and help you make it to the next meal. 
Beans: These are long-term survival items. They are full of protein and very filling. Additionally, they are inexpensive and easy to store and come in various types for variety in meal planning. 
Rice: Rice is similar to beans. It's easy to store, filling, and lasts a long time. 
Lentils: Lentils cook faster than beans which require less energy to cook, but offer the same amount of protein. 
Oatmeal: Oatmeal can be stored without refrigeration. It makes a great breakfast or can be added to meats. 
Nuts: Nuts such as peanuts, almonds, pecans, and other varieties can be stored easily and are packed full of protein. 
Pasta sauce: Along with pasta, the sauce is a great way to make a quick and easy meal. 
Tea: Tea is a natural antibacterial and is good for medicinal purposes. 
Oils: It's hard to cook anything without oil or fat. Stockpile vegetable oil, butter, coconut oil, olive oil, lard, or your preferred choice. 
Corn starch: This is great for baking and thickening. 
Pancake mix: Get one of the varieties where you only need water to make the batter. 
Eggs and powdered eggs: Eggs are a good source of protein and they are used in many recipes. Powdered eggs last longer. 
Alternative Cooking Methods
Did you know that even if you can't use your stove or grill, there are alternative cooking methods you can use? Here are just a few ways you can cook without your stove:
What to Do With Survival Foods with No Power Available
It is crucial that you stockpile foods that don't need to be refrigerated. Also plan to have some foods that are refrigerated and frozen as part of your food stockpile since the power MAY not go out. Here is what you can do if you lose power:
Keep your refrigerator and freezer closed as much as possible. Unopened, the food will stay cold for 4 hours or longer.
Use a thermometer to check the temperature in the fridge or freezer. It needs to be at 40 degrees or lower. 
If they have been above 40 degrees Fahrenheit for more than 2 hours, you will need to dispose of it. When in doubt, cook it if still partially frozen, or throw it out.
If you live in an area where it is cold and it is colder than 40 degrees, you could put the food outside to keep it from spoiling. 
Can I Use Dry Ice?
The key to dry ice is you need to have it or know where to get it prior to a power outage. Here's what you need to know about dry ice:
25 pounds of dry ice will keep a 10 cubic foot freezer below freezing for 3 to 4 days!
If you use dry ice to keep your food cold, do not let it come into direct contact with the food. 
Be careful when using dry ice. Wear dry, heavy gloves so you don't experience personal injury. 
Final Word
When it comes to survival foods, think foods you can eat without electricity, power, or a heating source. Try to get commercial #10 cans produced and packed by professionals. Remember, luck favors the prepared. Be sure to get to the store NOW to grab these survival foods to stockpile. Don't wait until it's too late! May God Bless this world, Linda
Copyright Images: Emergency Food on Counter Deposit photos_377044208_s-2019