What to Do Before a Tropical Storm Hits

Tropical storms are not something to scoff about or take lightly. Unfortunately, for some people that don't take the pending storm seriously, they won't be given a second chance or a redo button that they can push. Every year hurricanes prove deadly for many, while costing billions of dollars in destructive damage to homes and businesses alike. Let's talk about what to do before a tropical storm hits.
Knowing what to do before and after a tropical storm could protect not only you and your family, but your home as well. There are also a few mistakes that people make that you don't want to get caught doing following a tropical storm.
Here's what to do before a tropical storm hits and also things that you should and shouldn't do after one does hit our area.
"Prepare Your Family For Survival" by Linda Loosli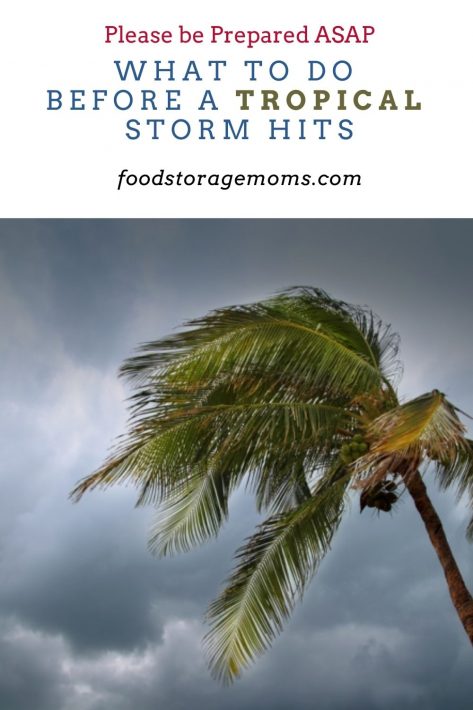 Secure Your Home and Property
For starters, it's a good idea to have your low or hanging tree limbs removed and bushes trimmed so that they don't cause significant damage to your home. Now's the time to cover up your air conditioning to protect it from becoming damaged by flying debris.
Also, be sure to move all your belongings indoors or into your garage, whether it's your grill, patio furniture, bikes, toys, potted plants, and other items that may be in your yard.
You may have outdoor structures that need to be secured and protected by using blankets and ropes to tie them down so that they don't beat up against your house. This is one of the most important things to do before a tropical storm hits.
Protect Windows with Storm Shutters
Next, be sure to cover all your windows, skylights, and doors with some form of protection. Using plywood that you can hang over the window and door frames will work for a quick solution.
But for future storms, I'll also suggest you look into purchasing shutters and impact-resistant glass for your windows for even more added protection.
Move Your Vehicles to Higher Ground
If you have garage space to park your vehicle, I'd suggest that you don't leave it out in your driveway, but if you don't have a garage then you should move it to higher ground. Be sure that you're not moving your cars close to any trees or around any power lines.
Stock Up on Fuel and Power Up
Make sure you fill up your car's gas tank as soon as you hear that a tropical storm is headed your way. You don't want to be caught waiting in line at a gas station as you scramble to get out of town like so many other people will be doing. Be sure and get a siphon pump in case you need to drain fuel from your vehicles to fill your generator.  
Make sure that your generator is in good working order and that you have plenty of fuel in case the power goes out. Another item to remember is to charge your phones and electronics before the storm arrives. 
Unplug All Appliances and Devices
Don't leave appliances, lamps, and other devices plugged into electrical outlets. Consider moving those items away from windows and exterior doors by storing them in a cabinet or closet. If you're forced to evacuate your home, make sure that you turn off all your utilities.
Move Important Documents to a "Safe" Place
Be sure to have important documents, such as birth certificates, marriage license, insurance information, financial documents, and other paperwork in a safety box that's waterproof. Many people store their jewelry, money, and other valuables in them prior to a tropical storm.
Also be sure to take inventory of all valuable items beforehand, that way if anything comes up missing your insurance will have you covered.
Determine Your Shelter Room
When you're determined and have made the decision to bunker down in your home and weather through the storm, you're going to need to seek out a room where you'll find the most shelter. Your safest bet will be on the first floor of your home in the innermost room away from doors and windows. Keep in mind, often roofs are ripped off, so you may still be left vulnerable.
Have an Evacuation Plan
You need to also think about coming up with an evacuation plan and going over it with everyone in your family. If the tropical storm is to take place while you're at work and your kids are at school, you need to make sure that your kids know to stay put, but if your family is separated at a different time or place, you're going to need to agree on a single location to meet.
Gather Emergency Supplies
Having emergency supplies gathered in advance is also extremely important. Your family will need several days' supplies of food (non-perishable) and water, along with flashlights, a portable radio, batteries, cash, toiletries, dry clothing, and extra blankets to stay warm. Make sure that you also have an emergency kit on hand that will take care of most bodily injuries that may happen during a hurricane.
Obey Emergency Warnings
If emergency officials are urging you to evacuate well in advance, for Pete's sake you better listen by heeding their warning. Failing to cooperate could put your family in extreme peril and mortal danger. You get the idea. Evacuation orders are something to take very seriously and should never be ignored.
Staying Safe Following a Hurricane
Okay, so now that you've taken the proper precautions ahead of the storm, it's also crucial that you know how to keep your family safe after the tropical storm has struck. Being prepared is one thing, but knowing what you should and shouldn't do after a hurricane could wind up being the difference between life and death. These are a few ways that can help you stay safe:
Never set foot into floodwaters (when forced to, wear a life jacket).
Don't attempt driving through flooded areas (your vehicle may stall or be swept away).
Avoid using candles when possible (use flashlights that are safer).
Watch out for downed or hanging power lines.
Don't use any electrical devices that are left plugged into an outlet or have become wet.
Wash your hands if they've come into contact with floodwaters.
Don't drink tap water until deemed safe by local officials (drink bottled water instead).
Throw out any food that has come into contact with floodwaters or damaged by a power outage (damaged food may look, smell or taste normal, but it can still cause you to get sick).
Never enter a building with damage caused by a hurricane unless officials declare it safe.
Take care of any wounds immediately by using first aid to prevent infection.
Final Word
These simple precautions, as well as ways to stay safe following a hurricane, are important for you to know, especially when you live anywhere close to where a tropical storm could affect your area. What are some other key ways to prepare you and your home for a hurricane that may not have been mentioned? What do you do before a tropical storm hits? May God Bless this world, Linda.
Copyright Images: Hurricane Tropical Storm Deposit photos_5282764_s-2019