8 Must-Haves for Choosing the Perfect Bug Out Location
If a widespread SHTF occurrence ever takes place, the last place on Earth that you want to be is in a big city or some other densely-populated area. The emergency itself isn't what should scare you the most, it's the people living around you who will be especially dangerous and unpredictable following a disaster situation. Keep reading to discover what you need when choosing that perfect bug out location.
Grocery stores, restaurants, banks, and other buildings could be looted and burned, while bridges may even be closed or destroyed. There will be total chaos and complete mayhem in the streets. And before too long, they'll start showing up at your door and your emergency stockpile will be all for naught.
Just so you know, I am not bugging out, most of you know this. I have everything I need right here to survive. But, I am aware some of you have a bug out location, or possibly someplace you can go if the SHTF.  
Other Posts to Check Out
In case you missed them, here are some other bug out related posts to check out:
Must-Haves for Choosing the Perfect Bug-Out Location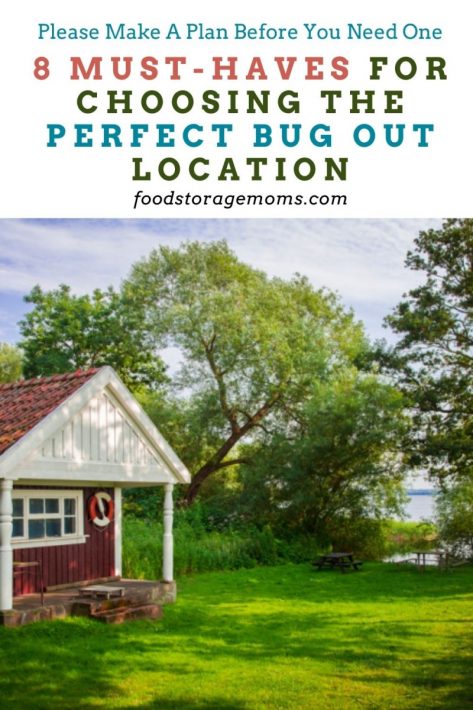 Even if you don't live in a highly-populated area, your emergency situation may force you to evacuate the protection and comfort of your home. You're going to need somewhere else to go to keep your family alive and safe. Do you have a back-up plan if things go from bad to worse in the middle of the night?
For those of you that are ready to take your prepping skills to the next level and are making preparations to get started with your bug-out location, there are a few important things that you need to consider first. Sure, surrounding yourself with natural resources and tracking down a secluded area is a place to start, but there's much more to it than that. These are 8 must-haves when choosing the perfect bug-out location:
8 Must-Haves for Choosing the Perfect Bug Out Location
1. Distance
There needs to be a fair distance between you and any major city, but you also don't want your location to be completely out of reach. Another thing to think about, is how are you planning to get to your location?
Will you be driving or will you set out on foot? When you're traveling on foot, you'll have to remember that you will be carrying your bug-out bag, so your journey probably should be no more than 60 miles away, depending on your physical condition and if you have others to take with you. If your plan is to drive, your location shouldn't be further than one full tank of gas, unless you bring plenty of extra fuel with you.
2. Privacy
Seclusion is absolutely a must-have because you don't want anyone to be aware of your presence there. There needs to be plenty of tree cover for privacy that will block out all of your lighting, whether it's day or night.
When it comes to cooking your meals, it should be done during the night so that your campfire smoke is not as visible during the day, and so that people aren't smelling what you're cooking.
3. Secure Location
Not only is it important that you choose a bug out location that is secluded, but it needs natural security that comes with it too. This simply means that it should be harder for others to have access to your location. It needs to be further away from any trails or roads that could bring anyone in your direction.
Streams and other waterways close by are certainly convenient for your drinking purposes, but that could bring unwanted guests past your bug out location as well. Once you've decided upon a location, find out all of its strengths and weaknesses, that way you're able to defend yourself or go on the offensive if you ever need to. You may need to set traps and tripwire alarms that will alert you when someone is nearby, depending on the severity of the situation you left.
4. Water Source
You simply don't know how long you will have to remain in your bug out location and your supply of drinking water will only last for so long. That's why you'll want to track down a location that's near a reliable water source, whether it's a lake, river, stream, or a natural spring.
Keep in mind that you'll also need it for cleaning, cooking, and watering crops and livestock if you have to stay for a longer period. You should also determine whether it will be accessible all year long.
5. Plenty of Resources
Eventually, your emergency rations and supplies will diminish and you'll have no way of stockpiling back up by paying a visit to the grocery store. Your location will need plenty of resources so that you can maintain your self-sufficient way of living. These are just to name a few:
Bountiful game and fishing nearby
Plenty of surrounding area for sustainable gardening
Resources and plenty of space for your livestock
An abundance of firewood
6. Avoid Areas Prone to Natural Threats
When choosing the best bug-out location, potential natural disasters are another thing to keep in mind.
You want to put as many miles between you and all of these possible threats, whether it's a hurricane, tornado, wildfire, earthquake, or some other natural disaster. This may even require you to travel over a hundred miles from your home if you live along the coast where hurricanes are prone to strike.
It's also a good idea to choose a location that's not subject to flooding from a lake, river, or stream so that if bad weather hits, your bug-out location isn't swept away.
For most of us across the country, it's simply impossible to find a location that's completely free of all-natural threats, but it's still your responsibility to find an area that has as few as possible.
7. Plan Several Different Routes
Don't just plan on taking the main roads to get to your bug out location following a disaster because they may be blocked off or utterly swamped with traffic. Be sure to come up with other backup routes ahead of time so that you can reach your bug out location safely, and hopefully not too far out of your way to get there.
8. Red Tape
Once you've purchased your bug out location property, that doesn't mean you're ready to break ground and start building. So, before you ever get to this point, make sure that you do all of your research ahead of time.
Find out if your bug-out location has zoning or government regulations that would infringe upon your bug out plans. You'll probably be required to get a permit if you're planning on altering the property by building on it.
8 Must-Haves for Choosing the Perfect Bug Out Location
Final Word
There are many things to think about when you're planning your bug out location. Each and every single one of these will be crucial to increase the chances for your family's survival. What are some must-haves for choosing the perfect bug out location that you've thought about or experienced? May God Bless this world, Linda.
Copyright Images: Bug Out To Summer Cottage by the Lake Deposit photos_89649610_s-2019