Should You Bug In or Bug Out? What to Know
If over the years you've become an established prepper that's taken the precautionary measures of gathering supplies while learning critical survival skills, you're already way ahead of most Americans. Maybe you've taken it a step further by preparing a bug-out location that your family can escape to if the desperate situation calls for it? Let's talk about whether you should bug in or bug out?
No one ever wants to imagine having to abandon their home, but there may come a day that you're left with no choice. But there are also situations where bugging-out may not be the right choice. So how do you know whether to stay put or head for the hills? Here's more on whether you should bug-in or bug-out following an emergency and what you need to know. 
"Prepare Your Family For Survival" by Linda Loosli
Flashlights and Batteries
In case you missed this post, 15 Reasons Why You Do Not Want To Bug Out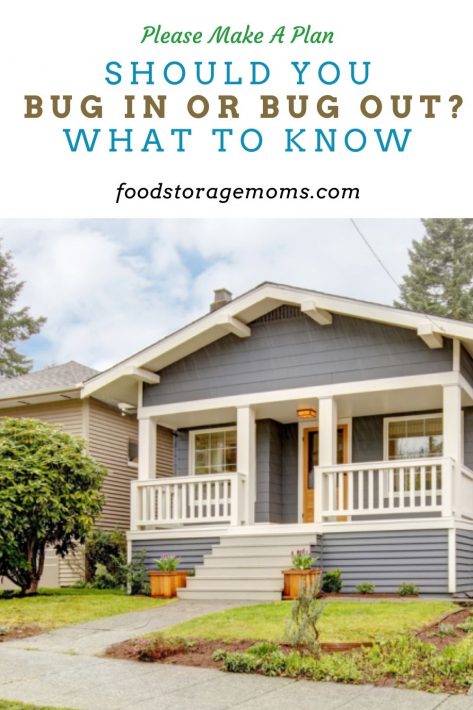 Benefits of Bugging In
Security
For starters, bugging-in allows you to continue living in the comfort and safety of your own home. You know your home better than anyone: it's strengths and weaknesses, which gives you the home advantage. Riding out the threat inside the confines of your home brings you the best chances of survival. 
Resources
Another valuable and priceless asset that bugging-in brings, is that you would have so many more resources at your disposal. You'll have exponentially more supplies on-hand, such as stockpiled food and water, along with tools and even proper sanitation. Not to mention a shelter that you wouldn't have to take with you everywhere you went. Bugging in also allows you to continue growing and harvesting produce from your own garden, if you've planned ahead and planted one.  
Safety In Numbers
Choosing to bug-in gives you safety in numbers, something that you wouldn't have if your family were to go off on their own. There would be a community of friends, family, and neighbors who have various skills and strengths that could work for everyone's benefit. There's sure to be someone fairly close by who has a medical background and can assist you if you were to get sick or badly injured.    
Benefits of Bugging Out
Removes You From Imminent Danger
A natural disaster may put you in a position where you're forced to evacuate your home. Unfortunate circumstances may prove so serious that you'll be left with no choice but to bug-out. If your home was destroyed or badly damaged by a tornado or an earthquake are good examples. On the bright side, there's typically aid and help available to you for recovery following a natural disaster.  
Or maybe your area is preparing for an oncoming hurricane, flooding, or an out-of-control wildfire? Making the decision to bug out is the correct course of action in these situations. If authorities are urging you and other residents to evacuate, don't hesitate or blow them off. Timing is critical. Waiting too long can put your family in harm's way or left stranded in stand-still traffic out on the highway.
Better Location
If you are living in a highly-populated city when an emergency strikes, there's sure to be plenty of chaos, along with possible looting as people begin fighting over very limited resources. Making the quick decision to get out promptly and head to your bug-out location that's further out in the suburbs or countryside will certainly be a safer bet for you.      
Drawbacks to Bugging In
Unprepared Family and Friends
Most people simply aren't prepared for any type of emergency. They simply didn't stock up on food and supplies ahead of time. If your family and friends know that you hold a decent supply of resources, they're sure to come knocking. Those supplies that you intended for your family will dwindle to nothing much sooner if you're having to care for a larger community. 
Poor Location
Bunkering down in your home after SHTF may seem like the best way to go in most situations, but not if it's a bad location. As mentioned earlier, living in the city is not the place to be following an emergency that causes civil unrest.
There may come a point where your supplies and resources that you've gathered may not be enough. Does your bug-in location have outdoor resources, such as a river for drinking water, or a wooded area for firewood? Is there any wildlife that you could hunt to provide food for your family or enough backyard to grow a garden? If not, bugging-in may not be a good option.      
Drawbacks to Bugging Out
Weather Conditions
Chances are, an emergency isn't going to wait around to present itself on a day that promises you beautiful sunshiny weather. There's the possibility that you'll need to take flight during a winter snowstorm, an unforgiving heatwave, or a flood prompting rainstorm. Are you prepared to sleep out on the frozen ground at night? You'll have to take these harsh weather conditions into account as you make preparations before you set out.
Your Bug-Out Location Isn't So Secret
Putting all your eggs in one basket can be dangerous when relying on a bug-out location to sustain you. Setting out on foot already puts your family in a vulnerable situation, but what happens if you arrive at your bug-out location and find that it's already been occupied? Where will you go then? Pouring all of your resources and supplies into that one location may come back to haunt you.
Too Many Uncertainties
Having to live as a refugee in a different environment with very few resources is sure to cause an insurmountable amount of stress when you're faced with so many unknowns. Especially when you begin to run low on supplies or realize that your current bug-out location is no longer deemed safe.
Having to worry about the next place your family will rest for the night or where you will find your next meal and clean water can make you desperate. Once you've become desperate, that's when you're more susceptible to making deadly mistakes.
Requires Survival Skills
Bugging out will prove that much harder to do for those who lack basic survival skills, and most people don't have them. Not only will you need these skills to survive, but you may also need to be at a higher level of fitness to perform certain difficult tasks.     
Final Word
Bugging out should always be your last resort when you're facing an emergency, but there may come a time that your home no longer offers your family comfort and security and forces your hand. 
Determining whether to bug in or bug out has a lot to do with the emergency you are facing, your family circumstances, along with any useful information you've been given ahead of time. Making wise decisions on a timely basis that prove best for you and your family will be critical. May God Bless this world, Linda.
Copyright Images: Grey Craftsman House Deposit photos_9583334_s-2019