Car Survival-Items Needed In Your Vehicle
It's a great day for a reminder about car survival and the things you need in your vehicle as you prepare for the unexpected. Of course, we all have different items we may need, but these are the bare necessities to survive in your car, for various reasons.
Yesterday my husband and I drove into town and when we got back on the freeway to return home we could see the backup on the freeway for what seemed for miles. It was too late to change our minds to take the back road to our home. We could see that the freeway was backed up on both sides of the freeway. Dang!
There was road construction going on, but we could tell something else much bigger was the culprit on the road today. It's so crazy because we had three lanes merging into two lanes. We are polite drivers and this awesome semi-trucker kept letting cars in and we decided it was now his turn to move to the lane we all had to merge into.
We were all inching along so it's not like we could hurry up to get home. You can probably picture the guy or gal who speeds along the emergency lane to pass all of us. I said to Mark, "Well they can't be going to the hospital because it's in the opposite direction."
What normally took us 15 minutes to get home took a little over an hour. It wasn't that bad for us. We had stainless steel water bottles filled and emergency bags stored in the back if we needed them for say three hours or more if we were at a standstill on the freeway.
We have traveled to California when there has been an accident or some kind of incident on the freeway and the traffic flow has literally stopped. You can probably picture this because it may have happened to you.
Our cars are stopped with the engines off and turned on only to warm or cool us a bit depending on the weather. This is another reason I always have to have my gas tank at a very minimum of half full.
Have you been stuck on the highway with icy roads or snow packed ones? It sure seems like we have had some brutal weather the last few years. Please be safe while driving.
Car Survival Kits
I have a 2009 Honda CRV that these fit in really tight and secure in the back of the car. I felt I had to put a RED American Red Cross type symbol so people looking in the back of my car realize I do not have DeWalt tools in that center unit. I bought Husky brand bags for each side and filled them with everything I could possibly fit in them.
With the First Aid Kit in the center, I can grab it quickly when I need to provide supplies to those who may be hurt. I used to have one small ammo can with first aid supplies, and I realized it was way to small for my liking.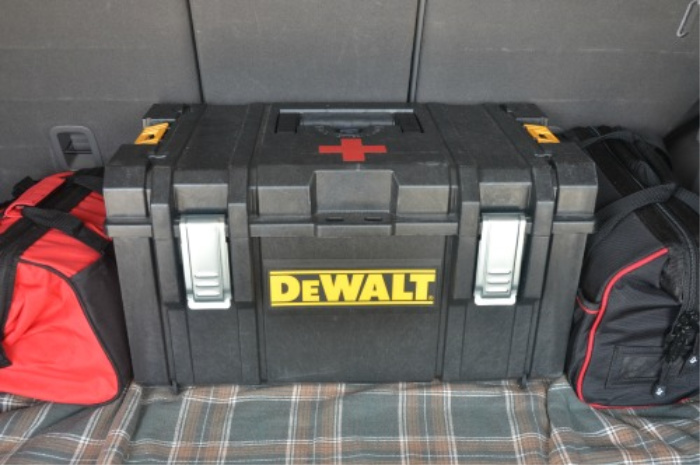 Inside The First Aid Kit
This picture shows the first aid "stuff" in the top shelf of the DeWalt toolbox. I have a medical book, bandages, mylar blankets, etc. in the bottom of the box. I have more first aid supplies throughout my car as well.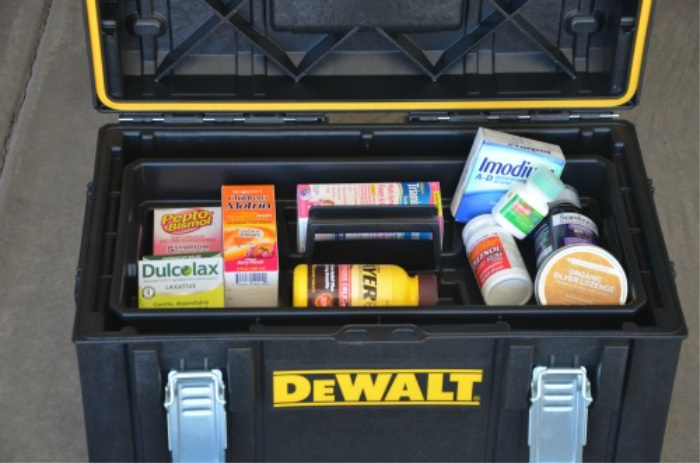 Blue Cans
I love having some Blue Cans filled with water because I can store them up to 145-150 degrees. Yes, they will freeze so remove them when you are in a location that freezing can become an issue, you don't want water all over inside your car. The cheapest place to purchase Blue Cans is on the Brownell's Website
The food I store in my car is from Thrive Life, they are pouch size and you can eat the food directly out of the bags. You can still buy the pouches, they are called Snackies now. Several of them have a really long shelf-life. Thrive Live Jodi (Food Storage Made Easy)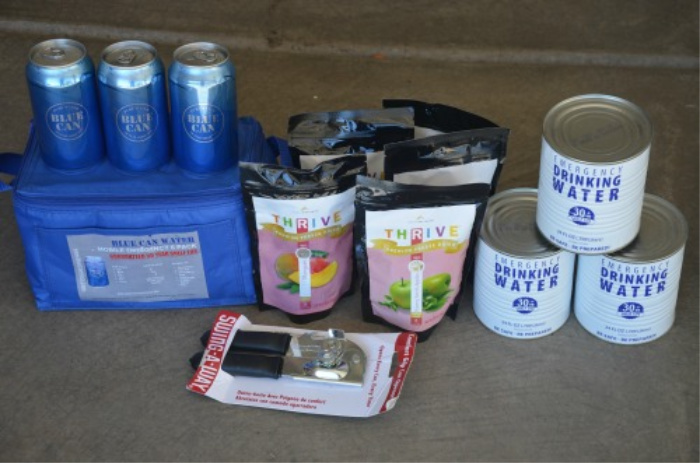 Emergency Toilet
This is just a #10 can with baby wipes, 4-gallon baggies, tissues, and hand sanitizer. I always have a roll of toilet paper or two in the car. You use the 4-gallon bags to dispose of the waste material. You may want to look at some BIO BLUE or Biffy Bags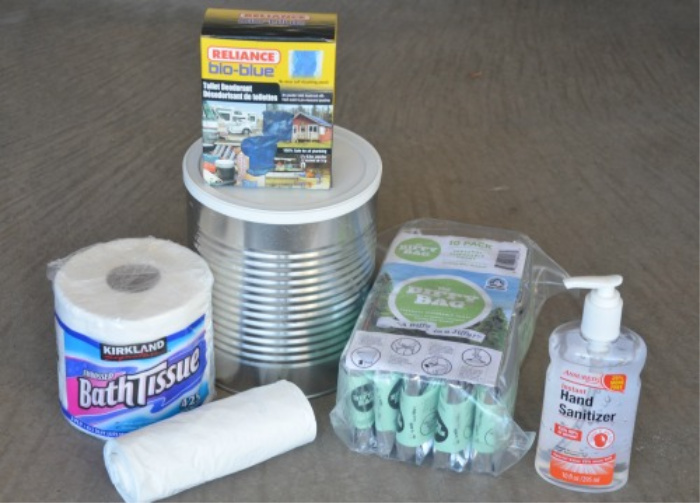 Car Survival:
4 cans of water ( I chose these because they have a 50-year shelf life-hot or cold). Yes, they are a little pricey, but I buy everything slowly. I do not want plastic bottles in my car where I live with 110-115 degree weather in the summer. Blue Can – Premium Emergency Drinking Water The best place to buy them is on this website. Brownells Blue Cans
Can opener, to open water or anything else, if needed.
Lemon packets to flavor the water, if needed.
Pet food and dishes for them.
Snacks, like granola bars.
Names and phone numbers of who to contact in an emergency. Contact Printable by Linda
Pictures of family and pets (two sets each). One for the emergency first responders and one for you.
Battery/crank powered portable radio/extra batteries.
Flashlight/preferably one with solar/crank/LED – I prefer the Goal Zero solar flashlight/crank.
Compass and maps; not everyone has GPS in their car and on phones.
Can of motor oil.
Fire Extinguisher (5 pound ABC type).
Flares and/or orange cones: Victor 22-5-00238-8 Collapsible Sports Safety Cone
Jumper cables: Cartman Booster Cable 4 Gauge x 20Ft in carrying Bag UL Listed (4AWG x 20Ft)
Rags/paper towels
Shovel
Pocket knife, scissors
Tire gauge
Toolbox
Window scraper for ice
Tow Rope
Duct Tape
Bungee cords: Erickson 06845 Black 36″ Industrial Bungey Cord, (Pack of 4)
Waterproof matches: UCO Stormproof Match Kit with Waterproof Case, 25 Stormproof Matches and 3 Strikers – Orange
Blankets
Jackets /sweaters
Emergency cash: approximately $50.00 in small bills
First Aid Kit: AAA 85 Piece Commuter First Aid Kit
Baby Wipes
Hand Sanitizer
Paper, scissors/pens/pencils (no crayons-they melt)
Emergency toilet, see below
Extra pair of shoes to change into if you need to walk very far for help. Flip flops may not be comfortable walking long distances.

A low-cost tire plugging kit and a hand pump or a battery operated compressor unit.

A portable folding solar panel that puts out a minimum of 18 volts and 30 watts. If you get one that also has a USB port or two it can charge your electronics and vehicle battery.

Cash, small bills for emergencies
Whistles, hats, umbrella, heavy gloves
Hand warmers/ponchos
Extra blankets
Diapers, latex-free gloves, baby wipes
N-95 masks
Spray bottle with window washer
0ne-gallon of coolant
Car Window Break Tool
Thank you, Todd S.: A 12-volt air compressor, work gloves, a tire plug set (buy them cheaply at Walmart), emergency repair tape – self-fusing silicone tape
Thank you Todd W.: Tarps. A 5×7 and 8×10. Lay the 5×7 on the ground while the larger tarp provides cover for changing a tire in the rain/mud. Of course, they're so useful for basic shelter if you had to exit your car to hoof it.
Spare tire and jack that goes with the car
Tow Rope
Duct tape and bungee cords
Change of clothes and good walking shoes with wool socks.
Simon: cable and zip ties
Paladin: an extra pair of eyeglasses
V.L.I would add a small backpack in case you have to walk somewhere to get help and need to carry a few things (food/water/flashlight) with you.
Final Word
Please share some of your items you keep in your car survival kit and I will add them to my list. Thanks for being prepared for the unexpected! May God bless this world.