How To Make Your Own Emergency Car Kit
I just had to write this post today about how to make your own emergency car kit. My two daughters and one son-in-law had driven up to Park City, Utah for a quick visit with friends a few years ago. The weather was beautiful with the sun shining on their way up Parley's Canyon, one of the main east/west routes through Utah on I-80.
Here's the deal about this particular northern Utah canyon, it can be brutal in the winter with ice and layers of frozen snow. At times, cars and trucks slip and slide going up the canyon if they don't have snow tires, tire chains, or 4-wheel drive as the local agencies try to keep the road clear during snowstorms.
Of course, those that are prepared with tires, chains, or 4-wheel drive are sometimes dodging those cars that have trouble driving in severe snowstorms. If you are driving down the canyon it doesn't matter what your car is equipped with, it can sometimes be like an ice skating rink with cars sliding everywhere.
Once you start to slide your breaks will not work if it's really icy. Most of us who drive in bad weather know we need to gear down and slow down, but sometimes there is no way to slow down once the sliding starts. I call it white knuckle driving. Mark has no fear of driving in the worst of the worst weather.
This particular day my family made it up to the canyon in beautiful sunny weather, but on the way down the canyon a truck further down the canyon ahead of them had a fire problem and the resulting chaos stopped traffic for almost two full hours. I'm sure you have probably gotten into your car to drive a short distance and sometimes the traffic stops, I mean to a dead stop.
This happened to them on their way home, and what should have been a 15-minute trip during the canyon phase was much longer than anyone could expect. Now, there is no way to turn around in most sections on this I-80 Parley's Canyon Highway. No stopping or U-Turns are allowed on either side of the road.
It has a barrier about 4-feet high going down the center of the highway in many places, so once you start driving down the road, you have to go to the next exit.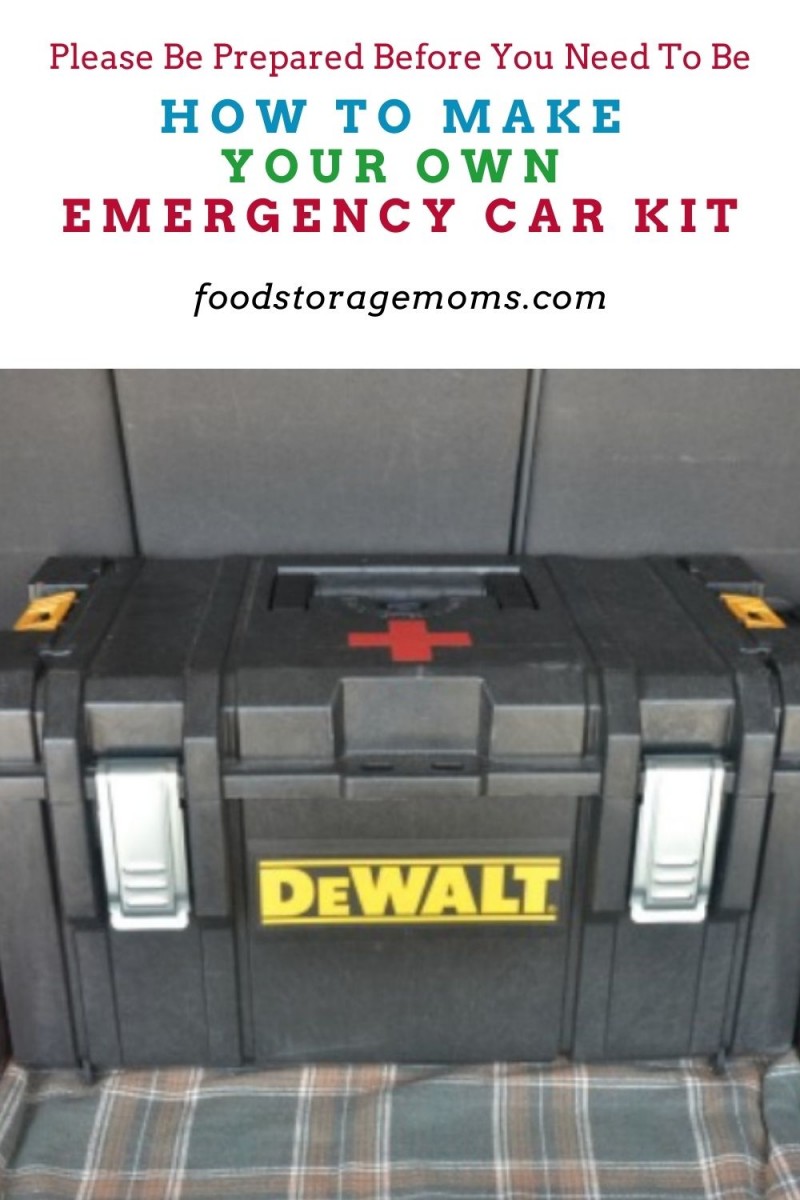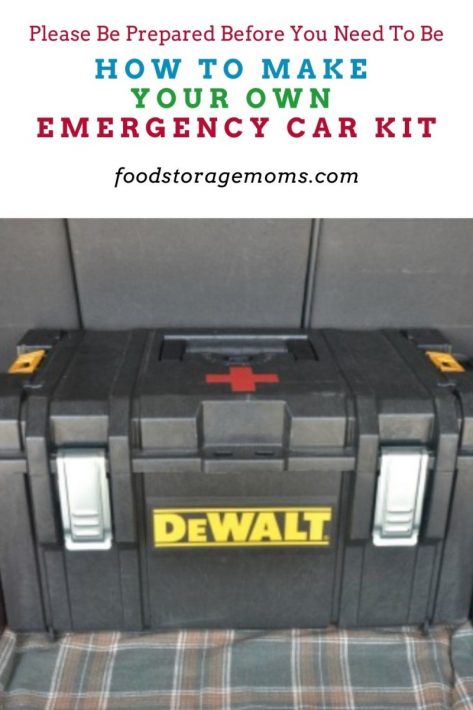 Shout Out To My Son-In-Law
I have to give a shout-out to my son-in-law for filling the gas tank before heading up the canyon. Whew, it was hot that day, at least they could run the air conditioning. If it were the winter they would have had to run the car's heater to keep them warm. It's all about being prepared. The main challenging thing, they had no water in the car. Luckily it was only two hours sitting at a near standstill.
This is when my Emergency Car Toilet would have been great in an emergency car kit. All you need is an empty #10 can, filled with the items on the post I wrote. You would be good to go, literally.
Emergency Car Kit
I have two of these bags that I made into a car kit for emergencies and they are secured in the back of my Honda CRV. My Dewalt tool kit is my first aid kit. I love these Husky Tool Bags.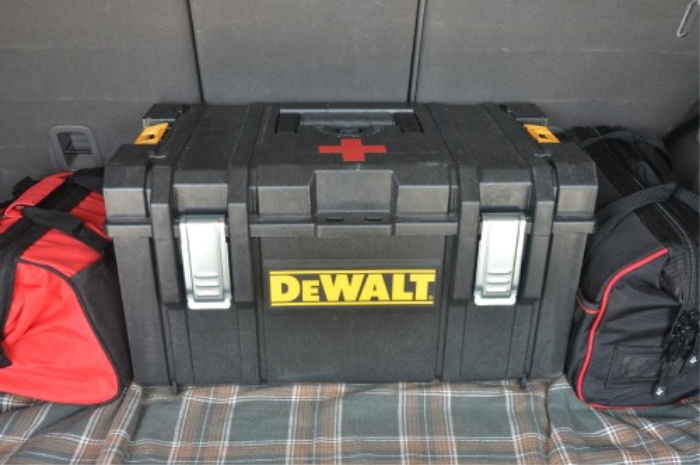 Food/Water/Snacks
Water
Food/snacks
Pet Stuff
Don't forget to plan a bag for our beloved pets. Extra leash, food, water, poop bags, and dishes.
Cash
Emergency cash (small bills)
Sanitation Items
Emergency toilet with toilet paper, garbage bags, and hand sanitizer.
Diapers, are awesome to help a young family who may be on a highway stopped for hours with a baby or a toddler.
Depends, you also may have to relieve yourself in one.
Baby Wipes.
Contact Information
Contact information, please be sure and put ICE (in case of emergency) in your phone so the highway patrol or others can contact your family if you are unable to call anyone. If you don't have a cell phone, write the information on a 3-inch by 5-inch card that is laminated to keep it waterproof.
Stay Warm
Blankets
Jackets and wool socks
Safety
Fire Extinguisher (ABC type)
Flares/Cones to let people know your car is out of gas or broken down.
Flashlights
Flashlights, please rotate batteries
First Aid Kit
First aid kit
Car Kit Stuff
Foldable shovel
Can or two of motor oil
Commonly Used Tools
Rags/Paper towels
Jumper cables
Tire gauge
Pocket knife/scissors
Window scraper for ice or snow
Duct tape
Bungee cords
Tow Rope
Compass
Matches
Spray bottle with washer fluid
1 gallon of coolant
Poncho/rain gear/change of clothes
Umbrella
A sturdy pair of hiking/walking shoes and socks
A 12-volt air compressor, work gloves, a tire plug set (buy them cheaply at Walmart), emergency repair tape – self-fusing silicone tape
Tarps, A 5×7 and 8×10. Lay the 5×7 on the ground while the larger tarp provides cover for changing a tire in the rain/mud. Of course, they're also useful for basic shelter if you had to exit your car and hoof it to a shelter or other help.
Do Not Let Your Gas Tank Get Low
One of my readers, I call my friend, Harry sent this information on why we should not let our gas tank get low. Thank you, Harry!!
"Of course, there are the "being prepared" reasons, but here are some other reasons not to let your fuel tank get low.
1. Most vehicles today have a fuel pump in the fuel tank. When this pump works, it generates heat and it depends on the fuel in the tank to cool it. The less fuel in the tank, the less capability to dissipate the heat in the fuel pump. More heat to the fuel pump can cause premature wear and earlier failure.
2. Most gasoline today has a quantity of ethanol in it. Ethanol is hygroscopic, meaning it attracts water. When you have a large quantity of air in your tank because of low gasoline level, there is a much greater chance of condensation occurring. This places water in the tank which can combine with ethanol.
If there is sufficient water, phase separation occurs where the alcohol-containing water separates from the gasoline and drops out of suspension to the bottom of the tank since water is heavier than gasoline. The fuel pump pickup is located near the bottom of the tank.
If the level of water rises to that point, you will be sitting on the side of the road waiting for a tow truck to take you to a shop to have the fuel tank drained and the fuel lines purged, not an inexpensive repair.
3. Further, with the above-mentioned condensation, rust and other contaminants can form in the tank. If these loosen and drop into the bottom of the tank, they can be picked up by the fuel pump and clog the fuel filter.
Also, the lower the fuel level, the more sloshing of the fuel occurs increasing the chance of picking up these contaminants and sending them to the fuel filter as well. If the fuel filter gets clogged enough, you will once again be sitting on the side of the road. Just thought I would point these out as further support for not letting the gasoline level drop very far before topping off the tank."
Final Word
Your car typically comes with a jack, but make sure your car kit ensemble has everything you need. Don't be caught without a spare tire. Let me know the things you like in your emergency car kit, let's make this list really long, depending on where you live and the size of your family and the vehicle to carry the kit contents. Thanks again for being prepared for the unexpected.