The Best Thanksgiving Stuffing
This is the best Thanksgiving stuffing recipe you will ever taste! It's one of my favorite Thanksgiving side dishes. This is my mother-in-law's recipe which makes it even more special to our family.
It's easy to make with the most simple ingredients you probably have at home. You may have to dry some bread cubes, but you get the idea. The flavor is not too strong, and every family member loves this recipe. Yes, some of the grandkids still want Stove Top Stuffing which tastes good as well.
The thing with this classic recipe is you know what is in your homemade dish, right? There are no preservatives, just really good ingredients, including herbs, mixed together.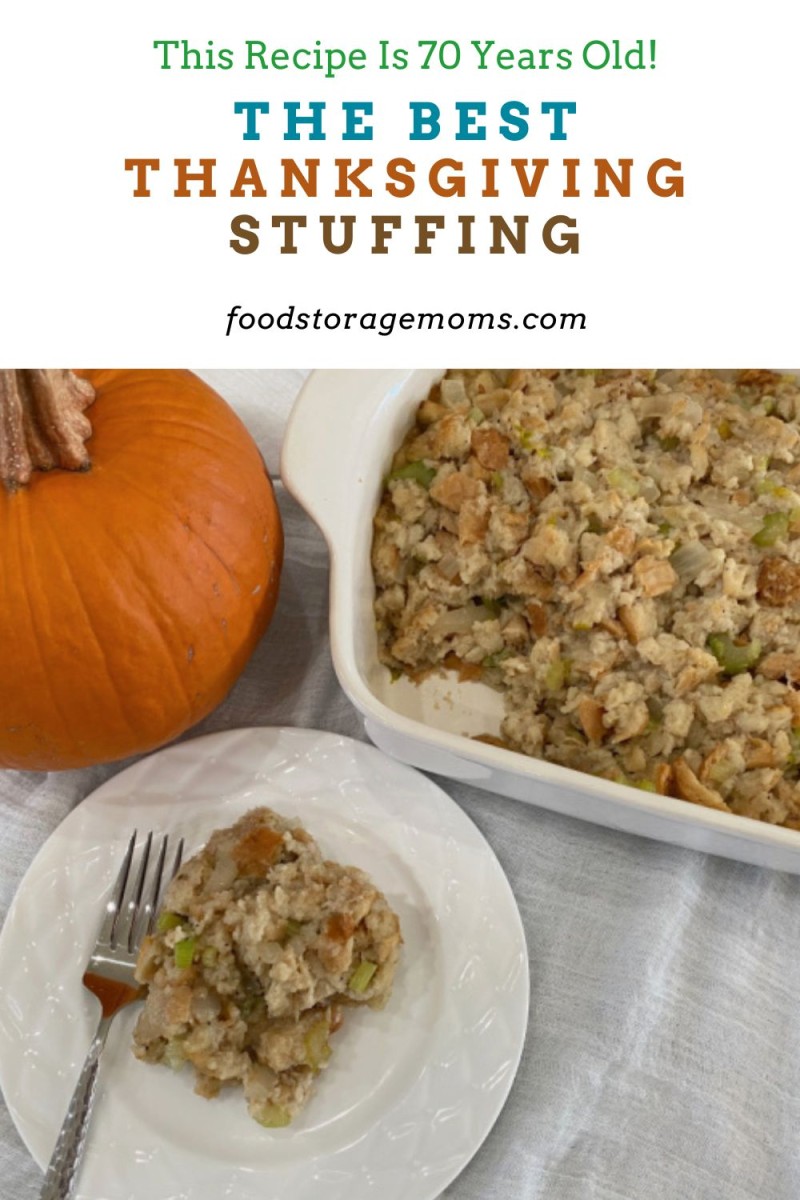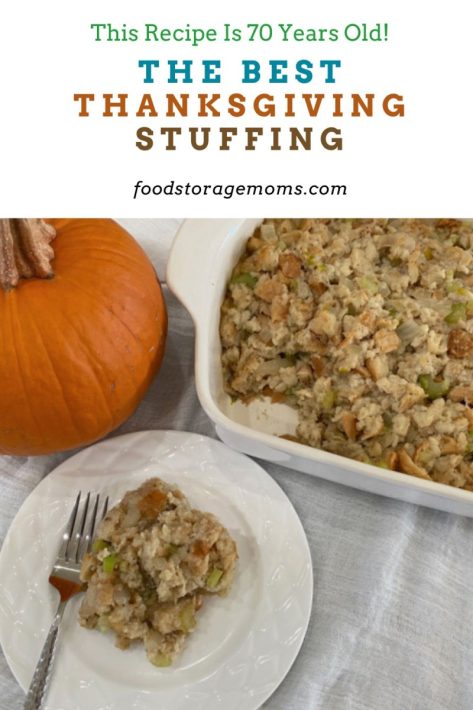 The Best Thanksgiving Stuffing
Ingredients
Kitchen Items You May Need:
The Best Thanksgiving Stuffing
Step One: Gather the Ingredients
I gathered the ingredients and then started to sauté the vegetables before I took a picture of all the ingredients. Just giving you the heads-up here.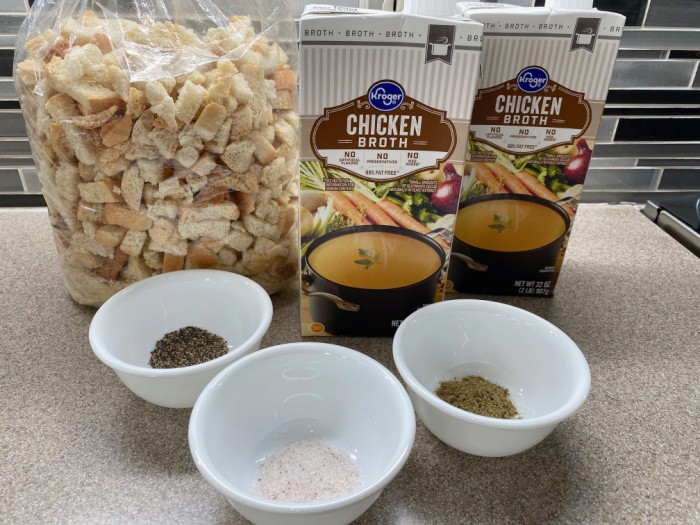 Step Two: Sauté the Vegetables
This recipe is so easy to make and the happy memories just flood in while you melt the butter and then add the chopped celery and onions in a large skillet, or in my case, a 6-quart saucepan over medium-high heat.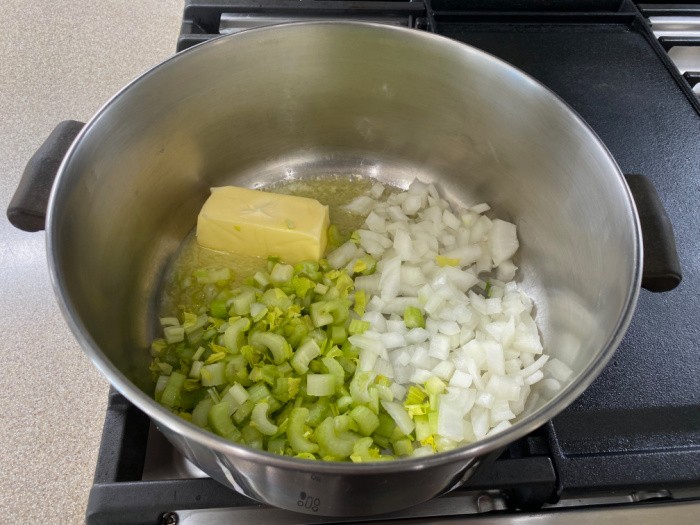 Add the Seasonings
Oh my gosh, when you add the rubbed sage it smells so good. I really wish we could have Thanksgiving together and cook in the kitchen as friends. I love hearing what your Thanksgiving traditions are, so please share your thoughts.
What's nice about making a classic stuffing recipe is you get to decide how much salt and other seasonings you want to add to your recipe.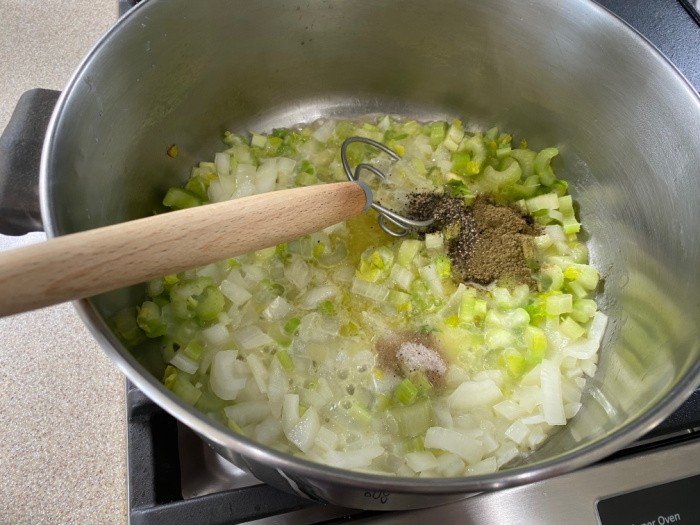 Simmer Until Slightly Cooked
Simmer the vegetables until tender, but still a little crunchy.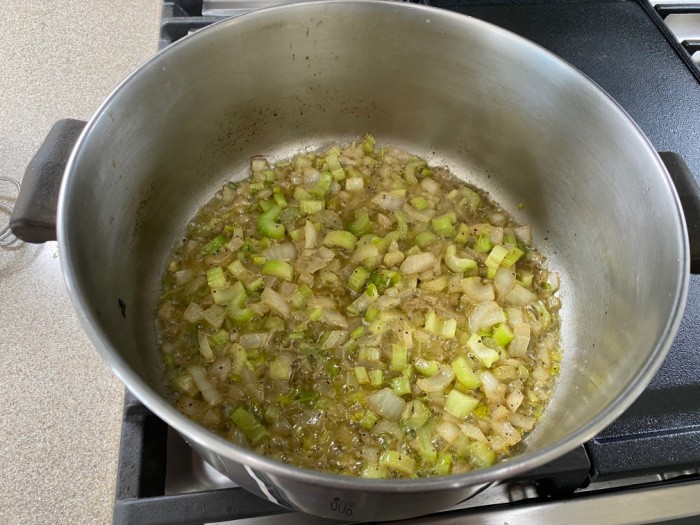 Step Three: Add the Dry Bread Cubes
Turn off the heat on the stove. Add the dry bread cubes over the vegetables in the pan. Some people call it stale bread, either way, you get the drift.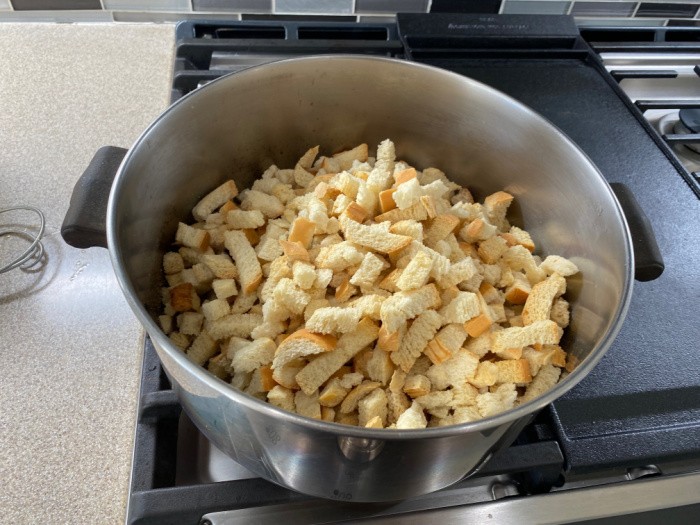 Step Four: Add the Chicken Broth
Now, add the chicken broth which will be absorbed by the dried bread cubes. I don't use chicken stock. Stock is a thicker liquid, whereas chicken broth is a thinner and more flavorful liquid, which is what we are going for.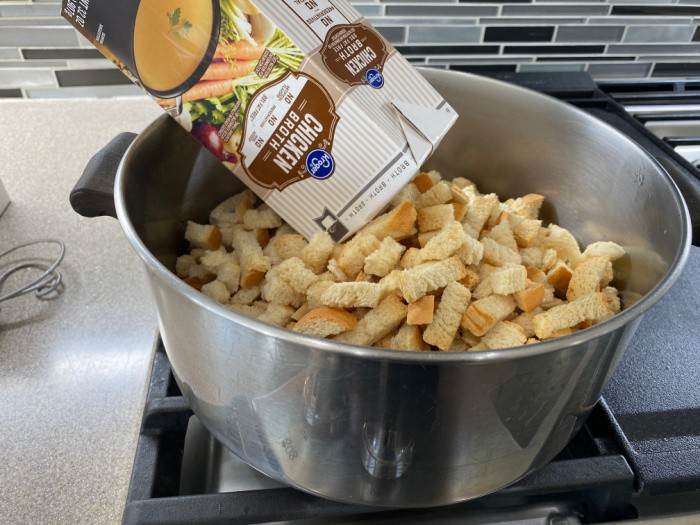 Mix Thoroughly
Then, I used a Danish whisk to fold all the ingredients together.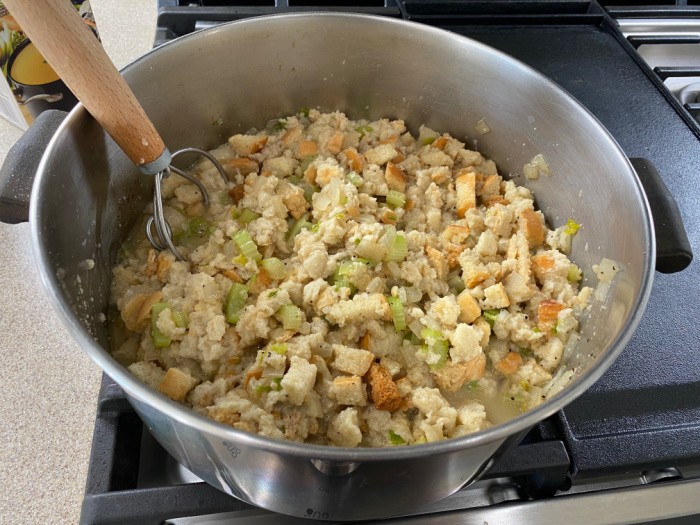 Step Five: Scoop into Greased Casserole Dish
Now, scoop the mixture into your greased baking dish and cover it with foil before you place it in the preheated oven.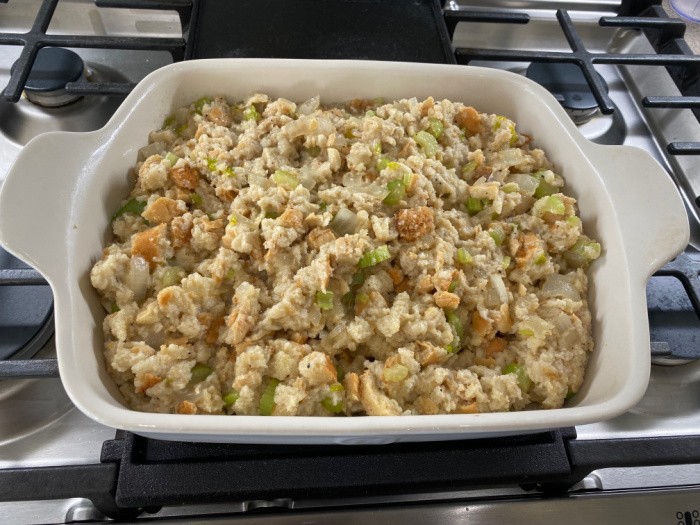 Step Six: Bake Covered (350°F) = (176°C) degrees
Bake covered with foil at (350°F) = (176°C) degrees for about 45 minutes, or until heated through and golden brown.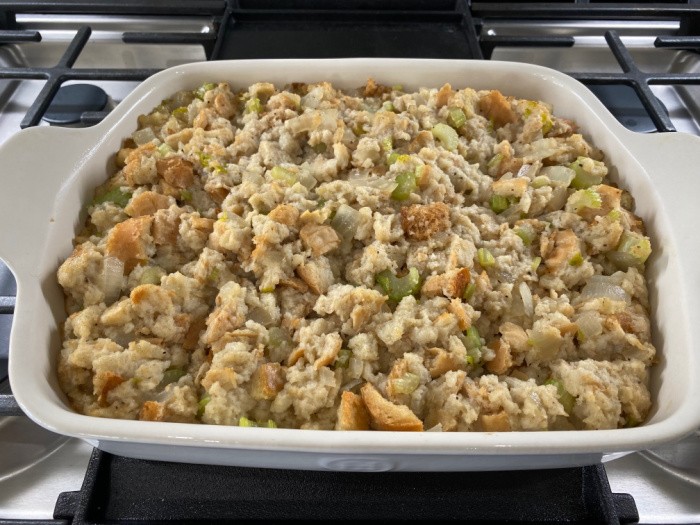 Finished Product: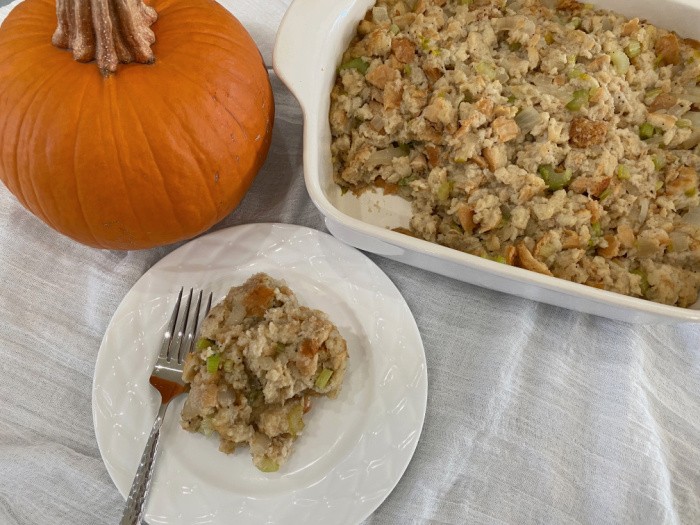 The Best Thanksgiving Stuffing Recipe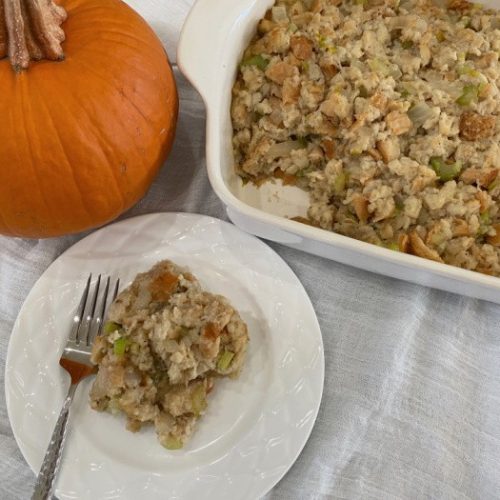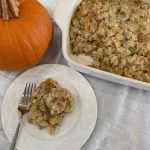 Loosli Family Thanksgiving Turkey Stuffing/Dressing
Ingredients
1/2

cup

oleo (I use butter – you can tell this is a really old recipe now)

1/2

cup

chopped onion

3/4

cups

chopped celery

1-1/2

14-ounce cans of chicken broth

1/2

teaspoon

salt

1/4

teaspoon

pepper

3/4

teaspoons

RUBBED ground sage

6

cups

dried bread cubes

Giblets (chopped (optional), I never use them
Instructions
Gather all of your ingredients.

Sauté the onion, celery, giblets, salt, pepper, and sage in a small skillet in the butter.

Combine this mixture with the rest of the ingredients in a large bowl. (I just added the bread cubes and broth to the saucepan).

Add one-quart broth, add more liquid if the mixture is too dry. You don't want it soupy. I used 1-1/2 quarts, it will always depend on the kind of bread you use.

Bake covered in a greased pan at (350°F) = (176°C) degrees for 30-45 minutes, or until heated through. I have cooked this in my slow cooker on low as well.
What breads can I use to make the dried bread cubes for the best Thanksgiving stuffing?
I usually buy store-bought dried bread cubes to simply make the stuffing. I used to make my own dried bread cubes when my daughters were younger. Now, I'm all about simplifying! If you're interested in making your own bread cubes, I recommend using french bread or sourdough bread. I know that many southerners use cornbread in their stuffing. I've never tried that though.
It's actually really simple to make your own bread cubes for stuffing. Start by cutting up the loaf of bread that you have chosen into the desirable size of cubes. Spread the bread cubes out in a single layer on a rimmed baking sheet. Then, leave it on your counter and allow them to dry at room temperature for a couple of days. If you're short on time, you can bake the bread cubes at 225 degrees for about 30 minutes, or until the bread has dried out to the texture you like.
This stuffing shouldn't have too many calories as you try to enjoy all the foods generally prepared during this holiday. When you add some turkey to the meal you'll for sure get the protein you need.
What dried or fresh herbs can I use to make the best Thanksgiving stuffing?
I really, really love the flavor of the rubbed sage! The smell and taste are unbelievable in this homemade stuffing recipe!
If you're interested in trying a different herb or variation, I would recommend thyme, rosemary, or fresh parsley. Another unique addition some people like is to put some sausage in this stuffing. I'd cook it first just to make sure it's properly cooked through. Eggs are sometimes added too. Just stir in cooked eggs as you add the various ingredients together.
What pairs well with Thanksgiving stuffing?
Do you love this Thanksgiving recipe? Check out some of my other favorites!
My Thanksgiving Tip for the Best Thanksgiving Stuffing!
I have done this for years. Laminate your recipes and grab some cookie sheets. Place all of the measured ingredients on each cookie sheet for each recipe so those who are helping with the meal can make each recipe with ease.
Final Word
Please let me know if you try my best Thanksgiving stuffing recipe! There is something amazing with how the flavors of the chicken broth, rubbed sage, butter, bread cubes, onion, celery, salt, and pepper all come together to create the most delicious and best stuffing recipe! It is absolutely perfect for a Thanksgiving feast or Christmas dinner! I hope you and your family enjoy your time together creating memories and traditions, whether new or old! May God Bless this World, Linda.