Fresh Cranberry Salad Recipe
Mark and I had some really special friends invite us over for lunch on Saturday. I brought some rolls and she made a ham, cheesy potatoes, and a jello salad I grew up eating on holidays. As soon as she pulled this cranberry salad out of the refrigerator it brought back many wonderful memories. Yay!! My mom used to make this one! Don't you love it when this happens?
I helped her fill the glasses with ice and water, then we started putting the food on the table. Next, we placed the cut jello onto pieces of lettuce and my heart melted with joy! I love this salad.
She started telling me the ingredients and I said, "I'm going to name this salad Judith's Cranberry Salad." I hope you love it as much as Mark and I do.
I remember seeing recipes where you could substitute whole berry cranberry sauce for the fresh cranberries. My mom had my sisters and myself cut the fresh cranberries in half for her recipe. Today I used my "salsa maker" to chop them. You'll see that chopper at the bottom of the post. This is what I call my Salsa Maker
Fresh Cranberry Salad
Here's the deal, I knew I had to chop everything really small. I confess I'm not very patient, I want it chopped quickly. So, I got out my really good sharp knife and started chopping away on the celery and apples. The pineapple tidbits I just drained and left as tidbits. I thought to myself, I'm not going to cut every cranberry in half. That's not going to happen. 
That's when I grabbed my salsa maker chopper. It worked like a charm. I chopped the apples and the celery on the wood chopping board.
Then I used this awesome salsa maker, like I said, to chop the fresh cranberries. I highly recommend using one of these. It's quick and easy to clean up afterwards.
Then I placed all the celery, chopped apples, pineapple tidbits, and chopped fresh cranberries in the 9-inch by 13-inch cake pan. Then, I ever so carefully poured the dissolved jello over the fruit and vegetables in the cake pan. Then I slowly stirred them around so the gelatin wouldn't splash. I did not add any cold water. Just giving you the heads up here.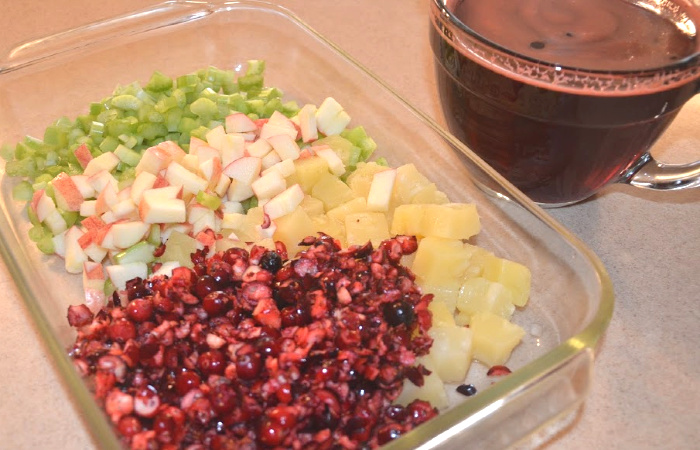 Then I placed the pan with the gelatin in the refrigerator to set up and serve with whipping cream over a few pieces of chopped lettuce. It was delicious!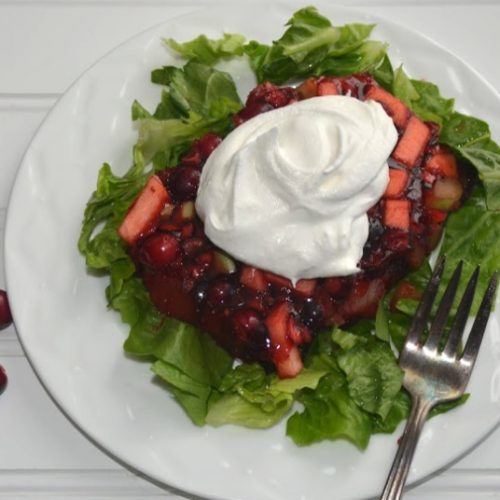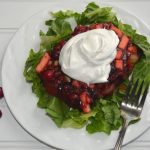 Judith's Party Cranberry Salad by Food Storage Moms
Ingredients
3

packages

3-ounces each raspberry gelatin

4

cups

boiling water

1

cup

finely chopped fresh cranberries

1

cup

finely chopped celery

1

cup

finely chopped apple

1

cup

pineapple tidbits

1

cup

nuts (optional)

Whipping cream (to serve with finished gelatin)
Instructions
Chop all the fruits and celery and set aside. Dissolve the gelatin in the boiling water, stir about 2 minutes. I use a 9-inch by 13-inch cake pan for this recipe. Pour the gelatin into the cake pan. Carefully fold in the fruits and celery. Let the gelatin set up in the refrigerator and serve with whipping cream on a lettuce leaf if desired.
Final Word
It's that time of year we get together with friends and family. Let me know if you try making my fresh cranberry salad recipe! Thanks again for being prepared for the unexpected. May God bless each and every one of you! Linda