Step By Step How To Make Cast-Iron Pan Pizza
Do you love pizza? Then you're going to want to make this deep dish cast-iron pan pizza! It's super easy to make and most of us have these ingredients in our refrigerator or pantry. I used two nine-inch cast-iron pans like these: Cast Iron Pans
Please keep in mind if you want to add other vegetables, do it! Most of us have some high-producing gardens right now, so you could add some of your favorite vegetables to this pizza.
Mark could eat pizza just about every night, of course, we do not. This recipe would be a good one to practice making because you could make this when camping or when we lose power. We must all think about that, and preppers always do, right? We will lose power at some time and that's okay because we can survive by making pizza like this recipe! And just about any recipe, we have in our stash.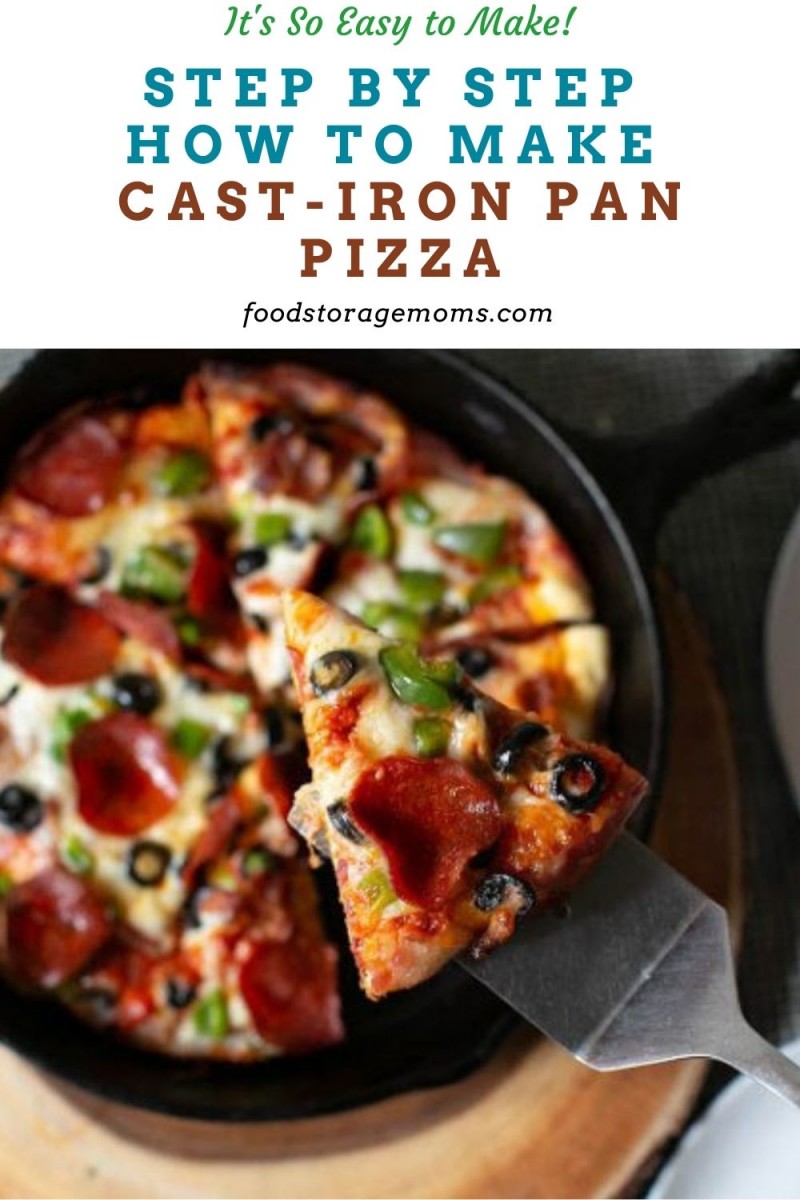 Ingredients You Will Need
Pizza Dough
SAF Yeast
Sugar
Water
Olive oil
Garlic salt
Flour
Pizza Stuff
Olive oil
Pizza sauce
Mozzarella cheese
Bacon strips (optional)
Toppings: meat of choice, vegetables, etc.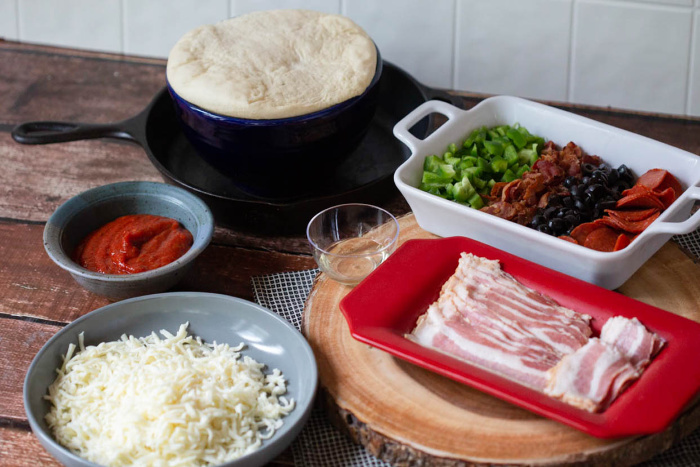 Please remember bacon is optional, I wish I didn't like bacon as much as I do. This is the secret to the best pizza ever! All you do is assemble all the ingredients you want to make your pizza with, while the cast iron pans are heating in the oven at 450 degrees.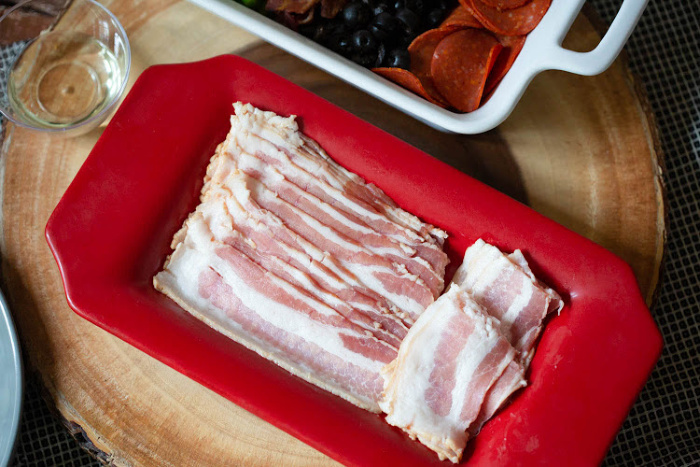 After you heat the pans in the oven for 12-15 minutes at 450 degrees, carefully remove the pans and place them on a heat-resistant surface.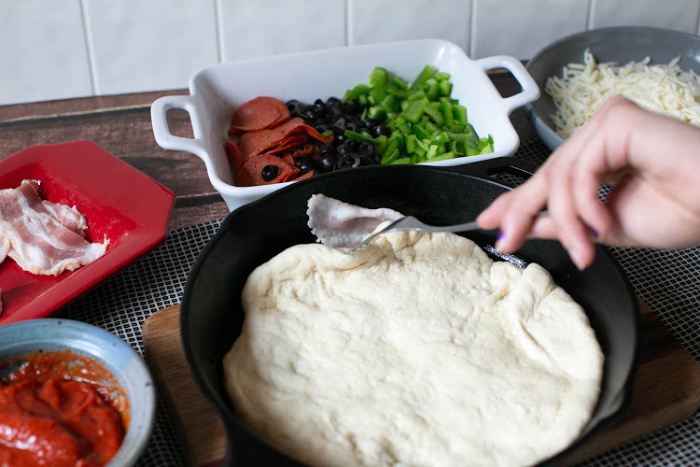 Then carefully place the dough you have prepared into each pan and line the pan with a slice of bacon under the dough if desired. It gives it a little pizzazz, I promise.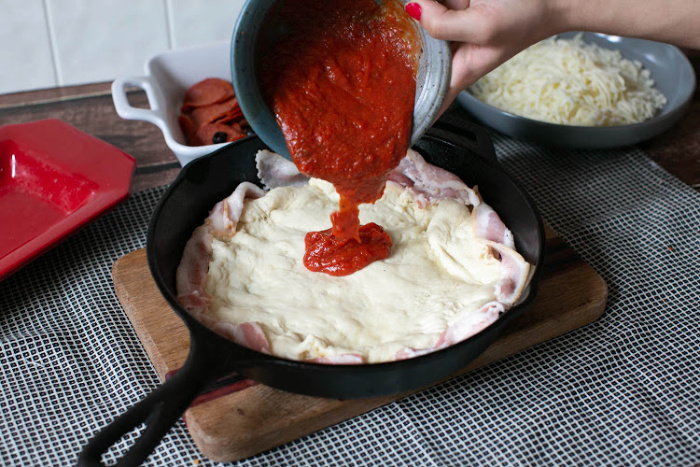 Next, spread the pizza sauce into each pan.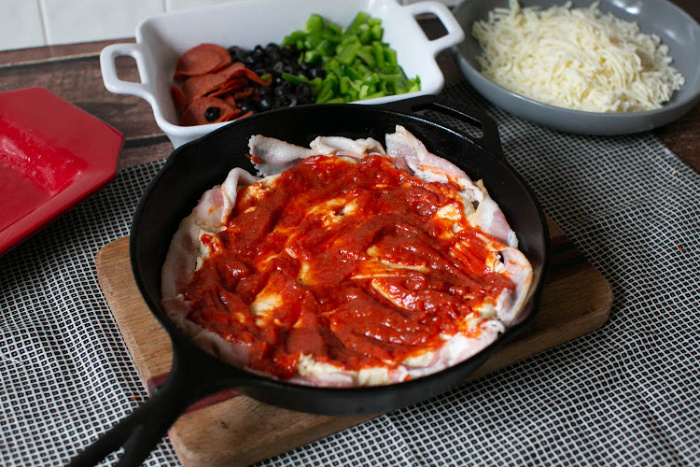 Sprinkle the Mozzarella cheese as shown below on each pizza pan.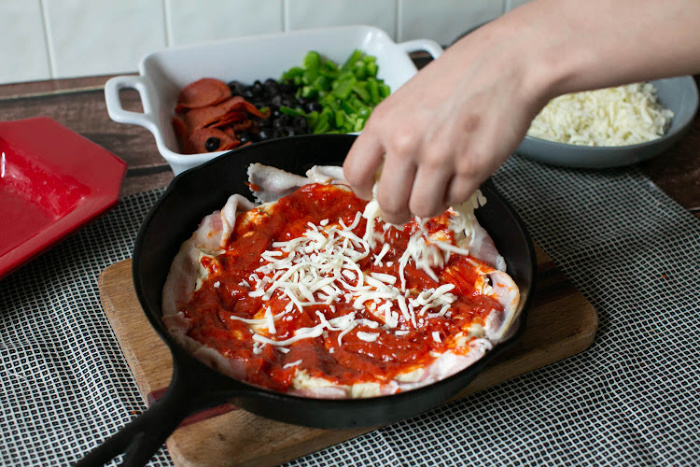 Add more Mozzarella cheese if desired.
Now, start putting your favorite toppings, like chopped green pepper, sliced olives, chopped onions, and pepperoni, etc.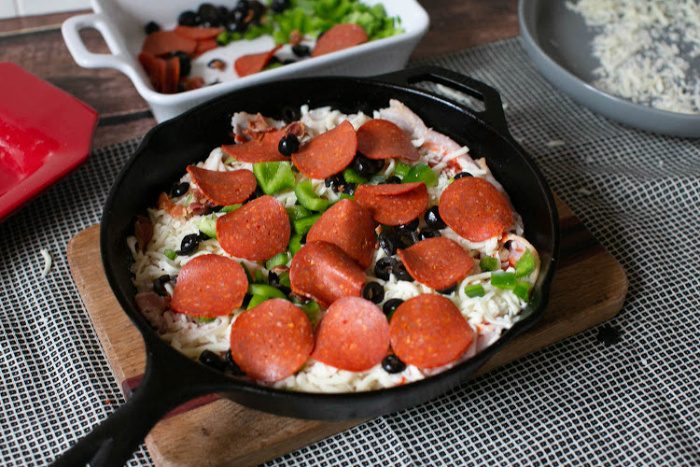 Bake the pizzas in the 450-degree oven for 12-15 minutes, or until the cheese melts.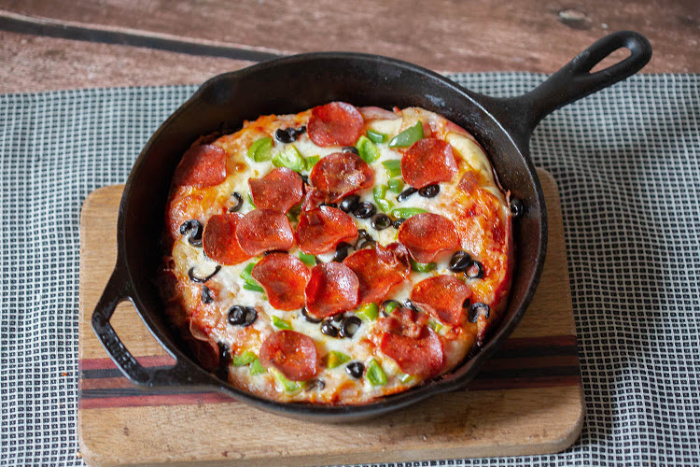 SQUEAL, look at this deep-dish cast-iron pizza! It's so good, my friends!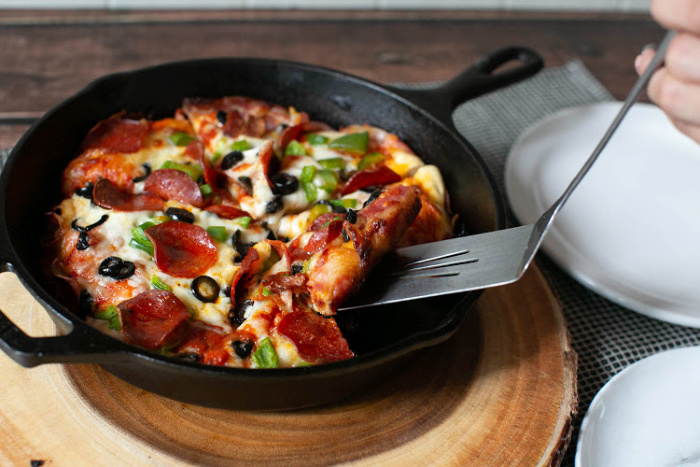 Cast-Iron Pan Pizza Dough Recipe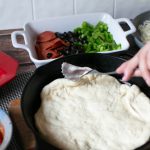 Pizza Dough Recipe for Cast-Iron Skillet by FSM
Keyword:
Cast iron, Pizza
Ingredients
1

tablespoon

SAF Instant yeast

1

teaspoon

sugar

1

cup

of warm water

2

tablespoons

olive oil

1

teaspoon

garlic salt (optional)

3-1/4 to 3-1/2

cups

of flour
Instructions
In a large bowl combine the yeast, sugar, and water. Let stand for 10 minutes or until foamy.
Stir in the oil and garlic salt.
Add 3 cups of flour and blend. At this point, the dough should be soft and pliable. Slowly add more flour until it is no longer sticky.

Turn dough onto a lightly floured surface and knead until smooth and elastic. Place dough in an oiled bowl and turn twice to coat. Cover bowl with a kitchen towel or plastic wrap and set in a warm place to rise for 90 minutes, or until the dough has doubled in size.

When the dough is done rising, punch down and divide into two pieces. Roll each piece into a circle and place on pizza pan. Bake at 450 degrees for 12-15 minutes.
Add pizza toppings.
Deep Dish Cast-Iron Pan Pizza
Deep-dish pizza is something of an art form and will impress everyone you feed this to! You will need 2 nine-inch cast iron pans, as stated above.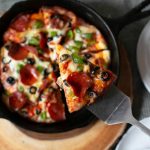 Deep Dish Cast-Iron Pizza by Food Storage Moms
Keyword:
Cast iron, Deep Dish Pizza, Pizza
Ingredients
2

tablespoons

olive oil

1

cup

pizza sauce

21/2

cups

Mozzarella cheese, grated

6

strips of bacon (optional)

Toppings like chopped bell peppers, onions, pepperoni, sliced olives, etc.
Instructions
Preheat the oven to 450 degrees. Pour one tablespoon of oil to coat each cast-iron pan. When the oven is preheated place both oiled pans in the oven for 10-12 minutes. Preheating the cast-iron pans is what gives you the crispy pizza crust. Please do not skip this step! While heating the pans in the oven, roll out the pizza dough. Because these are relatively small pizzas you can use your hands to stretch the dough and pat it into a circle. Gather your sauce, cheese, bacon, and any other toppings. Have them ready to go so you can work quickly once the hot pans come out of the oven. Once the pans are preheated, remove them carefully. Place the pans on a heat-safe location. Place the dough in the pans. For extra pizzazz, line the edge of the dough with bacon strips. This will cook to a perfect crunchy consistency while the pizza bakes. Now, add half the sauce to each pan, half the cheese, and any other toppings you desire. Return to the hot oven and cook for 12-15 minutes or until the cheese melts. You will love this recipe, serve hot from the skillet. Serve this right out of the cast iron for a pizzeria style feeling.
What Can I Serve With Pizza?
Tossed salad
Fresh steamed vegetables
Fresh fruits
Caesar salad
Lettuce wedges with ranch dressing
Final Word
I really hope you try this deep-dish cast-iron pizza very soon. You will never buy a takeout pizza again, I promise. There is something about heating up two cast-iron pans and then assembling a pizza from scratch. And man, oh man, does it taste good! Thanks for being prepared for the unexpected. Please stay safe. May God bless this world, Linda