How To Make An Easy Pasta Salad And Dill Pickle Dip
I have got to share how to make an easy pasta salad and dill pickle dip today. Mark and I just got home from Salt Lake City, Utah, after visiting family and friends. My daughter had a get-together with about 24 people for dinner and the appetizers they served are always a BIG treat for all of us.  Can you picture how a large countertop would have about 15-16 appetizers all lined up and ready to consume? Oh, and dinner as well.
All of a sudden, I see this appetizer I had never seen before in a large bowl with those Scoop Fritos surrounding it. Oh my, I had to try it. It was love at first bite. I had never heard of a Dill Pickle Dip! Then, I asked around who had made it, then I had to find out how she made it. I got the recipe and tweaked it a bit, as we all do. It's an easy one because it's basically tiny chopped dill pickles mixed with sour cream and pickle juice. Of course, I added cream cheese to the recipe, why not, right?
Sometimes I pick up items at Costco that are for large families, like dill pickles. Those jars filled with Petite Dill Pickles are heavy weighing in at 46 ounces each. Well, I not only made this dill pickle dip I also made a dill pickle pasta salad. It made sense, I had the pickles!
The whole group went crazy over that dip! A few people said they didn't like dill pickles, but they loved this dip!
Dill Pickle Dip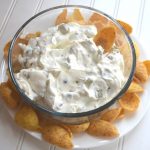 Dill Pickle Dip
Ingredients
Ingredients

2

8-ounce

cream cheese (softened)

2

cups

sour cream

1-2

tablespoons

pickle juice

2

cups

Petite Dill pickles (sliced or chopped)

1/4

cup

chopped green onion

1

teaspoon

dry dill
Instructions
Grab a hand mixer and beat the cream cheese, sour cream, and pickle juice until smooth. Fold in the pickles until thoroughly mixed together. Serve with Fritos, potato chips, or your favorite crackers of choice.
This is how it looks before the dip is mixed together.
Dill Pickle Pasta Salad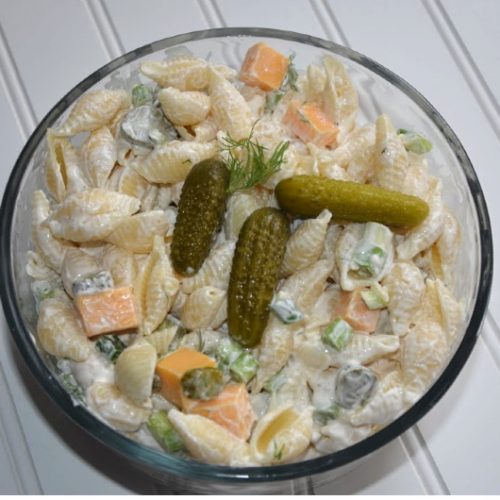 Dill Pickle Pasta Salad
Ingredients
Ingredients

1/2

pound

medium dry pasta shells

3/4

cups

sliced or chopped Petite Dill pickles

2/3

cup

cubed cheddar cheese

1/4

cup

chopped green onion or chopped white onion

1

tablespoon

fresh dill

1/2

cup

pickle juice

Dressing

1

cup

mayonnaise

1/3

cup

sour cream

1/8

teaspoon

cayenne pepper

salt and pepper to taste
Instructions
Instructions

Boil the pasta as directed on the box, run under cold water, and drain. Place the cooked pasta in a bowl and toss the cool pasta with 1/2 cup pickle juice, set aside and drain after 5 minutes or so. Discard the pickle juice. Combine the mayonnaise, sour cream, cayenne pepper, salt, and pepper. Mix well and pour over the pasta, pickles, cheese, and onions. Refrigerate for at least an hour and serve with a few chopped pickles and fresh dill on top.
This is how it looks before the pasta salad is mixed together.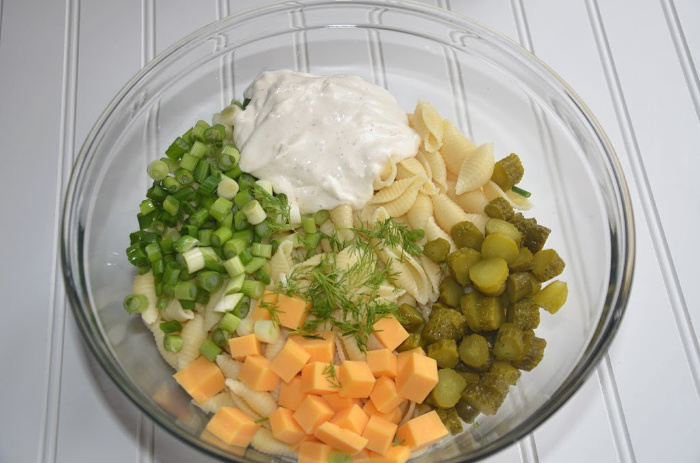 Let me know if you have tried making this dill pickle dip or pasta salad. I love to hear from you. Thanks again for being prepared for the unexpected. May God bless this world. Linda