11 Canned Meat Ideas I Recommend
Today I want to share 11 canned meat ideas I recommend. Now, I love filet mignon, prime rib, hamburgers, and hot dogs, particularly at this time of year when the BBQ gets used a lot. Here's the deal, we still need some shelf-stable meat that is not fresh or frozen.
When it comes to stocking up our pantry for the times when we need food during an emergency, or just to have items handy for a quick meal, we should be thinking of meat as a great protein source. Sure we need canned fruits and veggies, but meat is a great staple for any family's storage inventory.
This post may give you ideas on how to stock some canned meat and how to use it. Most of these products have a 2-year shelf life, as far as I can tell, based on the dates I can see on each can.
I realize that several of these canned meats are not that healthy for us, and I get it. But, we won't be eating these cans of meat day after day for an extended period. Some of them are actually fairly healthy unless of course you are a vegetarian and think otherwise.
Some of us have pressure canned our own meat, and that is awesome. But so many people don't have a pressure canner or the desire or strength to do it. I just want to give you some options for canned meat to put in your pantry. Please stock a can opener or two, okay three! Small Can Opener or Large (#10 Can-Size) Can Opener
In case you missed this post, 13 Ways to Use Bacon Grease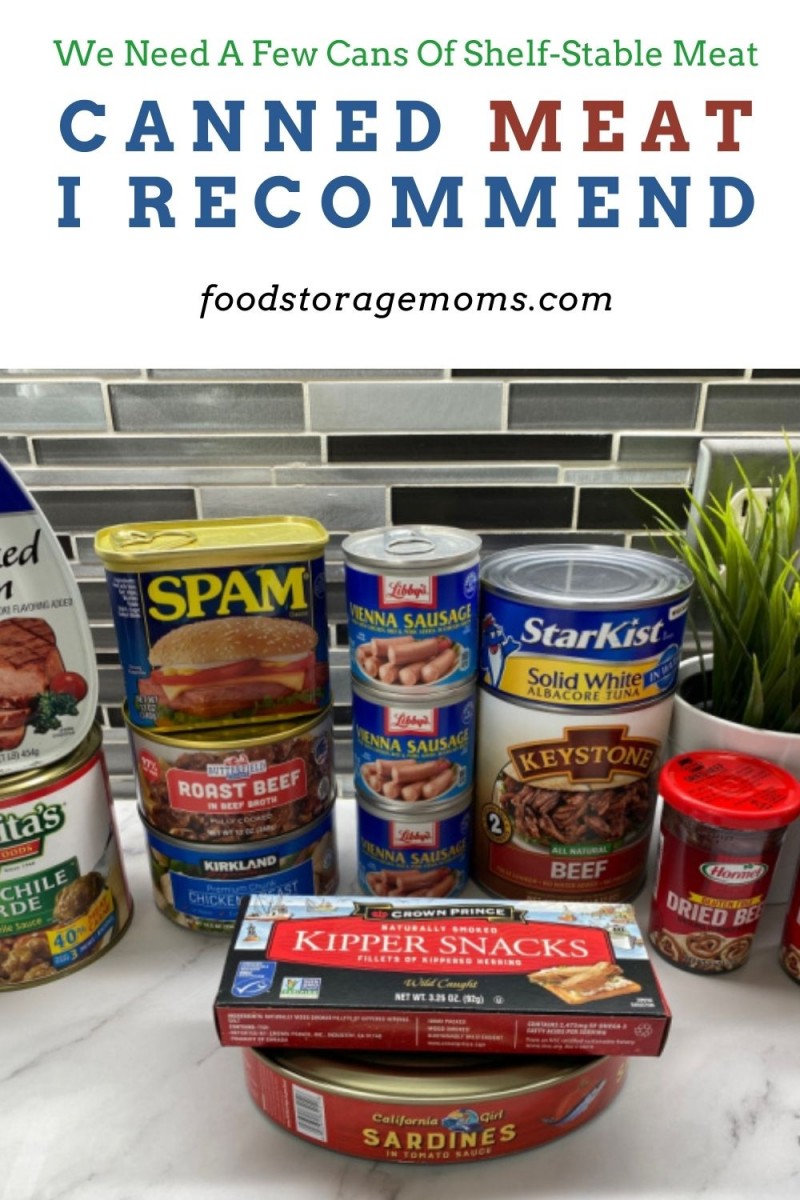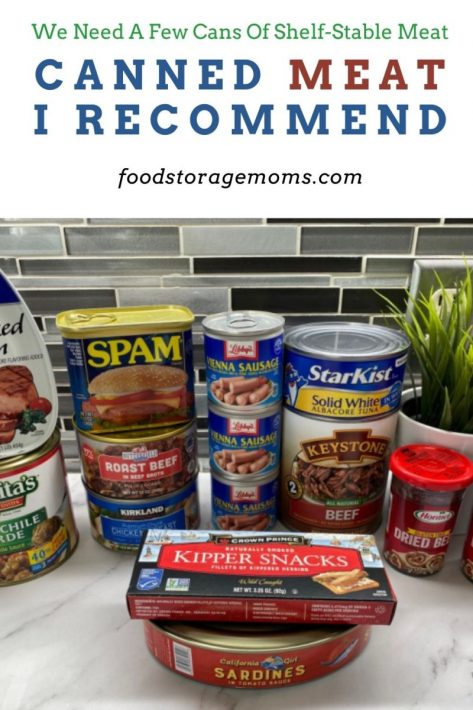 Canned Meat I Recommend:
Please be aware that I'm shortening the list of the ingredients for these canned products since the cans list a bunch of items. I'm just showing the major ingredients. Also, please do your own research to be sure the ingredients agree with any health issues you may have.
1. Pork Chile Verde
Ingredients: Green Chile Puree, Water, Onions, Tomatillos, Salt, Corn Oil, Chicken Broth, Dried Soy Sauce, and other ingredients
Shelf-Life: This can is best used by March 2025
How Can I Use Pork Chile Verde?
You can scoop it over cooked white rice and you can make enchiladas with it. I love Mexican food, so this would be a good choice for my pantry.
2. Cooked/Canned Ham
Ingredients: Ham, Cured with Water, Salt, Sugar, Sodium, Phosphates, Carrageenan, Sodium Erythorbate, Sodium Nitrate, and Smoke Flavoring
Shelf-Life: This can is best used by April 2027
How Can I Use Cooked/Canned Ham?
The possibilities are so long with this one. We could make ham sandwiches, ham salad, ham fried rice, or ham with bean soup. In case you missed this post, Fried Rice Recipes, or this one, Ham and Bean Soup
3. SPAM
Ingredients: Pork with Ham, Salt, Water, Modified Potato Starch, Sugar, Sodium Nitrate
Shelf-Life: This can is best used by March 2025
How Can I Use SPAM?
I don't know about you, but SPAM fried rice comes to my mind instantly! I grew up with fried SPAM slices and SPAM sandwiches. It may sound strange, but SPAM fried rice is the best! It's funny how sliced SPAM fits so well on a standard slice of bread as luncheon meat. I took them to school for lunch much of the time. Mark doesn't particularly like the texture of SPAM, especially right out of the can.
4. Roast Beef (smaller can)
Ingredients: Beef, Beef Broth, Salt, Modified Food Starch, Sodium Phosphate
Shelf-Life: This can is best used by March 2024
How Can I Use Canned Roast Beef?
You can add some mayonnaise to the roast beef and make a few sandwiches. It's perfect to add to soups, stews, and casseroles. Don't forget shredded beef tacos or enchiladas. Add some spices or sauces for that favorite beef flavor you like.
5. Chicken Chunks (Costco Brand)
Ingredients: Chicken Breast Meat, Water, Seasonings
Shelf-Life: This can is best used by September 2024
How Can I Use Canned Chicken Chunks?
I love this chicken for chicken sandwiches on homemade bread, or crackers when I make chicken salad. It works great in Chicken Noodle Soup as well.
6. Vienna Sausage
Ingredients: Mechanically separated Chicken, Chicken Broth, Water, Salt, Spices, Beef, Pork, Sugar, Sodium Phosphate, Sodium Erythorbate, Sodium Nitrate, and Garlic Powder
Shelf-Life: This can is best used by August 2024
How Can I Use Vienna Sausages?
I confess, from time to time I've fed these to my dogs because they can smell them a mile away, I swear! They can't have too much, but they sure do love them! I grew up eating these for lunch with homemade bread and cheese. Are they healthy? Probably not, but they are great in a pinch for a quick snack.
7. Tuna (Starkist Brand-in Water)
Ingredients: White Tuna, Water, Vegetable Broth, Salt, Pyrophosphate
Shelf-Life: This can is best used by January 2026
How Can I Use Canned Tuna?
We make tuna sandwiches, creamed tuna on toast, and tuna noodle casserole. And don't forget tuna salad!! I love tuna in macaroni salads!
8. Beef (Keystone Brand)
Ingredients: Beef, Sea Salt
Shelf-Life: This can is best used by April 2027
How Can I Use Canned Keystone Beef?
I highly recommend Keystone beef. Look at the ingredients, beef, and sea salt. Keystone makes a lot of different canned meats, but when I went to Walmart this was the only kind they had. I have seen Keystone pork, turkey, ground beef, and chicken before, but not this week. The possibilities are endless with these meats. They last about 5 years, depending on the can, of course. This can show 5 years!
You can make shredded beef tacos, enchiladas, beef stew, beef pot pie, or vegetable beef soup. I love this brand!
9. Dried/Chipped Beef
Ingredients: Beef, Salt, Sugar, Sodium Erythorbate, Sodium Nitrate
Shelf-Life: This can is best used by March 2023
How Can I Use Dried/Chipped Beef?
My family loves chipped beef and we make it about once a month in the form of Cream Chipped Beef on Toast with frozen peas. We love it. In case you missed this post, Cream Chipped Beef. I grew up eating it on toast or homemade biscuits.
10. Kipper Snacks
Ingredients: Kippered Herring and Salt
Shelf-Life: This can is best used by April 2027
How Can I Use Kipper Snacks?
I'm not very fond of fish, but Mark loves these. He eats them right out of the can with sliced bread and butter or crackers and cheese. It may sound too good to be true, but when we first got married we could find the small cans of Kipper Snacks priced at 10 cans for $1.00. Of course, that's been over 50 years ago. Mark was in heaven!
11. Sardines
Ingredients: Sardines, Tomato Sauce, and Salt
Shelf-Life: This can is best used by January 2025
How Can I Use Canned Sardines?
I'm not fond of sardines, but my husband loves them. He eats them right out of the can with crackers or cheese on the side.
Condiments You Need To Stock
Here's the deal, we need condiments to go along with so many meals. Please stock up on the ones your family will eat. I will always have ten bottles of taco sauce and only two bottles of mustard. Can you tell I love salsa and taco sauce?
All of these condiments shown below can be used with all of the canned meat options above. Mark and I no longer buy huge jars of anything because I firmly believe, fresh is best. This means fresher condiments and less waste.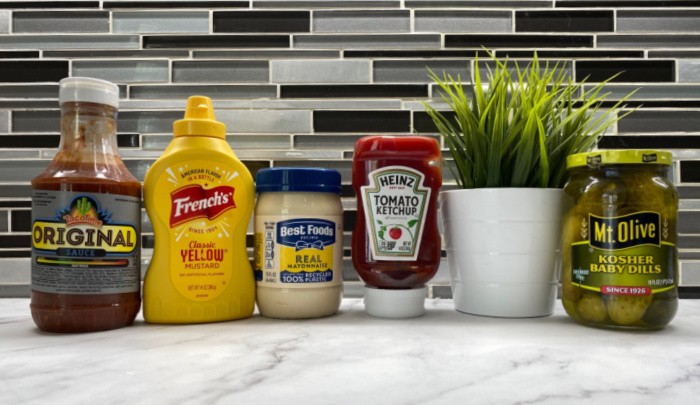 The Emergency Food Assistance Program
What is the advantage of canned meat?
Whether commercially canned or done at home, canned meat has the advantage of being able to be eaten right out of the can. I can eat most of the items listed and discussed above that way. If you like yours to be heated, that shouldn't be a problem, unless your power is out and you haven't planned ahead with other cooking options besides your stove.
Another advantage of canned meat is its health benefits. They are a very protein-rich food, and as an excellent source of protein, it helps build muscle. Depending on your personal preferences regarding taste, canned meat is flavorful and good tasting for almost all of us.
Is beef in a can healthy?
As mentioned, most meats have proteins we all need. As it relates to beef, some cuts contain more fat than others. The leaner the meat you purchase the less fat. Some cuts of beef have very little fat. Check the fat content on the packaging as you make your purchase decisions. Since beef tends to have more fat, if you are looking for more fat-free canned meat options you may want to consider poultry products. Note that if you're concerned about fatty meats, salmon is known to have a fairly high-fat content.
Can canned meat cause an upset stomach?
We each have our different tolerances for food types. I've never had a problem with meats of any kind. If you have an allergy to shellfish, then stay away from canning any variety of that product since it could cause a whole lot of challenges besides just an upset stomach. My experience is, seasonings can be the culprit of stomach problems. Mark doesn't deal well with raw onions or garlic in his meals.
If you are relying on commercially canned meats, check the list of ingredients. Make sure the list doesn't include items that may cause your problems based on the chemical process used by that manufacturer.
Final Word
Please let me know if you have any of these 11 canned meat products on your pantry shelves. They are fairly cheap and we can stretch a meal with these, rice, pasta, or whatever your family likes to eat. It's all about teaching our kids and grandkids how to cook from scratch, one meal at a time. May God Bless this world, Linda