13 Ways to Use Bacon Grease
There's just something about bacon that makes it simply irresistible, but I still haven't been able to narrow it down. Whether it's waking up to the smell of sizzling meat while it's being fried in a skillet, or the mouth-watering juices and the intoxicating flavor that stimulates our brains that seals the deal? Or maybe it's the perfect crunch when you bite into it? I just can't quite put my finger on it. Check out these ways to use bacon grease. In case you missed this post, How To Cook Bacon In The Oven
Ways to Use Bacon Grease
Whatever it is that triggers you, bacon tastes good with just about anything and can be enjoyed anywhere and anytime. But it's what you do afterward with the leftover bacon grease that's still in the pan that concerns me the most.
Unfortunately, most people toss their bacon grease out with their trash, not realizing that they just threw out something that's almost nearly as precious as liquid gold, from my perspective. As it turns out, bacon grease is an excellent natural resource that has many uses, not only in the kitchen but in other areas around your home. These are 13 clever ways to use up your leftover bacon grease.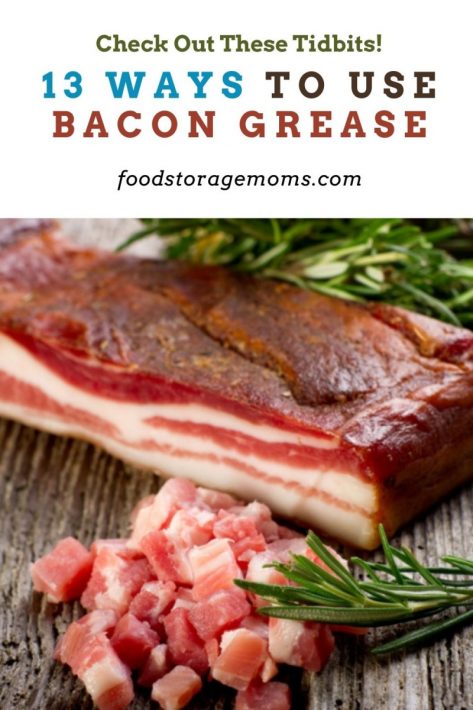 Season Your Cast Iron Skillet
Did you know that your cast iron skillet actually gets better each time you use it, especially when you season it with bacon grease? Not only are you adding delicious flavors to it, but you're also protecting it from rust. A hint of bacon in your meals would also be a win.
Roasting Vegetables
I absolutely love roasted vegetables that have been drizzled in olive oil, but recently I've discovered that bacon grease will also do the trick. Just be sure that you pull the pan out of the oven and stir it once the grease has melted.
Make a Salad Dressing
Listen up all you meat-eaters! If a salad sounds rather lame to you, but your doctor has been telling you to eat more of them, how about using your bacon grease to create a salad dressing that adds more of a meat flavor? That's one way that you can insist that you've been eating healthier.
Make Baconnaise
Sometimes mayonnaise can simply be boring and you're needing something a bit more flavorful. How about making "baconnaise" that will add excitement to your sandwiches, as well as the perfect dip for your veggies. It's also an easy recipe to follow and one that won't disappoint.     
Frying Burgers
Are you in the mood for a juicy burger, but you also have a foot of snow sitting outside? When it's too cold to grill your burgers outdoors, you can always use the approach to fry them. You'll be adding excellent bacon-y flavor when you use bacon grease when cooking your burgers.
Grilled Cheese
While butter is what most people use when they're making grilled cheese, you can take it up a notch or two by using bacon grease to fry your grilled cheese sandwiches. You can even throw in a few bacon pieces for texture as well. On a cold wintery day, it's also nice to dunk your grilled cheese sandwich in a cup of hot cocoa. This may sound a bit odd, but have I ever steered you wrong?
French Toast
Are you the type of person that loves a good sweet and salty snack? Now you can have the best of both worlds for breakfast, even when you don't have any bacon available. By frying your sourdough bread in bacon grease, your french toast is sure to taste even more amazing than before.
Popping Popcorn
Instead of using popcorn oil the next time you're making popcorn, use bacon grease instead. You'll be rewarded with a salty and buttery treat that also tastes a bit like bacon. Yum yum!
Bake with It
Instead of using shortening, you can substitute bacon grease to make all sorts of your favorite delicious baked goods. You can use it to make cornbread, biscuits, cookies, and even tortillas. But what if you aren't in the mood to make them just yet? Here's how to save your bacon grease for the next time that you need it.
Bacon Grease Candles
For those of you who can't get enough of the intoxicating aroma that comes with bacon, why not use your leftover grease to make candles? Just keep in mind that it may cause you to salivate at strange times of the day. Here's how to make your very own bacon-scented candles.
Use it to Start a Fire
A grease fire in the kitchen can become a really scary situation in just a matter of seconds, but when it comes to starting a bonfire in your backyard, bacon grease is the perfect fire starter. Watch this video to learn how effective bacon grease is for starting a backyard fire.
Bacon Fat Bird Feeder
It's not just people that love the smell and the taste of bacon. Birds do too! So why not create a birdfeeder that brings them in by the droves? This is a fun project to do and you'll be able to provide birds with the perfect treat that will keep them coming back all year long.
Dog Treats
Over the years you've probably seen the Beggin-strips commercials and just how bonkers canines go when bacon is present? Instead of paying over 10 dollars for a big bag of them, why not make your own bacon and peanut butter dog treats? These sweet treats will also have your pups begging for more.
Final Word
Did you ever hear in the news about the 86 year old woman who fought off a thief by repeatedly hitting her mugger in the head with a package of bacon? You just can't make up stories like this.
Apparently, bacon is not only delicious, and has been proven that it can be used in self-defense if your situation becomes desperate enough, but the leftover grease itself has its uses too! What are some ways to use bacon grease that you have implemented in your home? May God Bless this world, Linda.
Copyright Images: Bacon Slab Deposit photos_6476229_s-2019