Prepping Advice that Just Makes Sense
If you're a prepper, you've probably done hours and hours of research on just about everything that you need should a disaster ever come your way. Your emergency supply may already even resemble what you would find in an experienced prepper's home. Even if you know a lot of the basics, there may be a few tips that you still haven't heard about that could increase your chances of survival. Once I share these with you, you may even wonder why you hadn't already thought about some of them. Here's more on some of my prepping advice that just makes sense. 
Related: How to Make Prepping Affordable
Prepping Advice that Just Makes Sense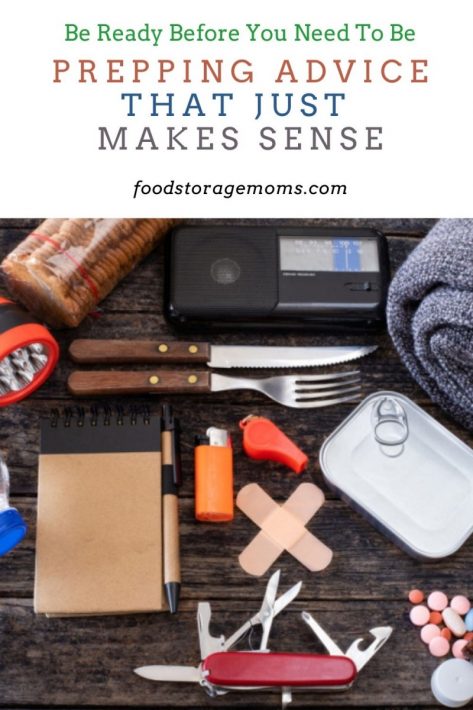 Get Ahead with Your Finances
Some of you may be thinking, "What's the point in saving my money if the economy is going to collapse one day?" I understand where you're coming from, but self-reliant living means that you're no longer weighed down with bills and monthly payments, and instead are able to save some of what you have. By getting out of debt, you can take some of the extra money and put it towards areas like emergency supplies, first-aid, or even taking a few survival courses. One day you may even be able to save up enough for your own off-the-grid property.
Get In Shape…NOW!!!
While in the present you may be a bit overweight or lack the muscle tone you'd like. You may not be able to get away with being out of shape after SHTF. You could become seriously injured or run into other major health issues when you're having to do strenuous and demanding tasks that your survival depends on. Making the decision to get in shape now with an exercise program and proper diet, you could very well end up saving your life later on.
Find Out Who Your Neighbors Are
Many preppers think that going solo is their best chance to survive a post-apocalyptic world, but it's been proven that there's actually more strength in numbers. Unfortunately, many people today don't even know who their next-door neighbors are, but you don't want to wait until after a disaster strikes to go knocking on their door to introduce yourself. They may have certain survival skills and knowledge that can help improve your situation and vice versa.
You may wonder if this works for your neighborhood, I totally get it. Some neighborhoods could care less about being prepared This is when it's scary to me. If we live in an area with like-minded people we will have a better chance of survival. You may be able to get some of the less informed neighbors to agree to meet with you and learn what it takes to be better prepared.
Plan on a Place that Your Family Should Meet
An emergency may happen while your kids are at school and you're away at work. Having a plan outlining where your family should meet following a disaster is crucial, especially when your cellphones are no longer working. Everyone's plan will look different depending on their specific circumstances, but no matter your situation, all of your family members should be aware of those plans and you should practice them.
Keep an Emergency Bag in Your Vehicle
At the moment you have to evacuate, you won't have time to gather every last one of your prepping supplies that are stored in your home. This is why I think it's important for you to have an emergency bag of supplies stowed away in each one of your vehicles. That way you're ready to go at any time.
Storing and Collecting Water is One of Your Top Priorities
You will only survive for a few days without any drinking water, so it should be a huge concern for you to make sure that your family has enough. On average, an individual person uses about a gallon a day for drinking and sanitation purposes, so you'll need to plan accordingly.
Many preppers stock up on gallons of water from the grocery store, but some also rely on rainwater that they gather in barrels as well.
Stored water is not only heavy, but it takes up a lot of space. If you're forced to evacuate your home in a hurry, you may not be able to round up all you think you may need. This is why having a portable water filter that can tap into almost any water source will be nice to have.
Find Extra Water in Your Home
Whether you're unprepared when a disaster strikes or you've simply run out of your drinking water supply that you had stockpiled, there are a few places in your home where you can still find water. For starters, there are up to 40-50 gallons of water in your water heater that you can tap into. (As long as the water in your community has not been contaminated).
Your water pipes may still have several gallons that you can snatch by turning on a faucet and collecting the water before you lose pressure. I'd also encourage you immediately following a disaster to fill up your bathtub with water so that you'll have another 40 to 42 gallons of water available.
For child safety reasons I don't really like this idea, but if you don't have any other water stored besides what's in the tub, it may be the only option. I always fear babies/toddlers drowning when a bathtub is full. It's a mom thing, I guess.
Rotating Your Stockpile Every 6 Months
Creating a massive stockpile of food is a great thing to do to hold your family over during an emergency, but you certainly don't want to be left eating food that's long out of date or no longer edible. Be sure to rotate out your stock at least every 6 months by eating what's in front and then replenishing your stockpile by putting newer products on the back of your shelves.
Know the Most Basic Survival Skills
How to stop severe bleeding is an important example. I'd encourage you to learn and practice the most basic survival skills. It also wouldn't hurt if you had them printed out so that you have them to look back on if your phone or internet is no longer working for research purposes. These are also free downloadable prepping books that you can look into for more information. Just look things up NOW, don't wait for the emergency and then think you can get up to speed.
Practice Survival Skills in a Fun Way
Maybe you don't have a spouse or other family members who are on board with taking your prepping intentions seriously? Do me a favor and don't throw my name under the bus for this, but you could always sneak in a few survival skill lessons that make for a fun family day without them ever realizing your ulterior motives. Here are a few of them:
Go Paintballing or play laser tag
Build a fort
Go on a family camping trip
Take a first aid course
Give orienteering a try
Never Take Sanitation Lightly
Having good hygiene will be extremely important following a major catastrophic disaster, but it's usually the one that most preppers don't spend much time with. If you fail to dispose of your waste and garbage properly, it will attract rodents and vermin that carry all types of diseases.
Should your family come into contact with human feces, it too could cause serious health issues that could wind up turning deadly.
Digging a hole to bury your waste is a temporary solution, but a composting toilet or an outhouse would be friendlier to the environment. Burying and burning your garbage may be what you have to resort to if your weekly garbage pick-up is no longer an option.
Keeping your hands washed is one of the best ways to keep illnesses and diseases from entering your body. You'll need a stockpile of baby wipes, antibacterial hand sanitizer, and hand soap to stay clean. Stock up on heavy-duty trash bags, buckets, and plastic gloves. This is important prepping advice to listen to no matter what the disaster or emergency!
Get Yourself a Good Mountain Bike
Should your vehicle ever run out of gas or be left inoperable, you'll be needing another form of transportation for your family. It wouldn't hurt for you to invest in good mountain bikes so that you can get around when everyone else is sitting in traffic or the roads are closed to autos. This solution will also help you to get into better shape now.
Prepping Advice that Just Makes Sense
Final Word
When it comes to prepping advice, I hope that these tips made sense to you. Besides stocking up on food, water, and supplies, your mental toughness will play a key role in whether you toss in the towel when things get tough.
What other prepping advice out there would be essential to know following a major disaster? What prepping advice would you give based on your own experience? May God Bless this world, Linda.
Copyright Images: Emergency Bag Deposit photos_377505778_s-2019