8 Ways to Convince Your Loved Ones to Prep
Being a prepper ain't easy. In fact, it can be very, very, hard at times. Especially when you're trying to get all your friends and family on board with your way of thinking on the subject. While you may want them all to be safe and sound following a disaster, you're also worried that they'll think you're crazy, or the prepper dialogue may even lead to a family feud during dinner. Let's talk about how to convince your loved ones to prep. In case you missed this post, How to Prepare for the Second Wave of COVID-19
How to Convince Your Loved Ones to Prep
It's hard to know the right way to go about discussing prepping without freaking people out, and you certainly don't want to strain any of those relationships. But you're torn because you feel like you have to do something to help encourage them.
There are a number of ways you can naturally start those types of conversations and also one or two ways to prepare your loved ones without directly sharing your motives upfront. Here are 8 helpful tips on how to convince your loved ones to prep.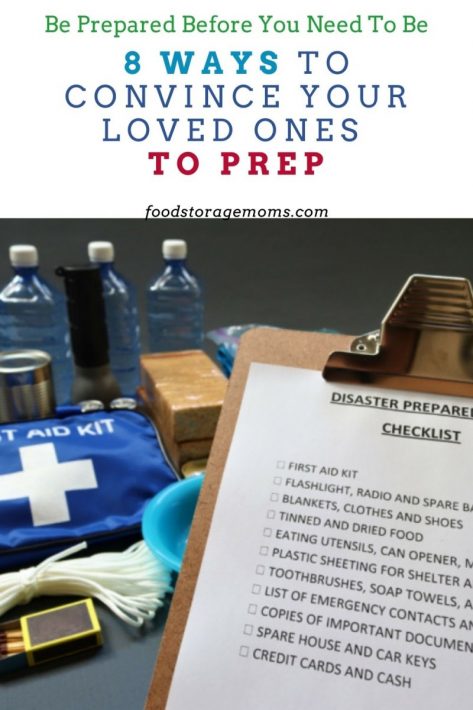 #1. Don't Try the Scare Tactic
I'll tell you right now if you decide to sit down with your loved one and start the conversation by warning them of all the potential doomsday scenarios that could possibly happen, I can guarantee you're not going to win over your audience.
Not only will you scare them half to death, but they may even become argumentative, call you crazy, or try and change the subject altogether. It's best not to point out apocalyptic events that they need to prepare for, instead talk with them about real emergency disasters that could certainly happen in their area.
#2. Encourage them to Start Small
Maybe they'll have the excuse that prepping costs too much money or is hard to do? There's no denying or trying to debunk those excuses because they're true. Prepping can be expensive and take a lot of time and energy to gather everything that you'll need.
But I'd encourage you to tell them to start small by preparing a 72-hour emergency kit and go from there. They can also buy one or two prepping items every few weeks or months and they'll be surprised how quickly their supply starts to add up. I recommend starting with the following items:
Flashlights with Batteries or Solar Flashlights
#3. Show them How a Food Pantry Saves Money
You may have the kind of family members who won't take you too seriously when talking with them about prepping. But that's okay, almost all of us have family members like that. Instead of urging your loved ones to prepare for SHTF, talk with them about how a food pantry can save them a lot of money.
And it's easy to discuss because it's the truth! Just pointing them to this past pandemic when the grocery shelves were beginning to grow scarce should also be enough to motivate them to have some food in a pantry for extra backup.
#4. Watch a Disaster Movie with Them
What could be more innocent than sitting down with your loved ones while grabbing some popcorn and enjoying a film? Watching a disaster movie with them is a great conversation starter and a way to get them thinking about what could happen.
Since they know that you're a prepper, they may ask you questions or wonder how you'd be prepared for that type of scenario. Now you have an awesome window of opportunity to talk about the why's and how's of being properly prepared.
#5. Gift them a Preparedness Kit
Sometimes you just have to do things yourself, but don't be surprised if you get a few raised eyebrows by gifting your loved ones with a small preparedness kit. You also don't have to wait until Christmas or their birthday to present them with one.
If they give you a crazy look, just tell them to throw it in their closet where they'll forget about it, but one day they may very well thank you for gifting them the kit that they used.
#6. Flip on Your Local News
As I mentioned earlier, talk with your loved ones about natural disasters that can certainly happen in their area. All you need to do is to flip on your local news channel. I can almost 100% guarantee that there will be at least one disaster scenario unfolding within your first half-hour of watching.
Tornadoes, flooding, earthquakes, wildfires, and snowstorms are happening more and more these days, and there is a good chance there may be one that's close to you. Ask your loved ones to put themselves in those people's shoes.
Would they know where to go, what to do, or have the right supplies to survive the threat? This will provide them with an eye-opening moment and hopefully they'll begin to wonder more about what they need to do.
#7. Get them a Survival Book
You can also try introducing them to the subject by getting them a survival book that they can read and study. There's also prepper fiction out there that makes for an interesting read that may be more up their alley.  
Related: Should You Tell Others You're Prepping?
#8. Be Respectful While Knowing Your Audience
I can't stress this enough. Be respectful without calling your friends and family stupid, or getting angry when they refuse to listen. A shouting match or an argument isn't a great method to show someone that you care about them and their survival and overall safety.
They don't want to see things the way that you do, not only because it's a scary subject, but because they've trained their mind not to worry about something that may never happen. Simply agree to disagree, with the appropriate tone, that way you don't hurt your relationship.
Another important tactic to consider is for you to know your audience. Think about how they would respond or what type of questions they might have ahead of time. This gives you more time to come up with answers that are comforting and so that you're not thrown off by their response. It may even require you to be patient and wait for the opportunity to present the subject again in the future.
8 Ways to Convince Your Loved Ones to Prep
Final Word
At the end of the day, your kids and your spouse are your number one priority as far as prepping for disasters is concerned. You may never be able to convince everyone in your small circle of extended family and close friends.
All you can do is present them with the information in a calm and respectable way without doing it all at once. Lastly, know your audience ahead of time and find ways they can relate to the things you are telling them. What are some ways you try to convince your loved ones to prep? May God Bless this world, Linda.
Copyright Images: Emergency Preparedness List AdobeStock_277831567 by Roger