29 Preparedness Items to Buy Right Now If You Are Not Prepared
In the event of an emergency, it's important to have essential items on hand. If you're not yet prepared, now is the time to start your preparedness journey, or to stock up if you just need to update your inventory! Here are 29 items that you should have on hand, or look at buying right now if you don't already have them.
You may wonder why I keep writing about preparedness day after day. Of course, I love recipes to share and I love to cook, so you'll see lots of those too, but stocking up right now is as critical as any other time I can think of based on what's going on in the U.S. and globally. We are seeing some challenging economic times, but also some significant weather events we haven't had to deal with before.
We need food and we need a lot of water to start with. Please remember, the government won't deliver food or water to your home during or right after a disaster. Nope, it's not going to happen. They just don't have the resources to help every family, particularly if the emergency event covers a wide area or heavily populated location.
Sometimes when I watch TV I see people lined up to get water or food on foot or in cars after a disaster. People, people, my friends, please don't be one of those families. Just stock your own stuff. I understand if your home is flooded, burned down, or toppled over, but if your house is standing, I pray you can stay safely in YOUR home and have personal resources to survive.
People get crazy and mean when they need water, let alone food. Good grief, if people can fight over toilet paper at Costco a couple of years ago, just think about what they may be willing to do to get enough food. Yeah, don't get caught unprepared. I may sound like I'm on a soap box, well, I am and it's getting bigger and taller by the day.
Kudos to those who are prepared, we all need to build each other up. I'm really worried that I can't garden this year, or at least like what I'm used to growing. We still haven't started the building process of our new small home.
Please stock up on garden seeds for the year. If you need some, this is where I buy my seeds: SeedsNow
What Are Preparedness Items?
Preparedness items are supplies that you may need in the event of an emergency. This could be anything from a natural disaster to a power outage. By having these items on hand, you can be better prepared to handle most situations.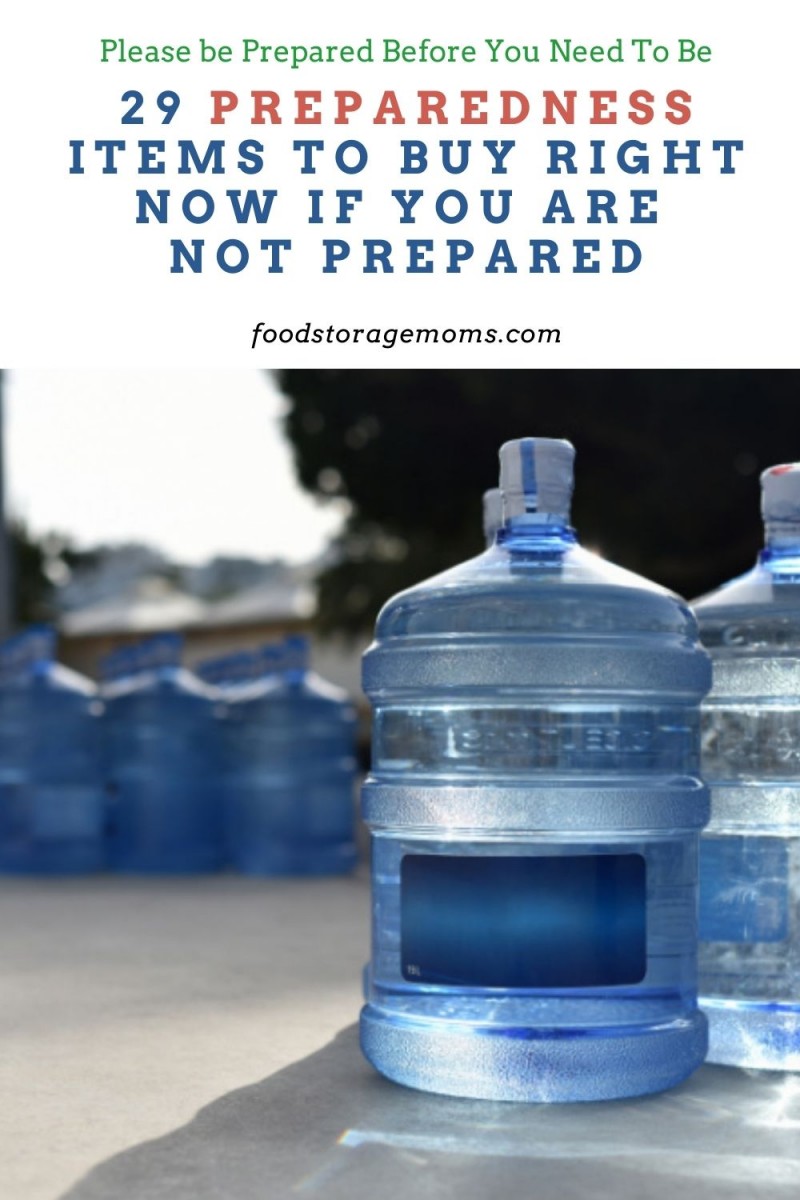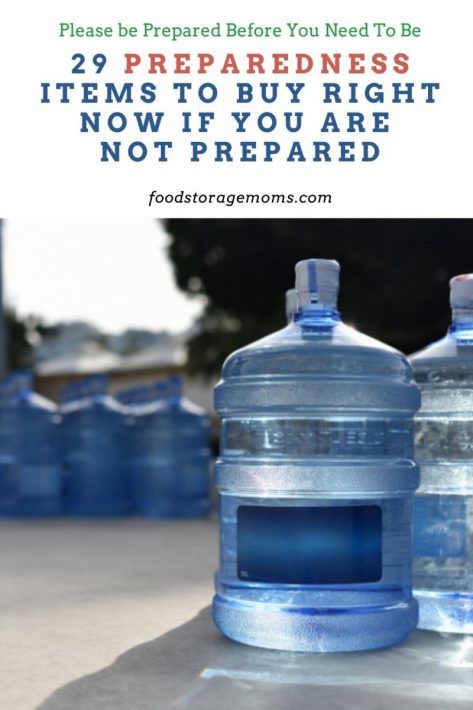 29 Preparedness Items to Buy Right Now
Preparedness is important for everyone, but especially for those who live in areas that are prone to experiencing natural disasters. By taking some simple steps now, you can be ready for most things mother nature throws your way. Here are 29 preparedness items that you should buy right now:
Water: You can't survive without it, so make sure you have plenty of clean water on hand. Fill up containers now and store them in a cool, dark place. Water Preserver is a product I recommend since you only have to rotate the water every 5 years rather than every 6 months or so if you use bleach.
Food: Non-perishable food items, like canned goods and dry pasta, are essential for staying fed during an emergency. Plus, they have a longer shelf life so you don't have to worry about them going bad in the short term.
First Aid Kit: This should include basic items like bandages, gauze, and antiseptic wipes. Don't forget to include any prescription medications you or your family members take. Be willing to take some first aid classes so you're prepared as best as possible to use the items in the kit.
Flashlight: A flashlight is a must-have for any Preparedness Kit. Make sure to buy extra batteries as well! I have a bunch of solar flashlights I keep on window sills at my house so they stay charged up.
Radio: A battery-operated or hand-cranked radio is a great way to stay informed during an emergency.
Multi-Purpose Tool: A multi-purpose tool, like a Swiss Army Knife, can come in handy for all sorts of things, from opening cans to cutting rope.
Maps: It's always a good idea to have maps of your area on hand. If you're ever stranded, they can help you find your way back to safety.
Sanitation supplies: Cleaners like bleach and disinfectant wipes are important for preventing the spread of disease. Bleach is also great for sanitizing water for short-term use.
Toiletries: essential toiletries like toilet paper, soap, and toothpaste are often forgotten in Preparedness Kits. But trust us, you'll be glad you have them if you find yourself without power or running water!
Blankets: Blankets can be used for warmth or to create a makeshift shelter. They are also good for insulation in case you lose power and need to keep small rooms in your home warm.
Non-prescription medications: Over-the-counter medications like pain relievers and anti-diarrheal treatments can be a lifesaver in an emergency. Be sure to include them in your Preparedness Kit. We women should also consider our monthly needs don't change just because an emergency happens. Plan ahead with some sanitary napkins or tampons.
Additional Recommended Preparedness Items
Fire Extinguisher: In the event of a fire, a fire extinguisher can be a lifesaver. Make sure to check that it is in working order and keep it easily accessible. By one or more based on the type of fire you might likely expect. Grease fires in the kitchen are different than a chemical or wood fire. Do some research and purchase accordingly.
Clothes: Extra clothes and shoes are always a good idea to have around in case of an emergency. If you live in a cold climate, make sure to include warm clothing and blankets.
Pet supplies: If you have pets, don't forget to include food and water for them in your Preparedness Kit. You should also have a leash and collar on hand in case you need to evacuate.
Matches: Matches can be used to start a fire for warmth, to cook, or to signal for help. Keep them in a waterproof container to prevent them from getting wet.
Candles: Candles can be used for light or to provide warmth in an emergency situation. Make sure to buy some that are unscented so they don't attract unwanted attention. I always caution my readers to be very careful with candles in the house, they can be a fire hazard, particularly if you have young children.
Cash: In the event of a power outage, cash is king. ATM machines won't work without power, so make sure you have some on hand to buy essential supplies.
Water purification tablets: Water purification tablets are a must-have if you need to drink from questionable water sources. They will kill bacteria and viruses, making the water safe to drink. You should also consider some water filter units, if your finances will support a purchase. There are lots of options. Check my archives for posts giving you some input.
Batteries:  Batteries are essential for powering flashlights, radios, and other devices. Make sure to buy extra and keep them in a cool, dry place.
Baby supplies: If you have a baby, don't forget to include diapers, wipes, formula and baby food, and other essential items in your Preparedness Kit.
Elderly supplies: If you have elderly family members, make sure to include items like glasses, hearing aids, and walkers in your Preparedness Kit. Most older people have prescriptions they take on a daily basis, but sure to have those on hand.
Games and activities: Keeping everyone entertained can be a challenge during an emergency. Make sure to include some games and activities in your Preparedness Kit to help pass the time. See my Prepping with Children Checklist if you have kids. 
Books: Books can be a great way to pass the time during an emergency. But they can also be used for reference in case you need to find information about survival skills or first aid.
Power bank:  A power bank can be a lifesaver if you lose power and need to recharge your electronic devices. Make sure to get one that is big enough to charge your phone or tablet multiple times.
Solar charger: A solar charger is a great way to keep your devices charged when there is no power. They are also eco-friendly and can be used to charge your power bank.
Alternative cooking vessel:  If you lose power, you may not be able to cook on your stove. That's why it's a good idea to have an alternative cooking vessel like a camp stove, butane stove, or a solar oven.
Gasoline: Make sure your vehicles are full and you have extra gas on hand in case you need to leave the area you are in.
Masks: Masks can be used to protect you from air pollution or respiratory illnesses. They are also helpful if you need to evacuate an area that is affected by smoke or ash.
Whistle: A loud whistle can be used to signal for help if you get lost or trapped during an emergency.
What is the Most Important Preparedness Item to Have?
There is no one answer to this question as everyone's needs will be different. However, some items that would be considered essential for most people include food, water, shelter, and first aid supplies. Keep in mind that you can only survive about 3 days without clean drinking water.
No matter what Preparedness items you choose to include in your kit, make sure you have the basics covered. And always remember to stay safe. Like so many things in life, a plan is critical for success, and that goes for being prepared! Have a plan, take action to follow the plan, and practice specifics in the plan like evacuations. Each family member needs to be trained and willing to do their part.
Final Word
Don't wait until it's too late to start preparing for an emergency. These 29 items should be at the top of your list when putting together your Preparedness Kit. Be sure to stay safe and have a plan in place so you can weather any storm. May God Bless this world, Linda
Copyright Images: Water Jugs AdobeStock_309005654 by Oleksandr