How To Stock Your Home Pharmacy
Today it's all about how to stock your home pharmacy. There has been so much going on the past couple of years, I thought it would be good to update this post from a few years ago. My biggest concern is having a total grid down or other disaster affect us and not being able to get those medications we all take for granted. I'm probably way overstocked with some of the items I feel are especially important, but that's how I roll.
I have really bad arthritis and I have to have some over-the-counter pain medication just to get through the day. Some illnesses, like colds, are tough to treat and they need to run their course, but then it doesn't hurt to help soothe the symptoms sometimes.
When I use the term "pharmacy" I don't actually mean a location where drugs are dispensed. I'm referring to that area in our home where we keep the medications we need to try and stave off illnesses, soothe those achy muscles, ward off the effects of allergies, and maybe a few prescriptions our doctor has prescribed.
There have been so many life-altering challenges the past few years that millions have had to deal with, and most were unexpected. We've seen floods, droughts, earthquakes, hurricanes, and so much more. The biggest issue I see is that most people are having to make due as best they can since they weren't prepared in so many ways.
I hope most families have first aid kits at the very least, and this post will cross over into the first aid kit scenario. But today I want to primarily focus on those simple over-the-counter products we use most often. There are those meds we need to protect and nurture our own family members, and we may keep a few others when extended family visits so we can be attentive to their needs too, particularly with some different age-appropriate medications.
When you do pick up any of these products, please check the dates. We need to rotate them so they stay current with their designed benefits, so let's get the freshest ones possible. I'm a big believer in essential oils so I will share some of those as well.
Please note, these will not cure anything, but they can curb many of the symptoms that make us feel so miserable.
You may be saying, "I never get sick, I will never use any of these." I get it. You may be one of those, like my husband Mark, who seldom get sick with anything. Here's the deal, millions of people worldwide put off having vital medications available when they are most needed.
When I think of the global health crisis we've been dealing with for months now, many people couldn't make those purchases they needed, whether food or meds, since so many stores, were closed or the shelves were bare. Who would have thought we'd be faced with this situation? It sure is nice to be prepared for the unexpected. That's when you'll be very grateful for taking the time to stock your home pharmacy.
Mark and I had dinner with some friends and we started talking about how our neighborhood needs some help getting prepared for a disaster or an unforeseen emergency.
We talked about the different streets in our neighborhood and who we know are prepared, which is a pretty shortlist, I'm sad to say. It's the 90% unprepared and 10% prepared scenario. Can you imagine how many sick people will suffer if they don't have the meds needed to stay as healthy as possible, reduce the symptoms that often come with illnesses, and make us feel more comfortable?
When others get sick, we may need to share our over-the-counter medications when necessary. If I was aware of a baby or toddler suffering I would hope I had appropriate items their mother could use.
What if an older couple in your neighborhood got diarrhea because of food poisoning? Now, picture all the stores and pharmacies closed for days, or weeks. They could get dehydrated very quickly. This is why I'm writing this post today. Let's be prepared.
Check out your local stores, dollar discount-type stores, or box stores for the cheapest prices available, and yet have an expiration date that will work for you. Sometimes we just need a little nudge to remind us to stock up on those products we may need in the near future.
We can sleep at night knowing we don't have to run to the store at midnight to purchase one or more of these items for ourselves or a neighbor.
How To Stock Your Home Pharmacy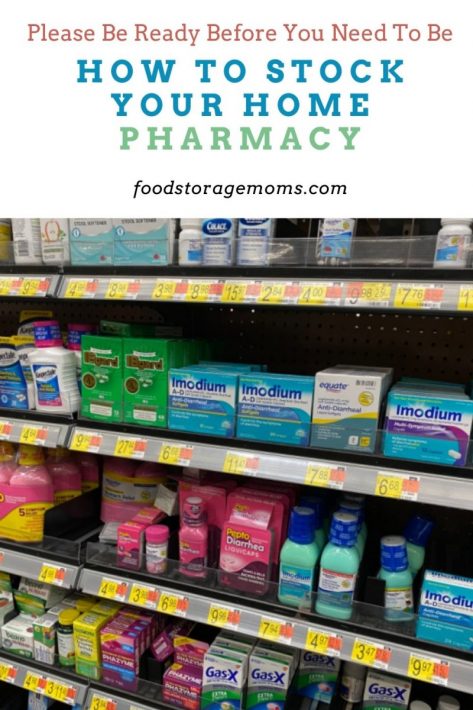 Please keep in mind, these are only suggestions. I am not a doctor, nurse, or anyone in the medical field. These are listed to help us think about the items we MAY want to stock up on.
Fever Reducers
I realize fever is a good thing sometimes since it's a sign our body is doing its best to fight infection. It's when I can't break a fever that I get worried. I'm not a doctor, I'm a mom and a grandma, this is just my opinion.
Allergy Medications
If you have ever had allergies, these may look familiar. You can see that I listed Benedryl first. I have used that for so many issues.
Diarrhea Remedies/Constipation
Trust me, no one wants diarrhea when the sewer lines don't work, right? This is another reason we need our own emergency toilet and the items listed below.
Cold and Flu
This year has been a tough one for colds and flu in our area. I love knowing I have the necessary items for anyone who stays at our home and comes down with a cold or the flu.
Vicks VapoRub
Sambucol (Black Elderberry products)
Nyquil
Tylenol Cold and Flu
Dimetapp
Dayquil
Mucinex
Vicks VapoCool
Nasal Sprays
Nausea Medication/Heartburn
Just giving you the heads up here. I was able to buy Meclizine at Costco cheaper than anywhere. It's behind the pharmacy counter, and as I remember, it was $3.00 for 100 tablets.
Pepto Bismol
Kaopectate
Dramamine
Bonine
Meclizine
Tums
Rolaids
Skin Irritations
It's all about making sure we are comfortable if and when our family needs the meds for support. I can't imagine not having some Neosporin for small cuts and wounds. Please stock up according to your family's needs.
Epsom Salt
Bag Balm
Stokolan Cream
Vaseline
Aspercreme
Coconut Oil
Lidocaine
Your favorite lotion or cream
My Doctor Suggests Gel
Anti-itch Cream
Hydrocortisone
Calamine Lotion
Neosporin
Apple Cider Vinegar
Hydrogen Peroxide
Alcohol
Anti-Fungal Medications
It's nice to have these in our stash because you never know when you may need them.
Monistat (vaginal yeast infections)
Athlete's Foot
Diaper Fungal Infection
Essential Oils
Every essential oil company will have different names for its essential oils. I'm sharing the products from doTerra. This is one of my favorite Essential Oils Books you may like to have in your home. Essential Oils
My grandkids love Breathe, Peppermint, and Deep Blue.
Breathe
Deep Blue
Oregano
Wintergreen
OnGuard
Peppermint
Tea Tree Oil (thanks Leanne for the reminder)
Final Word
I hope this post helps you think about and then take some action when it comes to how to stock your home pharmacy. So often we tend to put off those things that aren't an immediate need rather than taking charge and doing what could make all the difference if emergencies come our way.
The media right now is all about the shortages we are facing at so many levels. Food, gas, natural gas, building materials, and more. Our supply chain is messed up, and who knows when things will get better, We are prepping for the future the best way we know how. Thanks for being prepared for the unexpected. May God bless this world. Linda