It may seem strange for me to present a post outlining how to make homemade snow cone syrup in the middle of the winter. Here in Northern Utah, it was 16 degrees °F recently. When it comes to sharing ideas with my readers, I'm open to almost any recipe if I think it could help them make great meals and desserts, particularly if the recipe is simple and can save them some money.
When we lived in St. George, Utah it got really hot in the summer months. We looked for all sorts of options when it came to a cool drink, cold salad, and refreshing dessert. Growing up, my girls loved their snow cones and ice cream treats, they probably still do!
I did some research to see how snow cones got their start. It's thought that people in the higher elevations where snow was the norm would bring ice and snow into the valleys and share their bounty with valley dwellers for a fee. The first mass-produced ice treats were a function of the Industrial Revolution of the 1850s when machines were invented to actually make ice. New York City had a number of "ice houses" where larger blocks of ice were produced and delivered to homes and businesses by wagon.
Sometimes when the wagons came into a neighborhood, the kids would ask for the ice to be scraped. Those thin slices of ice would be covered with popular flavors like vanilla, egg custard, and sugar.
It wasn't until 1919 when a fellow named Samual Bert invented the machine to mass-produce the shavings from ice blocks, that snow cones became popular after he sold them at the Texas State Fair. Since then they've been called by various names, like snow cones, snow-balls, and shaved ice. Over the years they have been served with all sorts of flavors and add ons like ice cream, condensed milk, and candy.
In case you missed this post, The Best Homemade Playdough Recipe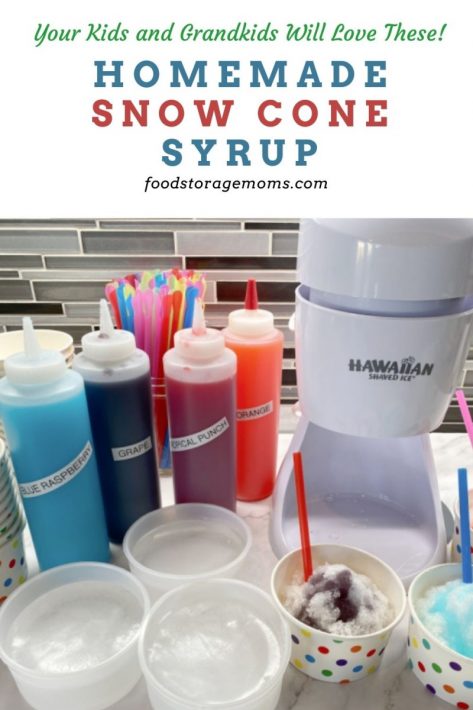 Snow Cone Syrup
Items You May Need In The Kitchen:
Snow Cone Syrup Recipe
Step One: Gather Ingredients
You only need water, sugar, and dry unsweetened flavor drink packets. I actually used Kool-Aid packets of various flavors.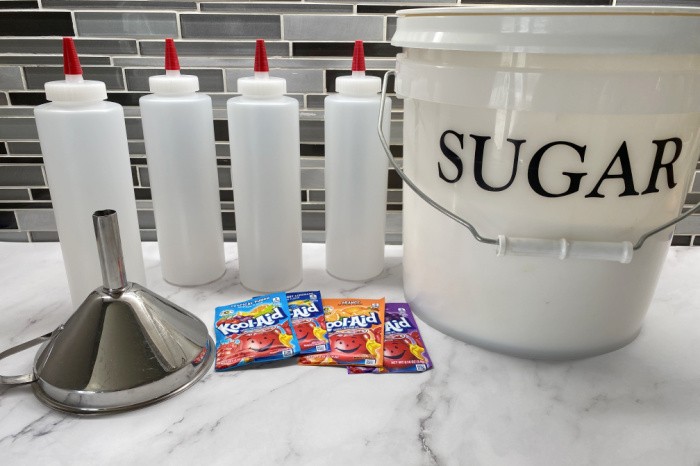 Step Two: Label the Bottles
I labeled my bottles, I use the labeler for everything. Brother Label Machine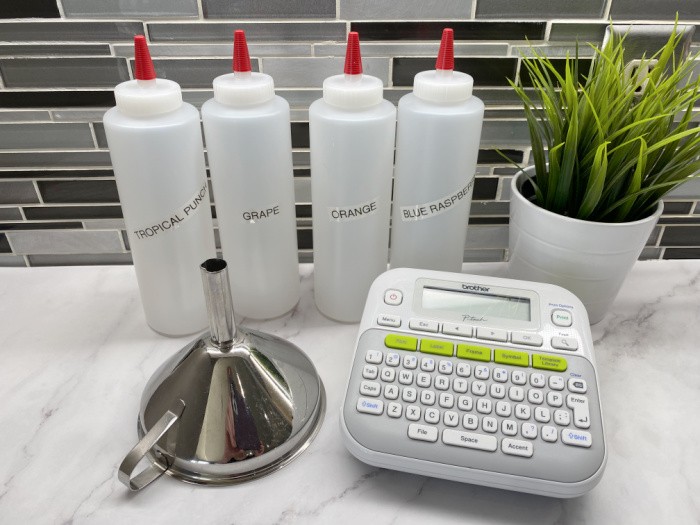 Step Three: Combine Water and Sugar
Grab a medium-sized saucepan, and combine the water and the sugar.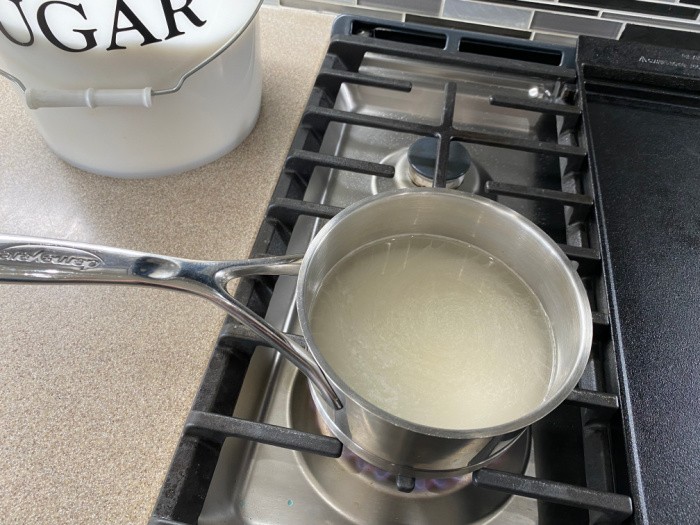 Step Four: Boil for 3-4 Minutes
Bring the mixture to a boil, and then simmer for about 3-4 minutes, or until the sugar is dissolved.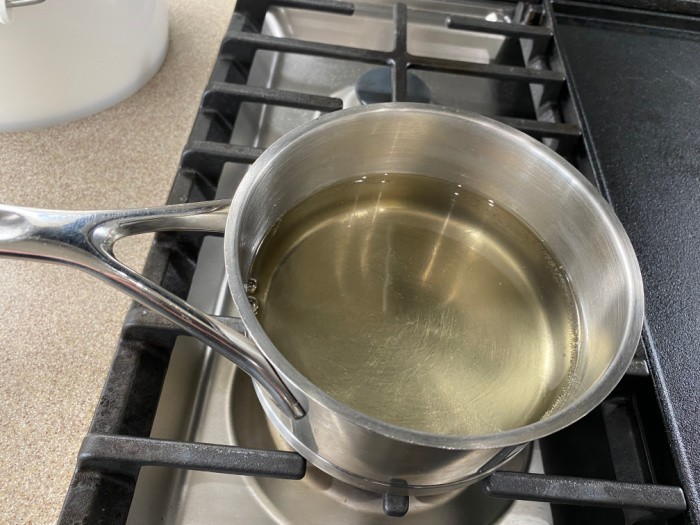 Step Five: Add Flavor Packets
Add the dry unsweetened flavor drink packet (I used Kool-Aid) and stir until thoroughly mixed throughout. Let the syrup cool down. I did this four times, one for the orange flavor, the blue raspberry, the grape, and the tropical punch.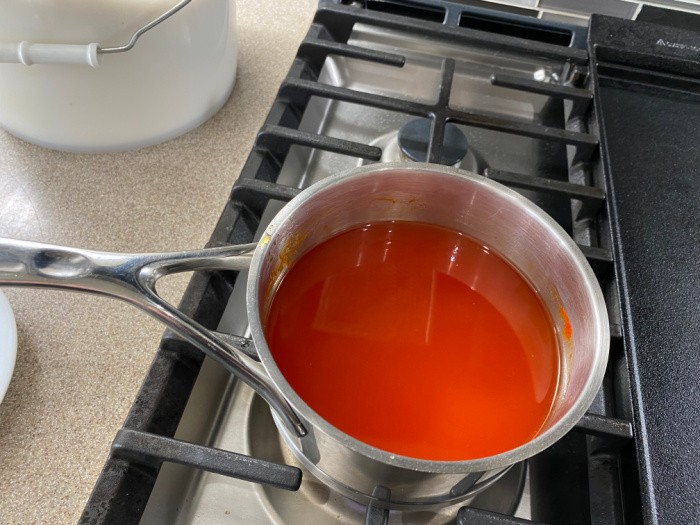 Step Six: Use A Funnel
Pour into a container using the funnel. I prefer the squeezable bottle containers shown in the picture.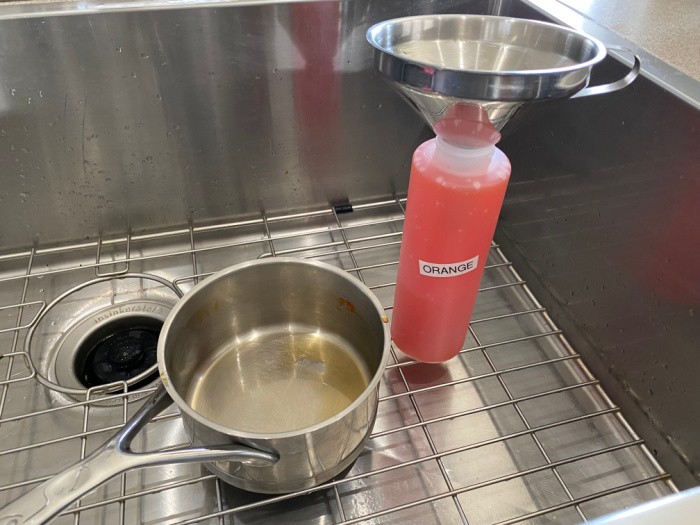 Step Seven: Make the Crushed Ice
We used to have a fridge that made ice cubes and also crushed the ice if desired. I haven't had that fridge for years. The Hawaiian Shaved Ice Machine I bought comes with two "ice molds" that you fill with water and then freeze. You need to freeze the ice molds ahead of time. I actually bought a few extra molds because we always have 5 or 6 kids around here ready for a snow cone! After you freeze the ice molds, bring them out and let them "thaw" for about 5-7 minutes and they will be ready to place inside the top of the shaved ice machine. Bright Colored Spoons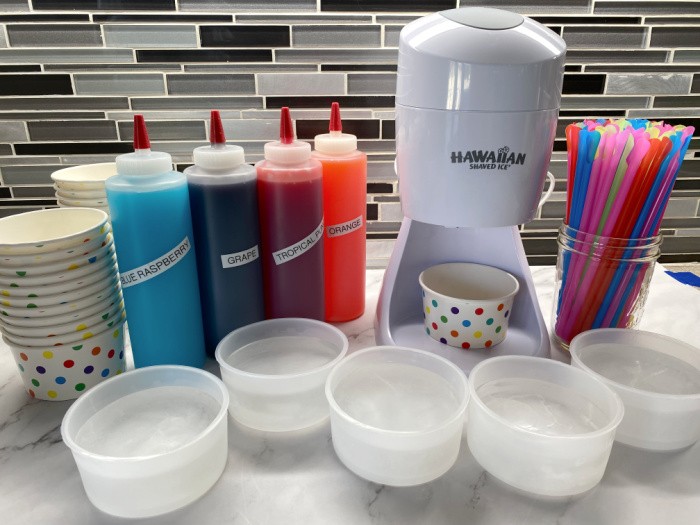 Step Eight: Drizzle over Ice
Push down on the top of the ice machine so it can "shave" the ice into a cup, cone, or another container you want to eat from. Gently squeeze the desired amount of snow cone syrup over your shaved ice snow cone or cup. Notice the cute multicolored cups I bought just for this treat. I also purchased some pretty multicolored "spoon straws" so you can eat the shaved ice more easily. Enjoy! These are so fun to make, with all the doom and gloom in the world, snow cones hit the spot! Let's bring some fun back into our lives!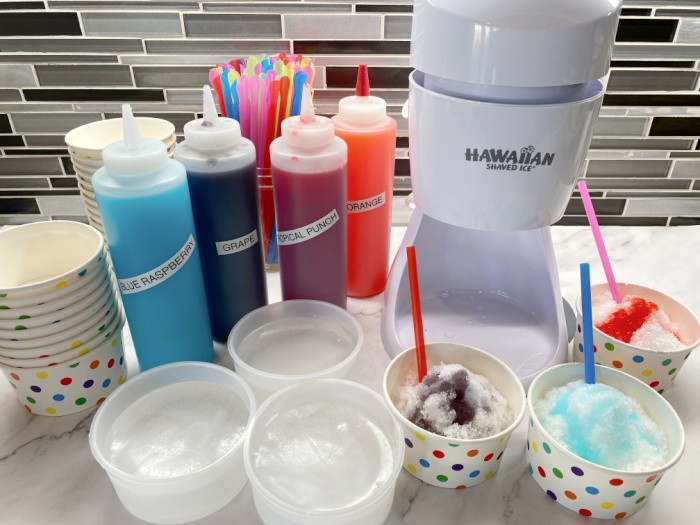 Finished Product
These are so light and fluffy, the kids will smile from ear to ear when they see them! I can't wait for summer!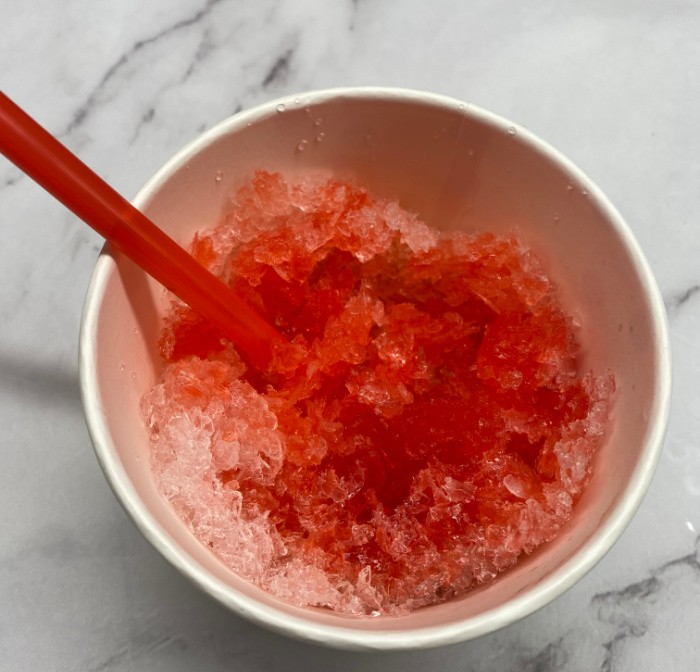 Snow Cone Syrup Recipe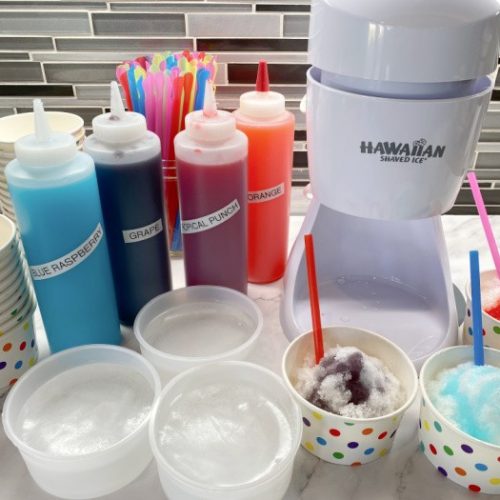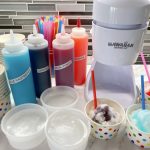 Snow Cone Syrup Recipe
Ingredients
1-1/2

cups

white granulated sugar

1-1/2

cups

water

1

package

dry unsweetened drink mix (I used a Kool-Aid package)
Instructions
Grab a medium-sized saucepan, combine the water and the sugar. Bring the mixture to a boil, and then simmer for about 3-4 minutes, or until the sugar is dissolved. Add the dry unsweetened drink mix and stir until completely mixed throughout. Let the syrup cool down. Pour into a container, I prefer squeezable containers. Gently squeeze the desired amount over your shaved ice snow cone. Enjoy.

Store the bottles of snow cone syrup in the refrigerator for 7-10 days.
What's the difference between snow cones and shaved ice?
Snow cones typically use pointy end cone cups to serve the ice. Shaved ice is usually served in flat cups.
Can I use a sugar substitute with this syrup recipe?
Splenda is often used as a substitute for sugar. I've never used it when making this recipe, but keep in mind that one packet of Splenda is equal to (2) teaspoons of sugar, so 1/2 cup of sugar would take approximately (12) packets. Of course, be sure and look at the package you use. I only buy Stevia as a sugar substitute, but I stick with granulated white sugar when I make these.
Does snow cone syrup go bad?
The word on the street is that ready-to-use syrups can last between one to two years. Since this is homemade, it doesn't have any preservatives, and that's how I like it. I would count on this syrup lasting about 7 to 10 days, but check yours out for a change in color or odor if you are anywhere near that timeline.
What other syrup flavors should I consider trying?
To be honest, since Kool-Aid comes in so many flavors and is so convenient, I haven't considered trying other flavor options. There are certainly many approaches to making and using other flavors and may involve using fresh or frozen fruits. I would suggest trying cherries, apples, raspberries, grapes, and other fruits your family considers favorites. Using these fruits will also involve adding some extracts like vanilla and lemon.
Another approach, and one you should consider, is using Jello. Google it and see all the flavors that jump out at you!
Final Word
I've learned over the years as I've worked with dozens of people, some of us love working in the kitchen. It just seems to come naturally and doesn't feel like a chore, it's actually fun. So when I find a recipe like this one where you can make your own homemade snow cone syrup so easily, I just had to share it. Don't ever be afraid to try new recipes, make them part of your personality and skill set. Let me know if you made a syrup, what ingredients you used, and how it turned out. I'd like to share your experience with my other readers. May God bless this world. Linda