20 Instant Pot® Beef Recipes
In this collection of beef recipes specifically designed for the Instant Pot®, you'll find family-approved meals full of savory flavor that can be made and on the table in record time!
The pressure cooker, or Instant Pot®, is the perfect kitchen appliance for busy families who want home-cooked and nutritious meals, but without all the wait time found with traditional cooking methods.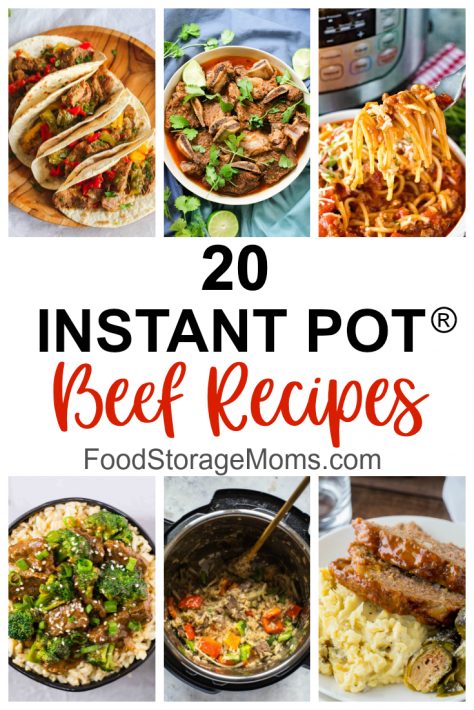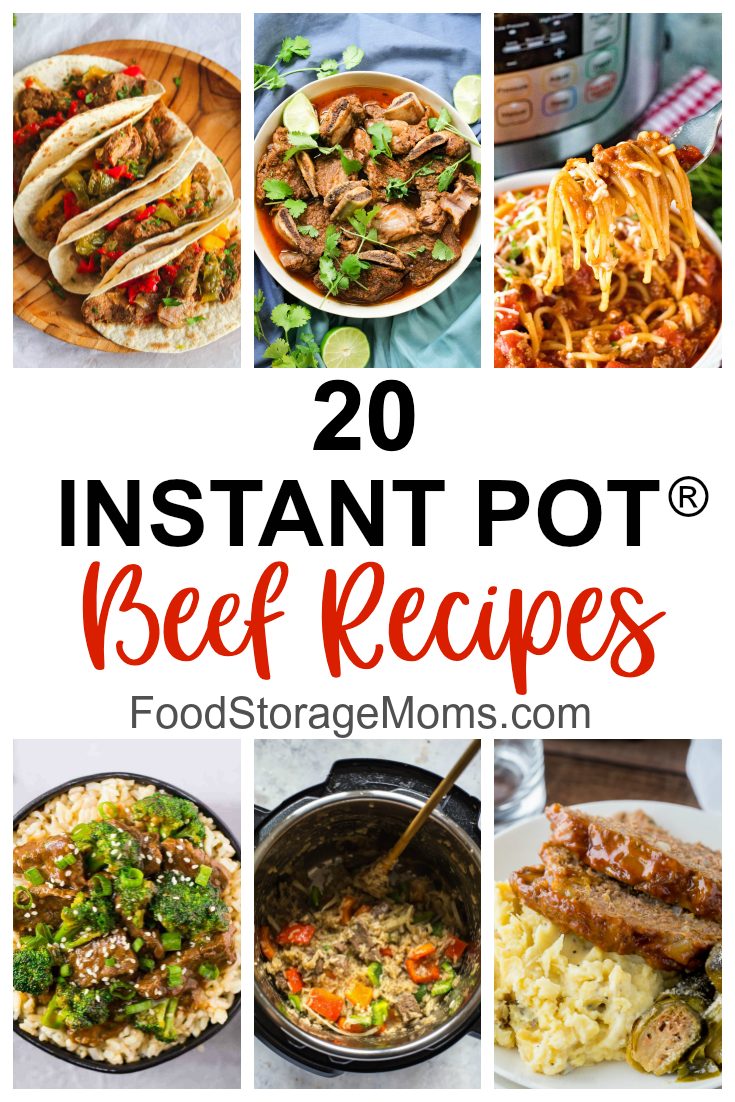 You'll find delicious recipes for beef stew, fajitas, roast beef, meatballs, spaghetti, egg rolls, meatloaf, casseroles, and much more. Let this modern marvel of a machine help you deliver awesome beefy meals that will delight your family and save you time and effort in your kitchen.
20 Easy Beef Recipes
1. Chili Lime Short Ribs
Chili Lime Instant Pot Short Ribs by What Great Grandma Ate
Flavored with chili and lime, these beef short ribs will quickly become a family favorite. With super tender beef that falls off the bone, these savory ribs are the perfect type of meat to really let your Instant Pot show you what it can do. You'll want to make these at least once a week!
2. Meatloaf and Mashed Potatoes
Instant Pot Meatloaf And Mashed Potatoes by I Wash You Dry
Make everything in one Instant Pot session with this awesome recipe! Layer the potatoes on the bottom, use a rack to place your foil-contained meatloaf and foil-contained veggies on, put the lid on and let the appliance do the rest! This recipe gets an A+ for multi-tasking.
3. Beef and Broccoli
Instant Pot Beef and Broccoli by Well Plated
This is the perfect recipe for nights when you're too tired to cook. With just a little prep work and about 12 minutes in your pressure cooker, you can have this beef and broccoli meal on your table in no time. Serve over a bed of rice and enjoy!
4. Yummy Meatballs
Instant Pot Meatballs by A Calculated Whisk
These meatballs get their amazing flavor from being cooked in the sauce while in the pressure cooker. You'll get tender meatballs that are perfect every time! Tip: if you want even less work, don't add onion, garlic, or pepper to the meatballs; instead, opt for a robust sauce that already includes those ingredients. Let the sauce infuse the flavors into the meat.
5. Vietnamese Beef Stew
Pressure Cooker Vietnamese Beef Stew by Super Golden Bakes
This stew packs an outrageous flavor combination that's enhanced by Chinese five-spice powder, star anise, and cinnamon. You won't believe how tasty this is! If you manage to have any leftovers at all you'll be happy to enjoy it again the next day.
6. Beef Bourguignon
Instant Pot Beef Bourguignon by Savory Tooth
Let your pressure cooker do the work to help you make this classic gourmet French dish. There is some prep work involved but it's well worth it when you taste the delicious end result! Bon Appétit!
7. Steak Fajitas
Instant Pot Steak Fajitas by Little Sunny Kitchen
If you can chop veggies and slice steak, you can make these awesome steak fajitas in about 15 minutes – no joke! Super easy and super delish! This meal is great for weekly meal planning, too. Have all your veggies and meat processed and ready to go in the fridge so that you can just grab it and dump it in your pressure cooker.
8. Roast Beef
Instant Pot Rare Roast Beef by This Old Gal
If you're a fan of tender, juicy deli-style roast beef, you'll want to learn how to recreate that yumminess right in your Instant Pot with an eye of round beef roast. Best if marinated 24 hours before you pressure cook it, so plan ahead for this deliciousness!
9. Taco Pie
Instant Pot Taco Pie by Simply Happy Foodie
This is a fun meal to assemble as it really comes out looking like a layered pie. Just use a springform pan and layer the ground beef, beans, and all the other ingredients as instructed. Let the pressure cooker work its magic to make your taco pie. This is a kid-approved meal that adults will enjoy, too!
10. Beef Lettuce Wraps
Instant Pot Beef Lettuce Wraps With Pickled Cucumbers by Mad About Food
Have these healthy and zesty ground beef lettuce wraps on the table in no time. The recipe includes how to make quick-pickled cucumbers, which you will definitely want to do before you start this meal. You'll want that tasty addition to these lettuce wraps!
11. Hot Pepper Steak
Easy Instant Pot Pepper Steak by The Girl On Bloor
Transform sirloin steak, peppers, and onions into this glorious meal in about 30 minutes. The rice goes in, too, so it's the perfect all-in-one meal for busy nights! Garnish with sesame seeds and a little chopped green onion and enjoy!
12. Mongolian Beef
Instant Pot Mongolian Beef by Lexi's Clean Kitchen
Flank steak is beautifully transformed into this healthier version of this classic Chinese-American takeout cuisine. Packed full of veggies, this recipe uses healthy substitutions to recreate all the savory flavors you've come to expect in this dish.
13. Italian Beef
Instant Pot Italian Beef by A Spicy Perspective
You'll make this again and again, especially if you're into meal planning and want to use any leftovers for Italian Beef Sandwiches. Chuck roast, onions, pepperoncini peppers, and some spices are pressure-cooked to perfection with this family-favorite recipe.
14. Easy Goulash
Instant Pot Goulash by Soulfully Made
Ground beef, elbow macaroni, tomato sauce, and Italian spices are just about all you need to have this inexpensive and kid-friendly meal on the table in about 10 minutes! Keep these ingredients on hand and you'll always have a quick and homemade meal ready to make in your Instant Pot.
15. Stuffed Cabbage Casserole
Instant Pot Stuffed Cabbage Casserole by Temecula Blogs
Classic comfort food gets pressurized to perfection with this stuffed cabbage and beef casserole. The best part? It's ready in about 20 minutes! It's also a great inexpensive recipe to keep on hand.
16. Pot Roast
Instant Pot Pot Roast by A Mindful Mom
Make an amazingly tender pot roast in your pressure cooker, even if your roast is frozen! Learn when to add the veggies and which cuts of meat to use for this family-favorite meal. Meal prep tip: make this ahead of time and store meat for use in different recipes throughout the week.
17. Swedish Meatballs
Instant Pot Swedish Meatballs by Jessica Gavin
Swedish meatballs over egg noodles (or rice or mashed potatoes) make a wonderful savory dinner, but these meatballs also make an elegant appetizer for parties. This pressure cooker version is a keeper! It makes delectable meatballs as well as a deliciously creamy gravy.
18. Egg Roll In A Bowl
Instant Pot Egg Roll In A Bowl by Awe Filled Homemaker
Ground beef, coleslaw mix, and some delicious spices are what make up this deconstructed egg roll. You'll also steam a "riced" cauliflower mixture to create this awesome meal.
19. Shepherd's Pie
Pressure Cooker Shepherd's Pie by Simply Recipes
Use ground beef and an assortment of veggies to make this pressure cooker version of Shepherd's Pie. Layer your potatoes on top to cook and mash when tender. An easy and convenient way to make this comfort dish!
20. Pressure Cooker Spaghetti
Pressure Cooker Spaghetti by Julie's Eats And Treats
I love that all you need to do is sauté the ground beef with onions and garlic, layer the rest of the ingredients on top of the beef, and then put the lid on and walk away. Make a little side salad and some garlic bread while you wait. Come back in about 8 minutes and you have spaghetti ready to be plated and served!
Final Word
I hope you enjoyed my 20 Instant Pot® beef recipes today. My favorite is still the Fagor pressure cooker, but I have one of each now. Did you know they have a 3-quart size?
I'm down to two people now, so this size should be awesome. 3-Quart Size. Thanks again for being prepared for the unexpected. May God bless this world, Linda