Do you love deviled eggs? Maybe you like to eat them when you go to parties or when Grandma makes them on Sunday. Here's the deal, whenever my family makes them they disappear really fast.
My family made them the last time we got together in Salt Lake City, Utah and I had the chance to watch my son-in-law make them for us.
I'm going to share how I make my hard boiled eggs first. Let's make this easy. I have four different ways to make them.
Classic Deviled Eggs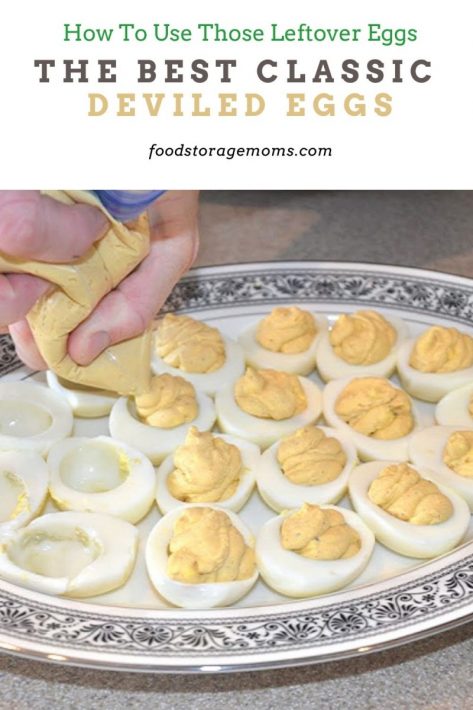 Hard-Boiled Eggs
SUN OVEN: You can bake the eggs in your Sun Oven. You preheat your Sun Oven to 350 degrees and place a muffin tin with the eggs you want to be baked or hard boiled with a tablespoon or so of water.
Bake for 30 minutes or so. You may see brown specks after they are done, no worries. They are fine. Drain the hot water, cover with cold water and ice. Peel when easy to handle.
CONVENTIONAL OVEN: You can bake the eggs in your conventional oven in a muffin tin as above with eggs placed in the muffin tin with a tablespoon or so of water. Preheat the oven to 350 degrees. Bake for 30 minutes. Drain the hot water, cover with cold water and ice. Peel when easy to handle.
PRESSURE COOKER: You can hard boil the eggs in your pressure cooker. Please note you don't need the silicone cupcake holders. I just thought it was cute. This is the only way I make hard boiled eggs now. It's so easy. Pressure Cooker Instructions by Linda
STOVE TOP: You can boil the eggs covered in cold water on the stove. Please fill the pan with cold water one-inch above the eggs. Bring the water to a boil over medium heat and boil for 8-12 minutes. Drain, and cover with ice cold water. Peel when easy to handle.
Classic Deviled Eggs
The first thing is to boil the eggs as indicated above.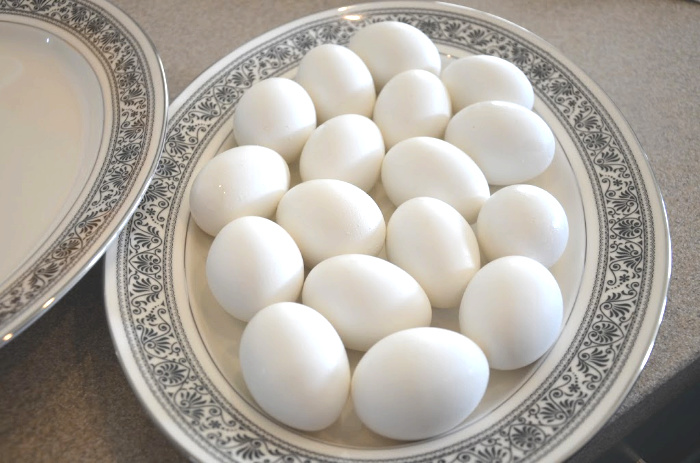 Now, slice the eggs lengthwise and scoop the yolk into a small bowl to mix with the following ingredients. We used mayonnaise, horseradish (optional), Dijon mustard, salt, and pepper. We sprinkled Paprika on the finished deviled eggs. I gauge the recipe with how many eggs, so it's hard to explain how we just dump the ingredients into the bowl. I like the yolk mixture a little dry, not too mushy.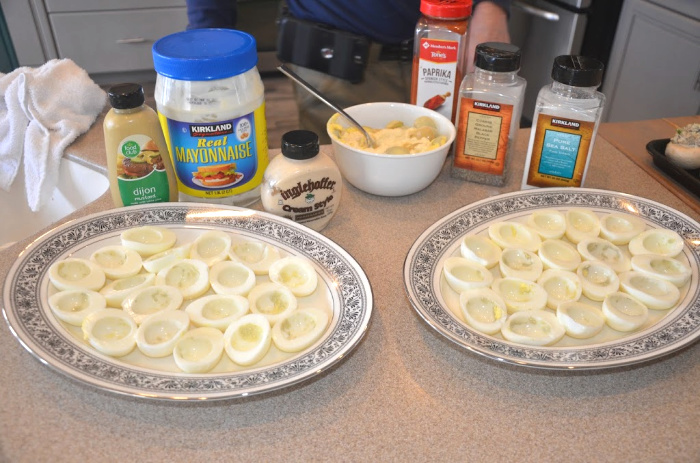 We mixed it until it was thoroughly combined and a smooth texture.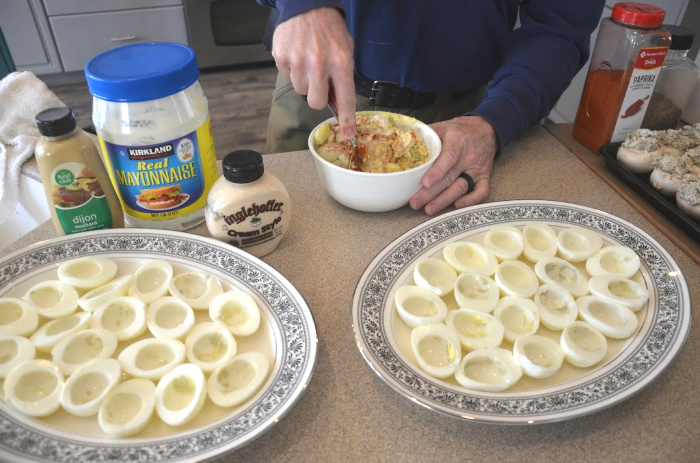 Scoop the mixture into the large bag.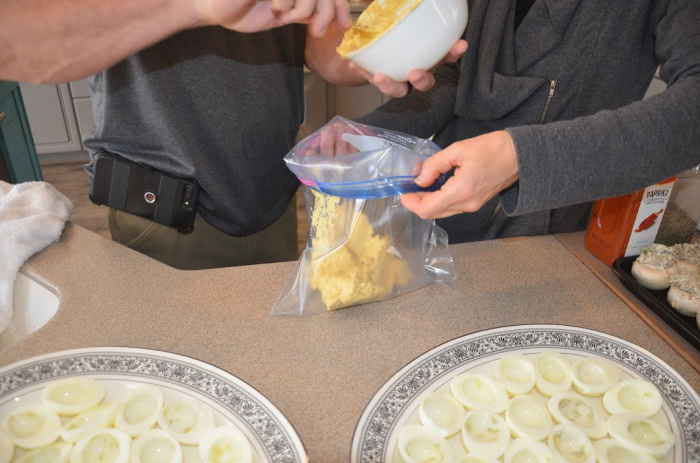 Next, Nate cut a small hole in the bag and make the eggs look magical by squeezing the mixture into each egg. I love this egg tray: Deviled Egg Tray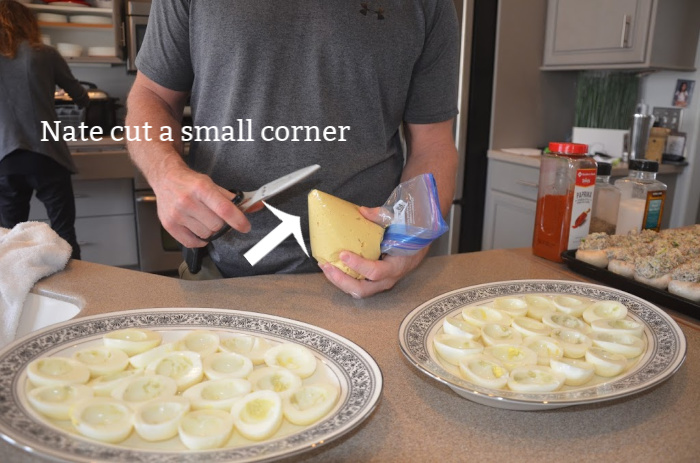 See how easy and fun this is to do. Oh man, did they taste delicious! We sprinkled more Paprika on top to serve them. Thank you, Nate!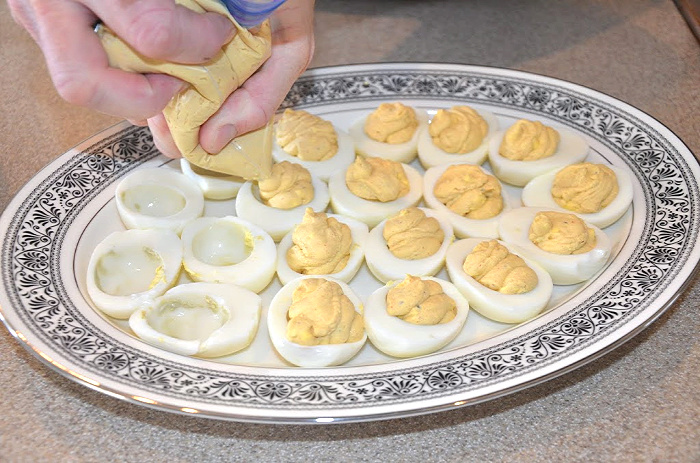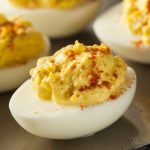 Deviled Eggs by Food Storage Moms
Ingredients
6

eggs

3-4

tablespoons

mayo or Miracle Whip

1

tablespoon

sugar (optional)

1

tablespoon

mustard (I like Dijon)

1

tablespoon

horseradish (optional)

1/2 to 1

teaspoon

Paprika (to taste)

salt and pepper (to taste)
Instructions
Hard boil the eggs, and peel them. Slice the whites of the egg in half length-wise, scoop out the yolk and place the yolks in a separate bowl. Place the egg halves on a plate while you mix up the yolk mixture. Combine the ingredients together by mashing the yolks with a fork to make them crumbly. Stir until thoroughly mixed together and smooth. Use a bag with a hole cut in the corner to evenly "squeeze" the yolk mixture into each egg on the plate. Sprinkle with Paprika to garnish them.
Final Word
I must say, these were so fun to make with the family. Sometimes we may think these classic deviled eggs are hard to make. But are they? Maybe they take a little extra time, but oh, are they ever good to eat! Life is good when we eat with family and friends. Thanks again for being prepared for the unexpected. May God bless this world.
Copyright image: AdobeStock_65036646 by Brent Hofacker