How To Make Perfect Hard Boiled Eggs Every Time
Have you wanted to know how to make perfect hard boiled eggs? Well, as you know I have been learning how to use a pressure cooker. I may have mentioned I took a class from Chef Brad and from that day forward I was hooked on using a pressure cooker! Well, I have cooked Quinoa, red, white and black in color. I have cooked Kamut and so many other foods in this pressure cooker. Today, I made perfect hard boiled eggs in my pressure cooker. You heard that right…hard boiled eggs.
For Hard Boiled Eggs-Add One Cup Water:
First I added one cup water into the pressure cooker. This is the minimum amount required you must add to build up the steam. Then, I placed the seven eggs in seven of my silicone cupcake holders inside the pressure cooker. I placed one egg in each cupcake holder. I learned this trick from a friend, Lisa who worked at Honeyville Grain. Just a note: you do not need the silicone holders, you can do up to ten eggs without the cute colorful holders.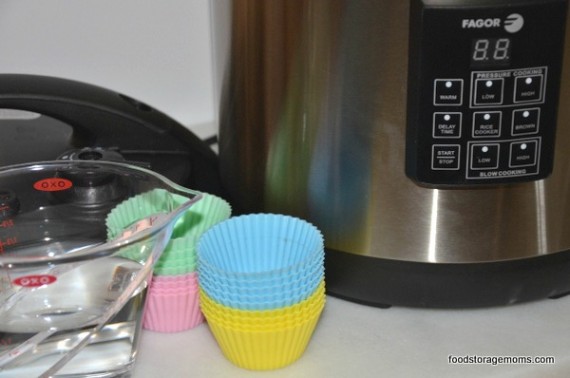 Line Up The Pressure Lines On The Lid
Then place the lid on the cooker and lock in place. Line up the PRESSURE lines on top of the lid. Push the HIGH button until it shows 18 (minutes) then push the START button. The pressure will build up and then buzz you when it is finished.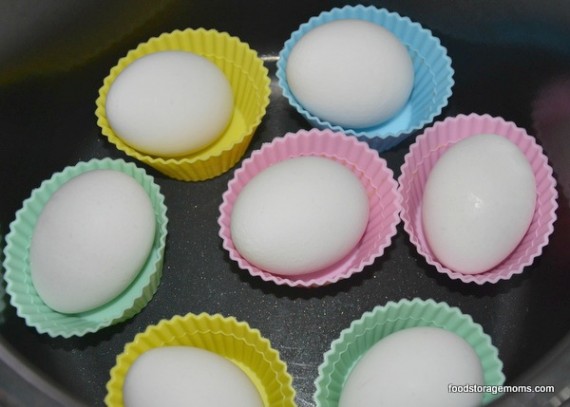 Release The Steam
Release the steam button on top of the lid. Be careful and place a wash cloth over the small black cap on top to protect yourself from the steam, as well as your cabinets when steam is released.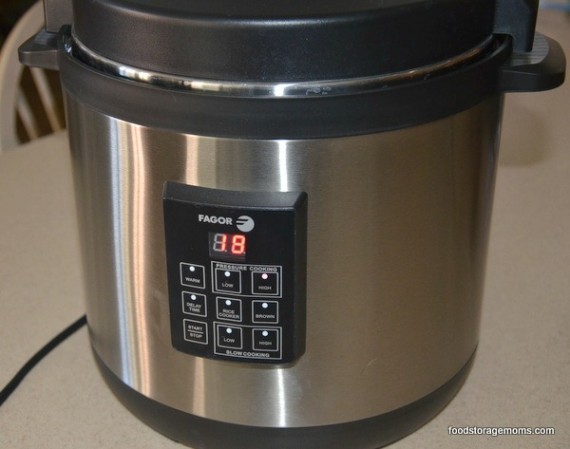 It took 18 minutes to cook seven eggs in my Fagor Pressure Cooker. After releasing the steam from the pressure cooker, I used a slotted spoon to remove them from the pan inside the pressure cooker.  Next I plunged the eggs in icy cold water like we all do to make them easy to peel. These peeled so easily…the shells and skins just slipped off. These were very fresh eggs, the kind that often don't peel easily.  I was really excited to know that going forward I can use eggs fresh off the store shelf and know they will be easy to work with.  I remember when my kids were young and wanted to have boiled eggs for a treat, I used to worry the eggs wouldn't "shed" their shell as easily as desired.  Sure wish I'd had this Fagor Pressure Cooker back then!
Of course because it is Easter….I just had to color some of the eggs: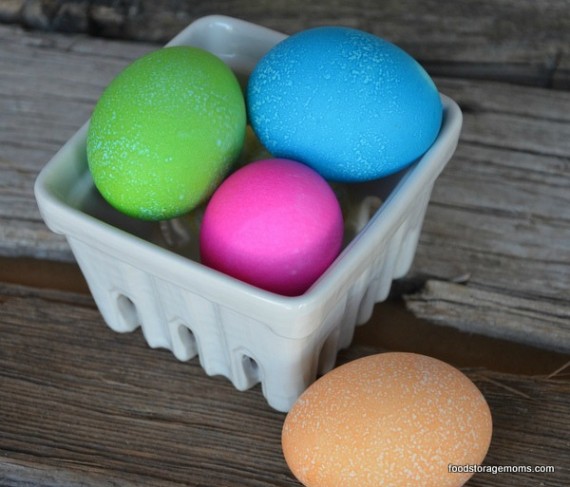 Here is another pressure cooker post. This is the easiest way to make hard boiled eggs! I wish every family could have a pressure cooker in the home!
I want to try these Pickled Eggs by Tiffany: Easy Pickled Eggs by Imperfectly Happy.