Pineapple Cream Cheese Dip
This is my easy-to-make pineapple cream cheese dip appetizer. It's that time of year when we have the wonderful opportunity to enjoy time with friends and family during all sorts of holidays. This recipe actually started as a cheese ball appetizer.
We all know how recipes get shared with others, and soon the recipe becomes our modified recipe! This is one of our family's all-time favorite holiday appetizers. I'm updating this recipe today because I really think you will love it! My family always has appetizers during the holidays.
Pineapple Cream Cheese Dip
This recipe can be made a few days in advance and then you just add the pecans at the last minute. What I love about appetizers is the fact that you can stand around and chitty chat while enjoying a small snack in between conversations. You know we look at all the yummy snacks on the table and grab a small plate. We get to laugh and "catch up" with each other. Life is good!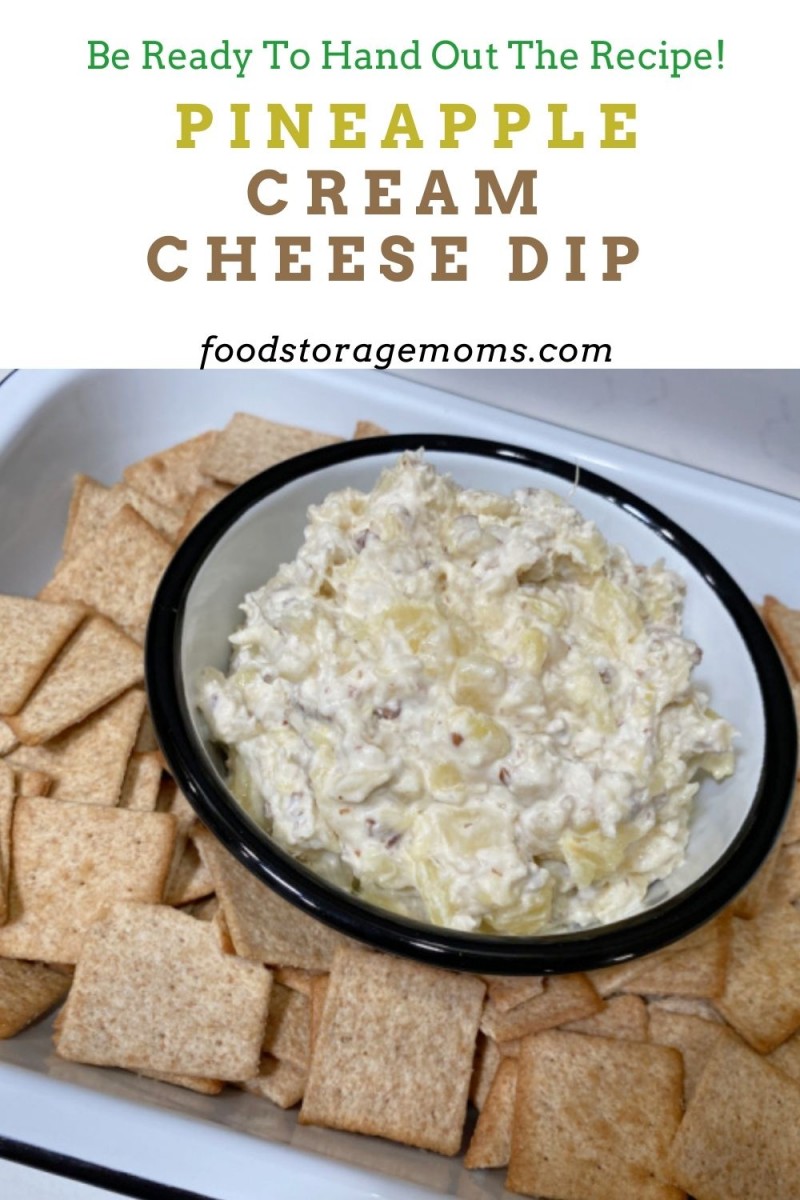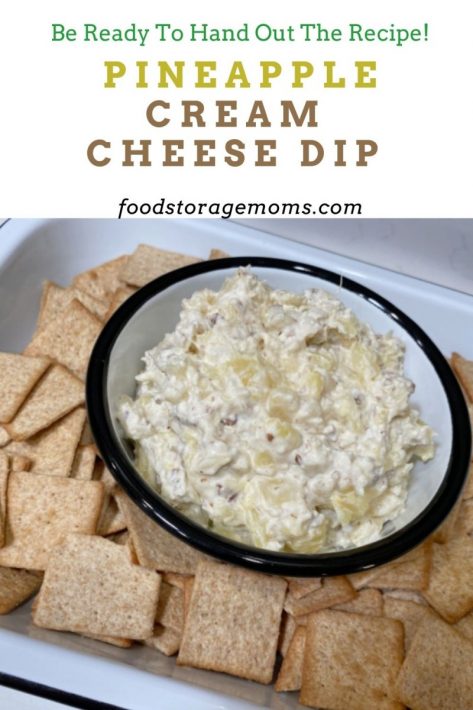 Kitchen Items You May Need
Mixing Bowls
Measuring Cups
Measuring Spoons
Pineapple Cream Cheese Dip
Ingredients
Cream Cheese
Crushed Pineapple
Chopped Pecans
Green Onion
Seasoned Salt (Lawry's)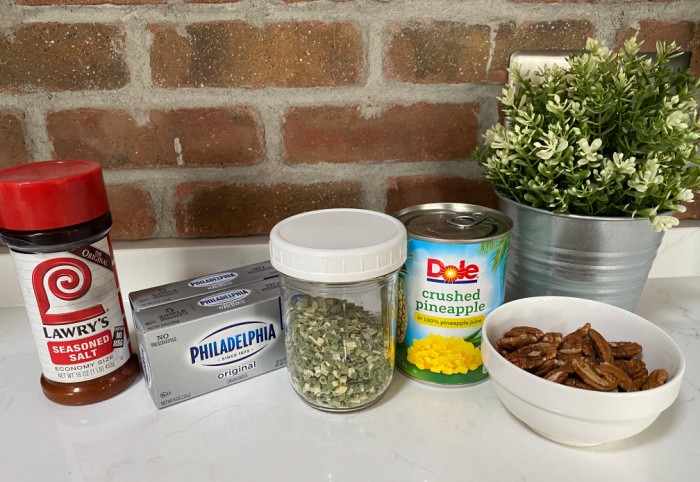 Step One
The first step is to let the cream cheese sit out at room temperature to soften so we can combine the ingredients more easily.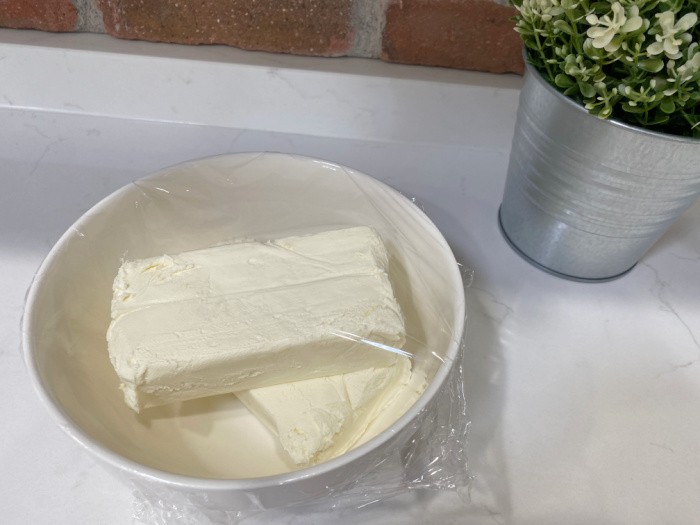 Step Two
Drain the pineapple in a colander to remove as much pineapple juice that you can. I just drink the pineapple juice, and it would be great in a smoothie as well.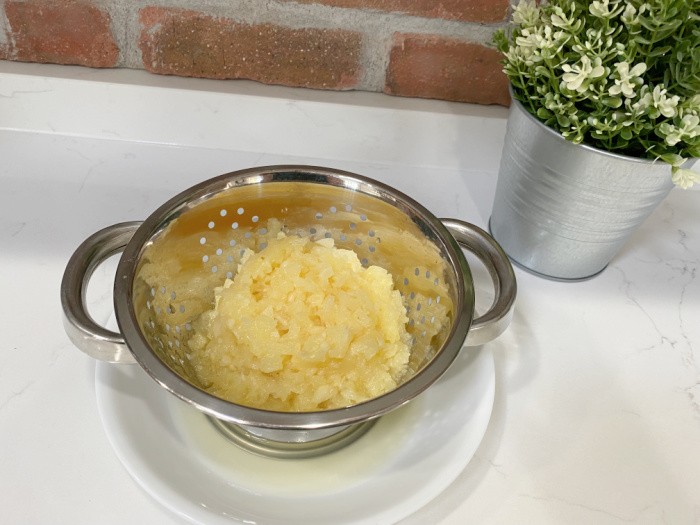 Step Three
Next, chop the pecans with a chopper or a knife. I used my old trusted Pampered Chef chopper, I love it and so do my daughters!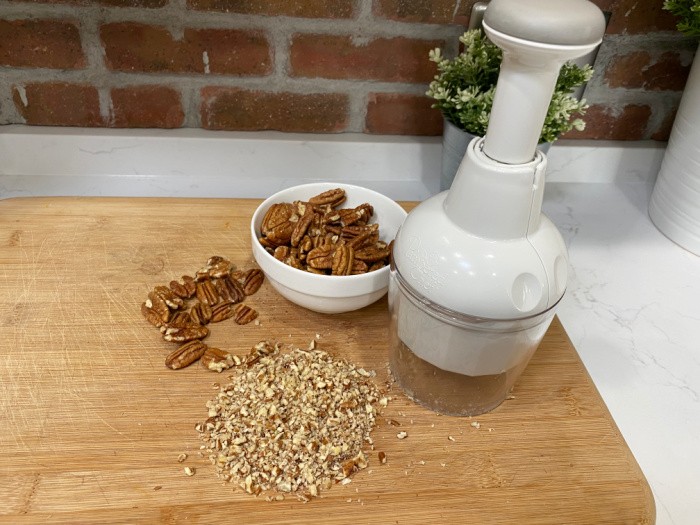 Step Four
Combine the softened cream cheese, the drained crushed pineapple, chopped pecans, and Lawry's Seasoned Salt. Green onions are optional. I didn't use them today, but they do add a unique flavor to the dip.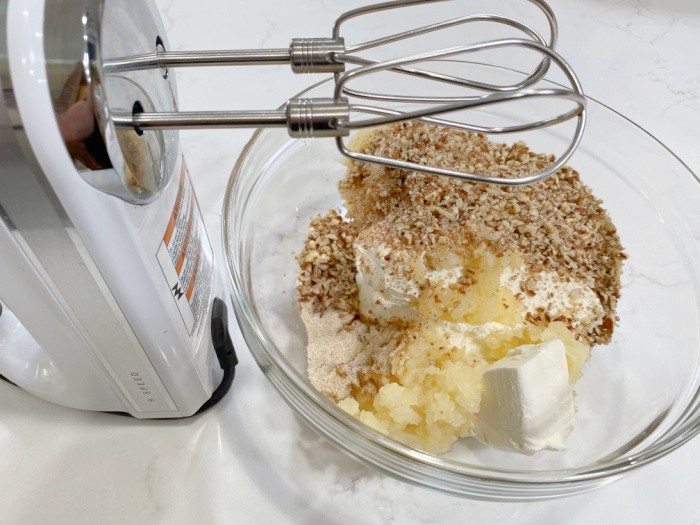 Finished Product
This is truly my all-time favorite dip! I love it because it's sweet and creamy, wrapped up in one bite! Be sure to eat it when cool, right out of your fridge.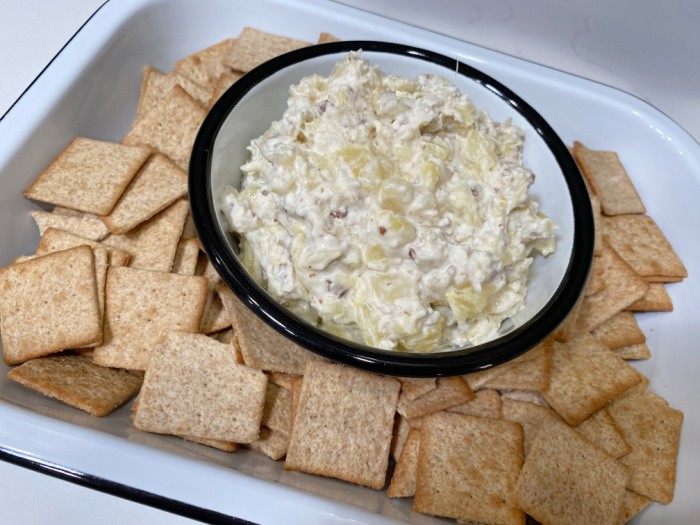 Pineapple Cream Cheese Dip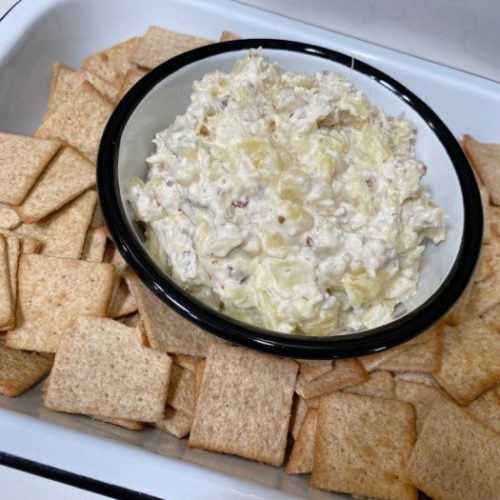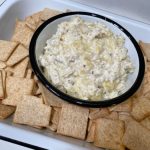 Pineapple Cream Cheese Dip
Ingredients
2

8-ounce

packages softened cream cheese

1

20-ounce

can drained crushed pineapple

1

cup

finely chopped pecans

2

tablespoons

chopped green onion (optional)

1-1/2

teaspoons

seasoned salt (Lawry's Salt)
Instructions
Place all the ingredients in a medium-sized bowl. Use a hand mixer to blend completely. Keep refrigerated until ready to serve. Serve with your favorite crackers or veggies.
What crackers can I serve with it?
We buy Wheat Thins, Chicken in a Biscuit, and Ritz crackers, but just about any of your favorite crackers will work.
Can I serve it with vegetables?
We have served it with crisp celery and carrot sticks. Again, just about any veggie will work.
How do I store this after I make it?
Store it in an airtight container in your fridge. Don't leave it out on your counter or table too long, eat it while it's cool.
Can I freeze the dip?
I wouldn't. After you freeze cream cheese, the consistency is never the same. It will be crumbly and not creamy.
How long is it safe to store in the refrigerator?
I tend to be extra careful with the food I make and store. If this dip has been refrigerated continually it will last much longer. It should be safe for 3-4 days inside your refrigerator. I would start with a small portion to put out for guests and leave the rest in the refrigerator. I never keep my dip out of the refrigerator for more than one hour.
Another great appetizer: Buffalo Spicy Meatballs: Spicy Buffalo Meatballs.
In case you missed this post: Dehydrating Pineapple
Final Word
This is one of my all-time favorite cheese balls or dips to take to parties. Who doesn't love pineapple cream cheese dip? We serve this at every holiday get-together. It's all about teaching our kids and grandkids how to cook and make more recipe favorites from scratch, right? Let me know some of your favorite appetizers, I's love to share your recipes. May God Bless this world, Linda