20 Festive Peppermint Desserts
These 20 festive peppermint desserts are one of the best parts of the holiday season. Crushed candy cane and crisp, minty flavor abound in these decadent but easy to make desserts.
Chocolate and peppermint complement each other perfectly, so whether you like dark chocolate or white chocolate, you're sure to find your next favorite combination right here!
You'll find cupcakes, cheesecakes, brownies, and bars, as well as gorgeous layer cakes, bundt cakes, and no-bake pies. You'll delight in these frosty flavored desserts that incorporate candy cane crumbles and mint extract in fun and delicious ways.
From make-ahead to spur-of-the-moment desserts, you'll have a tasty supply of peppermint-inspired recipes to try and enjoy for this season's festivities.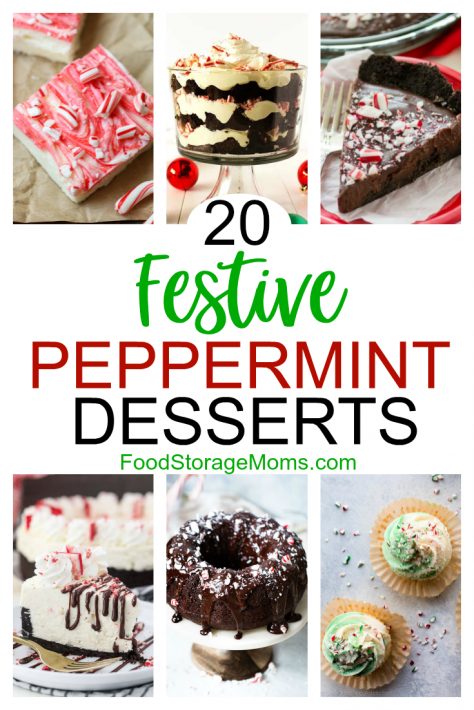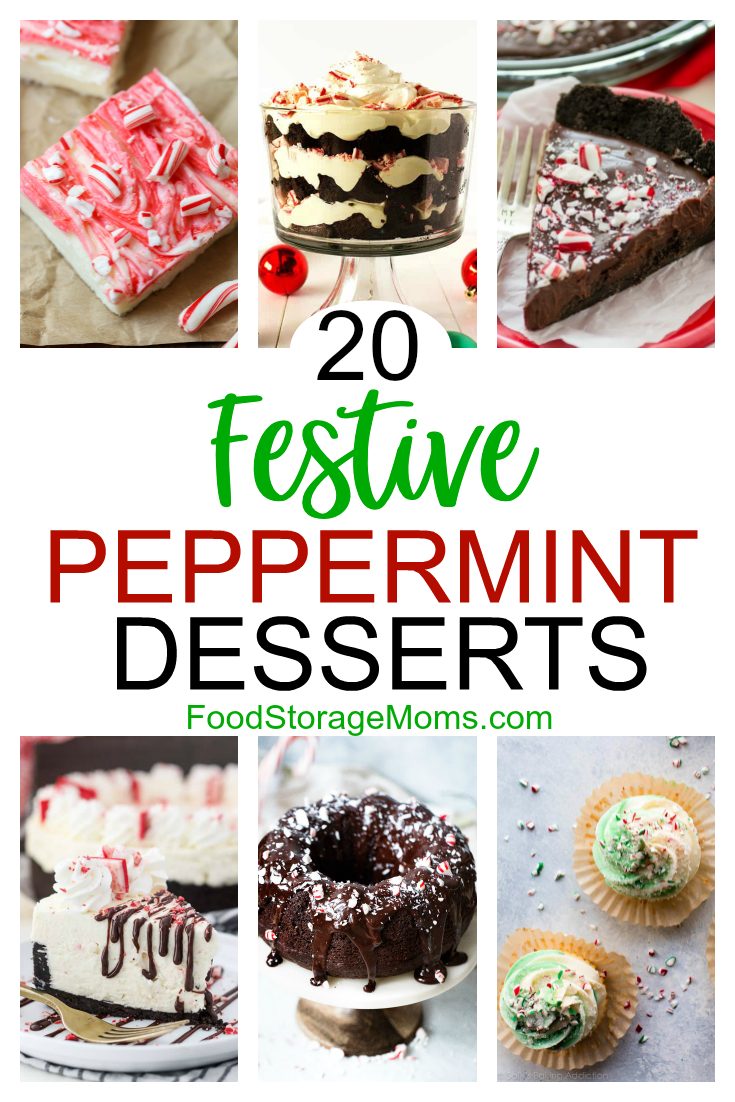 20 Festive Peppermint Desserts
1. Peppermint Chocolate Cupcakes
Peppermint Chocolate Candy Cane Cupcakes by The Creative Bite
These chocolate cupcakes are topped with a delicious candy cane swirl of buttercream frosting in pink and white. Just a festive dusting of crushed peppermint and they're ready to serve!
2. Chocolate Peppermint Trifle
Chocolate Peppermint Trifle by Amanda's Cookin'
Ready to impress your guests? Make this gorgeous trifle with layers of fudgy chocolate brownies, cheesecake pudding, and peppermint. It's a sight to behold and even more delicious to eat!
3. White Chocolate Peppermint Cheesecake
White Chocolate Peppermint Cheesecake by Beyond Frosting
An oreo crust holds this decadent no-bake white chocolate cheesecake filling. Chopped peppermint candy is folded in for a subtle taste of mint. It's finished off with a drizzle of dark chocolate and a pretty dusting of peppermint candy.
4. Peppermint Chocolate Cake
Peppermint Chocolate Cake by Carlsbad Cravings
Peppermint dreams are made of this! You'll love this 3 layer dessert of cake, peppermint frosting, and a rich ganache frosting. Top with a white chocolate drizzle and crushed peppermint candy to send it over the top!
5. Peppermint Brownies
Peppermint Brownies by Bakerita
You'll never guess that the little cups that hold the peppermint mousse are edible, but they are! They are super easy to make, and so is the pink peppermint mousse. This is a simple but decadent peppermint dessert that your guests will adore!
6. Peppermint Mousse Cups
Peppermint Mousse Cups by Sprinkle Bakes
Give your brownies a holiday twist with these refreshing peppermint chocolate treats. They're almost too pretty to eat, but go ahead…enjoy!
7. Peppermint Striped Delight
Peppermint Striped Delight by Love From The Oven
You'll love making this no-bake dessert because it's a make-ahead treat perfect for holiday gatherings. All you need is a little pudding, cream cheese, cool whip, some candy canes, and one secret ingredient that makes it super simple to create the crust.
8. Peppermint Cheesecake Bars
Peppermint Cheesecake Bars by Lil Luna
Crushed candy canes are the star of the show in this easy no-bake cheesecake bar dessert. Super simple, super festive, and super delicious.
9. Peppermint Crunch Ice Cream
Peppermint Crunch Ice Cream by Homemade Hooplah
If you love peppermint and you love ice cream, then you must make this homemade recipe. You get to control the mint and candy portions so you can make it with as much or as little crunch as you desire.
10. Holiday Peppermint Cake
Holiday Peppermint Cake by Love Bakes Good Cakes
This eye-catching cake is decorated with crushed candy canes and is the perfect dessert to get everyone in a festive mood. Serve it with a little hot chocolate and enjoy the season!
11. Peppermint Ganache Pie
Peppermint Ganache Pie by Crazy For Crust
If you love chocolate ganache then you will adore this no-bake, decadent peppermint pie. It's rich, and sweet, and oh so minty!
12. Chocolate Peppermint Cheesecake
Chocolate Peppermint Cheesecake by Chocolate With Grace
You won't regret taking the time to bake this holiday cheesecake! It's filled with creamy white chocolate, peppermint extract, as well as a little crushed peppermint. Top with a ganache glaze and whipped cream. This is a treat worth waiting for!
13. Peppermint Buttermilk Brownies
Peppermint Buttermilk Brownies by Julie's Eats and Treats
If you're looking for an easy chocolate and peppermint treat, this is it! Make these yummy buttermilk brownies with just a hint of mint and watch your family gobble them up!
14. Pink Peppermint Cake
Pink Peppermint Cake by How Sweet Eats
If you're looking for a showstopper cake to make, here it is! This beautiful pink and white peppermint cake is decorated with small peppermint meringues, which are also included in the recipe instructions. Gorgeous!
15. 3-Ingredient Dark Chocolate
3-Ingredient Dark Chocolate Peppermint Mousse by Minimalist Baker
This vegan chocolate mousse comes together with just 3 delicious ingredients. You won't believe how simple this tasty recipe is to make.
16. Peppermint Cheesecake Parfait
Peppermint Cheesecake Parfait by Cincy Shopper
These little parfait desserts are so pretty and festive and are the perfect treat to satisfy your peppermint craving!
17. No-Bake Peppermint Pie
No-Bake Peppermint Pie by Simply Staci
Here's a no-bake peppermint pie that's pretty, delicious, and easy to make. You'll want to plan ahead, though, because it does need a night in the fridge before it's ready to be served.
18. Chocolate Peppermint Bundt Cake
Chocolate Peppermint Bundt Cake by Two Peas And Their Pod
This bundt cake is visually stunning with its ganache glaze and crushed candy canes as a topping. A chocolate sour cream cake is hidden underneath, making this the perfect holiday dessert for your next party.
19. Candy Cane Kiss Sugar Cookie Bars
Candy Cane Kiss Sugar Cookie Bars by The Girl Who Ate Everything
Get the taste of sugar cookies without having to roll out the dough with these sugar cookie bars. Topped with cream cheese and peppermint frosting, these bars make a decadent holiday treat.
20. White Chocolate Peppermint Cupcakes
White Chocolate Peppermint Cupcakes by Sally's Baking Addiction
These holiday cupcakes are topped with a green and white swirled peppermint frosting. Give them a little bling with sparkle sugar and green and red crushed peppermint candy. So pretty!
Final Word
This is one of my favorite times of the year! I love chocolate and peppermint candy, so I'm super excited to share these 20 festive peppermint desserts.
Please keep prepping, but have fun at the same time with friends and family. May God bless this world, Linda