The Best Reusable Silicone Bowl Covers
Have you often thought about how much we could really use some reusable silicone bowl covers? I know I have. Yes, I have plastic wrap, but it doesn't stay as tight and secure as I would like it. Recently, I was contacted about doing a review on these awesome reusable California Houseware Silicone Bowl Covers, and I jumped on it. The company even offered two sets for two readers, what's not to love, right?
So, I started thinking about how easy these would work on all of my bowls and they will stack neatly inside of one another. You can see through the lids which I love and they do not slip like plastic wrap.
Please remember this review is my opinion and I want you know I do not recommend something I will not use myself.
Silicone Bowl Covers
The picture below I put together for a party tonight. Look how nice the silicone bowl cover fits all the different size bowls. The large bowl is full of tortilla chips, the medium bowl has grated cheese, and the small bowl has some salsa. I'm also taking the jar to the party because I want to make sure I bring plenty of salsa.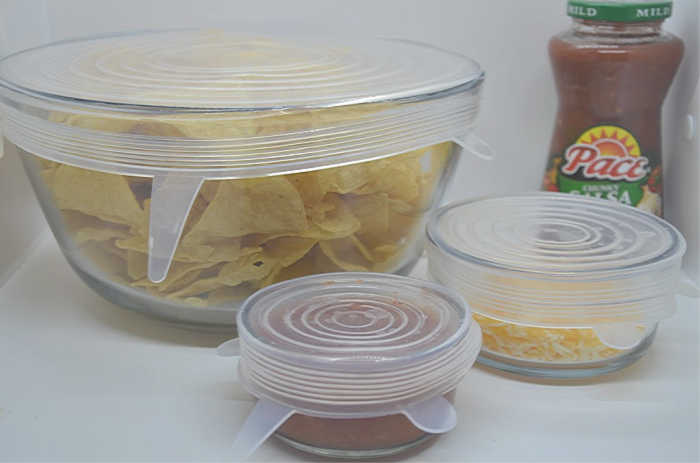 Here's the deal with cans of fruit, if you put plastic wrap on a bowl, it drips, these do not drip. Yay, for silicone bowl covers!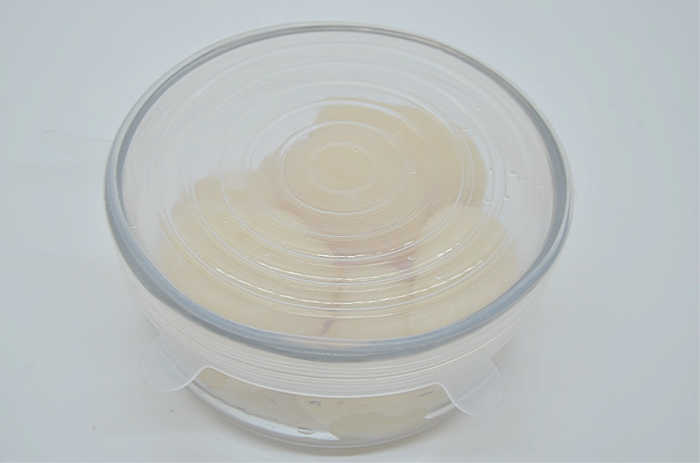 This is one of my larger bowls and it stretched really well over the diameter of it.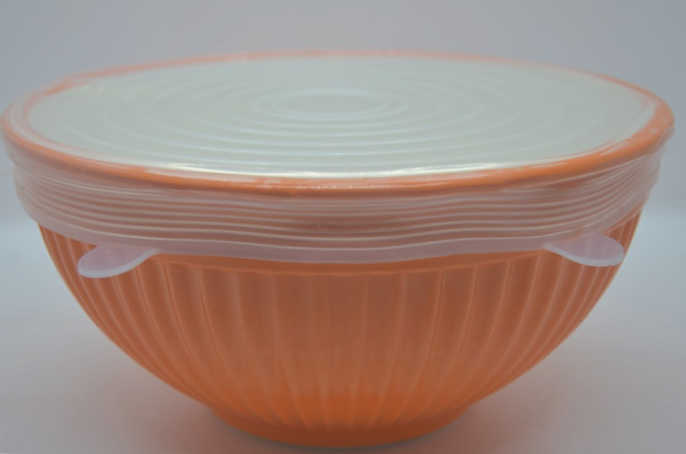 Mark and I are taking white chili to the party tonight along with the chips and salsa. You can see how nice the Mozzarella cheese is viewable through the cover.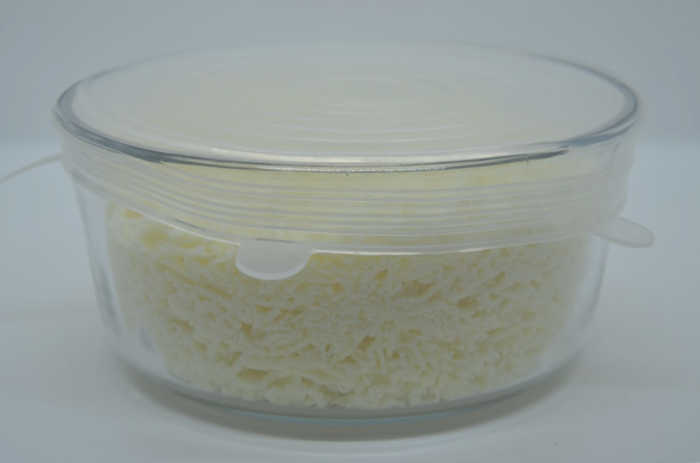 Another nice tidbit is that the small silicone bowl covers will fit on our regular mouth mason jars! Woohoo! Who loves some M & M peanuts?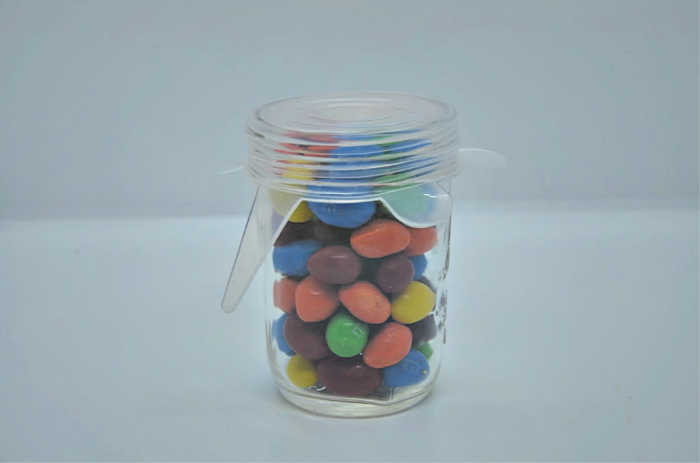 I'm so excited to have a giveaway today. There will be two winners and they will each win one set of 7 pieces of these silicone bowl covers. You can buy some here on Amazon: California Houseware
Silicone Bowl Covers
I quote their website:
"✓ YOU GET – The stretching lids have enough elastic, allowing you to have a secure cover for a variety of shapes and sizes from small to extra-large for your different, even rectangular containers
❶ Special XL size 9.5" to14"
❷ 7.9" to 11"
❸ 6.5" to 9"
❹ 5.9" to 8"
❺ 4.7" to 6"
❻ 3.7" to 5"
❼ 2.8" to 4"
They're even stackable.
These silicone lids are circular in shape but stretchy and pliable enough, seals snugly round and even odd-shaped and rectangle items.
Tips on how to use them:
1. Keep the surface dry before you put these silicone cover lids on.
2. Place half of the lid over one edge of the container. Start on the side closest to your body.
3. Stretch the other half of the lid away from you, inching your way around the bowl.
4. Stretch, then press the top of the lid while pulling the tabs to create a vacuum seal.
5. Pull the sides to ensure a perfect fit." End of quote.
Giveaway Rules for Silicone Bowl Covers
Please leave a comment if you live in one of the 48 US Contiguous states and two winners will be chosen.
This California Houseware Silicone Bowl Covers giveaway (value $15.35 each set) is open to any resident who is 18 years of age or older who lives in one of the 48 US Contiguous States. This giveaway starts today, Wednesday, October 31, 2018,  at 12:00 am (MDT) and ends on Wednesday, November 7th, 2018, at 5:00 pm (MDT). The winner will be notified by email and will have 24 hours to respond. If we do not hear back from the said winner in the designated time period of 24 hours we will choose another winner and they will have 24 hours to respond from the time the notification email is sent. Please check your SPAM email folders. Good luck to everyone! Let's be prepared for the unexpected!
CONTEST IS OVER: Leanne and Janet are the winners. Please check your emails. Thanks again for entering!!!