Award Winning White Chili Recipe
Yesterday, I went on to my blog to find my white chili recipe. It's easier to go to my blog to look for a recipe than to drag out the cookbooks. Don't get me wrong, I love all my cookbooks. Well, it was Halloween and I was making cornbread and my white chili recipe. I found other chili recipes on the blog, but not this one. This is my all-time favorite Halloween chili recipe.
I have to tell you how I got this recipe because I did not grow up eating this one. Mark and I went to a combined church trunk or treat party about 12 years ago. The group was serving potluck chili to all who attended. I want you to picture all the tables set up with white paper. The slow cookers are all lined with everyone's favorite chili recipe.
You can see the homemade Root Beer being made and dripping on the concrete below. It doesn't matter, we love that drink. We had cornbread, paper plates, plastic silverware and lots of desserts. I like to check out all the slow cookers and see which one I want to devour.
What Is A White Chili Recipe
Well, I don't know why but I had never heard of a white chili recipe. I had to try a taster, and oh my gosh, it was delicious! After that, I went walking around the party of 200-300 people who to find out who brought the white Crockpot filled with white chili. This was no easy task. The next thing I knew the Crockpot was gone and the cook that made it.
Thank goodness for Facebook. I posted a question as to who made it. The white Crockpot helped, there was only one at the party. I was truly lucky to find out who made it and she was willing to share the recipe.
Amish White Chili Recipe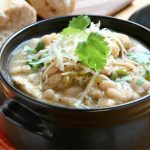 Amish White Chili Recipe
Ingredients
Ingredients

3

cups

cooked chicken cut into bite-size pieces

1

onion, chopped

1/2

cup

butter

48-

ounces

of white beans, drained

15-

ounce

jar salsa

8-

ounces

cubed Monterey Jack cheese with jalapeno pieces

15-

ounces

chicken broth

16-

ounces

sour cream
Instructions
Combine the ingredients (except for the sour cream) into your slow cooker. Cook on low 4-5 hours. Just before serving, stir in the sour cream.
No-Fail Dinner Rolls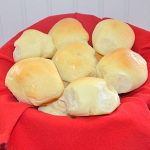 Linda's No-Fail Dinner Rolls
Ingredients
4

Teaspoons

SAF Instant Yeast

1/2

cup

Water

2

Cups

Warm Milk

1/4

Cup

Olive Oil

1

Cup

Sugar

1-1/2

Teaspoons

Sea Salt

4

Teaspoons

Dough Enhancer

2

Eggs

6-7

Cups

White bread flour (Add 1/2 of the flour and then add more until the dough pulls away from the sides of the mixing bowl)
Instructions
Place all of the ingredients in order into your mixing bowl. Be careful with the eggs not to add the warm milk too slowly or you will have scrambled eggs. Add half of the flour and keep adding the rest of the flour until the bread dough pulls away from the sides of the mixing bowl. Cover with greased plastic and let rise the first time about an hour. Punch the dough down and mold into small balls about 1-1/2 inches to 2 inches in diameter. Cover with greased plastic and let rise one more time about an hour or until double the size. Remove the plastic wrap and bake at 350 degrees for about 15-20 minutes on a greased cookie sheet. Do not overbake. They should be golden brown. I spread a little butter on the tops after baking so the rolls are soft on top. If you like a crispier top you can skip this step.
Toppings For White Chili Recipe
Grated Cheese
Sour Cream
Fritos
Crushed Tortilla Chips
Cilantro Sprigs
Guacamole
Chopped Tomatoes
Sliced Olives
Sliced Avacado
Final Word
I could eat beans every night of the week with different seasoning. If I have rice, salsa,  and beans I'm a happy woman. Thanks again for being prepared for the unexpected. Please keep prepping, you'll be so glad you did, I promise. May God bless this world.
My Favorite Things