Homemade Vegetarian Chili
Nothing says comfort food like a nice steaming bowl of homemade chili. This Homemade Vegetarian Chili is an alternative to a meat option, but with the bulk and flavor of the classic. Ensuring you get in your full serving of veggies, this chili has the taste that will satisfy everyone, and have the most carnivorous of carnivores coming back for more.
Toppings For Vegetarian Chili
I personally like my mine topped with shredded cheddar cheese, a dollop of Greek yogurt, and a side of Fritos (which let's be honest are quintessential to the chili experience). I always substitute Greek yogurt in place of sour cream and frankly, there isn't much of a noticeable difference in flavor.
Chili is one of those dishes that you can add and subtract ingredients to your liking (or depending on what you have on hand) quite easily. I have found a lot of Veggie Chili recipes turn out more like veggie bean stew, which is always great too; but when I'm craving chili I'm craving something with a little more traditional meaty consistency. What I like about this recipe is that the processed veggies and the quinoa create a filler that really rounds out the consistency.
Vegetarian Chili Ingredients
Chopped The Vegetables
Simmer Veggies & Dump The Rest In
We started with about 2 tablespoons, or so, of olive oil put into the 6-quart Dutch oven, and then started adding the crisp freshly chopped garlic, diced onion, and red pepper to the pot. Oh my gosh, I wish you could smell this vegetarian chili. For some reason, I feel so much healthier when I add several vegetables to a meal. Do you feel that way?
Then add the roughly-processed (or minced) summer squash, carrot, and celery; saute' a few more minutes. Add tomato paste and broth; stir until tomato paste is thoroughly mixed in. Throw in the cooked quinoa and let it cook about 5 minutes, stirring occasionally.
Dump in chili, pinto, and kidney beans with their water. Drain and rinse black beans before adding. Add the crushed tomatoes and the pumpkin puree. Add the salt, pepper, oregano, cayenne, chili powder, cumin, and cinnamon.
Bring almost to a boil, then stir, cover, and let simmer on low. Simmer until heated thoroughly and some of the liquid cooks out. Add the veggie broth and simmer, simmer, simmer until you just can't stand it anymore.
Simmering Is The Trick
I would at least let it simmer for an hour or two, but the real trick with chili is the longer it simmers the better it is. It's even better the next day after the flavors have a chance to meld. If you prefer something a little on the spicier side throw in a handful of diced jalapenos, or add extra cayenne!
You can use this exact same recipe with a crockpot (saute' onion, peppers, and garlic in a pan then transfer to the crockpot). Just dump everything in and either cook on high for 6 hours or low for 8. Slow Cooker I used a Lodge Dutch Oven
This Homemade Vegetarian Chili is also perfect for freezing; to reheat, defrost overnight in the fridge and heat thoroughly on the stovetop. This recipe serves 8-10 people easily! Not quite trying to feed an army? No problem, just cut all the ingredients in half and add only 2 cans of your choice of beans. Additional options for leftovers: throw a couple of scoops in a tortilla for "chili tacos," or serving over rice is a satisfying variation as well.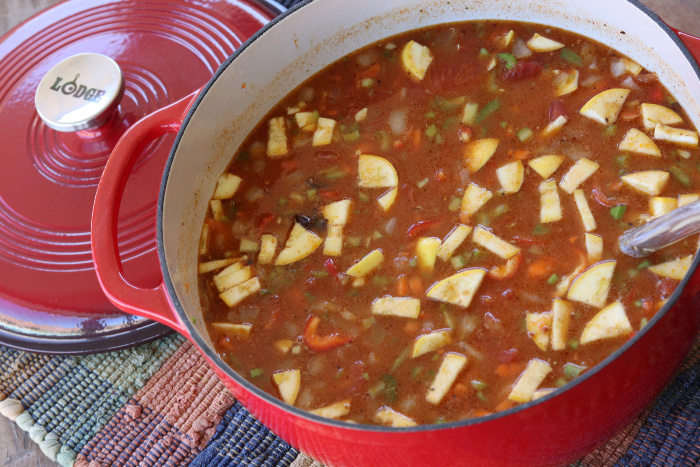 Vegetarian Chili Recipe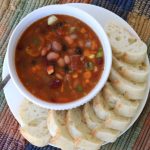 Homemade Vegetarian Chili
Keyword:
Chili, Vegetarian
Ingredients
1

can chili beans

1

can pinto beans

1

can kidney beans

1

can black beans (rinse and drain)

1

can diced tomatoes

2

tablespoons

tomato paste

2

tablespoons

olive oil

1

quart

vegetable broth

2

celery sticks, finely chopped

1

carrot or a handful baby carrots (finely chopped)

1

red pepper, finely chopped

1/2

cup

chopped onion

4

cloves garlic, finely chopped (optional)

1/2

of a summer squash, finely chopped

1/2

cup

pumpkin puree

2

cups

red quinoa, (cooked)

1/2

teaspoon

oregano

1/2

teaspoon

Cayenne pepper

1

tablespoon

chili powder

1

teaspoon

cumin

1

teaspoon

cinnamon

1

teaspoon

pepper

2

teaspoons

salt
Instructions
Heat the oil in a large pot, saute the onions, celery, and the red peppers. Add the remaining ingredients and simmer on the stove for at least one hour, two hours is even better. Or if you want to use a slow cooker, cook on high for 6 hours and cook on low for 8 hours. Times may vary depending on your slow cooker brand.
What To Serve With Vegetarian Chili
Grated cheese
Sour cream
Cilantro
Dinner rolls
French bread
Crackers
Tortilla chips
Final Word
I really hope you try this vegetarian chili I made today. It's a keeper, and the best part is that we can make all of it from our pantry, food storage stash, and the garden. Please stock up on spices, we will need them as the groceries continue to go sky high. Please stock beans, rice, and spices this week. Thanks for being prepared for the unexpected. May God bless this world, Linda