20 Ways To Use Fresh Tomatoes
Today I have 20 ways to use fresh tomatoes for you, let's do it! In the summertime, vegetable gardens and farmer's markets overflow with an abundance of tomatoes in all shapes, colors, and varieties. That means it's a great time to try new recipes that celebrate this tasty item. Culinarily, tomatoes are classified as both a fruit and vegetable.
No matter which category you put them in, tomatoes are a versatile ingredient that can be used in bread, sauces, soups, juices, dips, or just eaten on their own. Here, you'll find delicious ways to cook and use fresh tomatoes. From casseroles to sandwiches, from salads to salsas, let these recipes inspire you to create something new and awesome with your basket of fresh tomatoes this season! In case you missed my posts, Tips For Growing Sweet Tomatoes and Everything You Need to Know About Tomatoes
Kitchen Tools You Need: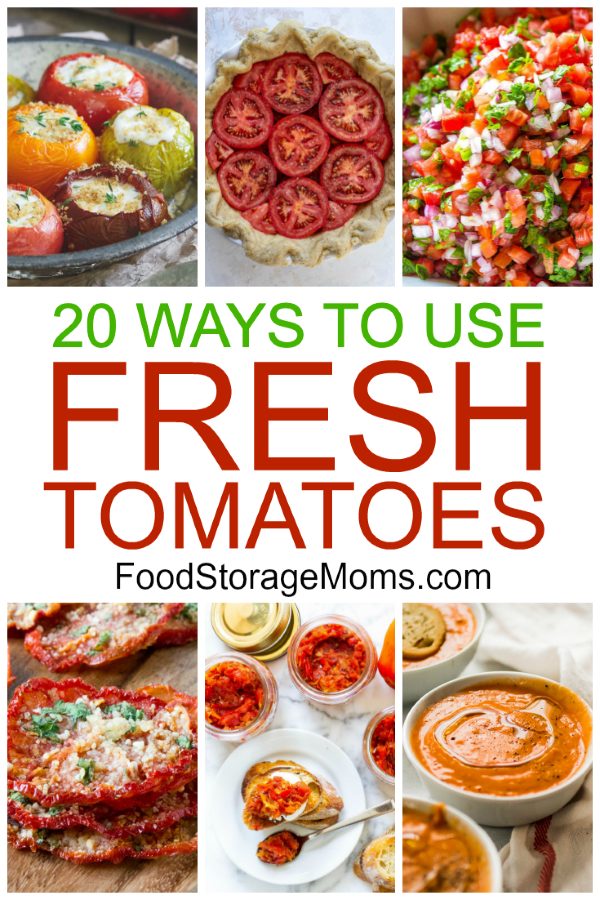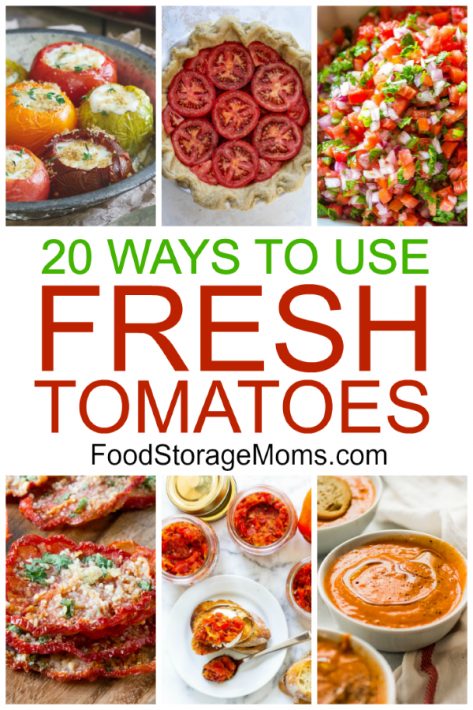 Tomato Pie With Cheddar Herb Crust by How Sweet Eats
From the homemade cheddar herb crust to the layers of ripe sliced tomatoes to the cheesy and garlicky topping, this tomato pie packs a punch in the flavor department. Basil, oregano, chives, and rosemary mingle with the tomatoes, while fontina, cheddar, and parmesan add to the cheesy goodness. It's a delicious savory summer pie!
Instant Pot Spaghetti Sauce With Fresh Tomatoes by Detoxinista
This healthy version of spaghetti sauce doesn't add any sugar or oil; it's just tomatoes plus a few other vegetables and seasonings. And the best part is it's made in your pressure cooker, so it's practically hands-off. When the sauce has cooked, just use an immersion blender to make it smooth. Delicious, easy, and homemade!
Fried Green Tomato And Bacon Grilled Cheese by Spicy Southern Kitchen
Grilled tomato and cheese get a twist by using green tomatoes. You'll pan-fry sliced and battered green tomatoes until just crispy. Drain before building the sandwich. Layer tomatoes, bacon, and cheese before pan grilling this tasty sandwich until golden on both sides.
Skillet Tomato Casserole With White Beans by Well Plated
Try this yummy mix of freshly chopped tomatoes, white beans, spinach, basil, homemade croutons, and Parmesan cheese, all made in just one skillet. As all the ingredients cook down and flavors mingle, you're left with a savory and healthy meal.
Herbed Tomato Quick Bread by Fresh April Flours
Let fresh tomatoes season your freshly baked bread into a savory loaf. Add tomatoes, cheese, basil, and garlic to your quick bread dough. There's no rise time with this, so you can pop it in the oven and bake for about an hour. Smells divine and tastes garden fresh!
Homemade Tomato Juice by Simply Recipes
Use very ripe tomatoes to make this tasty homemade juice. Cook roughly chopped tomatoes, celery, chopped onion, salt and pepper, and a smidge of sugar. Add Tabasco sauce if you like it hot. Strain this through a sieve and let cool completely. Chill and enjoy it!
Roasted Stuffed Heirloom Tomatoes by Running To The Kitchen
Make this gorgeous and colorful side dish of stuffed tomatoes. Stuff hollowed out roasted tomatoes with a whipped mixture of goat cheese, creme fraiche, and thyme. Covered with seasoned bread crumbs and serve.
Tomato Cobbler by Saving Dessert
Go from garden to table with this delightful tomato cobbler. Heirloom tomatoes are perfect for this recipe; any and all sizes! Tomatoes, onion, garlic, thyme, and cayenne pepper make up the filling, while homemade biscuit batter gets dropped on top. Bake until bubbly. Awesome!
Green Tomato Salsa Verde by Wonky Wonderful
Go green with this spicy salsa full of fresh green tomatoes. The green tomatoes give it a bit of tangy zest, along with the lime, jalapeno, garlic, onion, and cilantro. Perfect as a dip or to spoon on top of chicken or fish. Yum!
Marinated Tomatoes by Five Heart Home
You can't go wrong with a delicious side dish of freshly sliced tomatoes that have been marinated in olive oil, red wine vinegar, garlic, parsley, and basil. Let it marinate for a few hours, or even overnight, to deepen the flavors. Scrumptious!
Fresh Tomato Hummus by Vegan Family Recipes
If you love hummus, then you must try this fresh tomato version that can be ready in just a few minutes! Just process chickpeas, garlic, tahini, basil leaves, cherry or Roma tomatoes, and olive oil in a food processor and you're done! Healthy and totally delicious!
Crispy Parmesan Tomato Chips by Sugar-Free Mom
If you don't own a dehydrator, no worries! You can easily make these Beefsteak tomato chips right in your oven.Thinly slice the tomatoes and drizzle with olive oil. Add seasonings on top and dehydrate or bake according to the recipe directions. This is a perfect summertime healthy snack!
Easy Homemade Organic Salsa by Zesty Olive
This recipe sautés onion, bell pepper, and jalapeño, tomatoes, and spices to deepen the flavor before being pureed with an immersion blender. Leave it somewhat chunky or smooth it completely – it's up to you! Stir in fresh lime juice and cilantro before serving.
Stuffed Tomatoes by Dinner At The Zoo
Let those large fresh tomatoes be a vessel for a yummy stuffing of rice, onion, garlic, and sausage. Fill the hollowed-out tomatoes with the sausage mixture, sprinkle on cheese and breadcrumbs and bake for 20 minutes. It's an easy meal that the family will love!
Pico De Gallo by The Girl Who Ate Everything
Make this recipe of fresh, chopped tomatoes, cilantro, onion, and jalapeno for a spicy dip for tortillas or to add as a garnish for enchiladas, burritos, or any Mexican-inspired meal. Fresh is best and this homemade version is a winner!
Fried Green Tomato Salad by A Beautiful Mess
Green tomatoes take on a yummy flavor when they're fried. Dredge the sliced green tomatoes in a flour, egg, and bread crumb mixture before frying. Drain well before adding these tomato stacks to a salad of lettuce, spinach, and mozzarella. So good!
Tomato Cheese Tart by Call Me PC
You'll swoon over this cheese tomato tart! The flaky pastry base holds a seasoned cream cheese, Gouda and Parmesan mixture. Add sliced plum, Roma, or heirloom tomato on top and garnish with rosemary. Bake until bubbly and light brown on top. Awesome!
Vegan Roasted Tomato Soup by Life As A Strawberry
This savory vegan soup is a blend of roasted tomatoes, onion, garlic, and dried thyme. Once the veggies have roasted, add them to a blender with vegetable stock and lemon juice and blend until smooth. So easy!
Caprese Breakfast Casserole by Two Peas And Their Pod
Add grape tomatoes to this egg mixture for an easy breakfast casserole. Or make it for dinner – that's totally acceptable! Season it up with onion, garlic, basil, and cheese. Not only is it pretty, but it's healthy and tasty!
Tomato Jam and Mozzarella Panini by Cookie and Kate
Turn your abundance of cherry tomatoes into an easy jam with this recipe. Just a little apple cider vinegar, honey, salt, pepper, and water will reduce and turn the ingredients into a zesty jam, perfect as a spread for a sandwich. Spread on bread, add some mozzarella and Parmesan cheese and some basil leaves. Grill and enjoy!
Final Word
Please let me know if you try one or more of these 20 ways to use fresh tomatoes! My garden is going strong with fresh tomatoes right now. I'm giving away a lot to my neighbors, but now I need to get ready to put in new seeds and seedlings for a second garden. Please learn to garden and keep prepping. May God bless this world, Linda