How To Choose Food Storage For Your Family
Is it overwhelming to choose food storage for your family? We all see articles about how to choose food storage, but is that food right for your family? Do I want to store MRE's (meals ready to eat or just add water), will I eat those? Will my family want to eat them every day after a disaster? What about dehydrated food, what about freeze-dried food? Is it expensive, how long does it last, where can I store it? These are all questions that pertain when you choose food storage for your family.
Today, I'm going to break it down into sections to help you decide what works for your family. Please note, I do not buy food according to calories. I don't count calories now, so I doubt that will happen after a disaster. For me, it's all about the quality of the food, taste and what I can make from scratch. Of course I also need to consider what will fit in with my budget.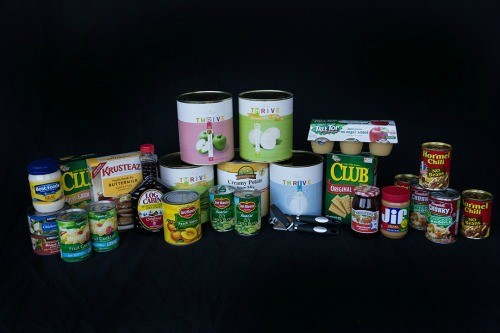 You may remember me telling you that #10 cans may not be equal in quality, weight, and cost. If you decide to choose food storage in #10 cans which are 7 inches (18cm) tall and 6-1/4 inches (16 cm) in diameter, please compare apples to oranges so to speak. When you choose any #10 can, please compare weight and shipping costs if you order online. I break it down to cost per ounce including shipping when comparing prices. Of course, some of us may have food storage stores in our town so shipping will not be part of the equation.
Choose Food Storage
First of all, make it easy my friends, store what you will eat and eat what you store. Rotate, rotate, rotate. Easy peasy. I have had readers mention to me, "Please tell me what food storage I should buy because I cannot afford freeze-dried cans of food." I get it. They are expensive, BUT they are great for long-term food storage. They are the best because they typically have a shelf-life of 20-25 years, depending on the temperature where you store it.
Here's the deal, do not store food storage in your garage unless it is cool, as in 65 degrees or less. My garage can get up to 110 degrees in the summer here in the desert. All of my food storage is stored in my house. I have food stored on racks from Costco. I used to have the Shelf-Reliance ones shown below. I gave them away because they took up too much room in my guest room. I have a very small home, it's 1900 square feet.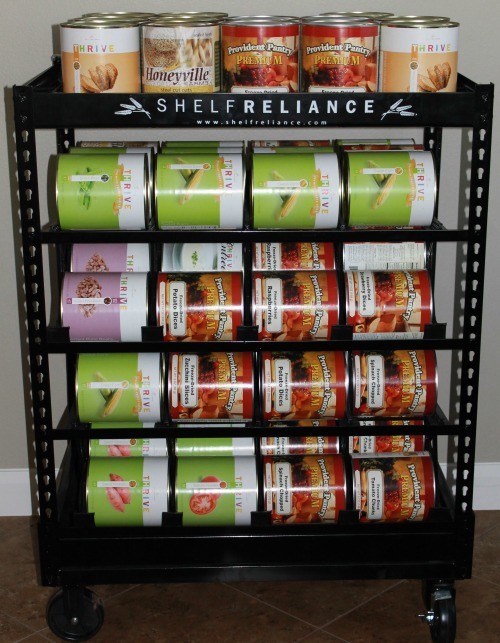 When my family comes to visit we sometimes have 27-28 people sleeping here. Don't laugh, they all want to be together, and we all want to hang out with one another. They sleep in bedrooms, couches, the patio, and we laugh the entire time.We never eat out because we love fixing meals together and it's super cheap to eat at home. I replaced the shelves above with the shelves shown below. I have food and water under beds, closets and a pantry. Yep, I can sleep at night because I'm prepared. I didn't do this overnight. This has taken years of planning and budgeting.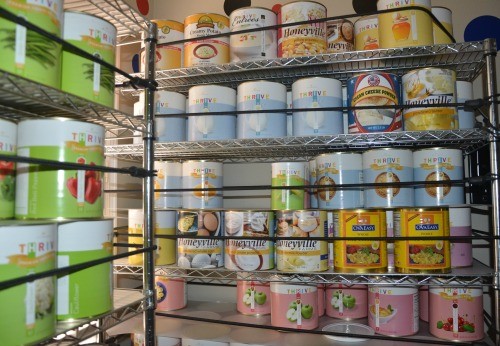 I have one guest room with triple bunk beds so I needed the room for more people to sleep. So I replaced the Shelf-Reliance ones with these commercial ones from Costco online. They are stronger than the ones sold in the stores. They have commercial wheels so I can move them when needed.
You can see I buy several different brands. I do not buy meals, I can cook from scratch, so the ready-made meals are not needed for my family. I mainly order eggs, instant milk, freeze-dried cheeses, freeze-dried meats, freeze-dried vegetables and freeze-dried fruits. Yes, I have a few dehydrated foods, like potatoes.
Freeze Dried Food
Pros: longer shelf-life (check your cans), you can eat the food directly out of the can, they use less water to hydrate and less fuel to heat them.
Cons: a little pricey, I highly suggest buying one can a month.
Dehydrated Food Storage
Pros: cheaper
Cons: fewer choices, needs more water to hydrate them and they must be cooked.
Grocery Store Choices
Please remember I have a FREE printable for you to fill in the blanks for each and every meal for seven days. Here is the PRINTABLE: Where do I start by Food Storage Moms
Please watch for case lot sales of your favorite foods in smaller cans at your local grocery stores. Yes, it may be processed food, but some of us depend on those cans, I'm one of them. You can always donate the items you don't use before it expires to the food bank in your city. They need the items, I promise.
Breakfast Ideas
These can be stored in your pantry:
Pancake Mix
Syrup
Instant Milk
Muffin Mixes
Cans of fruit
Cereal, cold or hot
Lunch Ideas
Canned meats
Mayonnaise
Miracle Whip
Mustard
Peanut butter
Jam or jelly
Honey
Canned vegetables
Canned Fruits
Canned Soups
Crackers to use in place of bread
Dinners
Cans of chili
Cans of stew
Macaroni and cheese boxes
Vegetable cans
Cornbread mixes
Desserts
Chocolate
Reader Ideas:
Lynne: Cans of hash, Spam, canned ham, tuna [oil for the calories], chicken, turkey, sardines oil for the calories], etc.. The small packages of chicken/tuna salad and crackers are good, and 1 pkg. satisfies.
I hope my post today gives you a little nudge to choose food storage for your family sooner rather than later. Please remember that water is critical to store. May God bless your family and this world.
Dehydrated Potatoes