Crucial Steps You Can Take to Be Prepared
If you're new to prepping, you may be feeling a bit overwhelmed and not have any idea where you should even start. That's nothing to be ashamed of because every prepper, including myself, was at that point at one time or another. There's a lot of information, time, and planning that goes into being prepared for emergencies. If you're feeling lost on what all you need to do, I'd be more than happy to help. These are crucial steps that you can take to be prepared for whatever emergency may come your way. 
Know Which Emergencies to Prepare For
Not knowing what type of emergencies to prepare for would limit your resourcefulness when it matters the most. This could cost you and your family their lives. You have to find out what types of natural disasters and other emergencies that your area is more likely to experience. This will help you in your planning and help you better understand which supplies you should gather and properly store.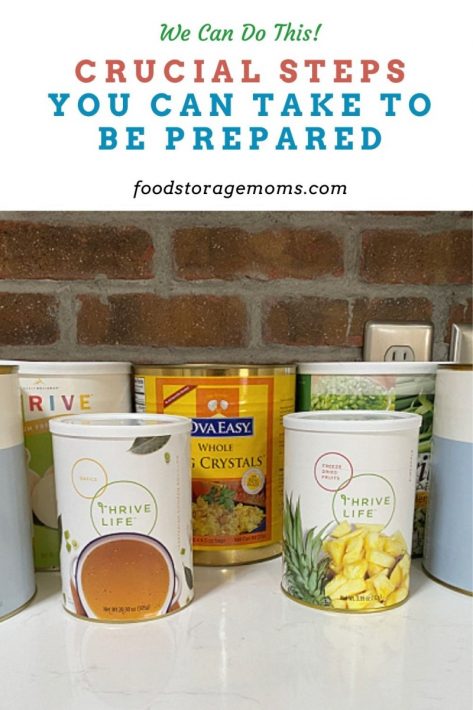 Create a Plan for Your Family
Simply knowing which emergencies to be prepared for is not enough. You need to take the time to sit down and create a plan with your family for each of those situations. This means discussing with them and asking questions about what they would do in those moments following a disaster. Putting your plans in writing and keeping them in a safe place would also be a good idea. It's also okay if you follow up with your family from time to time by asking "what if" questions.  It really helps to go through some training exercises with family members so you can determine if each member understands their role if and when the emergency takes place.
Start Storing Water Now
Drinking water is one of the most crucial items that you would need following an emergency. When you're first starting out, make it a goal to have at least a 2 week's supply of drinking water for everyone in your family. To give you a better idea of how much that is, you would need four gallons of water per person, per day, to cover their drinking and sanitary purposes. In case you missed this post, Emergency Water Storage How to Store It
It's really up to you whether you prefer cases of bottled water, purchasing water in gallon containers, or having larger storage containers you've filled. Preppers who take their water storage seriously may use 55-gallon barrels for more convenience. You need a pump for those, and I have four of them on pallets on the side of my house, but they aren't my favorite way to store water. 
But don't forget there are 150-gallon, 250-gallon high capacity tanks, and some are even bigger. They typically have two spigots, one for draining and one for filling a bucket.
I Recommend these Water Containers:
7-Gallon Jugs (these CANNOT be stacked when filled)
Blue Cans (the cheapest place to buy them is at Brownell's (sign up for "notify me" when back in stock)
Stock Up on Food
When you're first starting out with building an emergency food pantry, make it a goal to have enough non-perishable foods that will last you and your family for at least a two-week period. Once that's been established, go from there and aim towards having enough food that would feed your family for 2 to 3 months. And then much longer, my friends, I'm concerned that our current economy is not sustainable the way things are going.
You just never know if one day you may be dealing with a long-term crisis and you'll be glad that you had enough food. But make sure that you are stocking up on foods that your family actually eats. For some reason, many preppers don't seem to follow this rule. In case you missed this post, How To Store Your Food Storage
Keep a Bug-Out Bag Ready
If an emergency were to ever happen in your area and you had to evacuate your home quickly, you may not have the time to collect everything that you needed. This is why you should start packing up enough supplies, food, and water now. You would need to gather enough so that you'd be able to survive for at least a 3 day period until you found help. If you're ready to take it to the next level, consider creating a bug-out bag for each of your family members. Here are some ideas for you, 72-Hour Kits/Bug Out bags  
Gather Up All Your Personal Information
Another important step for you to take is to gather up all of your personal information and keep it in a safe place that everyone in your family knows about. Some families keep all of their information in a binder, but I'd encourage you to get yourself a small safe that's both fire and waterproof. Losing all of this information in a house fire or a flood can be a major setback for you, making the process harder for you to get back on your feet and able to move on with your life. 
You'll need to have each of your family member's birth certificates, social security cards, passports, insurance and medical information, legal documents, titles, and an inventory of all of your home's valuables. But it doesn't end there. Here are other critical documents that you need for emergencies. In case you missed this post, How To Compile My FREE Emergency Binder Download
Start an Emergency Fund
When an emergency catches you off guard and you don't have some money set aside, many people resort to pulling out the credit card(s) in those situations. Yet this is something that you don't necessarily have to do if you're financially prepared for an emergency. Instead of falling into more debt in the future, consider starting an emergency fund today that can help you cover whatever those expenses may be. It doesn't have to be a huge amount and you don't have to come up with it overnight. Shoot for somewhere between $1,000 and $3,000 as a beginning target.   
Keep Progressing with Your Food and Water Storage
Even though at this point you may have several month's worth of food and water stocked up for every kind of emergency, you should keep diligently adding to your stockpile or making it a point to rotate the inventory to keep the supplies as fresh and usable as possible. This may take you a long time to do, and that's okay. You can do it slowly by throwing in a few extra cans of food in your grocery cart every week you pay a visit to the grocery store. But you also have to remember that even non-perishable foods won't last forever. Be sure that your family comes up with a good rotation system so that you use those foods before they expire, and that you are replenishing them too so the inventory is stable or grows over time. 
Say Goodbye to Debt
Having a bunch of debt takes away the freedom of you being able to make purchases on items that you need most, while also from being able to help others around you. It can take its toll on a relationship, making it harder for two people to come together in agreement, especially when it comes to purchasing emergency supplies.
Getting out of debt doesn't require rocket science. Instead, it takes time and a conscious effort on your part. You have to come up with a budget and actually stick with it. Doing so will allow you to save money and be able to put more money towards paying off debt. This also means that you'll have to stop spending money on things that you don't necessarily need, and not spending money that you really don't have. 
Final Word
There's more than just one or two steps that have to be taken so that your family is prepared for an emergency. They involve careful planning, time, money, and sacrifice. A few of them may even require a totally different way of thinking on your part. Can you think of any other crucial steps that people can take to be prepared for an emergency? Feel free to leave a comment down below. May God Bless this world, Linda