10 Important Pioneer Skills That We Need
Whether you want to save money on your shopping trip, or you want to know how to take care of yourself, there are 10 pioneer skills that are still important today. I know there's a lot of things that I just have no desire to learn, but there are survival skills that you need to know if SHTF. Additionally, we may be seeing another shutdown and many of us are already struggling financially. 

Related: 30 Pioneer Skills We Cannot Lose or 13 Surprising Uses for Flour
10 Important Pioneer Skills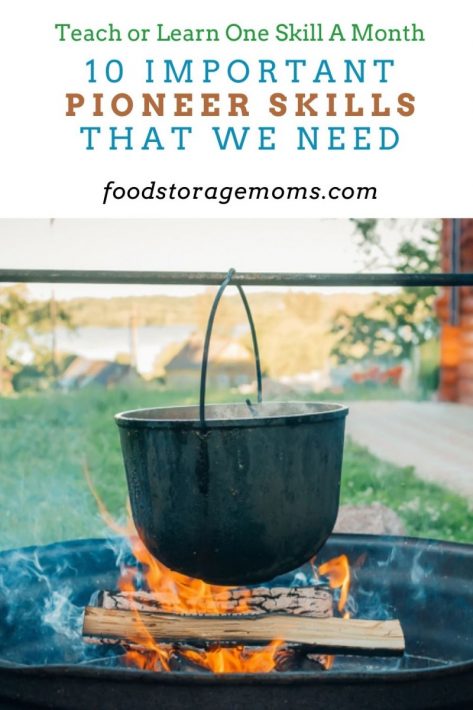 Some things you may just not be able to do. For instance, you just may not have the skills to turn wool into cloth or churn milk into butter. It's ok if you don't know every little thing, but I would suggest knowing these 10 basic pioneer skills:
#1 Bartering Survival Skills
Bartering is still a skill that is super important. I listed this as #1 because as I said above, you don't have to know how to do everything, but if you know how to barter, you can trade one skill for another. People used to do this a lot. You can barter with food, water, other critically needed items, or your own skills. For example, if you know how to make bread, you could barter making someone bread every week as long as they help you drill a well. In the midst of a pandemic, bartering skills are great to have. To learn more about bartering, please read these posts:
#2 Raising Animals to Eat
Even a small homestead can have a few animals where you can get milk, eggs, and meat. Depending on where you live and the amount of space you have, you could raise chickens, rabbits, cows, sheep, or goats. Start small and work your way up. Some of us in HOA or PUD housing areas have limits to what we can do, darn it!
#3 Hunting and Fishing
If you live in the city and can't have animals, you really should be learning how to hunt and fish. You can go hunting and fishing without living in the country. Get a hunting and fishing license and take the kids out throughout the summer or when the seasons allow it. You can hunt things like elk, deer, moose, or game birds.
#4 Starting a Fire and Cooking Over a Fire
You can barter for clothes, water, food, or other things, but you probably won't be able to barter with someone to come start a fire and cook every time you need to eat. So, it is crucial that this is one of the pioneer skills that you learn, and learn to do well.
When starting a fire, you want the firewood to be as dry as possible. You will want fire starters such as wood shavings, cardboard pieces, and dryer lint.
To cook over the fire, you will want to arrange your kindling into a teepee form. Then, arrange your larger firewood into a teepee form as well so you can keep the fire going. You'll need to have a frame to hang the pot or a grill stand for that frying pan.
Related: Outdoor Cooking for Survival
#5 Gardening
Knowing how to grow your own food is an essential pioneer skill. Whether you are growing fruits and vegetables in a big outback garden or on your patio, the more you can do for yourself, the better. Start with something simple like a tomato plant and just keep working on it.
Related: How to Garden in Raised Gardening Beds
#6 Food Preservation Pioneer Skills
Once you know how to raise animals, hunt, fish, and garden, you need to know how to store and save what you have. Remember, there may be a time when you can't just walk into the grocery store to get the food that you need. The main types of food preservation include:
#7 Butchering
I remember the first time we slaughtered a chicken for dinner. I couldn't eat dinner that night, seriously. But, I guess if I was starving I probably would have been able to eat almost anything edible. Being familiar with how to butcher the various meat options is crucial to survival. However, you could barter with this skill if you really don't want to eat the meat yourself.
#8 Sewing and Weaving
If the stores aren't open, you can't go buy a new sweater, underwear, or even a pair of pants. So, in order to replace your family's clothing, or even sew on a new button, you will need to first know how to sew. There are tons of easy patterns you can find, and you can self teach. If you don't know how to sew a button, it's time to start doing that and grow your knowledge from there. If you are a beginner, I recommend reading my post: Basic Sewing Machine Supplies for Beginners.
#9 Map and Compass Pioneer Skills
We have it so easy being able to just type or voice command our destinations into our phones. The fact that some of us have no idea how to read a map or use a compass is terrifying. If you or your children don't know how to use a map or a compass, it's time to start mastering that skill. Make it a fun adventure for the kids and learn as you go, close to home.
#10 Foraging
I wrote a whole series on edible weeds! Knowing your surroundings and what you can eat if you haven't been able to catch a fish or shoot a deer is crucial in emergency situations. Berries, nuts, mushrooms, and edible weeds can become an important food source and be a part of your regular meals. Learn what you can eat that grows in the wild as well as what is poison and dangerous. You may have a ready-made meal just outside your backdoor.
10 Important Pioneer Skills
Final Word
Knowing basic ways to survive if SHTF requires knowing skills that many of us just don't use any more. If there is anything on this list that you don't know how to do, I would encourage you to start gathering information and learning and practicing, now! You never know when something could happen and you may have to go back to the basics. In addition to this list, I would read: 30 Pioneer Skills We Cannot Lose. May God Bless this world, Linda
Copyright Images: Pioneer Skills Cooking Over A Fire Deposit photos_95802776_s-2019