I've been dying to teach everyone about dehydrating bananas for healthy snacks. I wish you could see how fun these are to dehydrate. Dehydrating bananas is actually easier than anyone thinks! With my tutorial, you will be dehydrating bananas in no time and enjoying a healthy snack with the family.
What to Do with Dehydrated Bananas
Although dehydrated bananas taste good and are a healthy snack, that is not all they are good for. You can add them to any ingredients that would require a banana. You can also add dehydrated bananas to trail mix, granola bars, and even banana bread!
How to Dehydrate Bananas
The first thing you do is peel your bananas, cut away any bad spots, and slice them 1/8 to 1/4 inch thick. I use this stainless steel banana slicer that slices them about 1/4 inch thick and they are all uniformly cut.
If you want to keep your bananas less brown, make a solution of one cup of water to one cup of lemon juice. You place your sliced bananas in the solution and then move them to the trays. Keep in mind you don't have to use a lemon solution, you can dehydrate bananas without it.
Tools Needed For Dehydrating Bananas
A dehydrator
Knife or banana slicer
Lemon juice and water
Medium size bowl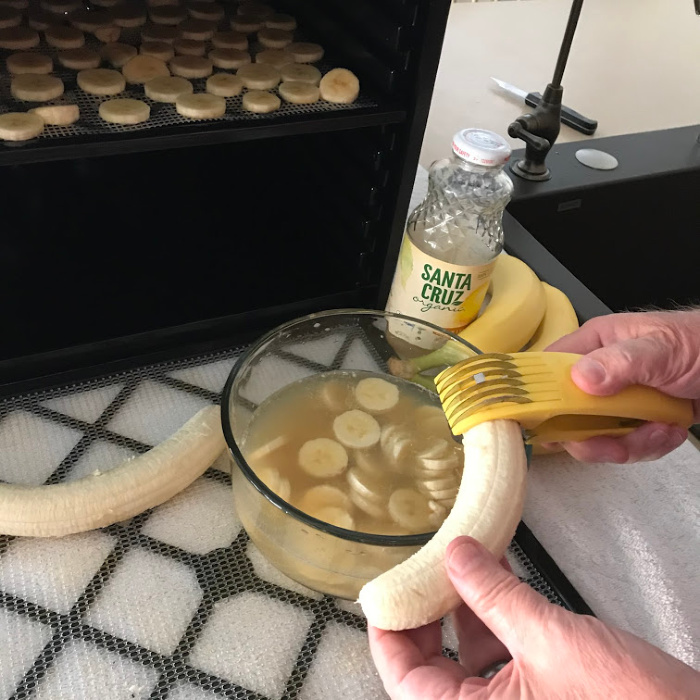 I have an Excalibur Dehydrator with an automatic timer which helps me because I always have several projects going all the time. The Excalibur book said to set the temperature at 135 degrees.
Then I set it at 4 hours. I checked them every 2 hours, but other than that, you set and forget them. The time it takes to dehydrate your sliced bananas will depend on the humidity in the room where you are drying them and the temperature your dehydrator suggests to be used.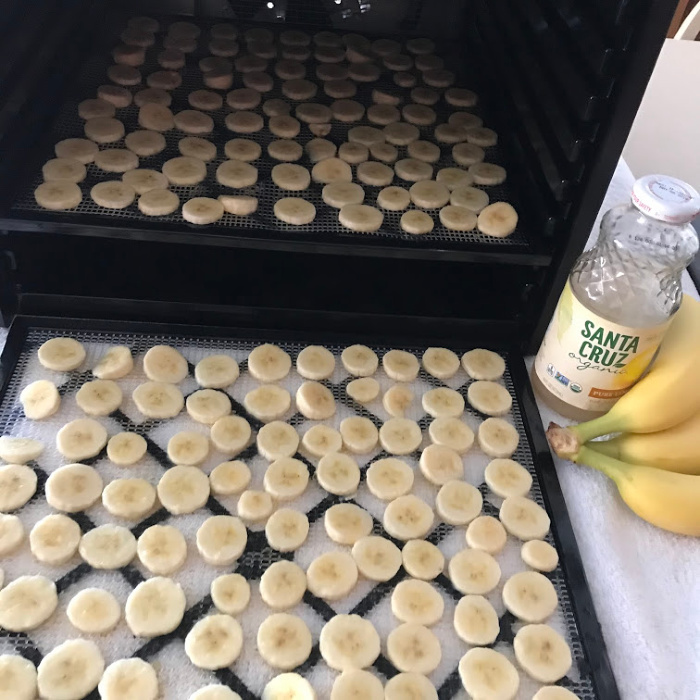 These took about four hours to dehydrate to get to the stage I call leathery. Just perfect for my liking. Please keep in mind that dehydrating our own food is not for long-term storage. These will store safely for one year in air-tight containers.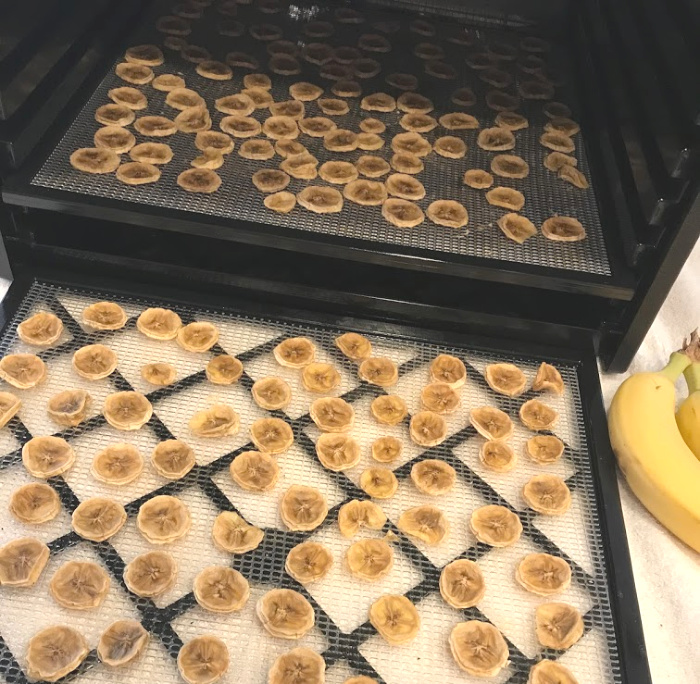 How To Condition Your Fruit or Vegetables
If you live where it is HUMID: "To condition the fruit, take the dried fruit that has cooled and pack it loosely in plastic or glass jars. Seal the containers and let them stand for 7 to 10 days. The excess moisture in some pieces will be absorbed by the drier pieces. Shake the jars daily to separate the pieces and check the moisture condensation." https://nchfp.uga.edu/how/dry/pack_store.html
I live in the DRY DESERT: I set my fruit and vegetables on my countertop for 5-7 days. Ten days is even better to make sure everything is dry before using your FoodSaver unit.
I store them in mason jars using my FoodSaver. These are the white Ball Lids you see above. They come in wide and regular mouth. If you need the White Sealing Lid this comes with both sizes and the accessory hose.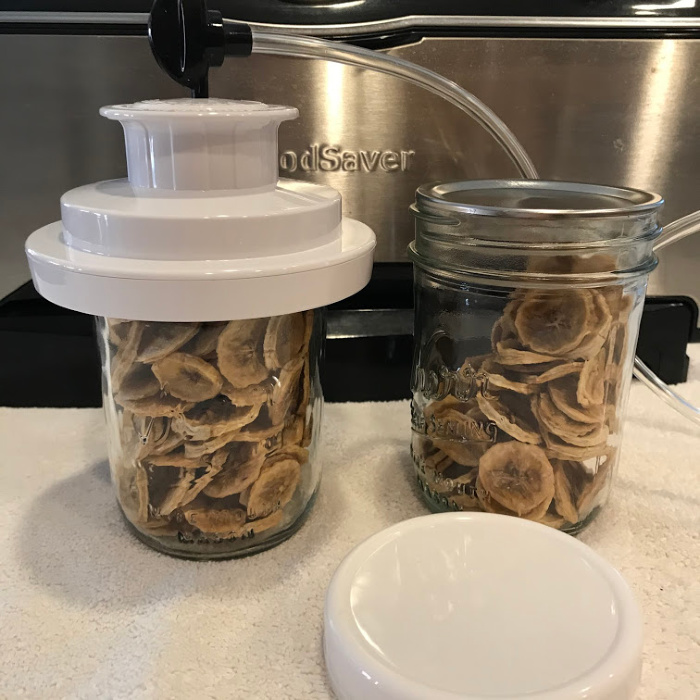 What Are the Benefits of Eating Bananas?
One of the best things about bananas is that there are a lot of health benefits. Bananas are good for your skin, they give you lots of energy too! If you deal with any type of gastrointestinal issues, bananas can help with that.
Are Dehydrated Bananas Good for You?
Just like anything else you eat, you may be wondering if dehydrated bananas are good for you. When you eat bananas this way, you are getting food that is low in cholesterol and sodium. You also get potassium and lots of dietary fiber in your diet.
How Long Do Dehydrated Bananas Last?
When it comes to making dehydrated bananas, you may be wondering how long they last. When these dried out bananas are properly stored, they can last almost a year. Six to twelve months is the average! The bananas need to be stored at normal room temperature.
How Do You Know When Dehydrated Bananas Are Done?
Looking at dehydrated bananas, you may not even know when they are done dehydrating. When a banana is done dehydrating, it will be leathery and dry. However, they may also be a little sticky to the touch.
After they are done, they should not rip apart easily. Also, make sure the bananas are stored in an airtight container.
Is Dehydrated Food Healthy For You?
For the most part, any dehydrated food still has all of its nutrients. However, the air and heat can kill some nutrients like Vitamin A and C. Because of the nutrient concentration, dried foods may also have more calories per weight.
Here are the other Dehydrating Posts I have done:
Final Word
I hope you try dehydrating bananas because they are so easy and they make great snacks. Plus, if you can see you can't eat those bananas sitting on the counter, dry them for later. Thanks for being prepared for the unexpected. May God bless this world, Linda