Dehydrating Cucumbers & Make Cucumber Powder
Today it is all about how to dehydrate cucumbers. I'm updating this post today because I want people to know how to dehydrate cucumbers and make powder. I taught several dehydrating classes right here in St. George, Utah at a local kitchen store years ago. It was so fun to hear the people talk about what they have been dehydrating.
I love the fact that I can dehydrate most fruits and veggies when my garden is overloaded. Sometimes I purchase more veggies at the grocery store than is feasible to eat in the short term and they just sit in the refrigerator. Dehydrating fruits and vegetables are awesome to use in the winter long after they were harvested. This is why dehydrating them is a perfect way to fill our pantry.
I have decided I need to start dehydrating them when that happens so they don't go to waste. Here's another way to enjoy those cucumbers, Quick Pickled Cucumbers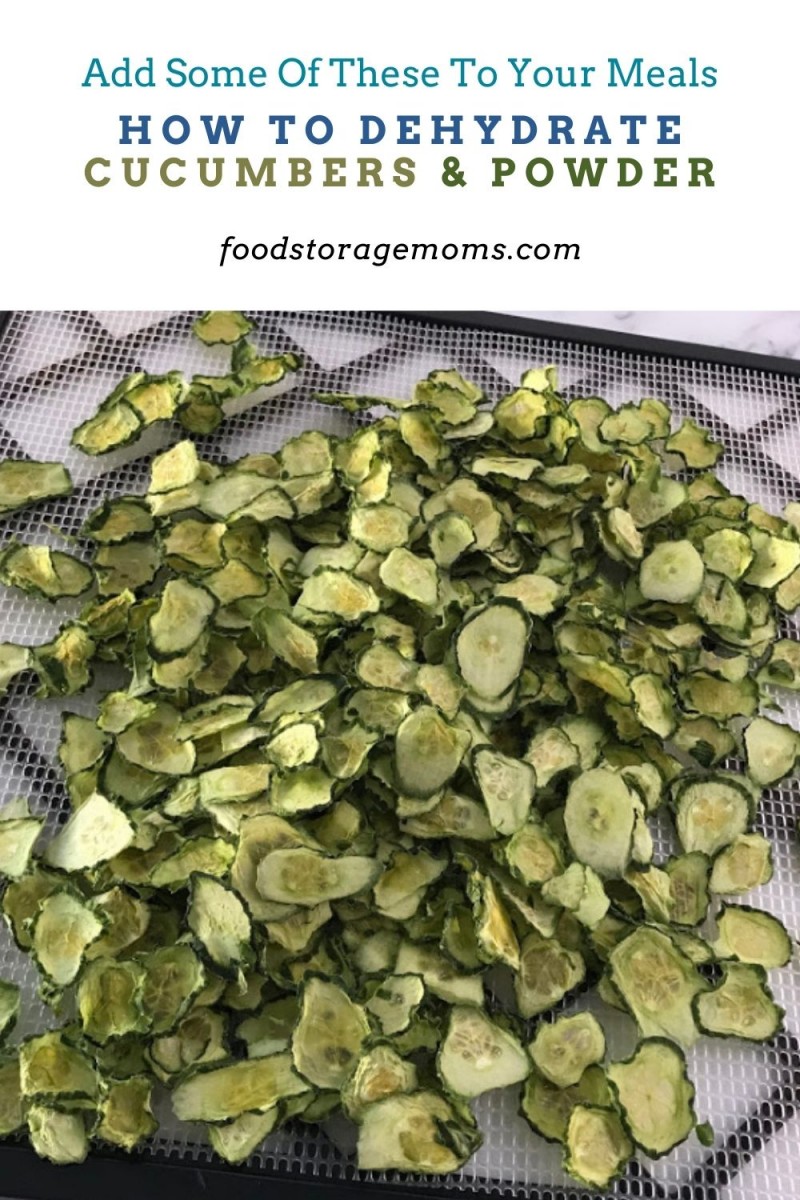 Dehydrate Cucumbers
I snack on these and throw them into salads, with no chemicals or preservatives. Just slice and dehydrate. They are ready for a snack, camping, or a salad.
Step One
You can slice the fresh cucumbers with a knife evenly or use a Salad Shooter like this one: Presto 02910 Salad Shooter Electric Slicer/Shredder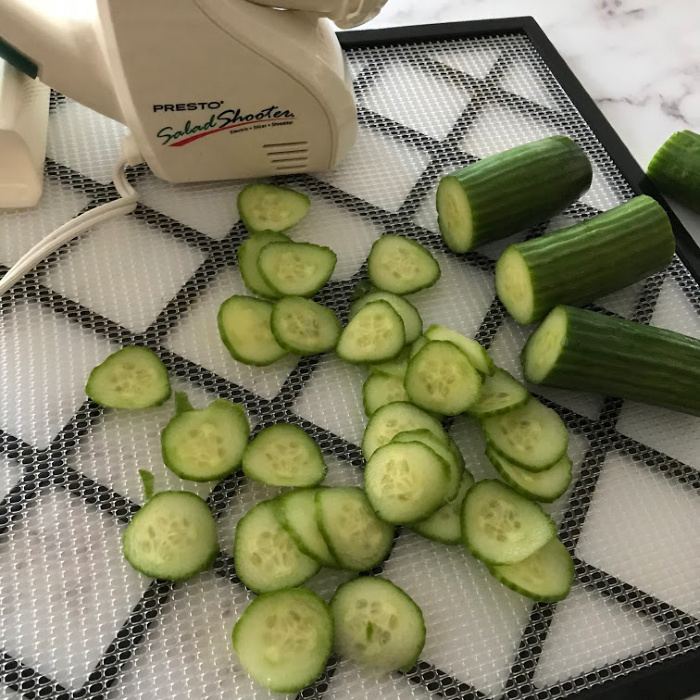 Step Two
Now, you spread the freshly ssliced cucumbers evenly over your dehydrating racks. My whole house smells like cucumbers, it smells wonderful.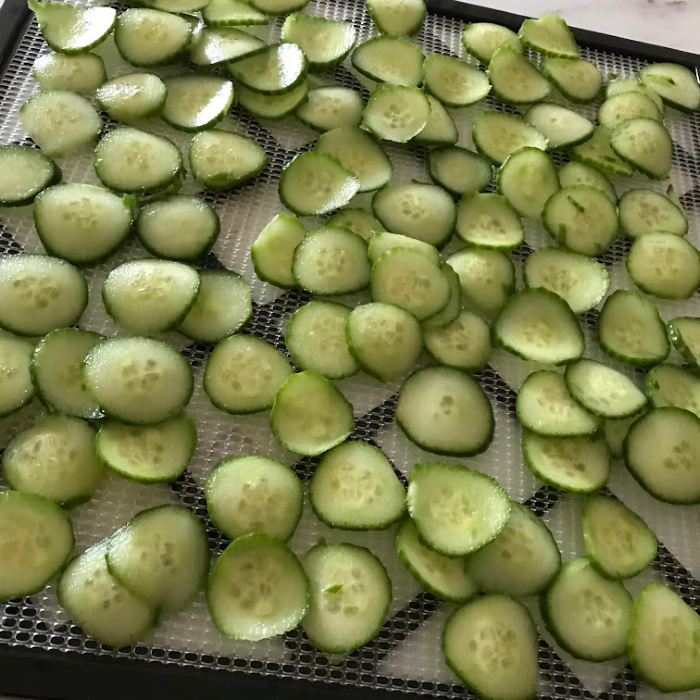 Step Three
Place the racks into your dehydrator, my Excalibur states we need to set the temperature at 125 degrees. Today these took about 4-5 hours. The drying time will always depend on the humidity in the room where you are drying your food.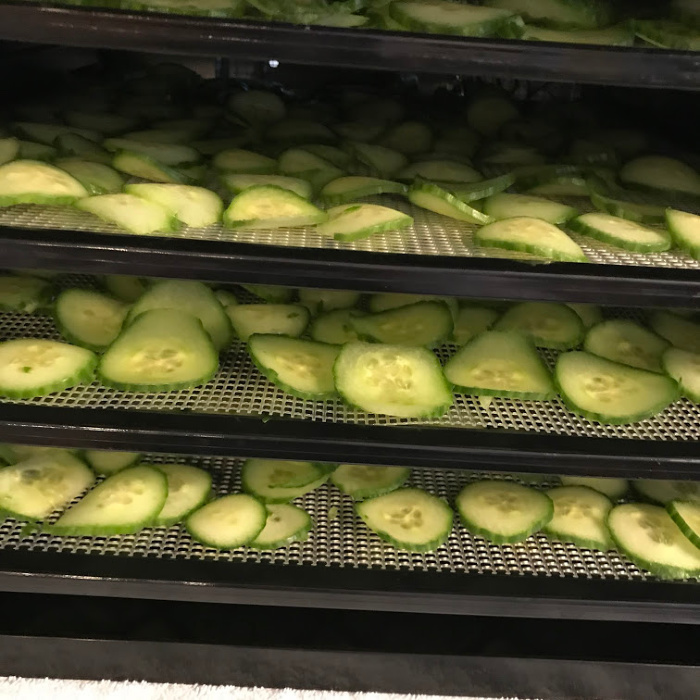 Step Four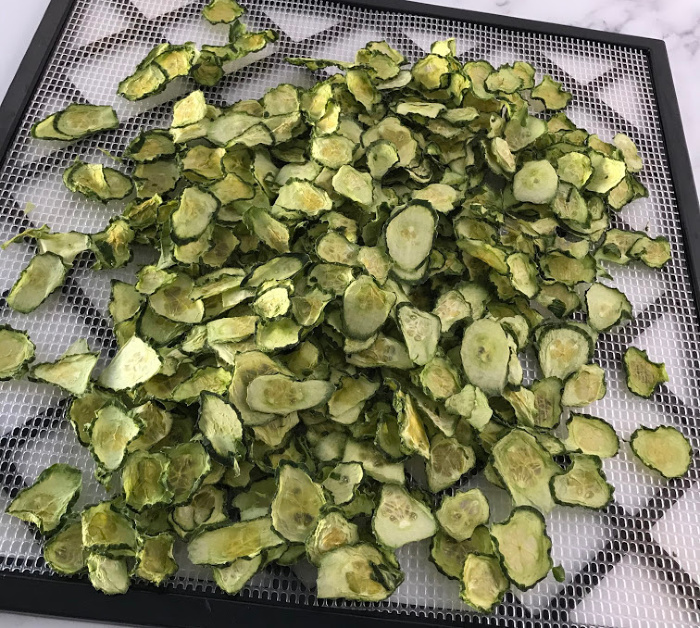 How To Condition Your Fruit or Vegetables
If you live where it is HUMID: "To condition the fruit, take the dried fruit that has cooled and pack it loosely in plastic or glass jars. Seal the containers and let them stand for 7 to 10 days. The excess moisture in some pieces will be absorbed by the drier pieces. Shake the jars daily to separate the pieces and check the moisture condensation." https://nchfp.uga.edu/how/dry/pack_store.html
I live in the DRY DESERT: I set my fruit and vegetables on my countertop for 5-7 days. Ten days is even better to make sure everything is dry before using your FoodSaver unit.
How Do I Use Dehydrated Cucumbers?
1. They make a healthy snack
2. Puree the dried cucumbers into a salad dressing
3. Throw some into any fresh garden salad-they add some yummy crunchiness
4. Perfect for your morning smoothies
5. They make a great soup add-on
Amazing Health Benefits Of Cucumbers:
High in antioxidants
They have anti-inflammatory properties-they help cool inflammation in our bodies
Can manage stress because they are high in multiple B vitamins like B1, B5, and B7
Fiber-rich and make you feel full longer
Cucumbers are made up of about 95% water so fresh cucumbers are a great food to help us stay hydrated
Place a slice in your mouth-they may help get rid of odor-causing mouth bacteria
Which Dehydrator Should I buy?
Decide what size dehydrator will work for your family. I bought the 9-tray with a timer because I knew it would last me for years. I like having a timer because I can set the timer and go to bed and it turns off automatically.
Some people only need a four tray. Once you start dehydrating, trust me you will never waste food again. This is the one I have: Excalibur 3926TB Food Dehydrator, Black
Here are a few other choices that work great: Excalibur 2900ECB 9-Tray Economy Dehydrator, Black
(has a timer). This one is great but does not have a timer but is still a great machine: Excalibur 2400 4-Tray Economy Dehydrator, Black
I know several people who love their Nesco, they are cheaper and work great for them.
How To Make Cucumber Powder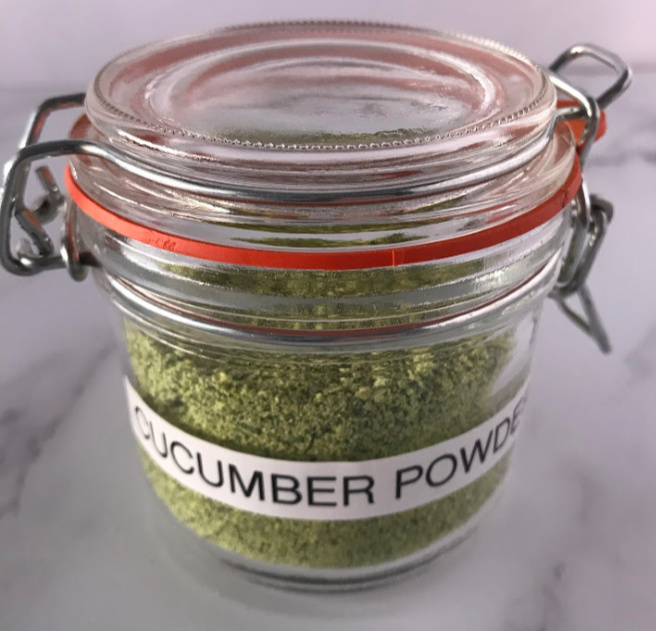 You just need some dehydrated cucumbers to make cucumber powder. This is another way to preserve those fresh cucumbers. Dehydrate them and then make powder.
I use my blender or my Magic Bullet to grind the dehydrated cucumbers into powder. I store the powder in jars such as shown or small mason jars with my favorite Ball White Lids.
It's so simple and takes up very little space in your pantry. Please remember, do not use your FoodSaver because the powder may be sucked up into the accessory hose and damage your unit.
Dehydrated Cucumbers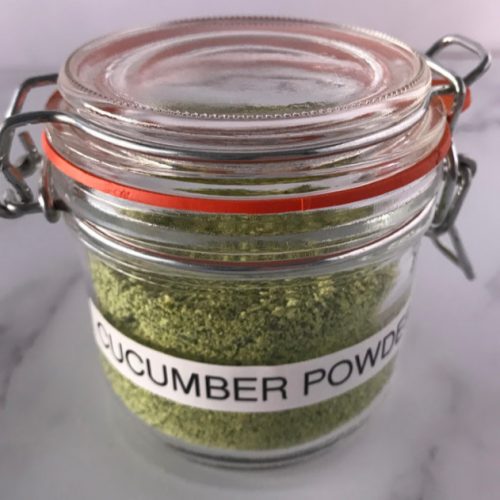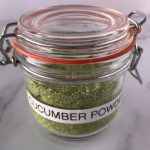 Dehydrate Cucumbers and Make Powder too!
Ingredients
1-6

washed, sliced cucumbers
Instructions
This recipe is for any amount of cucumbers that you want to dehydrate. It is very simple and easy to dehydrate cucumbers. Wash, dry, and slice your cucumbers and place them on your dehydrator racks. No chemicals, no blanching, nothing to do but slice them. This is an easy way to use up excess cucumbers in your garden or your refrigerator. They are yummy to munch on or add to a fresh garden salad. I set my Excalibur Dehydrator set at 125 degrees. **with the humidity today it took about 4 hours to dehydrate them. The dehydrating time will always depend on the humidity in the room where you are drying them. Dry them until they are leathery.
Cucumber Powder
When you need some cucumber powder you use your blender to pulverize the dehydrated cucumbers.
Here are the other Dehydrating Posts I have done:
Final Word
Please let me know if you dehydrate cucumbers, I love to hear from you. This is one more way to preserve food from our garden or from a Farmer's Market or even the grocery store. Please stay well, stay safe, and keep prepping. May God bless this world, Linda