Dehydrating Blackberries and Make Blackberry Powder
Today, it's all about how to dehydrate blackberries and make powder as well. I think the more we learn about dehydrating our own food the better off we will be by preserving our food one more way.
Here's the deal, we know that blackberries are very healthy. If you grow them you are so lucky! I remember picking some in California, oh my goodness, it was a little bit of heaven.
There is something so awesome picking fresh fruit, right? Please let me know if you grow blackberries or can pick them near your home.
Kitchen Items Needed
Blackberry Health Benefits
The term RDI stands for Recommended Daily Intake in nutrition labeling on food. Here are just a few benefits of eating blackberries
One cup: 62 calories
Vitamin A: 6% RDI
Vitamin C: 50% RDI
Calcium: 4% RDI
Potassium: 233 mg 6% RDI
Iron: 4% RDI
Sugar: 7 g
How To Dehydrate Blackberries
Step One
I purchased these at Costco today and picked through the blackberries to make sure none of them were overripe or blemished. These were perfect berries today. They were sweet and juicy blackberries. I placed them on the drying racks as shown.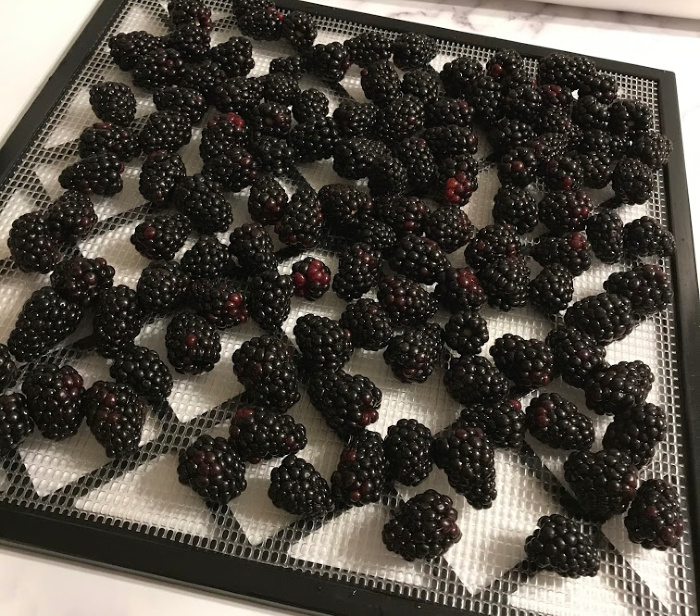 Step Two
Set the dehydrator temperature recommended by the manufacturer. You can see how they shrink a bit after dehydrating them. You want them to be crisp and leathery. These took about 20 hours to dry. The time will always depend on the humidity of the room you are dehydrating them in.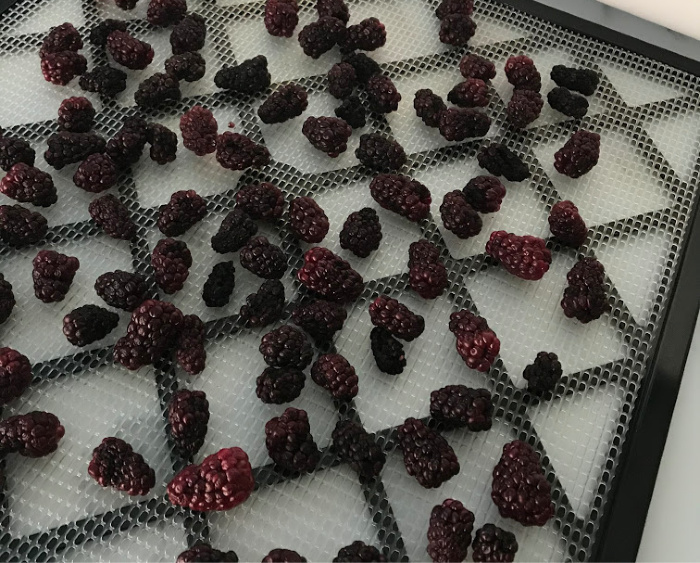 Step Three
I piled up all the dry blackberries right here so I could start filling quart-size mason jars.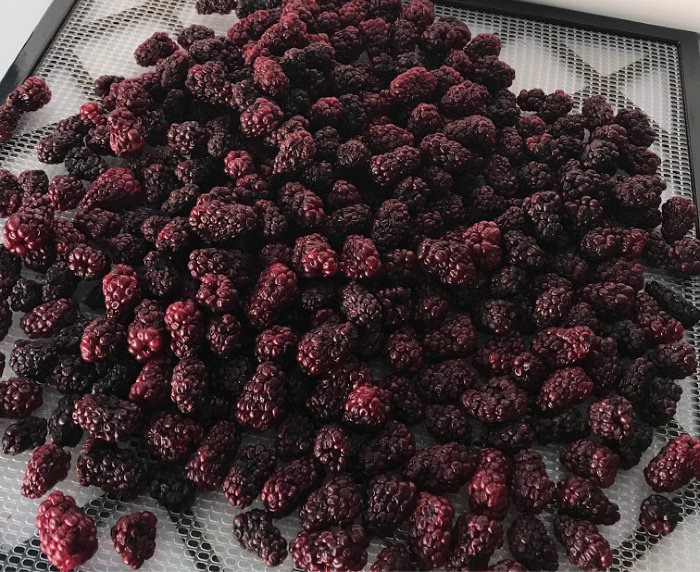 Step Four
Then I used my blender to make blackberry powder. Be careful when you remove the blender lid as the powder will poof in your face, literally.
But boy does it smell fabulous! I like to use my blender to make enough powder for the month. Please remember, it's very concentrated so you will use very little powder in your food items or recipes.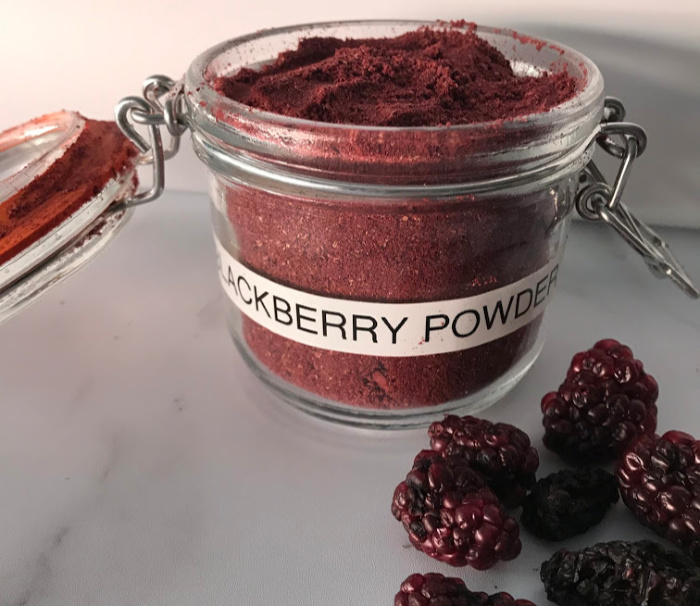 Finished Product
It's so fun to see all my jars of powder lined up. Life is so good when you feel you are eating healthy food, right?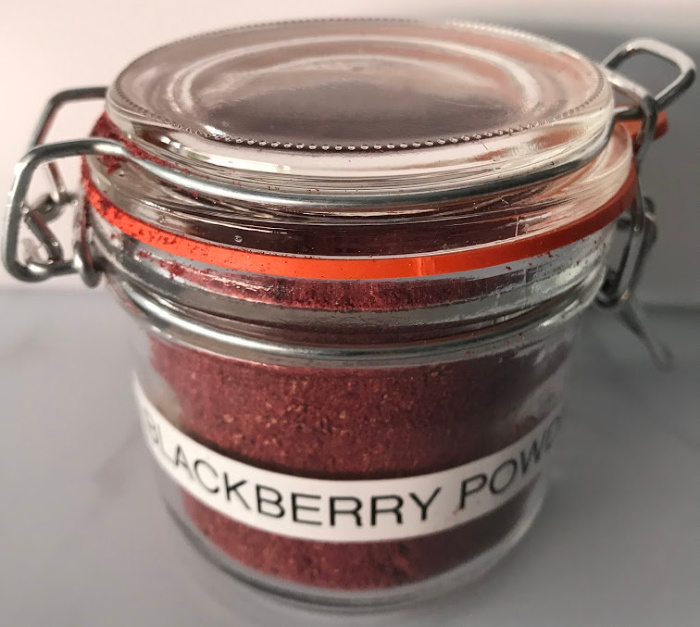 How do I use dehydrated blackberries?
Add to your cold cereal.
Perfect for hot oatmeal.
A great addition to pancake batter.
Easy to add to your muffin mix.
You can buy plain yogurt and add dehydrated blackberries or powder to it.
How do I use blackberry powder?
You can use the powder as stated above for the dehydrated blackberries. But, remember it's very concentrated so you will only use a little bit of it.
Can I dehydrate these in my oven?
Yes, you can. Set your oven to the lowest temperature on your oven. Place a chunk of foil to keep the oven door ajar. You will need to check them every 15 minutes or so because they will dry very fast.
How To Condition Your Fruit or Vegetables
If you live where it is HUMID: "To condition the fruit, take the dried fruit that has cooled and pack it loosely in plastic or glass jars. Seal the containers and let them stand for 7 to 10 days. The excess moisture in some pieces will be absorbed by the drier pieces. Shake the jars daily to separate the pieces and check the moisture condensation." https://nchfp.uga.edu/how/dry/pack_store.html
I live in the DRY DESERT: I set my fruit and vegetables on my countertop for 5-7 days. Ten days is even better to make sure everything is dry before using your FoodSaver unit.
How To Dehydrate Blackberries & Powder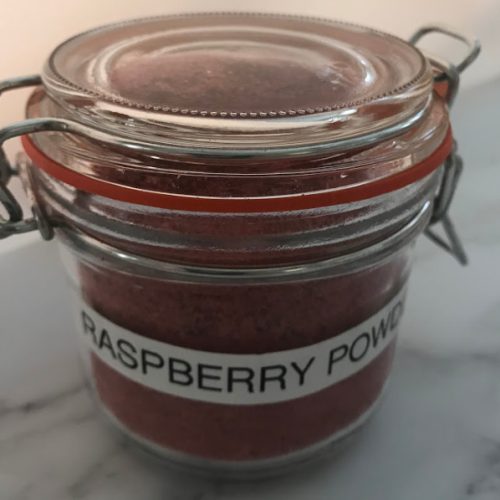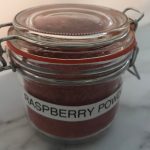 Blackberries Dehydrated and Powder Too by FSM
Ingredients
1-2

pounds

of fresh blackberries
Instructions
I have an Excalibur Dehydrator and it states to dehydrate blackberries at 135 degrees. Please check your brand for the correct temperature. You can also use your oven by propping the door open with some foil to keep it ajar and setting temperature as low as possible. Keep checking your blackberries often if you use your oven, they will dry a whole lot faster. The time will always depend on the humidity of the room you are dehydrating your fruit. These took almost 20 hours in my dehydrator today.

I let the food I dehydrate dry for at least two weeks on the countertop before placing it in mason jars and sealing them with my FoodSaver. Use your blender to make blackberry powder in small portions. I only make powder for a month at a time. Please do not use your FoodSaver to seal the powder it will ruin your unit.
Here are the other Dehydrating Posts I have done:
Final Word
Please let me know if you dehydrate blackberries? Do you grow them in your yard? Life is so good when we can harvest fruit and vegetables from our own backyard.
Let's teach the world to grow our own food, we can do this, I promise. If you don't have the yard to do it, find a Farmer's Market, then preserve your bounty.
Whether you grow it or not, you can learn to can, pressure can, and dehydrate food to eat throughout the year. Let's be prepared for the unexpected. May God bless this world, Linda
How To Dehydrate Bananas