How to Dehydrate Green Onions or Scallions

Today it's all about how to dehydrate green onions or scallions. Plus, how to make green onion powder. Can you tell I love to dehydrate food? It takes up less space on my pantry shelves.
This is one of the easiest vegetables you can dehydrate and use when you need a little green onion in a recipe. It's a win-win, I promise.
How To Dehydrate Green Onions
Step One
Wash the green onions, and cut the root off and discard. Remove any pieces of the green sections that appear at all damaged. We want to dehydrate only the best green onions and scallions. I set my Excalibur Dehydrator at 95 degrees.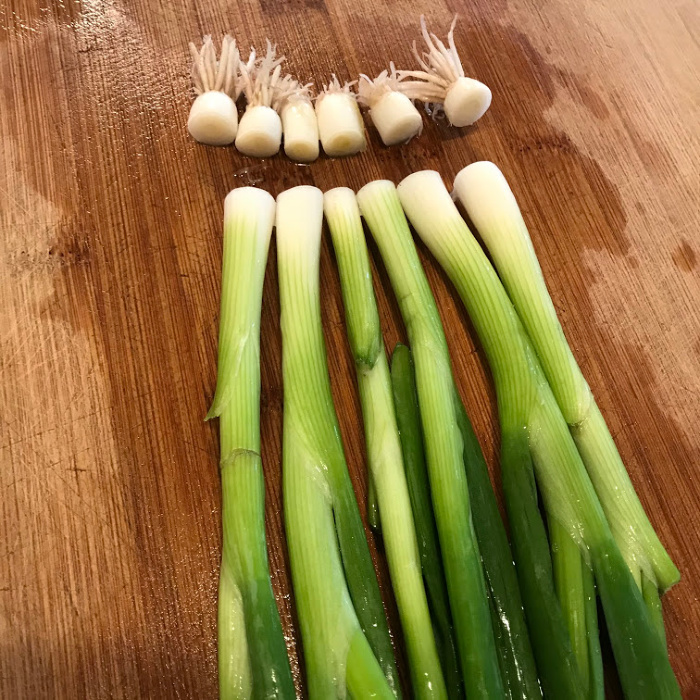 Step Two
Now you chop the green onions into small uniform pieces. They are about 3/8 inches in size. I actually kept the green onions and scallions separated.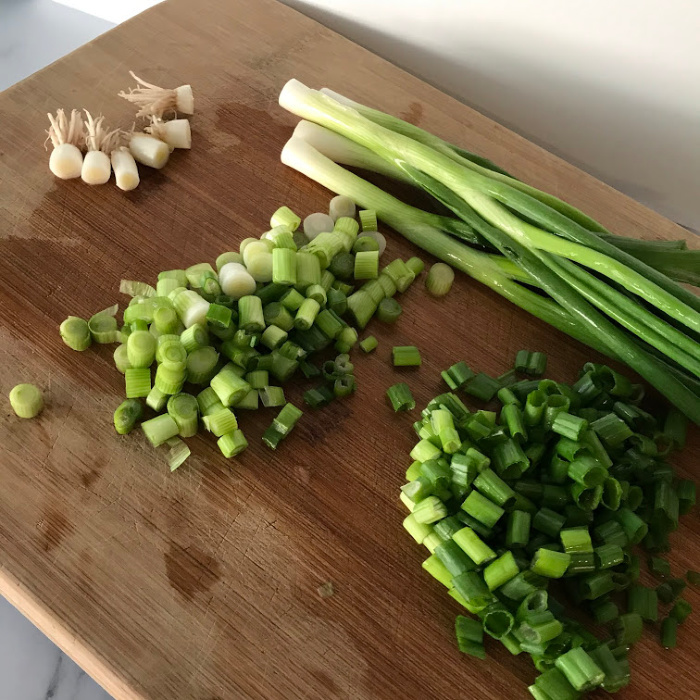 Step Three
The green onion (white section) part is on the left. It takes longer to dehydrate because the white part of the onion is thicker. The scallions are the longer green part of the green onions.
These took about 2-3 hours to dehydrate. The white sections took a lot longer to dehydrate.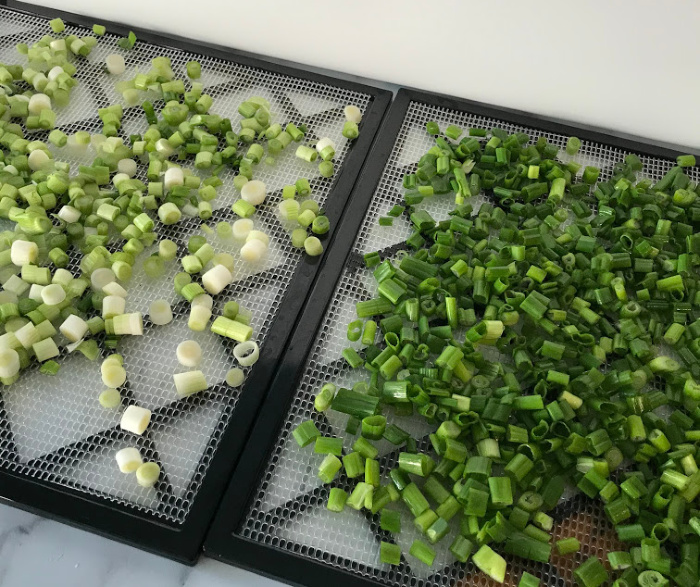 Step Four
You can see the scallions on the top and the thicker white part of the green onions in the bottom of the dehydrator pictured below.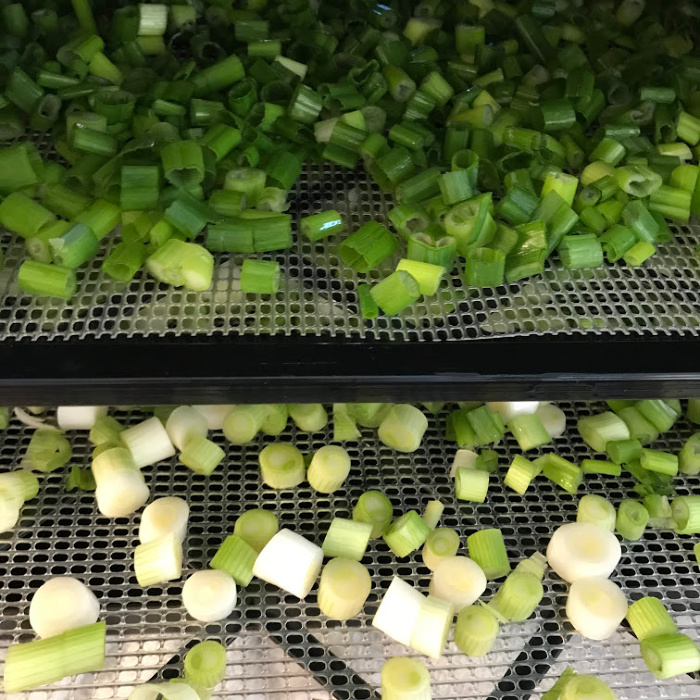 Step Five
The thicker white onion sections are on the left and the green scallions are on the right. They begin to blow all over the dehydrator when they are dry. I want you to know that up front.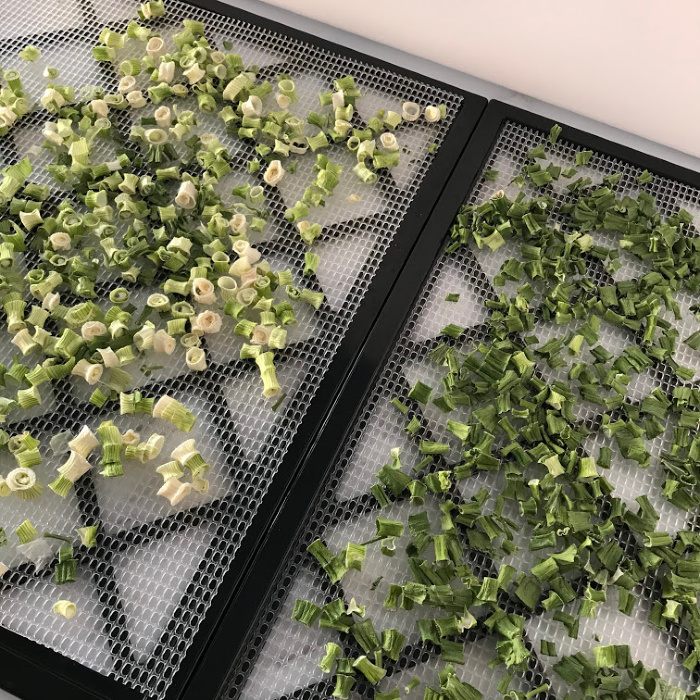 Step Six
They are perfect to dehydrate, and then you use your FoodSaver to seal the pints or quart jars.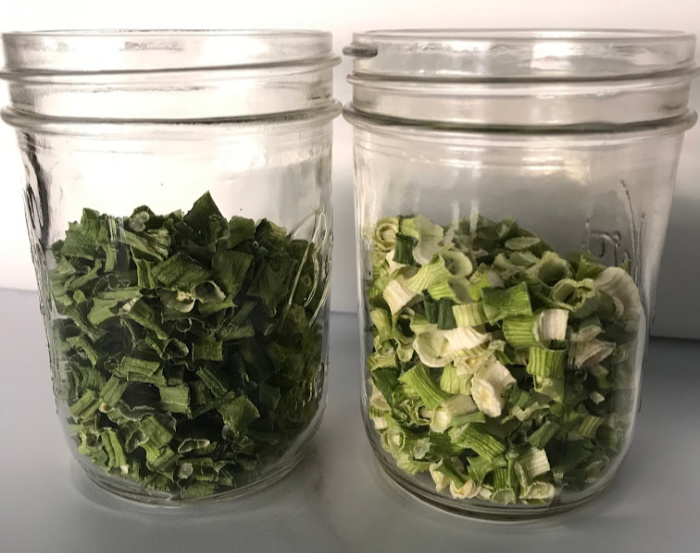 Step Seven
I use my FoodSaver to seal these for my pantry. I do not use oxygen absorbers because I will put the dehydrated items to use in recipes within one year.
Being a Master Canner Preserver I only preserve what I can use within 12 months. Here are the accessory hose and white sealers I use with my FoodSaver: FoodSaver Wide-Mouth/Regular-Mouth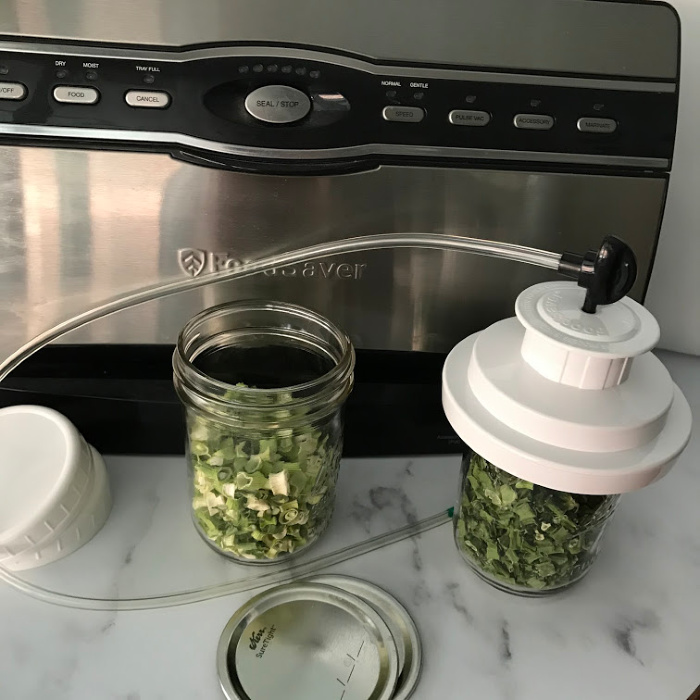 How Do I Use Dehydrated Green Onions
Salad dressings
Devilled eggs
Stir fry dishes
Potato salad
Green salads
Omelets
Soups/Stews
Chip dip
Sauces
Gravy
Any recipe that can use a little green onion
Can I Use My Oven To Dehydrate These?
Yes, you can. Set your oven at the lowest temperature on your oven and keep the oven door ajar with a chunk of foil. Grab some cookie sheets and line them with parchment paper.
Follow the instructions above and spread the sliced green onions/scallions evenly on the pans. Keep your eye on them in the oven because they will dry very quickly.
Green Onion Powder Is Easy To Make
Just use your blender or Magic Bullet to make the green onion powder. It's perfect for those who don't like the texture of the onions. I ground the white and green parts of the green onions together to make the powder.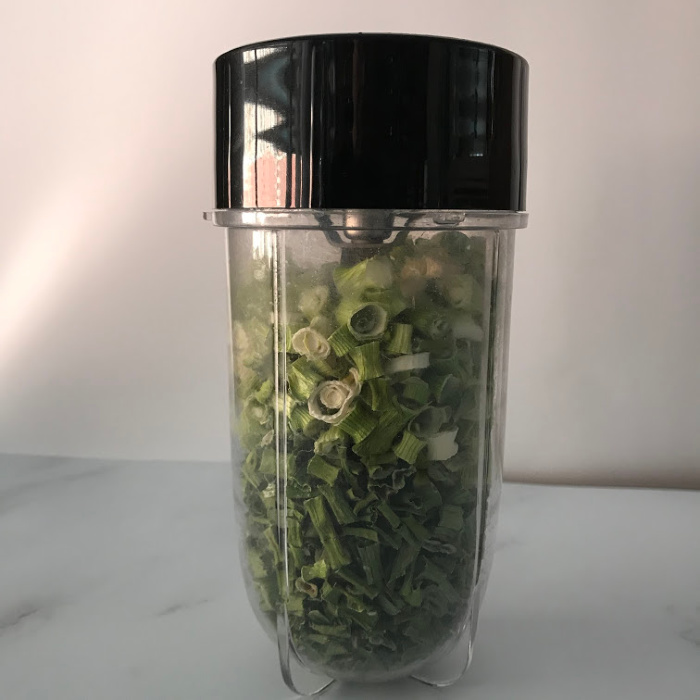 Here is the green onion powder below. You will love it!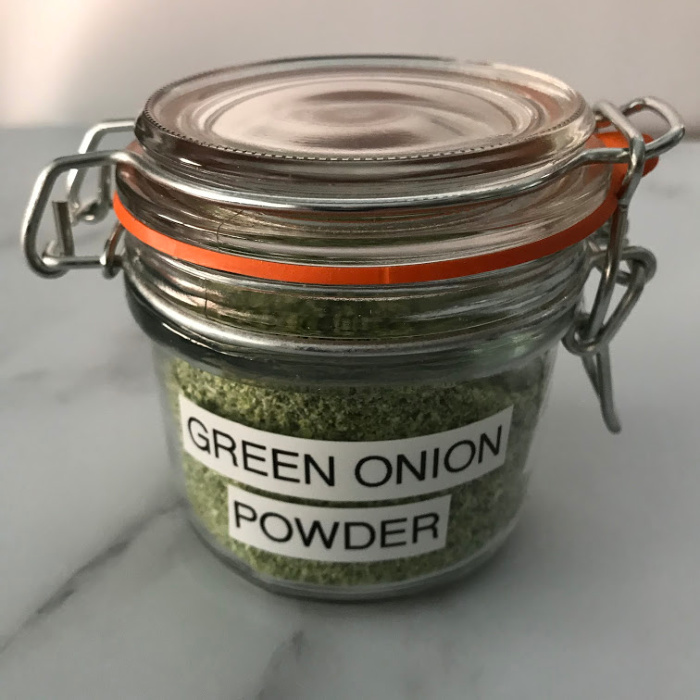 This is how it looks with the top of the jar open, oh my gosh, I wish you could smell how awesome it smells.
How Do I Use Green Onion Powder?
Using 1 teaspoon of onion powder equals one small onion or 1/3 cup of chopped onions. And it takes up very little space on the pantry shelves, gotta love it!
Please add the onion powder to your recipe towards the last 15 minutes of cooking to enjoy the full flavor of this gem.
Final Word
This post is part of my ongoing series I call "preserving our food" information to fill our pantry. If we learn how to dehydrate onions or scallions, we can prepare so many meals at home.
I strongly recommend that we all must learn to pressure can, water bath, and dehydrate our food, at the very least.
Of course, having a garden goes hand in hand in being self-reliant. We can do this, one step at a time. Please teach your family how to preserve their bounty. May God bless this world, Linda