How To Dehydrate Kiwi For A Healthy Snack
Would you like to know how to dehydrate kiwi? This is a little different type of fruit to dehydrate because it's not a real sweet fruit. It is a perfect fruit to dehydrate because it dries fairly quickly depending on the humidity where you are drying it. The little tiny kiwi fruits, I peeled with a paring knife. I tried using my mandolin slicer to slice them evenly, but it ended up smashing most of them. I probably should have started drying them a few days earlier. Anyway, I used a knife to slice them and that worked fine.
Is it just me or do you sometimes purchase a little too much of a fruit or veggie? I can only freeze so much and only make so many smoothies or soup. This is why I believe learning to dehydrate in a dehydrator, Sun Oven, regular oven or just a homemade screen frame to let your excess food air dry will save us money.
I try to dry food that does not need steaming or par boiling or whatever. I guess I am just lazy. It has to be easy, save me time and money for me to want to do it. Here is what it looks like after 6 hours: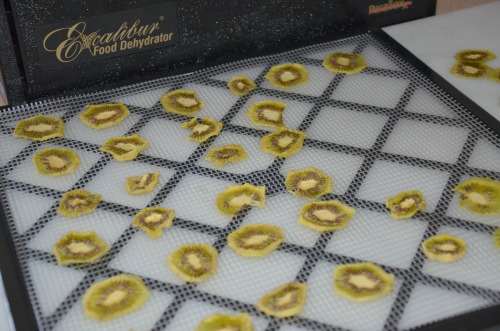 The Kiwi dehydrated perfectly for a healthy snack, camping or hiking treat. No chemicals or preservatives….just naturally dehydrated Kiwi!
How To Dehydrate Kiwi
Ingredients:
4-6 Kiwi's washed, peeled and sliced. Place evenly on racks.
 Instructions:
I dehydrated my Kiwis in an Excalibur Dehydrator set at 135 degrees. Please check your own machine for the correct temperature to dry them. The time will always depend on the humidity in the room where you are dehydrating. Today these took six hours to dry. I dried them until they were leathery. These are great for garnishes or fruit compotes.
No chemicals or preservatives. Naturally healthy snack.
PRINTABLE recipe: Recipe by Food Storage Moms