Dehydrating Fresh Cilantro
I want to show you today how to preserve Cilantro from the garden. I dehydrated some Cilantro about three years ago and I was hooked on it. Thankfully Cilantro grows like a weed here in Southern Utah! All you need is good soil and some awesome seeds and you are ready to plant. It sprouts here in about two weeks, so don't give up if you don't see those little leaves start sprouting right away. The only downside to growing your own Cilantro is once you clip it, your crop is done. In other words, you have to replant some more seeds. But, here's the deal, you can grow so much that one crop can give you lots and lots of Cilantro to eat and preserve.
You don't have to buy a fancy dehydrator unless you plan on dehydrating everything you can get your hands on like me. You can dehydrate food in your car on the dashboard on top of a clean window screen or cookie sheet. I wouldn't dehydrate anything that has a strong odor in your car or truck, it takes weeks or months to go away.
Just giving you the heads-up here. Once when my daughters were really little we chopped onions to dehydrate in the house, yes you only do this once. We cut out sugar cookies for the Christmas tree to hang on the tree and didn't realize those cute cookies would taste like onions. I called it a learning curve. The cookies looked fabulous but tasted like onions. Yikes! We dehydrated onions the next year outside on the patio.
How To Condition Your Fruit or Vegetables
If you live where it is HUMID: "To condition the fruit, take the dried fruit that has cooled and pack it loosely in plastic or glass jars. Seal the containers and let them stand for 7 to 10 days. The excess moisture in some pieces will be absorbed by the drier pieces. Shake the jars daily to separate the pieces and check the moisture condensation." https://nchfp.uga.edu/how/dry/pack_store.html
I live in the DRY DESERT: I set my fruit and vegetables on my countertop for 5-7 days. Ten days is even better to make sure everything is dry before using your FoodSaver unit.
Preserve Cilantro
Preserve Cilantro by Freezing:
You can preserve Cilantro by freezing it in bags. I freeze spinach and basil all the time. I wouldn't keep it in the freezer over two months or so, but man is it good in freshly made buttermilk dressing. In Utah, we call it Ranch dressing. If you use the blender just add a small handful of Cilantro into the mixture and it has a little kick to it.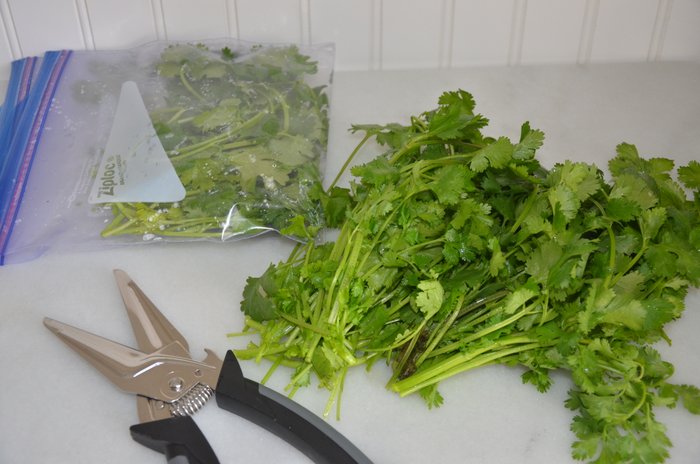 Preserve Cilantro by Dehydrating:
Ingredients:
1-6 bunches of cilantro, wash and pat dry (any amount will work if it fits into your dehydrator)
Instructions: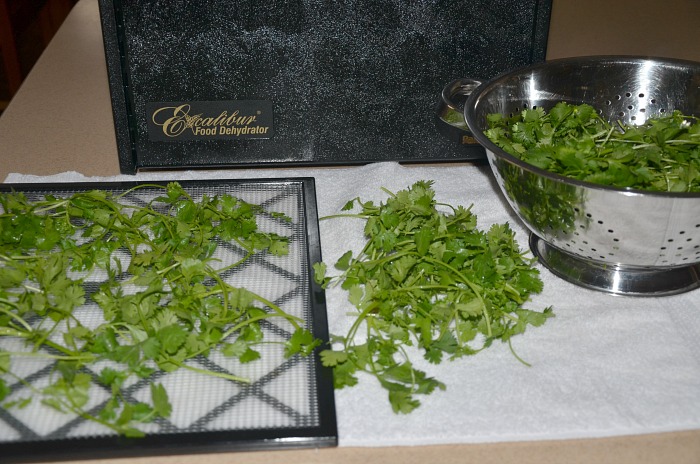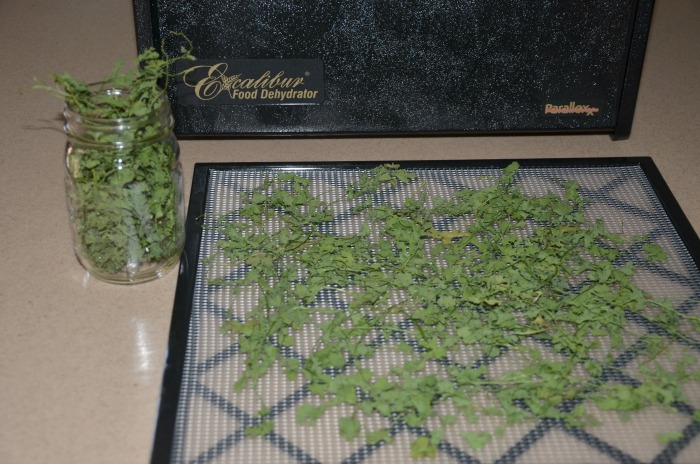 I set my Excalibur Dehydrator at 115 degrees and it took about two hours. I turned off the dehydrator and left the dehydrated Cilantro to rest on the racks overnight because I wanted to make sure it was very dry before I stored it. I placed the Cilantro in pint-size jars and used my FoodSaver to remove any air to prolong its storage life. Remember, check out your dehydrator book for temperature. The drying time will always vary depending on the humidity in the area where you are drying it.
Can't you just smell the Cilantro? When I cut it outside my hands and arms smell like it for days! Oh, how I love that smell. This is how it looks after it is dehydrated below.
I love using my dehydrator because I don't want a lot of food in the freezer to go bad in case we lose power. Once you start dehydrating you will use your dehydrator all the time. Please note, I don't dehydrate my food for long-term storage. I leave that for the commercial processing companies. If you think about it if you have two or three bananas that are going to go bad, dehydrate them for healthy snacks. You can do the same with any fruit or vegetable. If you dehydrate vegetables they would have to be cooked with water to soften them prior to eating or you may chip your front tooth. LOL!
Here are the other Dehydrating Posts I have done:
My favorite things:
Excalibur 3926TB Food Dehydrator, Black
Nesco Snackmaster Pro Food Dehydrator FD-75A
Stainless Steel Colander for Kitchen Food Washing Self-Draining Pasta Bowl Wide Grip Handles
Prepare Your Family for Survival: How to Be Ready for Any Emergency or Disaster Situation